All-new Ford Focus: here's everything you need to know
Family favourite is on sale now
THIS IS the new 2018 Ford Focus, the fourth generation version of Britain's best-selling family hatchback. Bolder design, a more upmarket cabin, a new 'soft-roader' model and dramatic price cuts are hoped to revive sales of one of Ford's bread and butter models.
Over the past decade, Ford has seen Focus sales fall by nearly 45%, from 126,968 to 69,903 in 2017. Increasing numbers of drivers have switched to German brands — notably the VW Golf — as the premium car makers widen their portfolio and steal customers away from the likes of Ford, Vauxhall and French car manufacturers.
Now Ford is fighting back. The new Focus is priced from £17,930 for the Style hatchback – £2,300 less than the equivalent previous model. There will also be an estate bodystyle, and for the first time an Active model, with a rough n' tough look, will be sold.
The company says the Focus will be the best car in its class to drive, comes with more cabin space and is safer and packed with the latest technology. Is it enough to make it more popular with Britain's car buyers?
---
Browse NEW or USED cars for sale
---
When does the 2018 Ford Focus go on sale?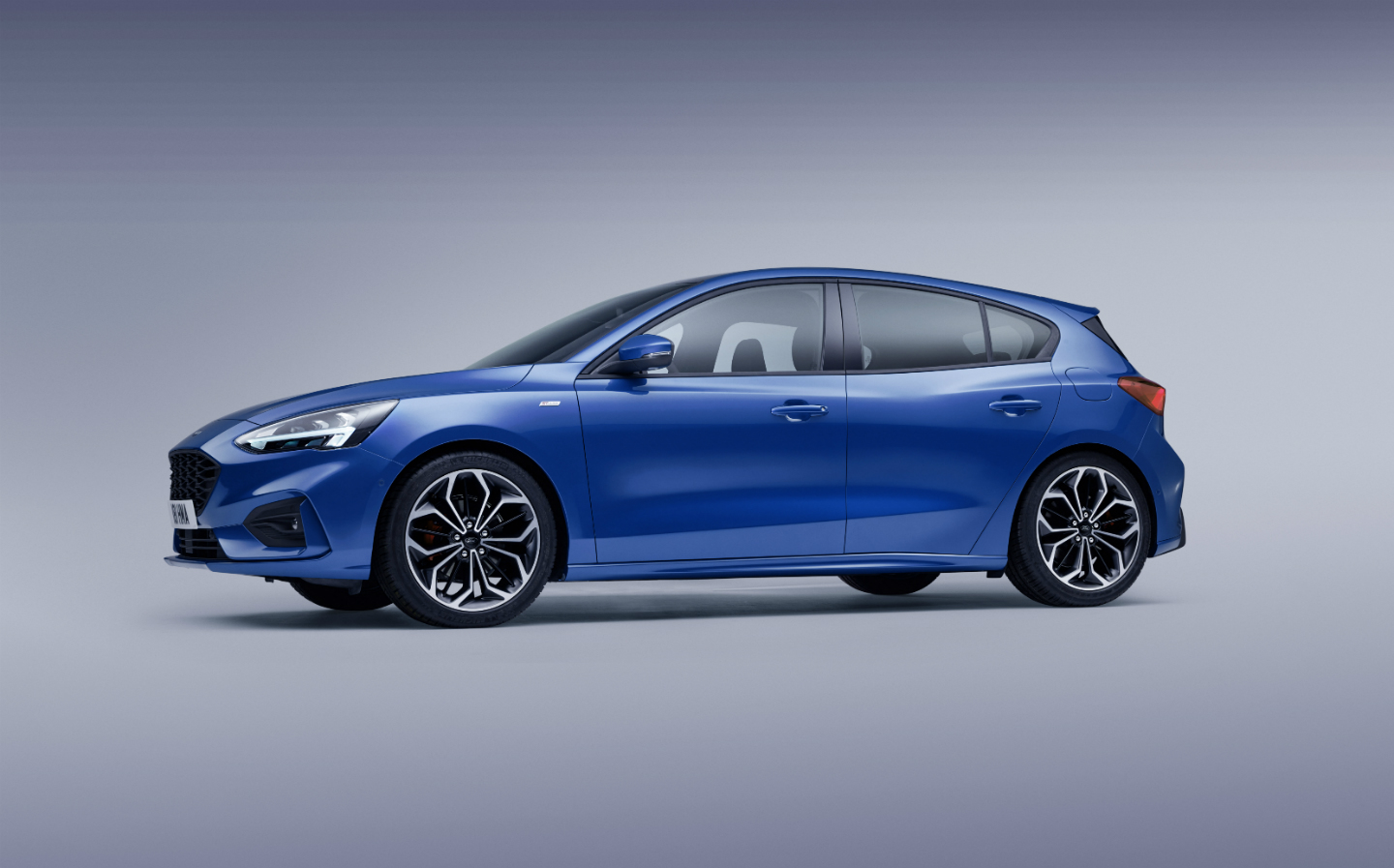 The fourth generation Focus hatchback officially went on sale yesterday, although at the time of writing you couldn't yet order or configure one via the Ford UK website. Deliveries of the hatchback begin in August, with the estate and Vignale high-end trim versions coming to showrooms in October, and the more rugged Active spec car arriving in January.
How much does the 2018 Ford Focus cost?
There will be five-door hatchback and estate bodystyles, a premium Vignale model and a new Active version that has a more rugged look.
The entry-level trim is Style, and with a 1-litre, 84bhp engine it will cost from £17,930 — £2,300 less than the outgoing model.
The estate body in the same trim and engine pairing costs from £19,050. The most affordable Style diesel hatch' is £19,270 and the estate is £20,350.
The popular Zetec and ST-Line versions, which account for 55% of sales, are also more affordable, by £850 and £250 respectively. It means the Zetec 1-litre, 98bhp petrol starts at £19,300, and the estate is £20,380. Go for a diesel and prices start from £20,270 and £21,350.
Ford expects the sporty-looking ST-Line trim to be popular. It costs from £21,570 for the 1-litre, 123bhp petrol and £22,500 for the 1.5-litre, 118bhp diesel. The estate is £22,650 and £23,620 respectively.
Prices for the new Active models are still to be announced.
Which engines are in the new Focus?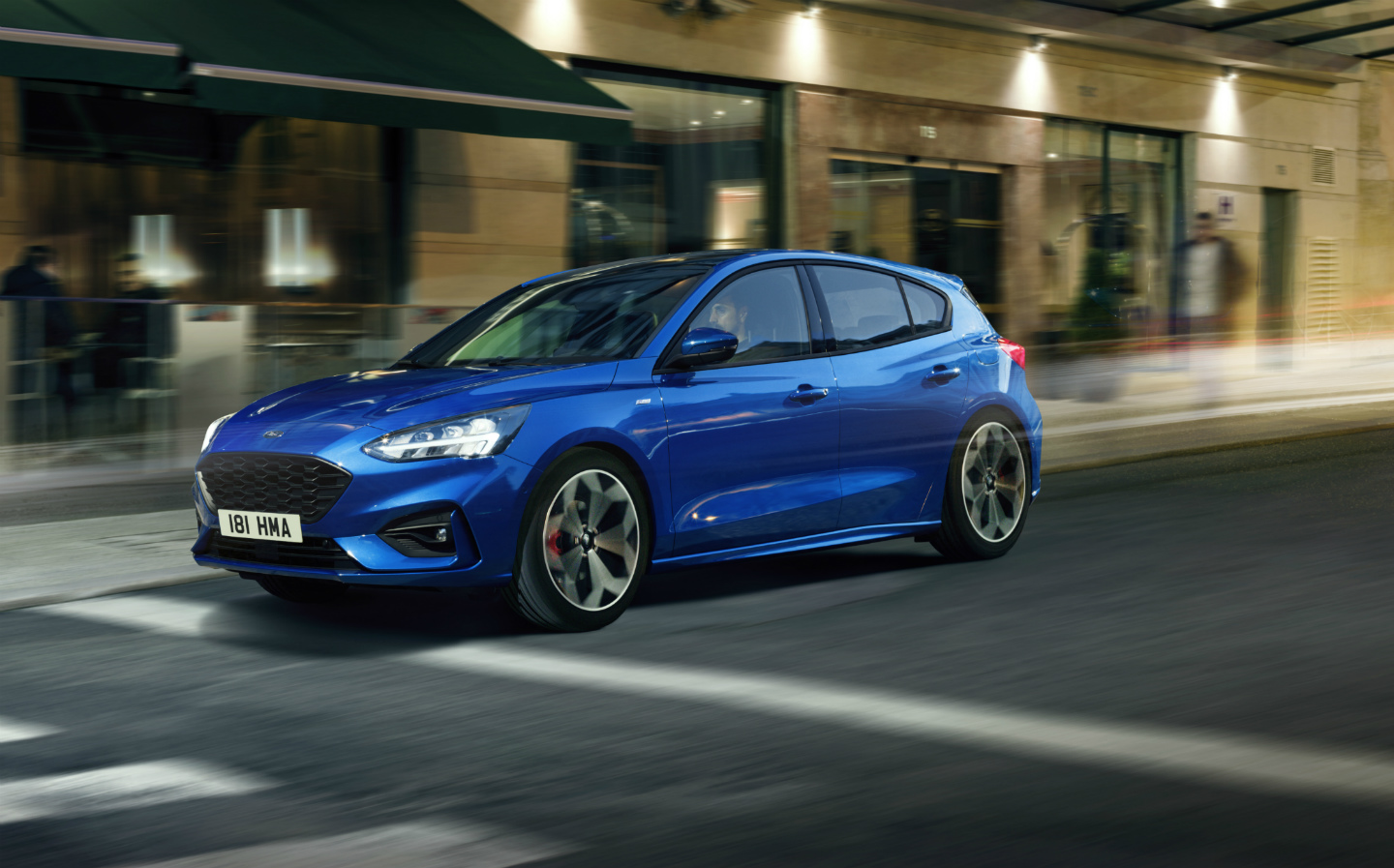 The petrol range starts with a 1-litre, 83bhp EcoBoost unit, returning 58.9mpg. There are 98bhp (60.1mpg) and 123bhp (58.9) versions of this unit, and 148bhp and 180bhp are due to be added at a later date. A hot ST model will also be added to the Focus in due course.
Ford also offers a 1.5-litre diesel engine, which comes in 94bhp or 118bhp tune, returning up to 80.7mpg and 78.5mpg respectively. A six-speed manual gearbox is standard, and an eight-speed automatic is available on select models.
Are there hybrid or electric models?
Ford has not matched the likes of Toyota or Volkswagen and brought hybrid, plug-in hybrid or electric versions of the new 2018 Focus to showrooms.
What's new about the 2018 Focus?
It is built on a new platform — Ford calls it 'C2' — which is said to give better safety, improved roadholding and allow for more space in the cabin. There are some welcome features, such as selectable driving modes, adaptive dampers for the suspension and a host of new driver aids that should mean this is the best Focus yet to drive.
How big is the new Ford Focus?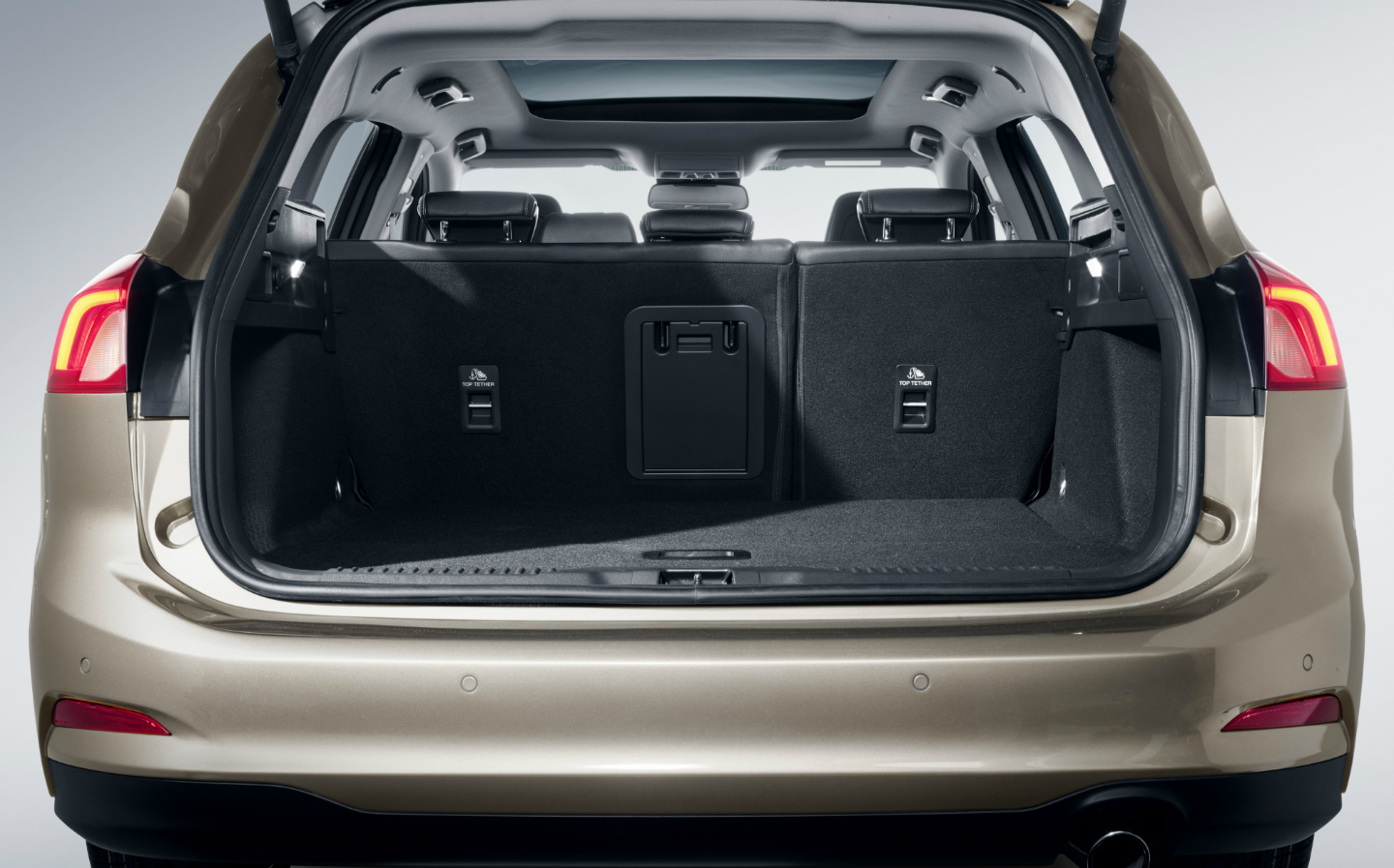 The new Focus is 4,378mm long and 1,825mm wide (with the mirrors folded), which makes it a tiny bit bigger all round than the previous Focus, but difference won't be noticeable.
The wheelbase (the gap between the front and rear axles) has been increased by more than 5cm, though, which means there's more leg and knee room for passengers in the front and back.
The rear floor is flat, too, which means those in the middle rear seats should have plenty of room for their feet. A four-wheel drive RS model might, we'd think, have to sacrifice that, given a drive shaft to the rear wheels would be needed, but we've had not details about a Focus RS yet.
The dashboard has been pushed forward as far as possible, further adding to the feeling of interior space, while the boot in the hatch yields 1,354 litres of luggage space, with the seats folded, which is an increase of 139 litres over the outgoing Focus and 84 litres more than the Golf. The estate version has 1,653 litres of space, again with the seats folded, which is slightly more than the Golf estate (1,620 litres) and Vauxhall Astra Sports Tourer (1,630 litres) but nearly 100 litres less than the Skoda Octavia estate (1,740 litres).
Will I be able to sync my phone seamlessly?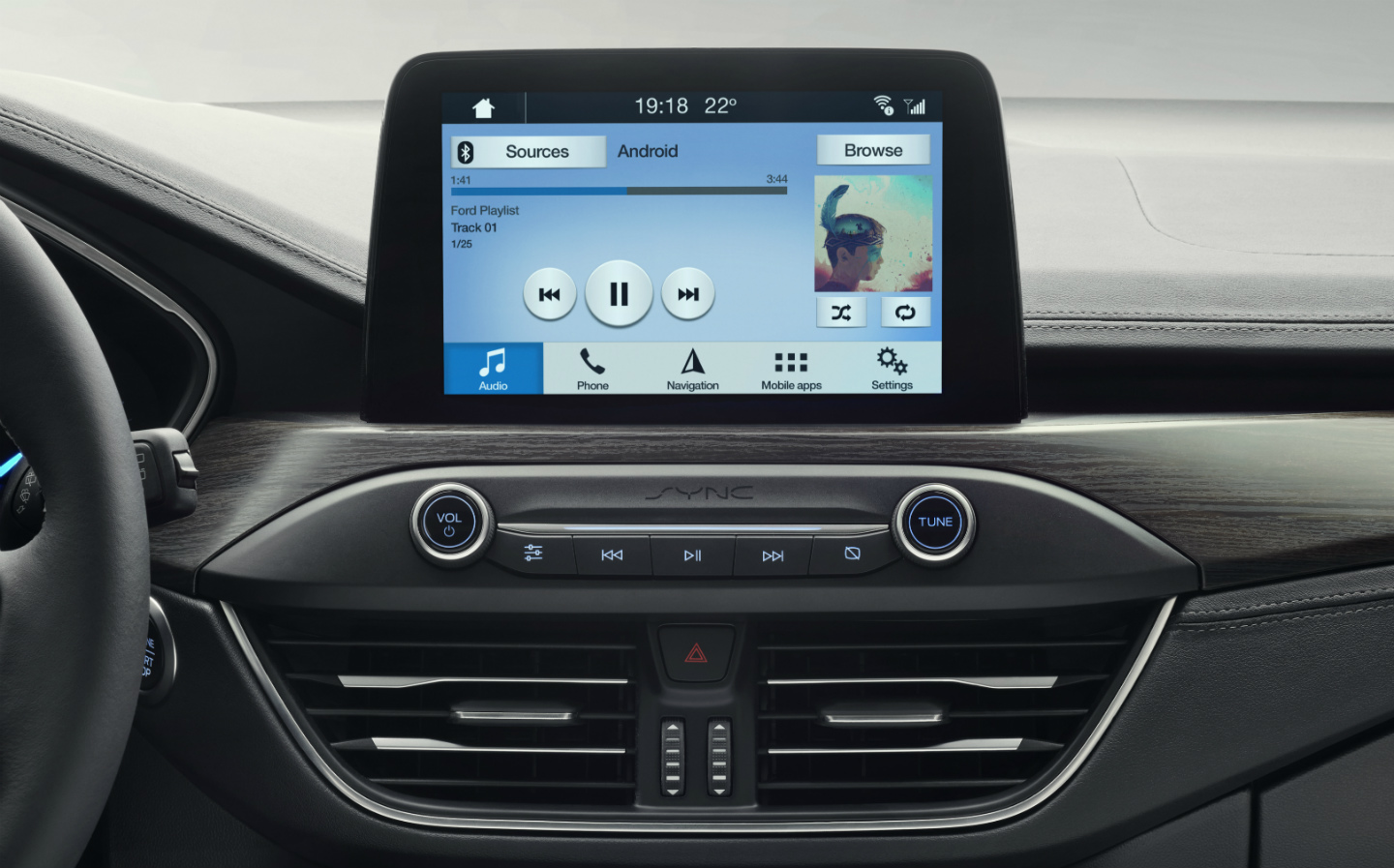 Drivers demand seamless connectivity with their smartphone, so in addition to the usual Bluetooth integration, Ford has developed FordPass Connect, which uses an internet router to turn the vehicle into a mobile WiFi hotspot, with connectivity for up to 10 devices.
It means the navigation includes Live Traffic updates and allows passengers to surf the web on the move. And via a mobile app, drivers can locate their vehicle, checking how much fuel is in the tank, the alarm status, lock or unlock the doors and – for models with the automatic gearbox – even programme the car to start remotely, such as on a cold winter's day.
A new smartphone wireless charging cradle is available, and the infotainment system is controlled using an 8in colour touchscreen that can be operated using pinch and swipe gestures, and is compatible with Apple CarPlay and Android Auto.
What are the technology highlights?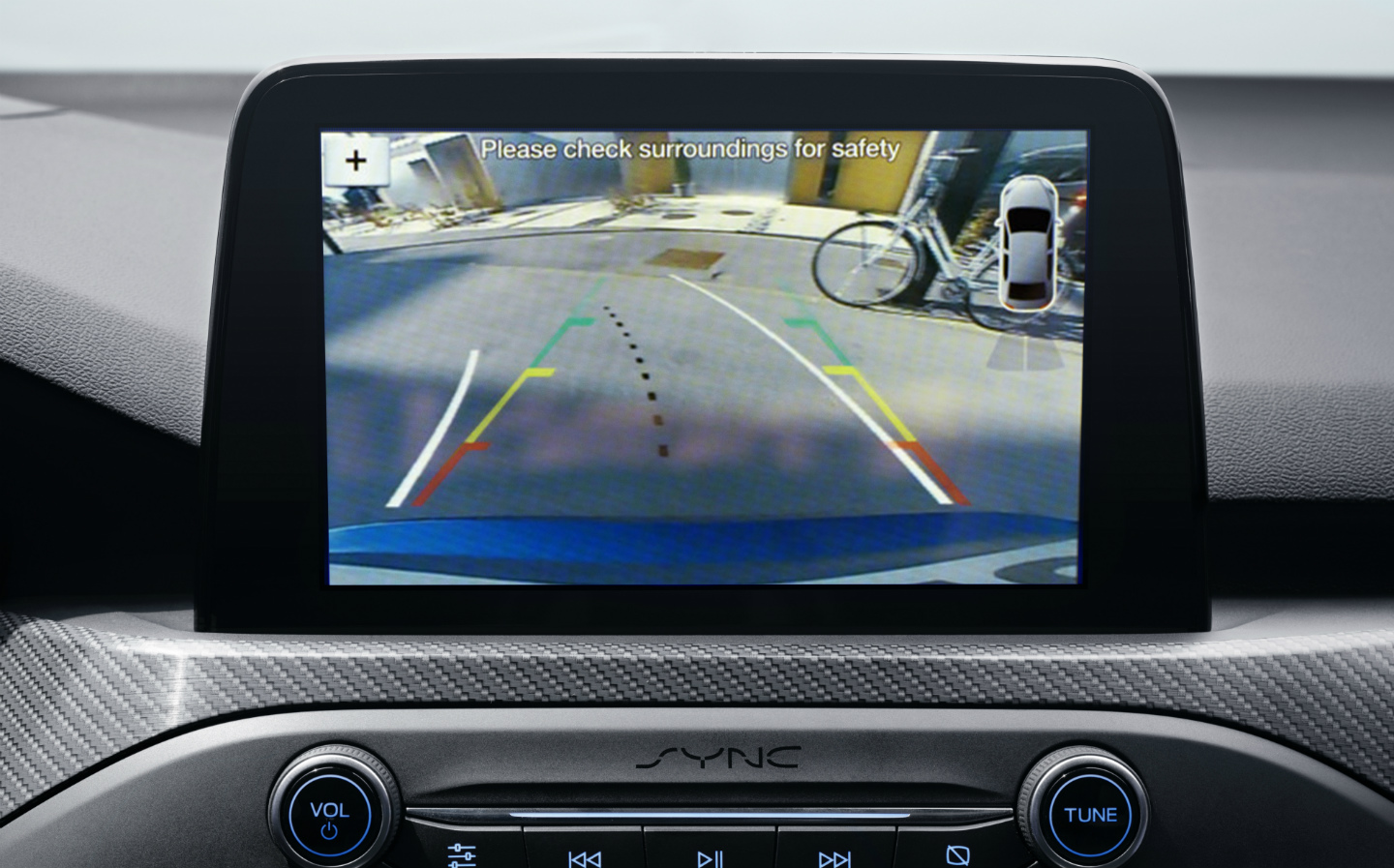 The all-new Focus is available with features including adaptive cruise control that can drive the car in stop-start traffic or on the motorway. The car will steer itself to maintain a safe position on the road and can even steer around obstacles the driver failed to spot.
The new Post-Collision Braking system will apply moderate braking after an accident, to help prevent your car from rolling into another vehicle. Ford says slowing the vehicle can potentially lessen injury to occupants and further damage to the vehicle.
There are also new headlights that adjust the pattern of light to better illuminate a corner, junction or roundabout, with glare-free high beam – a technology nicked from Audi that automatically dips the high beam around on-coming cars and cars that you're following, leaving everything around them fully-illuminated.
Other gadgets for the latest Focus include a head-up display, a self-parking function and blind-spot cameras that also warn of approaching traffic or pedestrians when reversing out of a parking space.
And for the kids, or grown-up music fans, a new B&O PLAY sound system means music can be streamed via FordPass Connect or smartphone devices, through a 675 watt sound system.
Should I buy a new Ford Focus or a Volkswagen Golf?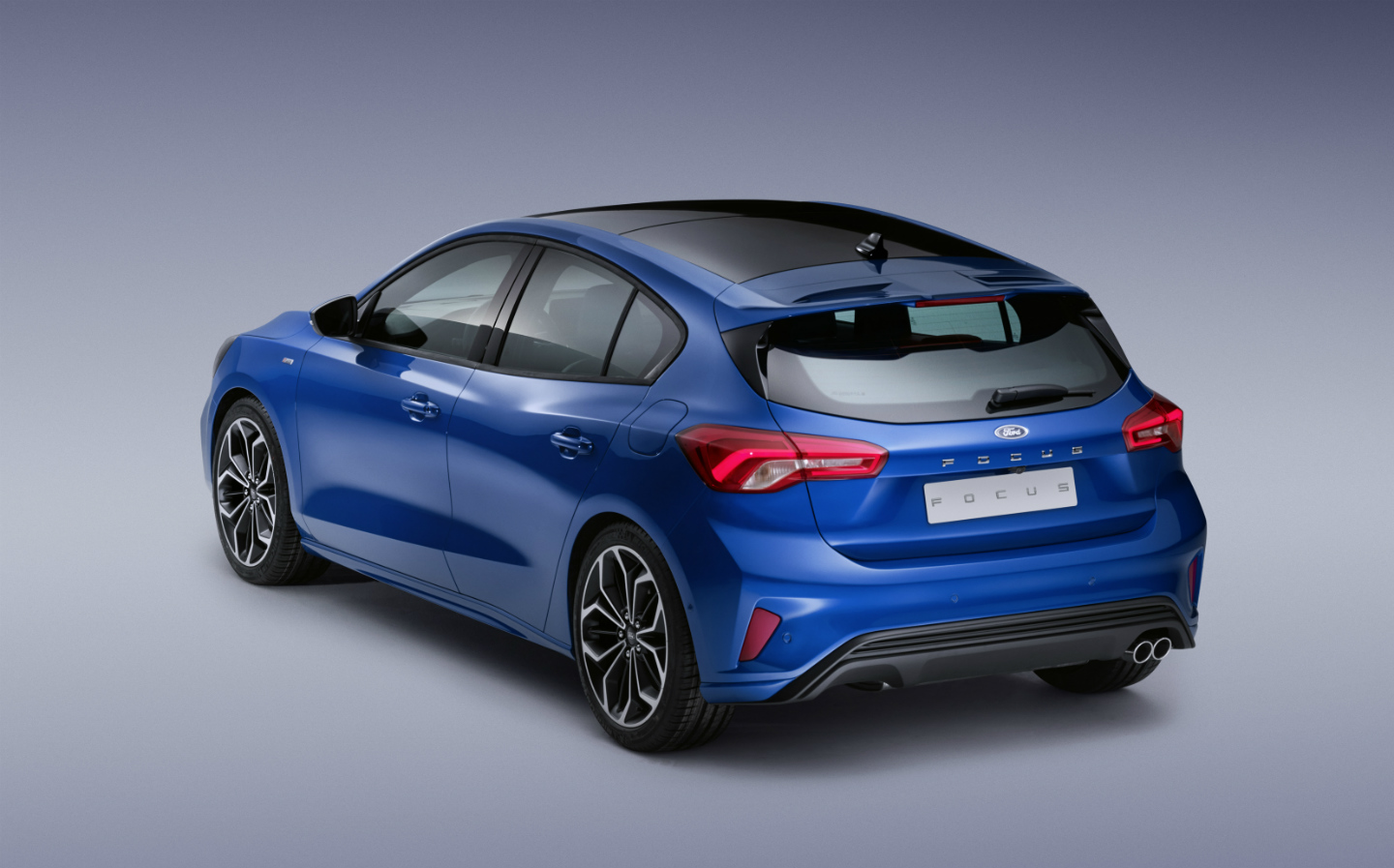 It's too early to say whether Ford has managed to close the gap to the Focus' number one rival, the VW Golf. First impressions suggest that the technology – both on the surface and hidden away beneath the car – should ensure Ford takes a big leap forward with the fourth generation Focus. Combined with some competitive prices, it's off to a promising start.
Tweet to @squarejames Follow @squarejames
Additional reporting by Will Dron