'British Speed Week': the contenders
This fast show's off its trolley
---
Published 14 September 2015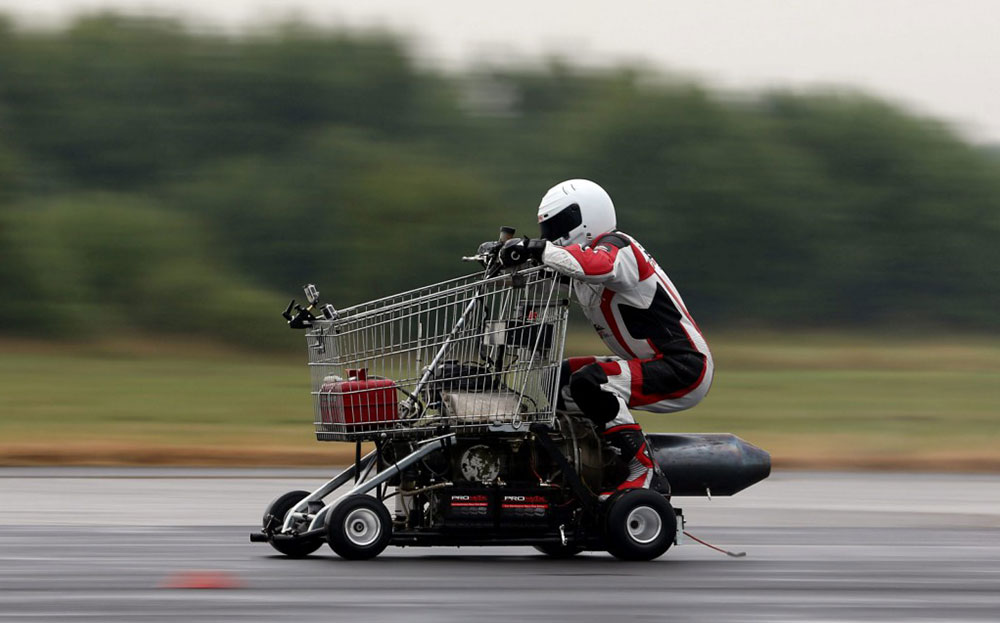 TORRENTIAL rains forced the cancellation of Bonneville speed week in Utah last month, disappointing fans of breakneck racing across the world. But don't panic: we have found an alternative. Already being billed as "British speed week", the Autumn Speed Trials and Records, taking place in North Yorkshire next weekend, promise (nearly) all the horsepower and excitement of the US event, albeit with an eccentric British twist.
---
Click to read more car REVIEWS or search NEW or USED cars for sale on driving.co.uk
---
Unlike Bonneville, which is steeped in history and can feel a little earnest, British speed week brings together a fascinating mix of madcap inventors with their brilliantly bodged machines and serious record contenders. Let's hear it for the jet-propelled shopping trolley and the 80mph garden shed.
The setting is Elvington, a former RAF airfield on the outskirts of York. Riders and drivers get the chance to post their fastest possible speed on a variety of courses, including the standing-start mile, flying kilometre and flying quarter-mile. Here is our pick of the best competitors. And if you fancy joining in, spectators can, for a fee, take their own car on the track.
British land-speed record attempt
Target speed: 302mph
Only a madman, or Richard Hammond, would try to drive a jet-propelled car faster than 300mph. Julian Webb insists he's neither but admits no one believes him when he tells them he finds it relaxing to do just that. He claims to have taken his car, Split Second, to a peak speed of 352mph in the past. The British land-speed record for a two-way average is 301mph. So it should be a breeze. Unfortunately, a breeze is the last thing Webb needs: "Strong side winds can stop us running, and if it's raining it's a non-starter," he says.
Split Second's Rolls-Royce Viper jet engine leaves a 25ft flame when the afterburner is switched on and guzzles 25 gallons of fuel on each run — just as well, then, that Webb is sponsored by an oil company.
The moment that shakes him out of his tranquil state is when the two parachutes deploy as soon as the jet engine is shut down, bringing Split Second down to safe speeds in little more than, well, a split second. Webb describes the 7g deceleration force as "a comforting feeling". We'll take his word for it.
The ultimate mobile man cave
Target speed: 80mph
The joys of the man cave are well documented: it provides solace in a hectic world and a bolthole at the bottom of the garden. But for Kevin Nicks, from Chipping Norton, Oxfordshire, a shed was a ticket to a Guinness World Record-breaking achievement.
The shed was originally envisaged as a promotional vehicle for advertisers: Nicks took a tired old Volkswagen Passat with a 2.8-litre V6 engine and four-wheel drive that had been languishing at home and set to work transforming it into the titan of mobile timber-framed sheds. Seven months later it was complete. That's when he had the idea of tackling the "fastest garden shed" title. The speed to beat was 58.4mph, set by Edd China of the television show Wheeler Dealers.
He smashed it, recording an average speed of 70.8mph over a 100-metre course. "I'm confident of cracking 80mph this time," says Nicks, adding that he has to drive almost 200 miles from his home to the event at Elvington — and back again. If you see a shed in distress, don't take a picture; lend a hand and help keep it in the fast lane.

The daredevil on one wheel
Target speed: 200mph
If there's one thing bikers like to boast about more than getting their knee down, it's pulling a wheelie. But you won't hear Gary Rothwell bragging about how he popped the front wheel off the ground away from a set of traffic lights; his party trick is to ride at almost 200mph pulling a wheelie — over a full kilometre, for good measure. Last month he won the world motorcycle wheelie championship, hitting 197.8mph.
Rothwell won't be the only one balancing on one wheel: the event will also feature an attempt on the world "monowheel" speed record of 60mph. Monowheeling is a niche sport in which the rider straddles an engine set inside a giant hoop-like wheel.
The red-hot trolley dash
Target speed: 71mph
By day Matt McKeown runs a go-kart racing venue in Plymouth. By night he can be found tinkering with something even more hair-raising — a jet-powered shopping trolley.
Inspired by a customer who brought a motorised bar stool to the track one day, the madcap McKeown did the sort of thing many people regret after a drink too many: he went on eBay and bought the starter engine from a Chinook helicopter. After initial runs at 45mph — no mean feat when you're clinging to the back of a shopping trolley with your legs spread around a red-hot jet engine — McKeown added a 250cc Honda unit and blasted down Elvington airfield in 2013 to record an average speed of 70.4mph.
The average shopping trolley is hard to control at walking speed, so it's not surprising to hear McKeown describe his creation as "very twitchy and unpredictable" at the national speed limit.
A quick rundown
AUTUMN SPEED TRIALS AND RECORDS
What Turbocharged and jet-powered Wacky Races weekend
When September 19-20
Where Elvington airfield, near York
How much to compete? From £150 for a bike; from £200 for a car
How much to spectate? £10 for an adult; under-16s free
---
Click to read more car REVIEWS or search NEW or USED cars for sale on driving.co.uk
---