British hope Sam Bird gears up for Formula E finale in London
Can he do the near-impossible this weekend?
AFTER AN electrifying inaugural season in 2014-15, the final event of this year's Formula E electric racing series rolls into London this weekend (July 2-3). And just as with football, not to mention politics, this crazy summer, all we can really expect is the unexpected.
Sam Bird, the British star driver of the DS Virgin Racing team, needs to pull off a miracle on the scale of Iceland's defeat of England in Euro 2016 if he is to lift the championship trophy.
Sitting in third place, 59 points behind the leader, the 25-year-old from Roehampton, southwest London, has only the slimmest hope of stealing the crown. Bird would need to win both of this weekend's races, to clock the fastest lap in each and to see both of his main rivals, Lucas di Grassi and Sébastien Buemi, fail to pick up a point. Unlikely, perhaps … but they said the same thing about Iceland.
---
Browse NEW or USED cars for sale on driving.co.uk
---
Bird was hardly brimming with confidence at a press conference in the London Eye this week. "With regard to the championship, it's a mathematical chance, but that's it," he said. "Ideally, securing third in the teams [teams' championship] and third in the drivers would be a perfect way to end the year.
"Personally, I don't think it's going to happen. I'm just focusing on what I can achieve and setting realistic goals rather than unrealistic goals, because if you don't reach the unrealistic goals you feel disappointed."
Bird was more optimistic about the Formula E series itself. The 10-round championship has been steadily attracting fans over its first two years with innovations such as the "fan boost" — in which spectators vote for drivers, and the favourites get temporary power increases — as well as a roster of drivers that pits veterans of sports car racing, IndyCar and Formula One against famous progeny such as Nelson Piquet Jr and Nicolas Prost.
Despite Bernie Ecclestone's withering attacks on this "lawnmower racing series", those who actually take part in Formula E are convinced it will overtake its noisier, more established rival in the foreseeable future.
"In 50 years' time, let's face it, everybody will be driving an electric car, or at worst a hybrid, and so we are the catalyst for that movement"
"Formula E started off with nothing, effectively, but we now have a massive fanbase. We're moving in the right direction; we're gaining momentum," said Bird, who, as a former Mercedes test driver, came tantalisingly close to tasting the glitz and glamour of F1.
The electric series's big advantage over F1 is its potential to bring about a shift in the car industry by encouraging drivers to buy more eco-friendly electric and hybrid vehicles.
"In 50 years' time, let's face it, everybody will be driving an electric car, or at worst a hybrid, and so we are the catalyst for that movement," Bird said.
"Manufacturers have come on board with the racing teams in Formula E and are developing their electric systems so that they could put them on production lines in order to speed up the process of making better, more efficient electric cars. We are an important cog in that field."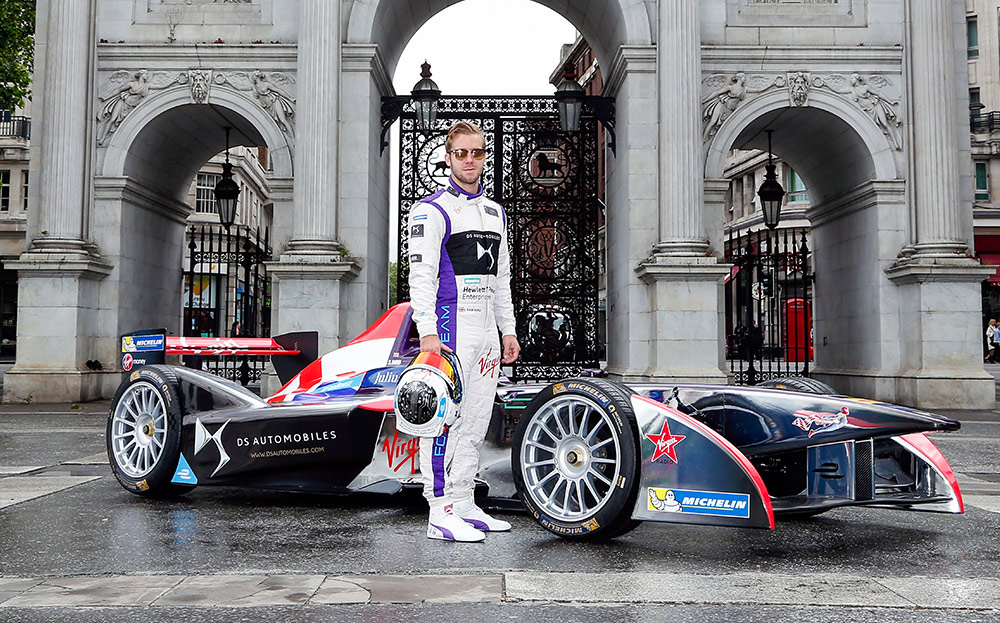 But first he had this weekend's races to think about. The narrow Battersea track, with varied corners and huge chicanes, is not for the fainthearted, and it tends to elicit a bold, crowd-pleasing driving style. The British driver was determined to reassure fans that, regardless of the weather, the London ePrix is not to be missed: "I predict an exciting race, mixed weather and hopefully a British winner."
Last year Bird snatched a dramatic victory in the final race of the series despite having crossed the finishing line behind Stéphane Sarrazin: the Frenchman had exceeded the energy allowance and was clobbered with a time penalty.
Bird came fifth in the overall drivers' championship, one place above Prost. The champion was — you guessed it — Piquet.