Volkswagen Beetle cabriolet review (2012-on)
Open-top VW motoring for less money than a Golf cabriolet

What is the VW Beetle cabriolet?
The VW Beetle cabriolet is your ticket to a time of boiling summers, songs about California and a world free of nukes. It's the soft-top version of the so-called "new Beetle", which replaced the former "new Beetle" in 2012. Both pay homage to the original, Type 1 soft-top Beetle, synonymous with a carefree lifestyle.
---
Search for and buy a used VW Beetle cabriolet on driving.co.uk
---
In short, today's Beetle cabriolet has a lot to live up to. It's based on a blend of Mk 5 and 6 Golf platforms, so you're not getting the last word in VW chassis technology.  It's made in Mexico, too, and not Wolfsburg, but such is VW's grip on its foreign car plants that you'd never know (saying that, our test car's driver's side window rattled annoyingly on bumpy roads).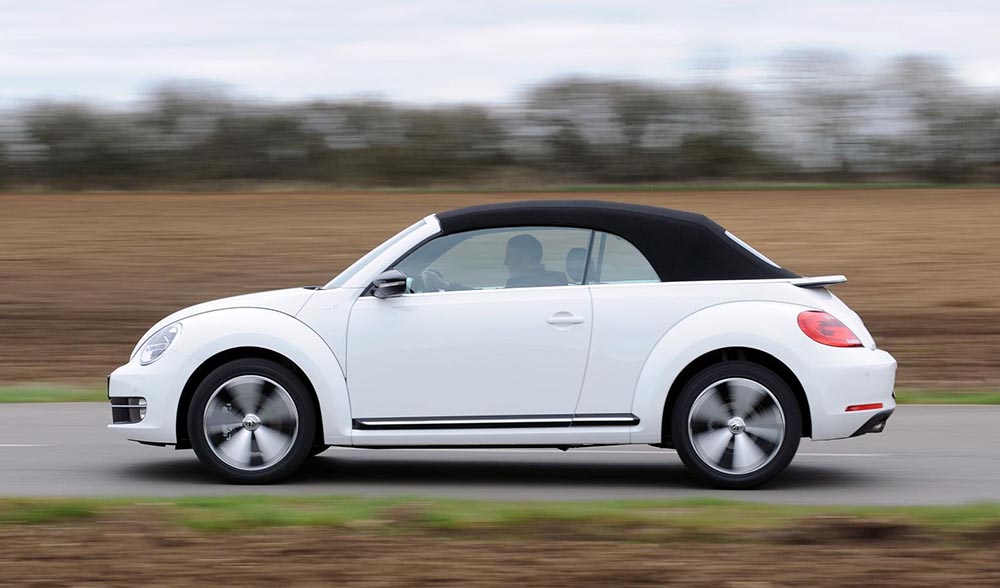 There are three trim levels – standard, Design and Sport – and a choice of five different engines. These include an entry-level  1.2 TSI 105PS petrol that develops 102bhp (the best-seller when mated to the six-speed manual gearbox) , a torquier 1.6 TDI BlueMotion diesel  that develops the same 102bhp and a range-topping  204bhp 2-litre TSI petrol.
The drive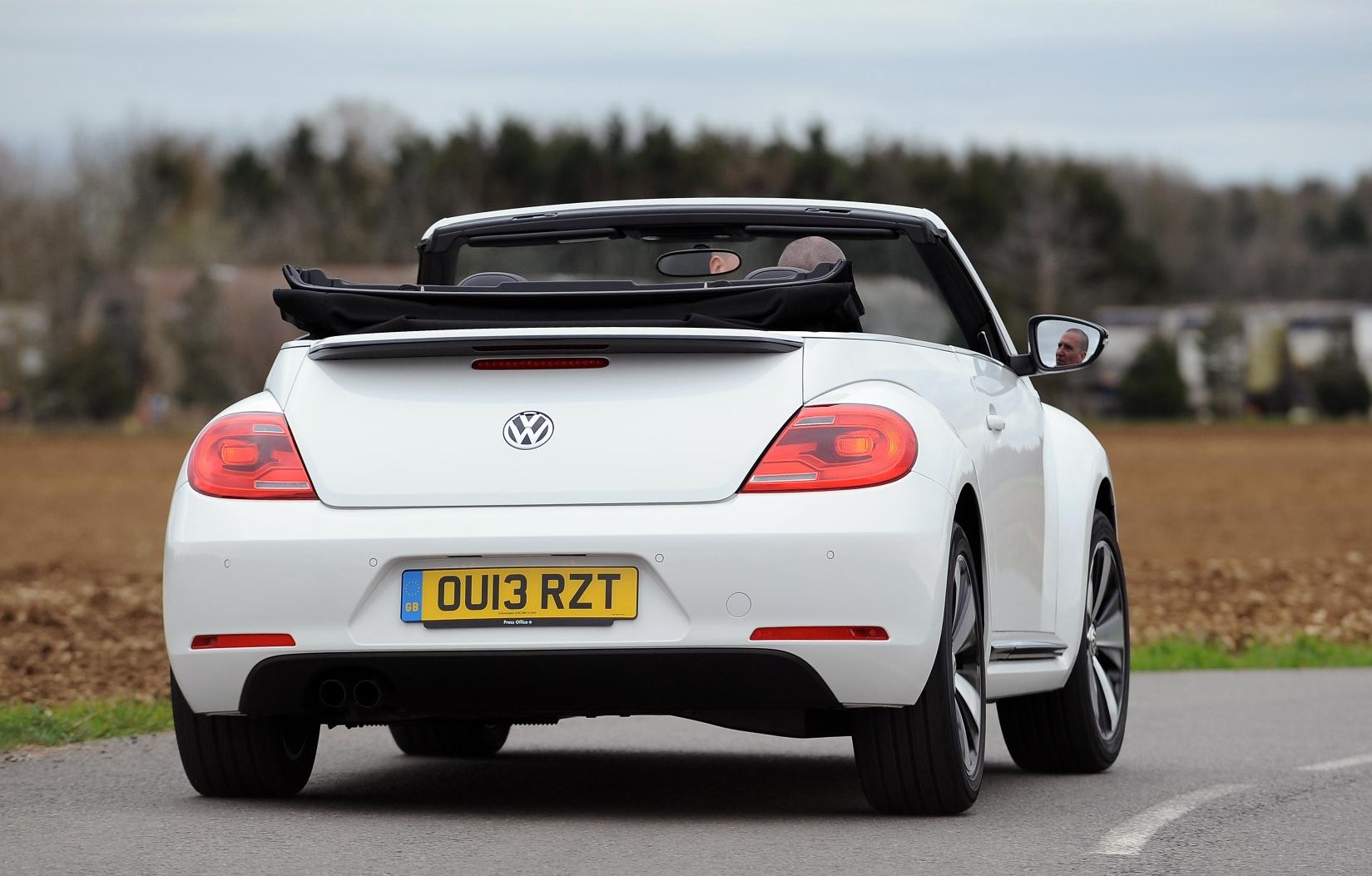 The Beetle cabriolet is a comfortable, smooth-roads cruiser. That's not to say it doesn't behave itself on twisty, uneven surfaces or that it doesn't like shaking its tail feathers. It's just that the model's looks, style and, in our test car's case, its modest 1.2-litre petrol engine driving the front wheels through a performance-sapping seven-speed dual-clutch automatic gearbox, encouraged us to back off a little, fold down the powered roof (it takes just 9.5 seconds; 11 seconds to go back up) and enjoy the sun. Folded, there's little buffeting at low speeds. At higher speeds it helps to raise the windows around half way. The heater is powerful, so you could cruise roof down in winter if the fancy took you.
When it's up, that triple-layer hood does a great job of suppressing wind noise to the extent you forget you're driving a cabrio. A rude reminder comes in the form of scuttle shake, noticeable by vibrations through the car's chassis over bumps, and an accompanying blurring of images in the rear-view mirror.
The 103bhp 1.2-litre petrol engine (the best-selling powerplant) is eerily quiet at tickover and pulls strongly to around 50mph, after which its small capacity begins to show. It's a delight around town and will maintain a comfortable 70mph cruise all day long, but fast overtakes require plenty of planning.
The 156bhp 1.4 TSI engine would be a better all-rounder but in Design trim sends the Beetle's price skywards to £23,025, or £2,000 more than the 1.2. Both models make the, admittedly much smaller, 184bhp Mini Cooper S convertible look a veritable bargain at £21,050. Even the cheapest Golf cabriolet, the £21,800 1.2 TSI 105, begins to look interesting.
Handling-wise, the Beetle is a tidy performer, with a composed ride (our car's deep-walled tyres helped here) and nicely weighted steering. Push deeper, though, and understeer becomes a major problem. The model's typical 1,450kg kerbweight, a result of the additional body strengthening required to compensate for that missing roof, must shoulder some of the blame.
The interior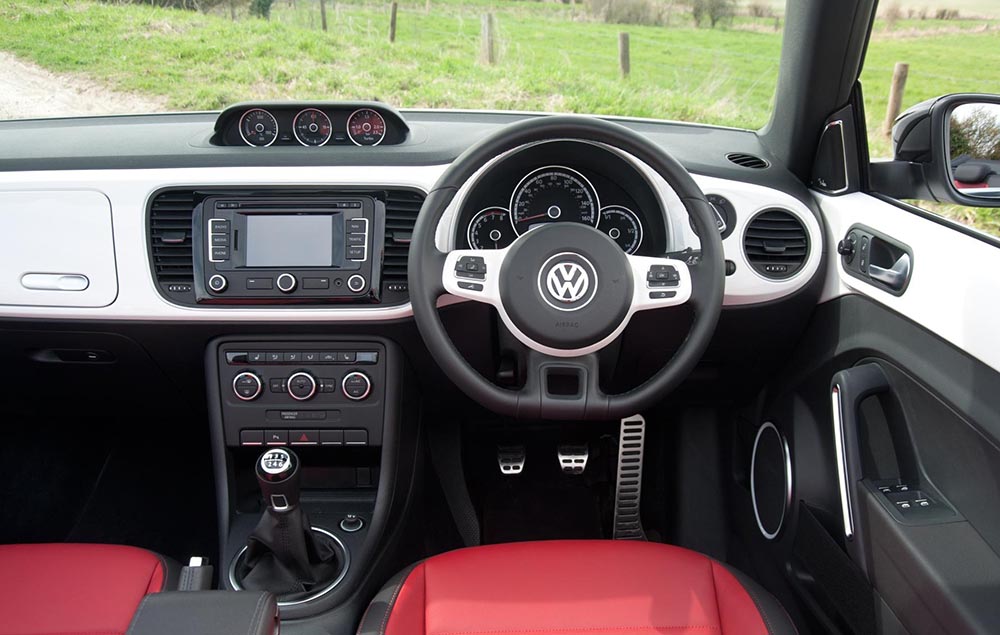 It may recall the flower-power generation but inside, the new Beetle is no chilled-out affair. Even the old car's flower holder has been given the bird.  If it's fun you crave, you need a Mini convertible.
In true VW fashion the fascia is crisply styled and well-organised. There's a handy glovebox set into the fascia, and another below it. All versions have a display screen but Design trim and upwards get sat nav and DAB radio functionality. Design trim also brings a welcome splash of colour in the form of colour-coded fascia panels and door caps, and a leather-trimmed steering wheel. Sport trim brings aluminium-look pedals, sports seats and outside, alloy wheels. Regardless of trim levels, the interior is beautifully finished and, our car's rattly driver's window aside, well screwed together.
The Beetle cabrio is roomier than the Mini convertible, though that isn't saying much. Front-seat passengers are well catered for but behind them, space is at a premium. A long-legged driver would easily render the rear seat behind them uninhabitable. The Beetle's long doors make getting in and out of the rear cabin a reasonably elegant affair, but you have to watch their immaculate finish on walls. Wouldn't do to deface a legend.
---
See our review of the Beetle hatch on driving.co.uk
---
The one to buy
Volkswagen Beetle 1.2 TSI 105 Design
Specifications
Price: £21,135
Engine: 1984cc, four-cylinder turbocharged petrol
Power: 103bhp @ 5000rpm
Torque: 129 lb ft @ 1550rpm
Transmission: 6-speed manual, front-wheel drive
Acceleration: 0-62mph in 5.8sec
Top speed: 155mph
Fuel: 46.3mpg (combined)
CO2: 142g/km
Road tax band: F
Dimensions: L 4278mm, W 1808mm, H 1473mm
Volkswagen Beetle cabriolet rivals