Volkswagen Phaeton review (2002-2015)
People's car maker Volkswagen must have sported some serious cojones if it thought launching a luxury vehicle into a sector dominated by Mercedes, BMW and Audi was a good idea.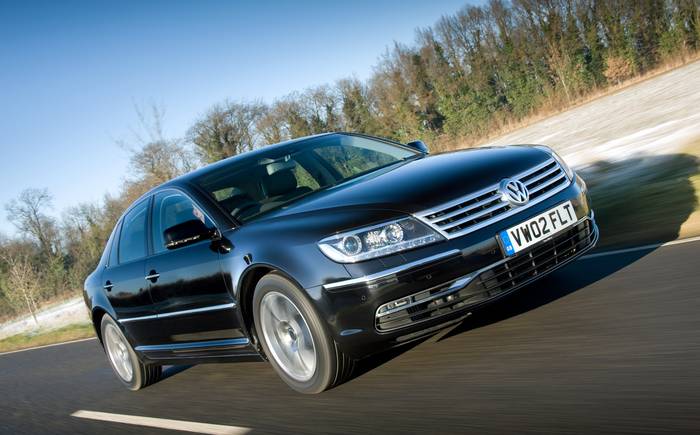 What is the VW Phaeton?
Volkswagen must have sported some serious cojones if it thought launching a luxury vehicle into a sector dominated by Mercedes, BMW and Audi was a good idea. Especially when the new pretender wore the badge of a company that proclaims to be the people's car. Undeterred by this, Volkswagen went ahead with its Phaeton in 2002 and restyled it in 2010. In Britain, the Phaeton sells in tiny numbers, as predictably the sort of folk in the market for a luxury limo don't want a car wearing the same badge as the clapped-out Polo they've just overtaken.
---
Search for and buy a used VW Phaeton on driving.co.uk
---
The Phaeton, however, has a lot going for it. It's beautifully built, has all the kit your average chief exec expects and is so quiet you can almost hear it depreciating as you drive along. Don't say we didn't warn you, the Phaeton loses money faster than a leaking submarine loses air. Key rivals include the Audi A8, BMW 7-series, Jaguar XJ and Mercedes S-Class. For what it's worth, we'd take the XJ over all the others in this class of car.
The drive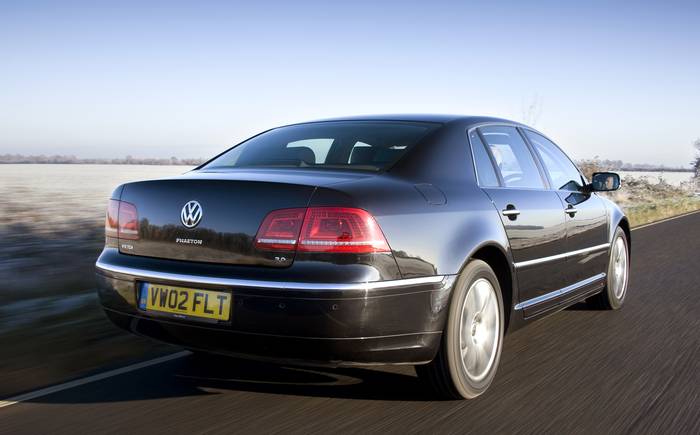 The Phaeton was originally launched with a variety of engines, including the 6.0-litre W12 and a V10 TDI. However, they sold slower than sour milk and depreciation was cliff-face steep. Consequently the only model available now to UK buyers is the 3-litre diesel. It's a good compromise between surging power and acceptable efficiency and it does a great job of producing both quietly. All models come with a six-speed gearbox and four-wheel drive as standard while air suspension gives supple ride quality over all surfaces and ensures the car doesn't lean too much into corners. Which model you choose depends on whether you want to travel in the front or the back. Those wanting to drive should go for the short wheelbase version; those being driven would be foolish not to plump for the extra legroom in the long wheelbase model.
The interior

The Phaeton might lose calamitous amounts of money but that's no reflection on its standard equipment list or the quality of its fixtures and fittings. Inside, there's enough leather and wood to furnish a gentleman's club and it's all stitched together with even more loving care than other VWs. And there are all the luxury extras you'd expect of a car wearing a price tag in excess of £50,000, such as four-zone climate control, a 12-speaker sound system and rear sun blinds. Even the SWB models have generous leg space in the back seats and if you do want to drive, there are sumptuous seats up front and plenty of adjustment to get comfortable. There's also a large range of options for drivers to specify their Phaetons to their exact requirements, with fully adjustable and air-conditioned rear seats and even TV reception for the sizable sat nav screen.
What to look out for
There have been no official recalls on the Phaeton to date, and owners wax lyrical about the car's astonishing quality. We've picked up occasional murmurings about high tyre wear and one owner who had paint complaints on a car from 2006. As with any luxury car, service history is important, and you need to check everything works, from the four-zone climate control to the myriad electric seat adjustments.
Second-hand prices look spectacularly good value — when new, the Phaeton costs less than rivals from BMW, Audi, Jaguar and Mercedes, and it depreciates a little quicker than its rivals in its early life. If you fancy a two-year-old example, reckon on paying about half what it cost new, even for an immaculate car with impeccable history and low mileage.
The big disappointment for some second-hand buyers is the Phaeton's anonymity — it's not a bad-looking car; it's just not that distinctive. At the luxury end of the market, badge snobbery and road presence are important considerations for many, but if you prefer to wear your wealth and good taste in a slightly more discreet way, the Phaeton could be for you.
The one to buy
Volkswagen Phaeton 3.0 V6 TDI 4MOTION
Factfile
Price:

£52,180 (correct at first publication)

Engine:

2967cc, V6 diesel

Power:

237bhp @ 4000rpm

Torque:

369 lb ft @ 1500rpm

Transmission:

6-speed automatic

Acceleration:

0-62mph in 8.3sec

Top Speed:

147mph

Fuel

32.2mpg

CO2:

224g/km

Road Tax Band:

K 

Dimensions:

L 5059mm W1903mm H 1450mm
VW Phaeton used car rivals for similar money