Volkswagen Eos review (2006-2015)
Pretty EOS is Volkswagen's take on the coupe/convertible sports tourer
What is the VW EOS?
It difficult to fathom, but soggy old Britain is one of Europe's biggest markets for convertibles. That's probably because on the rare occasion that the sun does appear, you really want to grab the opportunity to enjoy it. With our climate, a folding hard top is probably the best solution.
The Volkswagen Eos hit British showrooms in 2006, joining a segment that already sported offerings from Vauxhall, Volvo and Peugeot. As it is based on the underpinnings of a Golf, you might expect it to be called the "Golf CC", but instead it was blessed with "Eos", the Greek goddess of dawn.
Thanks to its five-part folding roof (which goes up or down in about 25 seconds), the Eos does not have the overly large rump seen on competitors with three-piece tops. Even so, the boot is of reasonable capacity, and rear-passenger legroom is decent, too. When their roofs are chopped off, cars lose structural rigidity, and tend to flex and shake with the roof down. The VW engineers have done a good job of suppressing unwanted movement in the Eos, but at the cost of additional weight.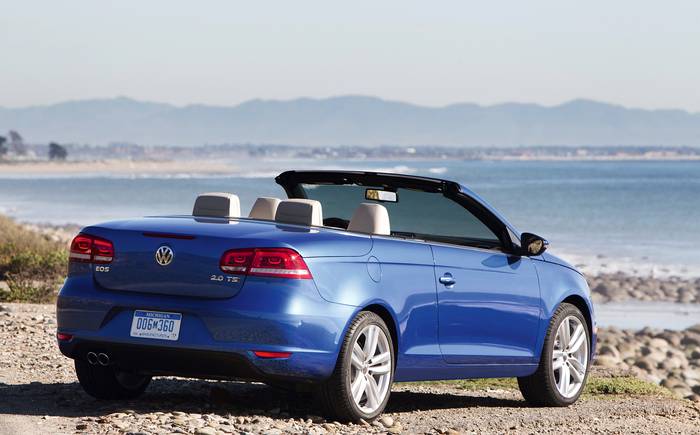 A good range of diesel and petrol engines is on offer. Diesel is obviously the better choice for fuel economy, but the roof-down soundtrack it creates isn't exactly inspiring. The petrol engines are more refined and, provided you choose the 2-litre over the 1.4, reasonably quick. There are a couple of V6 petrol engines, too — a 3.2 and a 3.6 — which were discontinued when the Eos was updated in 2011. Both develop around 250bhp, sound gorgeous and are real bargains if you can live with poor fuel economy: a 2011-registered V6 model can be yours for about £16,000, roughly half what it cost new.
All models come with the electric folding roof as standard, and the biggest seller is the Sport, which sits on bigger wheels and stiffer, lowered suspension but still feels reasonably supple.
Since a revamp in 2011 the Eos has offered a tilt-and-slide sunroof, iPod and Bluetooth connectivity, DAB radio and rear parking sensors. The upmarket Exclusive specification joined the range at the same time and adds two-tone leather, darkened rear lamps and snazzy alloy wheels.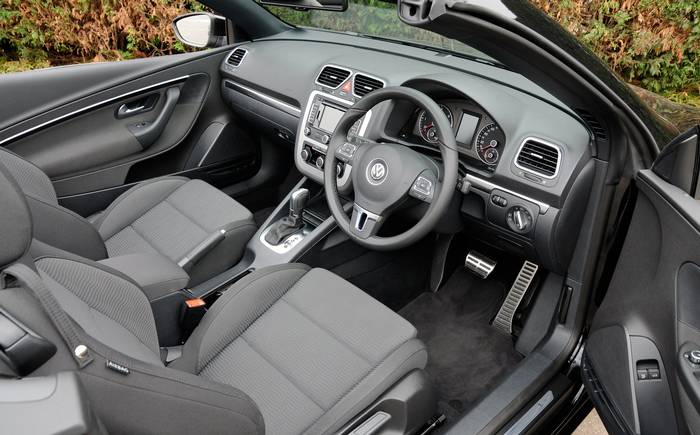 The interior
With the roof up, the Eos feels as refined as any coupé on the market and suffers little wind noise. The interior fit and finish are impressive, soft-touch plastics are used for trim and the cabin has a premium-car ambience to it. Good-looking, practical and refined, a used Eos strikes the right balance between open-top motoring and coupé refinement.
What to look out for
There have been two recalls affecting the Eos since its launch in 2006, one for a fuel-pipe problem with the 2-litre diesel and the other relating to the DSG dual-clutch gearbox. Fixes for both will be completed free of charge by a franchised dealer, so check if the car you are looking at is affected.
Feedback from owners highlights a few weak spots on the Eos, most worryingly cases of failed clutches and dual-mass flywheels, which can result in a repair bill well in excess of £1,000. As with most convertibles, creaky roofs, excessive wind noise and leaks are not unknown.
The one to buy
Volkswagen Eos 2.0 TSI Sport
Specifications
Price: 

£29,115

Engine:

1984cc, 4 cylinders

Power:

207bhp @ 5300rpm

Torque:

206 lb ft @ 1700rpm

Transmission:

6-speed manual

Acceleration:

0-62mph in 7.8sec

Top speed:

148mph

Fuel:

39.8mpg (combined)

CO2:

165g/km

Road tax band:

G (£170 a year)

Dimensions:

L 4423mm, W 1791mm, H 1444mm
Volkswagen EOS rivals
Published December, 2012