Vauxhall Astra Mk 6 review (2009-2015)
Vauxhall's British-built compact family car offers something for everyone: a practical five-door model, a sporty three-door and an estate holdall.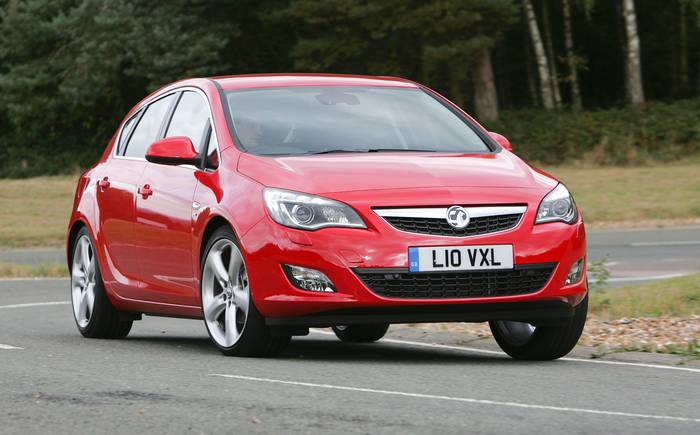 What is the Vauxhall Astra Mk 6?
This is Vauxhall's British-built compact family car that competes with the Ford Focus and Volkswagen Golf. It was launched in 2009 and comes in a broad line-up of practical five-door models, sporty three-door versions (GTC) and even an estate hold-all (Sport Tourer).
The variety of trim levels and engines is daunting, so allow us to fast-track you to an excellent all-round performer, the Astra ES 1.7 CDTi ecoFlex Start/Stop. At £19,380, it's good value compared with higher-specification models, and the running costs are competitive, thanks to impressive fuel economy of 76.3mpg and exemption from road tax.
---
Search for and buy a used Vauxhall Astra on driving.co.uk
---
Private buyers may be swayed by Vauxhall's offer of a lifetime warranty, but read the small print before signing on the line. All is not as it seems, as there are mileage restrictions, in this case 100,000 — not exactly a lifetime. And private and business buyers alike should should haggle hard for a discounted price, as it's a competitive market sector and deals are available.
The drive
Our pick of the range, the 1.7 CDTi ecoFlex features a stop-start system to help it achieve low emissions — just 99g/km — which means owners don't need to pay road tax and you can drive into central London without incurring the  congestion charge.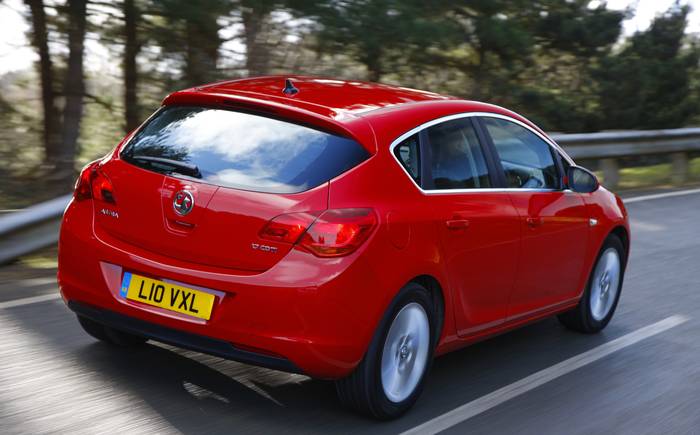 The turbodiesel unit is a punchy performer when you want it to be, and sips fuel when you're not in a hurry. There's a little bit of rattle and clatter when it's worked hard, but at a steady cruise refinement is first rate, helped in part by a calm, unruffled ride that does a good job of shielding passengers from the true state of British roads.
Its main let-down is that somebody in the engineering department with responsibility for fun was on holiday when the time came to tuning the Astra's steering and suspension. This is a perfectly competent car, but compared with a Focus or Golf it feels a bit boring, like the dull couple nobody wants to sit next to at a dinner party.
If you prefer petrol power, try the 1.4-litre turbocharged unit, which offers spirited performance without drinking excessive amounts of fuel.
The interior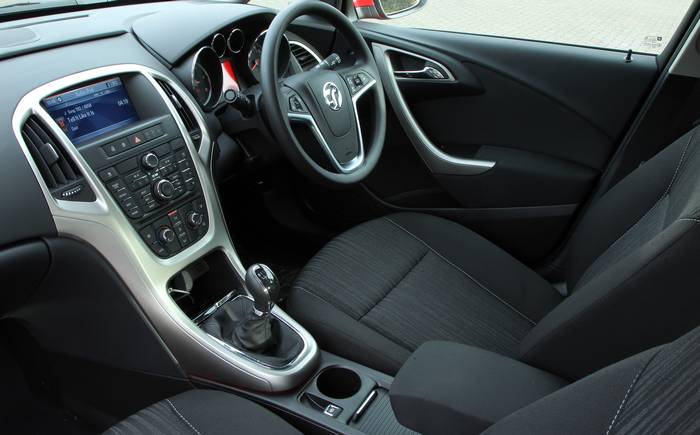 Whether you're a company car driver shuttling clients to and fro, a family of four with everything but the kitchen sink in tow or a retired couple occasionally taking friends or family out for the day, the Astra's cabin will prove accommodating and practical.
Despite the body's curvaceous look, it is surprisingly spacious: five adults can fit in with comfort, as legroom and headroom are generous and there's plenty of shoulder space. The Astra also features a wealth of stowage compartments and drinks holders, and the boot is a good size — 351 litres. Folding the split rear seats increases this to 1,216 litres, and although there is a ridge created by the folded seats, Vauxhall offers the option of a packing shelf that levels out the floor and creates a useful underfloor compartment.
The design of the dashboard is more modern than the rather sombre styling in the Golf and Focus, and comes as a breath of fresh air. But there are a few irritations, such as a plethora of small switches that takes some getting used to. The driving position is comfortable, and there's a wide range of adjustment for the seat and steering wheel.
The one to buy
Vauxhall Astra Exclusiv 1.7 CDTi ecoFlex Start/Stop
Factfile
Price:

£19,380 (correct at first publication)

Engine:

1686cc, 4 cylinders

Power:

108bhp @ 3800rpm

Torque:

192 lb ft @ 1700rpm

Transmission:

6-speed manual

Acceleration:

0-60mph in 11.8sec

Top speed:

118mph

Fuel

76.3mpg (combined)

CO2:

76.3mpg (combined)

Road tax band:

A

Dimensions:

L 4419mm, W 1814mm, H 1510mm
Vauxhall Astra Mk 6 used car rivals for similar money