BMW X5 E53 review (2000-2007)
Goes, stops and pulls huge loads – at a price
What is the BMW X5 Mk1?
For years BMW used the advertising slogan "The ultimate driving machine", so when it introduced the X5, its first SUV, in 2000, many enthusiasts were dismayed at such a betrayal. How could BMW build a car so at odds with all it stood for? But of course we shouldn't have worried; BMW's new 4×4 was virtually as great to drive as the car maker's class-leading 5-series.
The X5 was launched in March 2000 with a 4.4-litre V8 petrol engine only; within six months there was also a 3-litre straight-six petrol but it wouldn't be until March 2001 that the 3-litre six-pot diesel would arrive. The latter powerplant would become the unit of choice for the model's duration but if you're looking to buy a used X5, don't be too hasty to take the diesel route. The petrol V8 offers more relaxed cruising, better towing ability and not necessarily massively inferior fuel consumption, as the 3.0d has to work hard in the heavy X5.
---
Search for and buy a used BMW X5 on driving.co.uk
---
Buy a petrol X5 and you'll get more for your money. The chances are the car will have done a lower mileage, will be more highly equipped and if you convert to LPG the fuel bills will be slashed. On that note, watch out for cars that have been poorly converted already; ask for a copy of the certificate, which you'll probably need in order to get insurance.
Whether you buy petrol or diesel, we'd recommend one of the facelifted X5s from September 2003 since these have extra standard kit. The five-speed gearbox was also superseded by a six-speed unit and the V8 was boosted from 286bhp to 320bhp, while the 3.0d was taken to 218bhp from the previous 184bhp.
While the second-generation X5 can seat seven, the original (codenamed the E53 model) has chairs for only five occupants. That limits versatility a bit, but it doesn't compromise the X5's towing abilities; it'll pull any caravan or trailer you ask it to. However, the same can be said for the hugely capable Volkswagen Touareg Mk 1 which is refined, superbly built, comfortable, spacious and well-equipped. In 3.0 TDi form it's a peach, but reliability isn't all you'd expect and repair bills are high.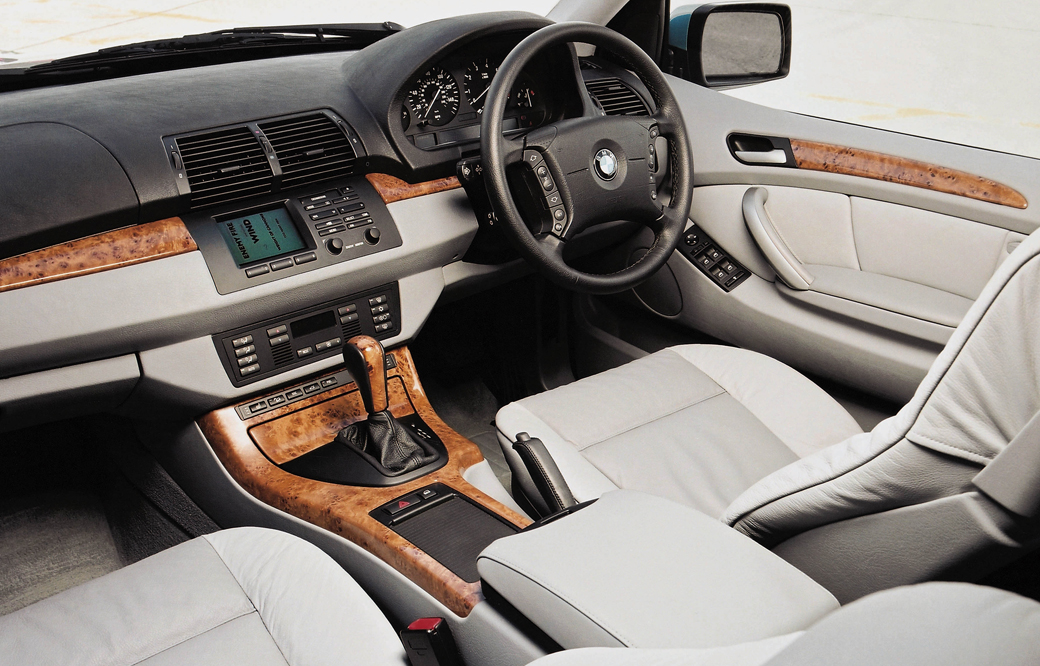 Offering the practicality of seven seats, the Volvo XC90 hasn't dated visually, although dynamically it's past its best – but build quality, safety and reliability make up for this. For peerless reliability, seven seats and phenomenal towing capabilities, the Toyota Amazon is worth a look but if image is key, the Range Rover Sport is a great all-rounder that's also superb to drive.
As with the Range Rover Sport, X5 prices have always held firm because of the car's desirability; this is one of those machines you have to experience to believe just how good it is. So while it's a premium car with the associated high running costs, sometimes it's worth making sacrifices to enjoy a bit of luxury. Or in the case of the X5, a lot of luxury.
What to look out for
Petrol-engined X5s give fewer problems than the diesels. The latter can suffer from overboosting because of a faulty ECU, while cracked inlet manifolds and faulty air mass sensors lead to flat spots and a lack of power. Some early petrol V8s have suffered from porous engine blocks, however, while the automatic transmission can fail. It's meant to be sealed for life but its fluid should really be replaced every 60,000 miles. Check all the electrics, too, as they can play up, while the xenon lights can be very costly to fix if they go wrong.
A tally of seven recalls is disappointing, with most first-generation X5s affected by at least one. Potential issues range from the steering failing and the brake pedal becoming detached, to the engine losing power and the airbags deploying when they shouldn't. Chafed brake hoses, failed seatbelts and engine cooling fans were also a possibility.
The one to buy
A 2007 56-plate BMW X5 3.0d SE auto will cost you £13,500 or so from a dealer, but you could pick up the same car privately for around £11,500.
Factfile
Engine:

2993cc, 6 cylinders

Power:

218bhp @ 4000rpm

Torque:

369 lb ft @ 2000rpm

Transmission:

6-speed auto

Acceleration:

0-62mph in 8.3sec

Top speed:

130mph

Fuel:

32.8mpg combined

CO2:

229g/km

Road tax band:

L

Dimensions:

L 4665mm, W 1870mm, H 1715mm
BMW X5 Mk1 rivals