Top 10 city cars
Still swingin'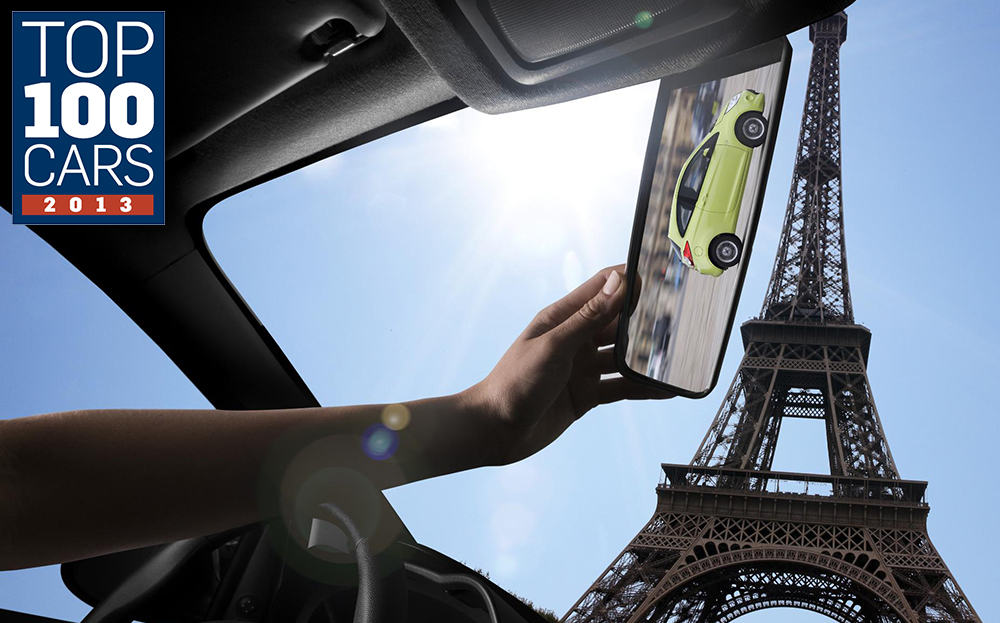 THE CITY CAR'S ROOTS lie in the Minis and Fiat 500s of the Sixties, driven by youngsters to jazz clubs and "happenings" down London's empty streets. Much has changed since — more traffic, less parking, even less jazz — but today's city car retains the go-kart steering, zippiness and sheer joie de vivre of its ancestors.
There have also been huge improvements in ride comfort, sound deadening and, in particular, safety. The modern city car is no longer a one-trick pony, and if you venture out of the metropolis you'll find that most are just fine when tackling motorways, and are comfortable and even enjoyable (provided you're in a front seat).
1. Skoda Citigo
The Citigo is one of a trio of near-identical cars, the Volkswagen Up! and Seat Mii being the others. We've  chosen the Skoda not for being better than the others, but for providing the best value. Its greatest strength is that it doesn't feel like a cheap and cheerful runabout — its 1-litre engine is smooth and the five-speed gearbox is a delight. For long-distance driving, the more powerful — and nearly as frugal — 74bhp version of the motor is the preferred choice.
The Skoda is fun to drive on city streets, and its lively, warbling, three-cylinder engine heightens the driving pleasure. This is Skoda's "bait" car, with which to entice buyers — the company hopes they will become loyal to the brand and eventually buy its bigger, more profitable models. If there's a hole in this plan, it's that they might never upgrade once they've discovered just how good a car the Citigo is.
Factfile Skoda Citigo, Price: £7,990-£10,765
Our pick: Elegance 1.0 75 GreenTech, £10,460
Engine: 999cc, 3 cylinders
Acceleration: 0-62mph: 13.2sec
Top Speed: 107mph
Fuel: 67.3mpg
Search for used Skoda Citigo on driving.co.uk 
2. Fiat 500
The Fiat 500 wasn't particularly good when it was reintroduced six years ago after a three-decade absence, and it has scarcely improved since. For a start, it's surprisingly large, which compromises its city-slicker status.
Its ride quality is terrible, the steering is too light and vague and despite the car's size there's almost no room in the rear cabin or the boot. It isn't even good value, yet it flies out of the showrooms, and we know precisely why — sheer charm. It's a great-looking car that still turns heads and raises smiles. What more do you need?
Factfile Fiat 500, Price: £10,010-£20,205
Our pick: 0.9 TwinAir Lounge, £12,810
Engine: 875cc, 2 cylinders
Acceleration: 0-62mph: 11sec
Top Speed: 107mph
Fuel: 70.6mpg
Search for used Fiat 500 on driving.co.uk 
3. Fiat Panda
The new Panda is to the 500 what Saffy in Absolutely Fabulous was to her barmy mother Edina. Far less flamboyant and attention-seeking, the Panda gets on with the job rather than just bragging about it.
It's not entirely sensible, especially if you pay extra for a model with the wonderful-sounding 0.9-litre two-cylinder turbo engine, but its design is thoroughly functional. The Panda is best in standard spec with the ancient but still game 1.2-litre engine. And it is the only city car on this list that has a four-wheel-drive option.
Factfile Fiat Panda, Price: £8,945-£14,995
Our pick: 1.2 Pop, £8,945
Engine: 1242cc, 4 cylinders
Acceleration: 0-62mph: 14.2sec
Top speed: 102mph
Fuel: 54.3mpg
Search for used Fiat Panda on driving.co.uk
4. Ford Ka
The Ka is based on the Fiat 500 and built in the same factory, so you may wonder why it doesn't enjoy the spectacular sales success of its Latin cousin.
Ford engineers, it is said, were appalled by the Fiat's suspension, so they developed their own, which is why the Ka's ride and handling are far superior to the 500's.
But its looks scarcely dilate the pupils, and parked alongside the Fiat it would almost vanish. Even so, it's worth considering for the suspension alone. The basic-spec 1.2-litre model is best.
Factfile Ford Ka, Price: £8,795-£11,295
Our pick: Edge 1.2, £9,795
Engine: 1242cc, 4 cylinders
Acceleration: 0-62mph: 13.4sec
Top speed: 99mph
Fuel: 57.7mpg
Search for used Ford Ka on driving.co.uk 
5. Kia Picanto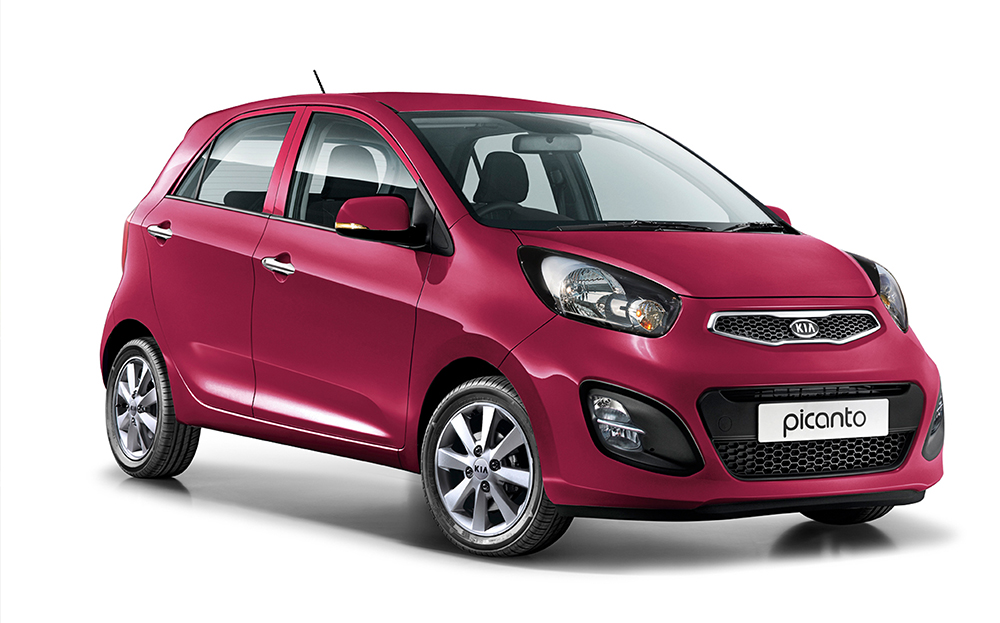 The days of Korean city cars competing on price alone are gone: the Picanto challenges rivals on every level. This great-looking car has a smart, space-efficient cabin and comes in three-door and five-door forms.
Its frugal 1-litre and 1.25-litre petrol engines give it good performance, and the first dodges the 100g/km CO2 barrier. Avoid the four-speed automatic, which spoils performance and wipes 12mpg off the fuel economy. Its only weakness is that it has no outstanding features, whereas the VW Up!, Seat Mii and Skoda Citigo certainly do.
Factfile Kia Picanto, Price: £8,045-£11,445
Our pick: 1.0 Air 5dr, £8,845
Engine: 998cc, 3 cylinders
Acceleration: 0-60mph: 13.9sec
Top speed: 95mph
Fuel: 67.3mpg
Search for used Kia Picanto on driving.co.uk
6. Toyota Aygo, Price: £8,595-£11,510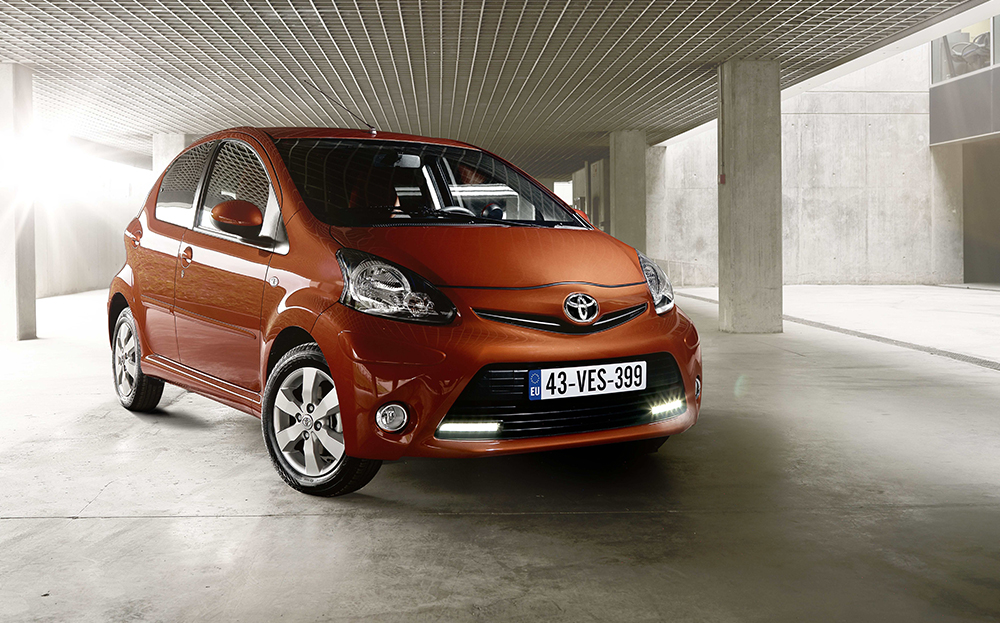 For Effective budget transport; cheeky appearance
Against Ageing; outclassed by Up!
Search for used Toyota Aygo on driving.co.uk
7. Chevrolet Spark, Price: £8,875-£11,195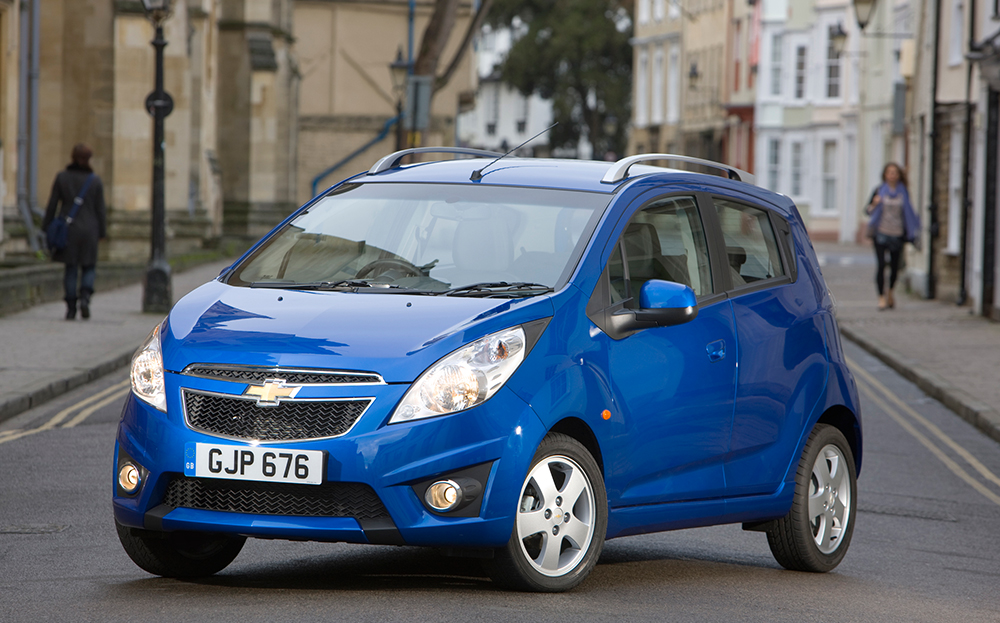 For Reasonable to drive; surprisingly spacious interior
Against Build quality is not great
Search for used Chevrolet Spark on driving.co.uk
8. Hyundai i10 (2014 model), Price: £8,345-£10,495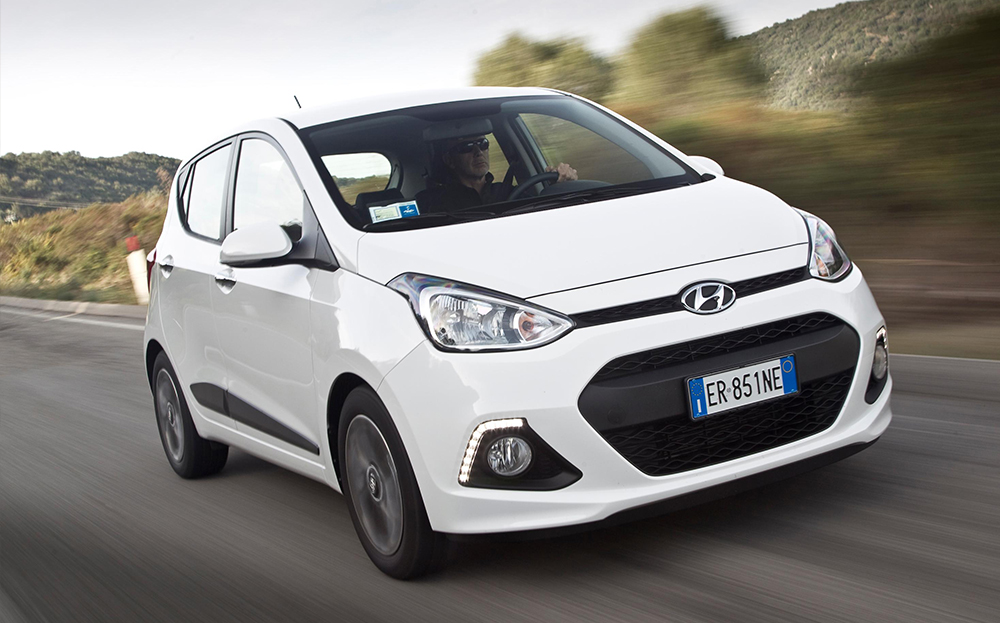 For Quality now rivals that of Volkswagen and it drives well too
Against Engines feel underpowered
Search for used Hyundai i10 on driving.co.uk
9. Suzuki Alto, Price: £7,199-£10,349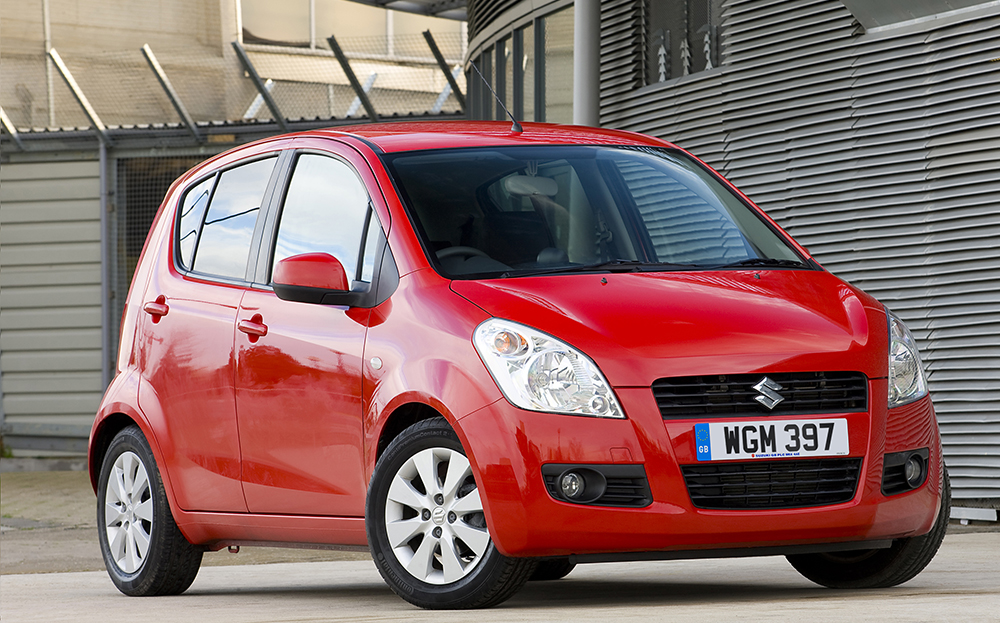 For Cheap as chips; three-pot engine
Against Budget feel
Search for used Suzuki Alto on driving.co.uk 
10. Smart Fortwo, Price: £9,575-£15,395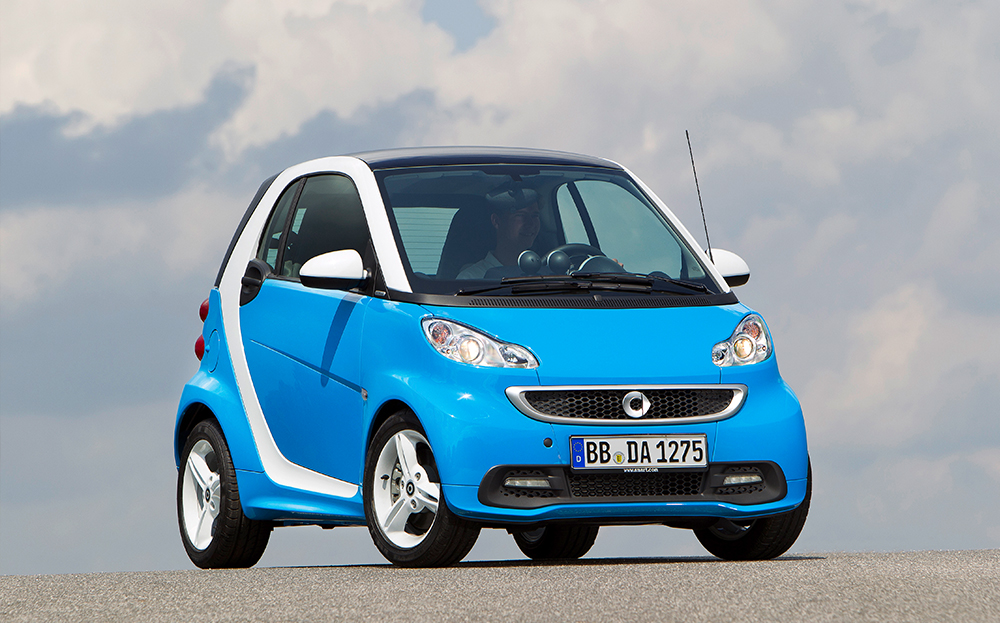 For Fits into parking bays sideways; still looks fresh
Against Only two seats; tiny boot
Search for used Smart Fortwo on driving.co.uk
*Prices correct at time of publication
 Top 100 cars index