First drive review: Volkswagen Golf SV 2.0 TDI SE (2014)
Giles Smith reviews the Golf's larger brother, and replacement for the Golf Plus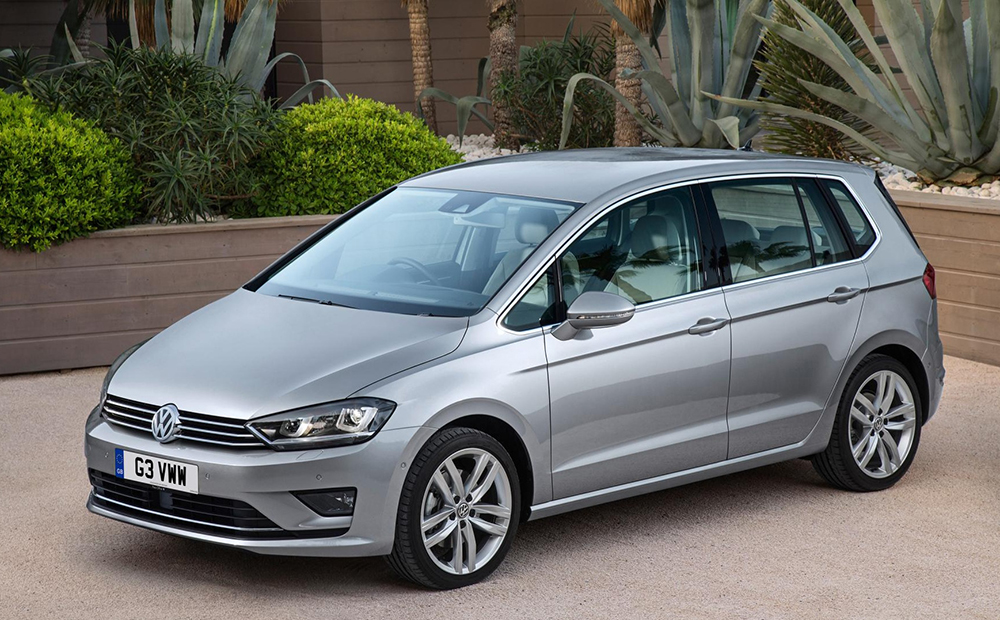 THE UBIQUITY of the Volkswagen Golf on Europe's roads (try to drive for more than 10 seconds without seeing one) is no mere coincidence and nor is it some kind of weird fluke. The Golf just happens to be a really good car. Indeed it is widely understood that if anyone puts you on the spot and asks you what car they ought to buy, the best answer you can possibly give, or certainly the safest, most reliable answer — the one least likely to backfire spectacularly in your face further down the line — is "a Golf".
"I want something that is going to be reliable and frugal and well built. What do you reckon?"
"A Golf."
"What stupidly fast hatchback would you buy if you were me?"
"A Golf."
"I'm looking for a car that's going to work for the whole family. Any ideas?"
"A Golf."
Actually the Golf is so much the obvious solution that it could pretty much serve as the answer to any question about anything.
"How far is it from London to Tel Aviv as the crow flies?"
"A Golf."
"If it takes a man 26 minutes to fill a bath using the cold tap, and 34 minutes to fill it using the hot tap, how long will it take him to fill the bath with both taps switched on at once?"
"A Golf."
So you have to wonder, when the Golf does such a good job of ticking people's boxes and already comes in an estate version, what real need is there for another variant on the theme? Or in other words, is the new Golf SV the world's least necessary car?
It used to be called the Golf Plus, which made it sound like some kind of supermarket loyalty programme, but it will now be known more crisply as the Golf SV. At least that's what we'll be calling it in Britain. In other European markets it will go by its more exotic full name — the Golf Sportsvan. VW has apparently elected not to risk that new compound coinage among people with English as a first language who might have quibbled, with some justification, that there is nothing particularly sporty about the Sportsvan, and furthermore that it isn't a van.
Let's not forget too that in Europe the word "van" may allude brightly enough to adaptable, perky and fully-glazed family transport, but in Britain the term inevitably carries some weighty baggage unhelpfully connected with things such as being royally cut up at roundabouts, or with giving up part of your weekend in order to help your brother-in-law move a sofa. You can see why VW shied away from it in this instance.
The Golf SV is basically 2012's excellent Golf Mk7 but slightly bigger in every direction: 83mm longer, 126mm taller and 81mm wider. If you want to get your head around this, imagine what an ordinary Golf might look like in the split second before it ran you over. That's what the Golf SV looks like all the time.
So you have to wonder, when the Golf does such a good job of ticking people's boxes and already comes in an estate version, what real need is there for another variant on the theme?
Still, this inflation hasn't been secured at the loss entirely of the car's essential shape and character, which is not something one can straightforwardly say about other attempted bulk-ups in this area, such as the Mini Countryman, which is clearly a Mini but frozen forever in a slightly creepy hall of mirrors, and the Fiat 500L, which resembles a 500, but only as seen during a witheringly awful hangover.
Determined to register as a step forward, the SV is 90kg lighter than the podgy old Plus and therefore capable of new, saintly feats of sustainability. The TDI BlueMotion version emits only 95g/km of CO2 and the new set of petrol and diesel engines consume up to 20% less fuel.
Also, in accordance with the faultless logic that, being larger, it's that much easier to hit and to hit things with, the SV bristles like no other Golf with safety features. There's not only a blind-spot sensor, to caution against unwise overtaking manoeuvres, but also a radar-based rear traffic alert, which won't merely inform you that you're about to back out of your drive into the path of a passing car, but will apply the brakes on your behalf if you fail to.
---
Search for and buy a used VW Golf Plus on driving.co.uk
---
It drives like a Golf hatchback, only slightly bigger. There's a little bit of flop and wallow about it — inevitably given the bulkier body, stocked with the bigger, cabin-brightening windows. The steering still feels sharp, the suspension has retained its well-behaved, Germanic stateliness and the 2-litre diesel engine I tested didn't struggle with the additional burden. But then it's not as though the car has suddenly grown a trailer.
The assumption of the project seems to be that you want more room, but not as much as a Golf estate will yield you, and that you fancy a little more of that saucy MPV action — the proud seating position and the adaptable space — although not to the point where you are ready to step out of the Golf comfort zone altogether and buy a Touran.
There seem to be a lot of questions begged here, and in the end those questions are going to be about you: who you are and what you want. But my feeling, for what it's worth, is that the answer to all of them is still: "a Golf".
Verdict ★
When more means the same, only different
2014 VW Golf SV 2.0 TDI SE specifications
On sale: Now
Price: £23,950
Engine: 1968cc, four-cylinder
Power: 148bhp @ 3500rpm
Torque: 251 lb ft @ 1750rpm
Transmission: 6-speed manual
Fuel: 65.7mpg (combined)
CO2: 112g/km
Acceleration: 0-62mph, 9.2sec
Top speed: 130mph
VW Golf SV rivals
Fiat 500L, from £14,995
For Affordable; lots of personalisation; seven-seat option Against TwinAir engine is weak; interior lacks quality feel; noisy
Search for and buy a quality used Fiat 500L on driving.co.uk
Mini Countryman, from £16,615
For Cheeky style of the hatchback with more space and good engine range Against Cramped compared with SV
Search for and buy a quality used Mini Countryman on driving.co.uk