The Emma Smith review: Compact SUVs
According to their brochures, these SUVs combine the best qualities of a lively hatchback with the most desirable elements of a practical and sturdy 4x4 ‒ but which one is best?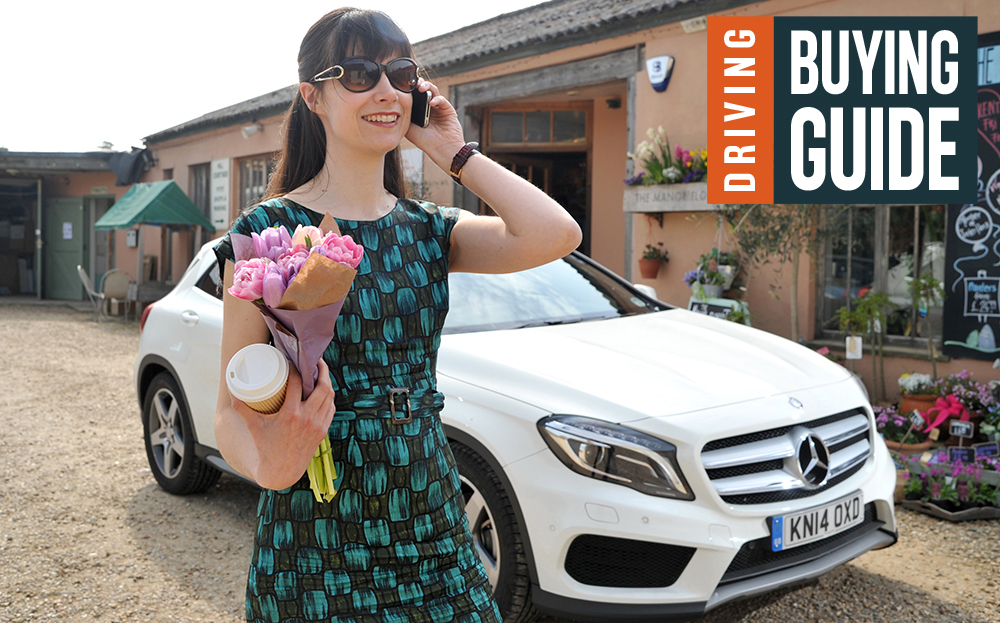 ASK A man what he had to give up when he settled down and became a dad and you can bet your last Porsche 911 GT3 that close to the top of the list will be that two-seater sports car he dreamt of owning. The same is not usually said of women. When we become mums it is generally accepted that we give up all sorts of trifling things — careers, sleep and suchlike — but say that you have forsaken your dream car and you will be met with astonishment.
Yet it is true. While women may not hanker after speed in the same way — although some no doubt do — that doesn't mean we greet the inevitable arrival of a five-year-old Ford MPV with unalloyed glee. Modern mothers are more likely than any previous generation to have been of independent financial means for years before they tied the knot, and as a result are more than likely to have owned a car — perhaps a nifty Mazda MX-5, a cute Fiat 500 or a fun Mini hatch.
It also follows, then, that they have higher expectations when it comes to choosing a family vehicle. They don't want just another practical, economical and safe five-seater: they want all those things and more.
Of course, we all have to be realistic. As a mum of two there are several features that I consider my car must have from the start. It must have five doors (obviously), it needs to be big enough to hold two child seats and a booster seat, it has to be small enough to make parallel parking in town not too daunting and it must be economical on fuel but not at the expense of performance — I don't want a gutless 1-litre engine when I am late for the Beavers pick-up.
I want the raised seating position of the much-derided soft-roader, partly because it gives a better view of the road and partly because it is easier to load child seats, kids and toys without bending down. Mostly, though, it is because it makes me feel more secure when I'm behind the wheel in traffic. Rather than me cowering around in a small hatchback, I think of these vehicles as the motoring equivalent of platform heels and a trouser suit. Finally, of course, the car should deliver all these things against the keenest possible price.
So with a clipboard and pencil in hand I set off to test three cars that on paper at least seemed to satisfy my six essentials. According to their brochures, they combine the best qualities of a lively hatchback with the most desirable elements of a practical and sturdy 4×4. The fact that they belong to the fastest-growing category of car on sale in the UK — crossovers — is evidence surely that they have hit the right spot as far as buyers are concerned. Maybe so, but how would they score against my essentials list?
Mercedes GLA-class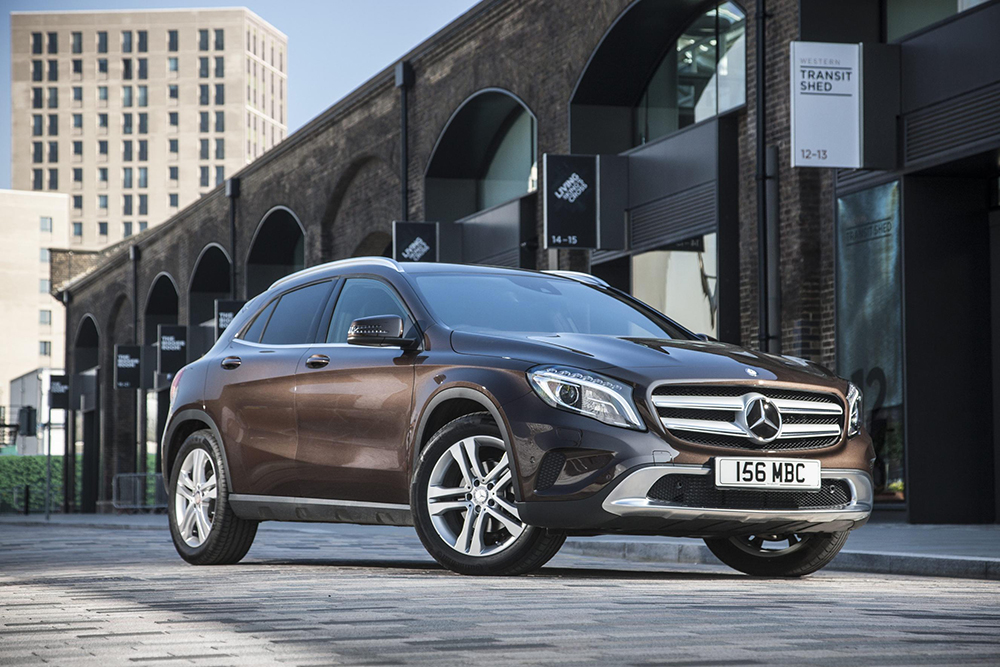 Mercedes describes the new GLA as "a wanderer between automotive worlds", which sounds almost romantic. But crossovers are the unrivalled pragmatists of the car industry — attempting to give people everything they want, even if it sometimes ends up being a bit of a mishmash.
Unfortunately the German company's effort turns out to be really more of a beefed-up hatch in a fat suit. The biggest surprise is that it doesn't have a very high seating position. Among the chief attractions — particularly one cited by women — of a Chelsea tractor is a commanding view over the rest of the traffic, but the front seats of the GLA are only about 1½in higher than in an A-class, the hatchback with which it shares its chassis. This is a serious minus point for me: one key criterion on my list is the ride height — both for ease of loading and for the view of the road.
That said, it did come with other "off-road" features, including four-wheel drive, which is standard on the diesel GLA 220 CDI 4Matic and the petrol-powered 250 4Matic — handy in the winter but not really intended for genuine off-roading. It also came in an aspirational — and totally unforgiving — shade of Farrow & Ball off-white. One day parked up in the recent "smog" and it looked as if I'd crossed the Sahara.
The cabin is a touch roomier than its hatchback sibling's (and can easily meet my child seat needs) and you get a lot more boot space: 481 litres to the A-class's 341 litres, rising to 1,235 litres with the back row of seats folded. The GLA has fatter tyres and softer suspension than the A-class, which makes for a more comfortable ride, and it's easy to manoeuvre in and out of traffic and fit into parking spaces.
It's no slouch either: 0-62mph in 8.3 seconds for the model I drove, or just 4.8 seconds for the AMG version. The latter costs more than £44,000 but if you're seeking a compromise with a spouse who's reluctantly parted with his/her sporty little number after the arrival of the twins, maybe this is the sort of face-saving solution you'd be willing to pay for.
The GLA's extra bulk and weight reduce fuel economy, but at 55.4mpg it is in another league to the original Chelsea tractors, many of which could barely manage 20mpg. The downside of the diesel engine I tried was that it was disruptively noisy, especially around town, and don't try opening one of the rear windows on the motorway unless you urgently need to drown out all interference from the back seats.
True to the soft-roader's nicey-nicey, PC image the default driving mode is Eco. Sport mode sharpens the throttle response and peps up the gearing — excellent for nippy overtaking.
The most amusing GLA addition has to be the extra stowage space under the boot floor, complete with cheapo collapsible plastic shopping basket. It makes for a jarringly pound-shop-style addition to a so-called luxury model. Note to Mercedes: if you really want to tempt a yummy mummy out of her Range Rover Vogue, next time at least make it a Longchamp bag.
Factfile:
Mercedes GLA 220CDI 4Matic
Ride height: 124mm
Width of back seat: 1,410mm (widest point); 1,350 mm (narrowest)
Isofix: Yes
Boot space: 481 litres (seats up); 1,235 litres (seats down)
Acceleration: 0-62mph: 8.3sec
Fuel: 55.4mpg
Ease of parking: 5/10
Stylishness: 7/10
Price: £31,035
Critic's rating: ★★★☆☆
Best buy:

Nissan Qashqai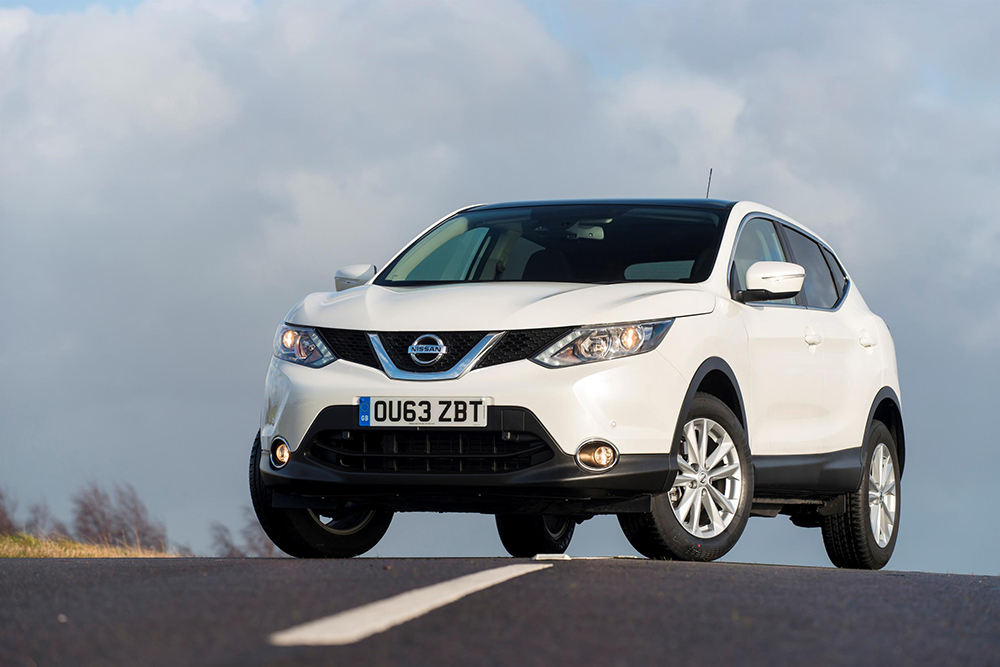 The Qashqai was designed in London, engineered in Cranfield, Bedfordshire, and built in Sunderland in Tyne and Wear, making it the most patriotic car on test. Unlike its two rivals here it is also distinctly higher than a conventional hatchback (although it is marginally lower than the first-generation model) and it looks huge.
My test car didn't help itself with its brash purple paint job. As I edged it out of a rather tight parking space I attracted an alarming number of withering looks. (The sight of a lone woman in charge of a big car still seems to amount to an act of provocation in some quarters.)
It comes equipped with overly helpful parking sensors, whose constant panicky beeping gave the impression I was about to drive headlong into a wall rather than get within a yard of a highly visible gatepost.
The Qashqai's boot is 42 litres smaller than the GLA's at 439 litres but this rises to a cavernous 1,585 litres with the seats folded flat. The one I drove was two-wheel drive, and Nissan estimates only 5% of sales will be four-wheel drive. The new Qashqai is also 88lb lighter than the previous model, manages 74.3mpg on the combined cycle in official tests and has the lowest emissions of the three cars here — 99g/km, putting it into vehicle tax band A, so it incurs no charge. This is a car perfectly designed to restore the eco-karma of all those poor, vilified urban SUV drivers.
The flip side is that it's nowhere near as powerful or fast as its rivals , with just 108bhp and a 0-62mph time of 11.9 seconds, although the range also includes a 1.6-litre 128bhp diesel that manages 64.2mpg — useful for those who might need a boost when carrying heavy loads, or teenagers.
I drove a 1.5-litre model in the range-topping Tekna trim with part-leather seats and 19in alloys (best avoided unless you drive on unusually smooth roads), heated and power-adjustable front seats, cruise control and lots of safety features: a lane-departure warning system (annoying but you can turn it off), front and rear parking sensors (irritating yet useful, and again you can switch them off), collision braking assistance (could be a lifesaver) and automatic dipping headlights (essential when easily distracted from dipping duties by back-seat chatter).
Although not up there with Mercedes or BMW in the luxury stakes, the Nissan's interior felt sleek and comfortable. Plus there's more room for the rear-seat passengers than in the previous model.
The Qashqai remains a versatile car, and well adapted to modern urban living, albeit linked with perennially uncool stuff such as school runs, retail parks and supermarkets.
It is popular for a reason: affordable and practical, the Qashqai gives the sense, unlike the Mercedes and the BMW, that it has been built and designed specifically for family use. Plus, everything considered, it's a lot more stylish than a people-carrier.
Factfile:
Nissan Qashqai 1.5 dCi Tekna
Ride height: 182mm
Width of back seat: 1,250mm
Isofix: Yes
Boot space: 439 litres (seats up); 1,585 litres (seats down)
Acceleration: 0-62mph: 12.4sec
Fuel: 74.3mpg
Ease of parking: 6/10
Stylishness: 5/10
Price: £24,840
Critic's rating: ★★★★☆
BMW X1

This BMW is getting rather long in the tooth and it's beginning to show. It's not as pretty as the GLA, or as commanding as the Qashqai , but do its looks really matter so much once you're behind the wheel? I certainly have less time post-childbirth for wondering if my car is attracting admiring glances.
From the driver's seat I found the X1 the most fun to drive. The Mercedes is marginally more powerful and matches its 8.3 seconds from 0-62mph, but the BMW felt speedier, accelerating powerfully and effortlessly in all gears. It was quieter than the GLA too, and perhaps secure in the sense of its own sportiness, the interior was allowed to channel its feminine side, feeling softer and generally more luxurious.
With its feisty acceleration and impressive economy — 62.8mpg on the combined cycle and 119g/km of CO2, putting it in vehicle tax band C (free first the first year and £30 thereafter) for my EfficientDynamics diesel variant — the X1 is a good town car.
My main concern is that it doesn't feel as practical as it should. The X1's boot space is the smallest of the three at 420 litres with the seats up (although it grows to 1,350 litres with them down). Rear legroom is fairly limited for older children and in the front the pedals are offset to the right in manual versions, which some drivers may find unsettling, although it didn't bother me. It was awarded five stars in the Euro NCAP safety tests for adult occupants (as was the new Qashqai; the GLA has yet to be tested).
The X1 is a story of highs and lows, and at its launch some accused BMW of rushing its production in order to cash in on the lucrative new compact SUV market. Like the GLA, it is based on a hatchback — the 1-series — and feels even less sure of its distinct purpose. A new X1 is expected in 2015, so there is an opportunity for BMW to take a fresh look at the car and come up with a design that will steal a march on its rivals. If the revamp keeps all the plus points and sheds the minuses it will seize that still-unclaimed title — the perfect mum-mobile.
Factfile:
BMW X1 sDrive 20d EfficientDynamics
Ride height: 179mm
Width of back seat: 1,400mm
Isofix: Yes
Boot space: 420 litres (seats up); 1,350 litres (seats down)
Acceleration: 0-62mph: 8.3sec
Fuel: 62.8mpg
Ease of parking: 6/10
Stylishness: 4/10
Price: £26,760
Critic's rating: ★★★☆☆