The Clarkson review: MG6 Magnette
MG hammered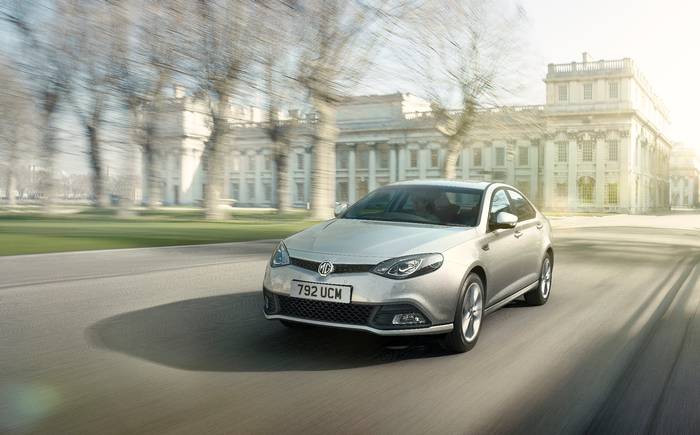 This is a car for people who grew up dreaming of driving a sporty B but who are now to be found at home, in their wing-backs, flicking through the channels and muttering about how there's nothing to watch on television these days. It's a car that takes them back to their youth. A car that reminds them that Britain was, and still is, the greatest country on earth. It's the Spitfire, the hovercraft and Nelson. It's Churchill. It's Elgar. It's Wordsworth and Shakespeare and Brunel.
---
Search for and buy a MG6 on driving.co.uk 
---
Except it isn't. Because it turns out that the MG6 is actually built in China by SAIC Motor — the company that now owns MG Rover (though not the name Rover). It is then shipped over to Birmingham, where a small team inserts the engine. Claiming that this car is British is like claiming that an Airfix model was built in your front room. It wasn't. It was merely assembled there.
Yes, the car we buy here was styled in Britain, and some of the chassis work was done here too, with — whisper it — German components. But in essence, while this car may be pretending to be Kenneth More, it's as Chinese as a chopstick.
This is not necessarily a bad thing. Because, typically, what happens when a Far Eastern country starts exporting cars to the West is: you get a substandard product with a price that's so low, no one really cares that it's held together with wallpaper paste and has an engine that sounds as if it's running on gravel.
Then, in an alarmingly short time, the cars are suddenly as good as their European rivals. Toyota went from the Toyopet to the Lexus LFA in about five weeks. One minute Kia was making the woefully awful Rio, and the next it had the bloody good Cee'd.
The company behind the MG6 started with an advantage. It didn't begin with a jungle clearing and a workforce that thought it was making dragons: it began with the underpinnings of the Rover 75 and employed people who navigated to work with their iPhone 5. In theory, then, the MG6 would drive quite well and come with a DFS everything-must-go price tag. Which would make it a tempting proposition even without the nonsensical Last Night of the Proms-style marketing.
So why, I wondered, was it so hard to book a test drive? Excuses were always made. Other phones were ringing. Other priorities had to be addressed.
Well, last week I sneaked behind the wheel for a short drive, and very quickly the reason became obvious. This car is not bad at all. It's hysterically terrible.
Let's start with the ignition key. You know those cheap electronic toys that you buy children from the gift shop on a cross-Channel ferry? Well, this has the quality of the wrapping in which they are sold. And naturally it didn't work.
I learnt this outside the police station in Ladbroke Grove in west London. The traffic lights went green and I set off. But I didn't because the car stalled and it would not restart. So I pushed it to the side of the road, where after several attempts the diesel engine finally clattered into life.
At the next set of lights exactly the same thing happened again. And so at the third set I made sure it didn't stall by summoning 3,000 revs and setting off nice and gently. This made the whole of Notting Hill smell of frazzled clutch.
There are some other interesting faults as well. This is not a small car. It's a little larger than a Ford Focus and a little smaller than a Mondeo. But inside it has the headroom of a coffin.
Speaking of which, it didn't do especially well in its Euro NCAP safety tests. The airbag didn't inflate sufficiently well to stop the dummy driver's head hitting the steering wheel, and while the feet and neck were well looked after, protection for the thighs and genitals was only "marginal". I make no observation about that. Yet. Of course, as it's a Chinese car that's assembled in Longbridge, you would not expect much in the way of quality. And it doesn't disappoint.
It's a widely held belief that mass- produced plastic was developed around the turn of last century. Well, the dashboard on the MG6 appears to be fabricated from a plastic that pre-dates that. I think it may follow a recipe laid down in the Middle Ages, when villagers would use cattle horns to make rudimentary windows.
Naturally there are many sharp edges. There's one in particular on the steering wheel that could probably give you an elegant paper cut on that sensitive bit of webbing between your index finger and thumb.
Then there's the kung-fu cupholder. It's not damped, as it would be in a normal European car, so when you push the button your drink leaps out onto your passenger's leg like Cato from the Pink Panther films. And it is a struggle to get any can I've ever seen to fit in it.
I shall talk now about the steering. It's electric. But only literally. It feels as though the steering wheel is connected to an egg whisk of some kind. Spin it fast enough and the blades turn, causing a vat of creamy milk to start thickening. After this happens it begins to revolve  v e r y  s l o w l y and that action produces a centrifugal force that turns the front wheels. It's a neat idea but I'm not sure it works very well.
As a boy, I used to look at my dad driving and wonder how he knew how much to turn the wheel when going round a corner. Alarmingly, in the MG6 you don't.
Last weekend in Scotland I encountered many members of the MG Owners' Club, driving from breakdown to breakdown with dirty fingernails and big grins on their faces. They had their roofs down, despite the cold, and it all looked very hearty and rorty and James May-ish.
The MG6 offers an experience that is nothing like that. It may say MG on the rump but it is as far removed from its predecessors as you are from an amoeba. It's a carrier bag with a Coco Chanel badge. And I think that's rotten.
The whole car's rotten, really, and here's the clincher. It's not that cheap. The Magnette model I drove is £21,195. And for that you can have a normal car that doesn't lacerate your fingers, stall, refuse to start, bash your head in every time you go over a bump and ruin your gentleman sausage if you have a crash.
In the whole of April the new MG operation sold 13 cars throughout the whole of the UK. I'm surprised it was that many.
Verdict

★☆☆☆☆
Rotten to the core.
Factfile
MG6 Magnette 1.9 DTi-Tech
Release date:

Out now

Price:

£21,195

Engine:

1849cc, 4 cylinders

Power:

148bhp @ 4000rpm

Torque:

258 lb ft @ 1800rpm

Transmission:

6-speed manual

Acceleration:

0-60mph in 8.9sec

Top speed:

120mph

Fuel:

53.5mpg

CO2:

139g/km

Road tax band:

E (£125 for first year)

Dimensions:

L 4651mm, W 1837mm, H 1472mm
---
Search for and buy a MG6 on driving.co.uk 
---