The Clarkson review: Kia Pro Cee'd GT Tech (2013)
Er, thank you, Mandelson
---
Published 25 November 2013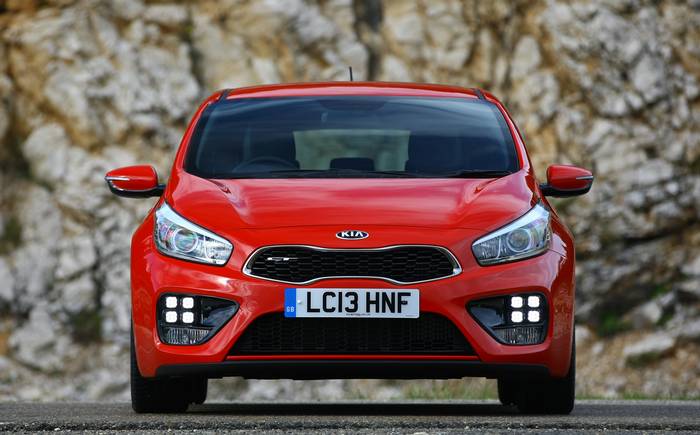 Mandelson was business secretary in the aftermath of the global economic crash and decided that what the British car industry needed to help it through the ensuing recession was a bit of government support. He therefore came up with the scrappage scheme.
---
Search for and buy a Pro Cee'd on driving.co.uk
---
The idea was simple. If you bought a new car, you'd get £2,000 for your old one, no matter how asthmatic and rusty it had become — well, as long as it had an MoT. The effect was instant. Sales of new cars rocketed by 30%, airfields filled up with old bangers that would go to the crusher and everyone was very happy.
Those of a green disposition were pleased because old cars produce a lot more carbon dioxides than new ones. Shiny-suited car salesmen were happy because they didn't have to spend all day at work playing solitaire. You were happy because you got £2,000 for a car that was worth just shy of £7.50, and even the taxpayer was happy because, thanks to VAT, the government was earning more than it was giving away in subsidies. But the people wearing the biggest smiles of all were the Korean car makers: Kia and Hyundai.
You see, people were not exchanging their old cars for BMWs or Audis or Range Rovers. No. They were going for cheap runabouts. The scrappage scheme — not just here but in Germany and France as well — took Korean car dealerships from small lots on industrial estates in towns you've never heard of to centre stage in the cities. Let me put it this way: 98.8% of all the cars Kia sold under the scrappage scheme were to people who had never owned a Kia before. Frankly, Mandelson should be given the freedom of Seoul. Certainly he should be adopted as a bonnet mascot for Kia. Especially as the name is derived — and I'm not making this up — from the Korean word "to come out".
Kia did not begin making cars properly until 1986. And even then only in very small numbers. In fact, it made just 26. But the following year its numbers were up to more than 95,000. And all of them were extremely horrible. They continued to be extremely horrible even as the 21st century dawned.
I still maintain the worst car I have driven is the Kia Rooney. Or was it Rio? And the second-worst is the equally Korean Hyundai Accent with a three-cylinder diesel. Both still make me shiver. I'd rather sit in a bucket of vomit.
Had people bought one of these under the scrappage scheme, they'd have been breaking into the airfields and the scrapyards to get their old bangers back.
Today, though, things are very different. The Kia Sportage SUV is charismatic. The latest Kia Cee'd is verging on excellent, as is the coupé version, the Pro_Cee'd. And the car you see in the pictures today is the hot version of that. A hot Kia. A vehicle to rival the Volkswagen Golf GTI and the Ford Focus ST. Who'd have thought it?
First of all, the Pro_Cee'd GT is extremely good-looking. Sporty without being brash. It hints at its potential with discreet nudges such as the red brake callipers and the deep sills. And the little red stripe across the radiator grille. The lines are exquisite.
Then you get inside and it's much the same story. Yes, legroom in the back is tight, and after you've tilted and slid the front seats forwards to let someone in, they return to a position that would suit only Richard Hammond. But we see this idiocy in many cars these days. What we don't usually see is quite so many buttons.
I was driving the high-spec Tech version and it was festooned with switches. And equipment. You get a tremendous sat nav system, and a button that changes the look of the instrument panel. You get voice activation and iPod connectivity. You get far more than you would get on a Golf GTI, that's for sure.
After you set off, it continues to impress. It's quiet and comfortable, and the driving position is perfect. There are lots of places to put your stuff, and nothing is rattling around in the enormous boot because a cargo net is holding everything in place. I especially liked the position of the gearlever in relation to the wheel, and was deeply impressed by the tiny gate through which it moves. First, third and fifth are no more than a few millimetres apart. It's as if Kia has taken the best bit of every hot hatch that's yet been made and put them all in the Pro_Cee'd GT.
Then the company has given it a seven-year warranty and a price tag of £22,495 — about £3,600 less than VW charges for an entry-level GTI. So that's all great and tremendous . . .
Unfortunately after about half an hour you realise that the whole car is a sham. A matrix. A veneer of excellence draped over a lot of pile-'em-high-and-sell-'em-cheap rubbish.
And it isn't hard to see why. Mothers Pride is a brand of sliced bread, and if all you want is a base on which you can serve a helping of baked beans, that's absolutely fine. But what Kia has done with the Pro_Cee'd GT is wrap a slice of what my grandfather used to call "wet vest bread" in a faux crusty exterior with bits of nut sprinkled here and there.
The electric power steering and the brakes feel cheap. So does the gearchange action, and so especially does the 1.6-litre turbo engine. It's so lacking in torque that you often stall when trying to dribble away in second. And at the top end it sounds like a cement mixer full of gravel. Speed? Well, there's some, but nowhere near as much as the red brake callipers and all those buttons would have you believe.
Then there's the weight. If Kia had been serious about making a proper hot hatch, the GT wouldn't weigh more than the Pacific Ocean. And it's a heaviness you can sense when you are cornering, accelerating and braking.
Kia needs to understand that the real hot hatches from Ford and Volkswagen are designed by engineers who care, and signed off by accountants who really wish they didn't. The Pro_Cee'd GT? It's just a halfwitted attempt to pull the wool over our eyes. It's not cheap just because it costs less than a Golf GTI. It is, in fact, expensive, because it costs so much more than it should.
In the Seventies various long-forgotten electronics companies made music systems that appeared to offer the same level of performance as Wharfedale, Marsden Hall and Garrard. They had many bells and whistles and they were cheap, but to anyone with ears they sounded dreadful. Well, that's exactly what's going on with the hot Kia. It's a good-looking, well-equipped bag of Virgin Cola. I hated it.
Verdict

★☆☆☆☆
Kia goes back to the bad old days
Factfile
Kia Pro_Cee'd GT Tech
Price:

£22,495

Engine:

1591cc, 4 cylinders turbo

Power:

201bhp @ 6000rpm

Torque:

195 lb ft @ 1750rpm

Transmission:

6-speed manual

Acceleration:

0-62mph: 7.4sec

Top speed:

143mph

Fuel:

38.2mpg (combined)

CO2:

171g/km

Road tax band:

H (£285 for first year)

Dimensions:

L 4310mm, W 1780mm, H 1430mm
---
Search for and buy a Pro Cee'd on driving.co.uk
---