The Clarkson review: 2016 Ford Mustang Fastback 5.0 V8 GT Auto
Mix iron, wood and little boy's dreams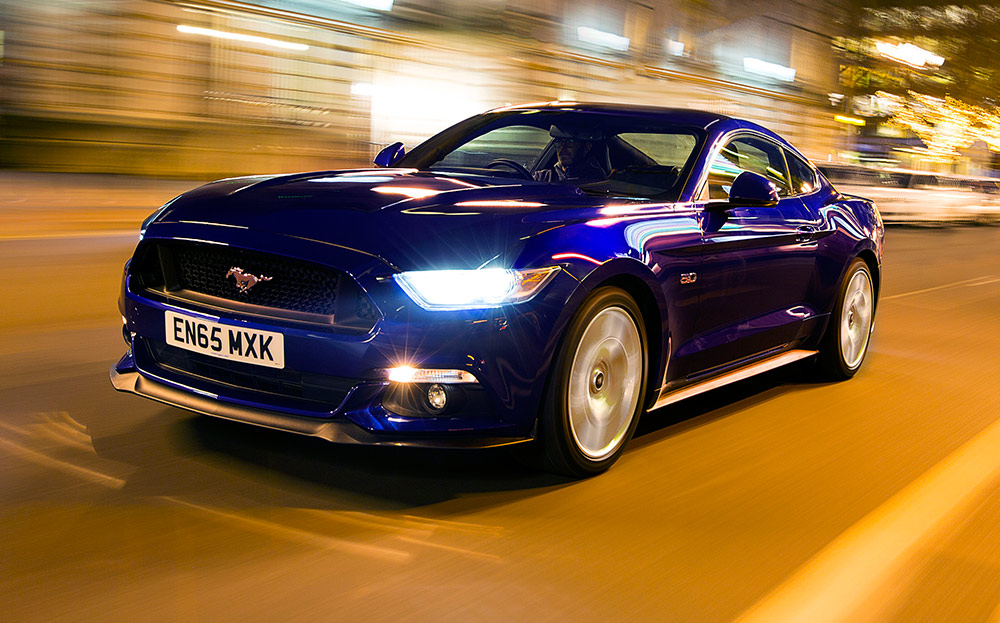 PLAINLY, someone at Ford in Detroit was given an atlas for Christmas, because after 50 years or so of making the Ford Mustang, the company has decided to put the steering wheel on the correct side of the car and to sell it in the hitherto unknown Great Britainland.
Many of us on this side of the pond have known about the Mustang for years. We've seen it in lots of films and when we go on holiday to California it's what we rent to drive up the Pacific Coast Highway. Of course it is. You can hire cars for less, but the Mustang brings out our inner line dancer. And for a couple of weeks that's not such a bad thing.
Because of the films and the fond memories we have of rumbling through Monterey with The Boys of Summer on the CD player, we like the Mustang. However, just because something works when we are on holiday, it won't necessarily work on a miserable Tuesday morning in November in Leamington Spa.
I've always harboured a concern that the Mustang is a bit like a Greek fishing boat captain. In Greece, after a couple of hundred retsinas, it seems perfectly natural to take him to your bed. But would you want to bring him home and introduce him to your mother?
Or food. I was once invited by the owner of a restaurant in Hanoi to suck out the still-warm brains of a dead sparrow, and I must admit I enjoyed the experience very much. They were delicious. But in the office, when I have only a couple of minutes for lunch, I'd rather have a cheese and pickle sandwich.
The Mustang brings out our inner line dancer. And for a couple of weeks that's fine
So this is the question I must answer. The Mustang: is it a viable proposition in Britain? Or is it nothing more than a come-hither poster boy for Hertz?
Well, first of all we must take a long, hard look at the price. And you'll need to sit down for this, because the 5-litre V8 Fastback GT auto coupé I've been using is £35,995.
This means it costs less than half what Jaguar makes you pay for a superficially similar F-type. More incredibly, this 410bhp, 155mph American icon costs less than I paid for a Volkswagen Golf GTI. I do not know of any car that appears to offer such good value for money.
It's not as if you just get an engine and four seats either. Because it comes as standard with a limited-slip differential (yeah), selectable driving modes, dual-zone air-conditioning, a rear-view camera, DAB radio and so on.
Confused by the price tag and the sheer amount of stuff you get free, I plunged into the cabin with a raised eyebrow, looking for where Ford had cut corners. It doesn't take long to find them. Lada would describe the plastics under the steering wheel and around the glovebox as "a bit cheap", and I suspect the seat leather came from a polyurethane cow. But that, really, is it.
All things considered, I'd say that I prefer the look of the Mustang's dash to the rather dreary affair Jaguar fits to the F-type. It's more exciting. Let me give you an example. On the speedo it says "Ground speed". How delightfully childlike is that?
And there's more. On the bonnet are two massive ridges that reflect the glare of the sun directly into the driver's eyes. Now, Ford's engineers must have noticed this when they tested the car in the vast, unending blueness of the Arizona desert. And they must have said afterwards: "Hank. We can't see where we are going because of those ridges."
And then there will have been a meeting at which someone must have stood up and said: "We take your point, Bud, but those ridges look good, so they're staying."
I like that attitude. Style over practicality. And you see it everywhere. The speeding-horse symbols that are projected by down lighting onto the ground under the door mirrors. It's as though Ford only employed designers who were 10. Which is as it should be. Ground speed. I love that. I'm only amazed it doesn't have space lasers.
So far, then, so American. But now it's time to fire up the surprisingly quiet V8 and see how it copes with the Hammersmith Bridge width restrictions and the M3 roadworks and doing a three-point turn in Monmouth Road, west London.
Straight away, there's an issue. In America the Mustang is a small car. But in the UK it is ginormous. And it has the turning circle of Jupiter. Which means that a three-point turn in Monmouth Road is actually a 72-point turn with much swearing.
It also feels a heavy car. After just a yard you start to understand why the Jag costs so much more: because it's made of exotic materials. The Mustang is made from steel and iron and, possibly, wood.
It's billed as a sports car, but that's like calling the Flying Scotsman a "sports train". It just isn't. It's too heavy. What it is, is a muscle car. And you sense that in the second yard. This is a machine that wants to turn its tyres into smoke and go round every corner sideways. You've seen the film Bullitt. Well, it's that.
This is emphatically not a criticism, because who wants to go round the Nürburgring in 40 seconds when you can go round slowly, sideways and smiling?
It's as though Ford employed designers who were all 10. I'm only amazed it doesn't have space lasers
It doesn't have to be this way, of course, because for more than 50 years the Mustang has been built as a starting point. Only rental companies buy one and then leave it alone. Everyone else buys one and then employs a tuning company to turn it into something else. That's what I'd do with this model: buy it and then give the money I'd saved by not buying something else to Hennessey or Roush. Those guys can make a Mustang fly.
Don't get me wrong. The Mustang as it is can be driven quite normally. It moves around quite a lot on poor surfaces, indicating that it has fairly rudimentary underpinnings, but for the most part it's quiet, docile and rather unassuming. Too unassuming, perhaps. Because, despite the flamboyant touches, the actual shape is a bit ho-hum. It's not the worst-looking Mustang — that accolade rests with the post-oil-crisis box — but it's not the best either. Not by a long way.
Certainly it doesn't turn many heads. But I liked the reaction it caused among those who did notice it: they smiled.
---
View the used Ford Mustangs for sale on driving.co.uk
---
Which brings me to Ford's recent advertising campaign. In the meeting at which this was dreamt up, the company will have decided to shake off its Mondeo Man image and tell everyone it now makes exciting cars. So it is showing us pictures that include the new Focus RS, the Mustang and some kind of snazzy SUV and urging us to "unlearn".
Well, if I "unlearn" what I remember about Ford's past, I'll have to forget about the Lotus Cortina, the GT40 and the Escort RS Cosworth. I'll have to forget about everything that makes people smile when they see the Mustang go by.
If I were to sum it up as a car, I'd give it four stars, because a big V8 coupé for £36,000 is remarkable. But because it's a Mustang, because of Steve McQueen: well, that makes people yearn to own one. And now you can. And there's no earthly reason why you should not.
Also read: THE WILD PONY TAKES ON MUNICH'S MACHINE: 2016 FORD MUSTANG GT FASTBACK VS BMW M4