The Clarkson review: Ford Mondeo EcoBoost 1.5 Titanium (2015)
Persuasion's perfect, Miss Austen. Don't go trying Perversion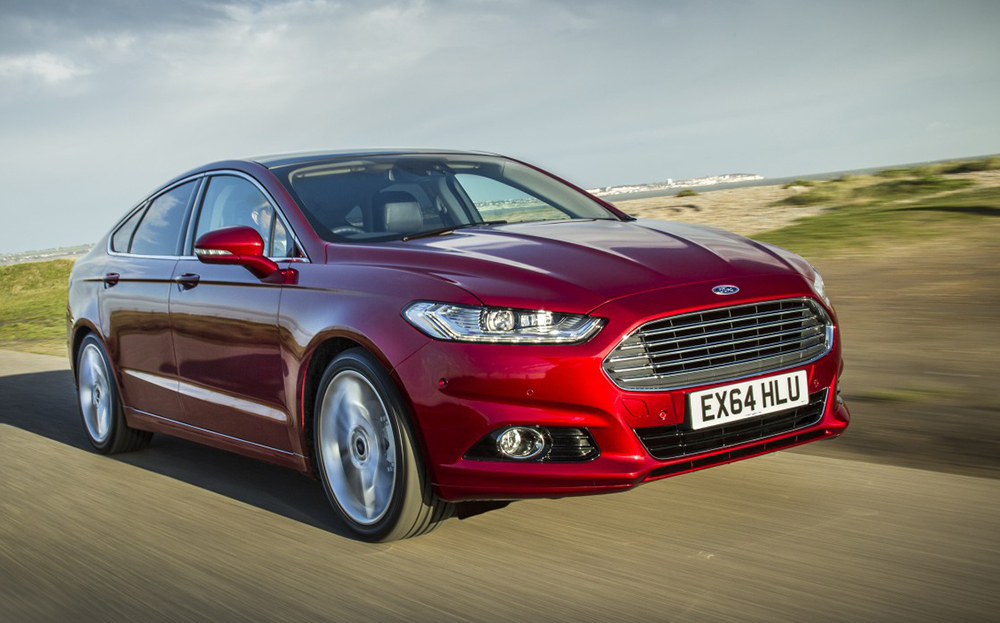 GIVEN THE choice of buying a BMW or a Ford, almost everyone would choose a BMW, which makes everything I'm going to say in this article wearisomely irrelevant. I could tell you that if you buy the Ford you get free myrrh for life and an evening out with the dealer's extremely accommodating young wife, and you'd still say, "Nah. I'll take the Bee Em, thanks."
Working for Ford must be a bit like being Jeffrey Archer. You slave for years and years on a project, and you're proud of it, and it's very good, but when it emerges into the marketplace, everyone says, "Yes. But you're Jeffrey Archer."
---
Browse the used Ford Mondeos for sale at driving.co.uk
---
Or working in public relations for Blackpool Pleasure Beach. "Yes, very nice. But it's not Disney World, is it?"
When I first started writing about cars, Ford had developed a cunning solution to the problem of badge snobbery. It worked out that for £20,000 BMW would sell you four wheels and a seat. Everything else was a very expensive option. "Oh, you'd like a windscreen? Well, that'll be £17m, sir."
So a £20,000 Ford came with absolutely everything as standard. I remember once driving a Ford Granada estate and it was kitted out with electric seats, an electric sunroof, air-conditioning and a million other things that would have made a BMW cost more than a house on Venice Beach.
This trinketry was a bit like filling an average book with a sex scene every few pages. You get a couple of pudendas here and some buttocks like ostrich eggs there, and pretty soon people begin to forget that the plot's a bit shaky and the characters aren't fully formed. Except, you know, down there.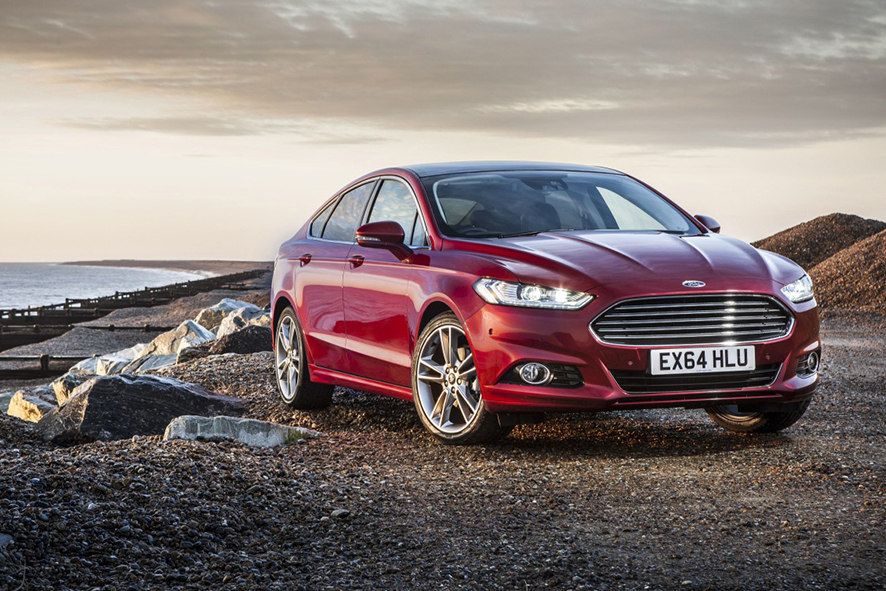 Unfortunately this doesn't work any more, because today BMW is filling its cars with sex scenes as well. They are no longer boxes with wind-down windows. They come with climate control and sat navs and electric windows as standard.
Which means Ford has had to go mad, and explains why the Ford Mondeo EcoBoost Titanium I've been testing for the past week came with more standard equipment than you would find on the bridge of a Nimitz-class aircraft carrier. The steering wheel was festooned with buttons, and woe betide anyone who delved into the submenus on the central command and control system. Let me put it this way. It comes with voice-activated texting. As standard.
So let me say this loud and clear. This is a big car, a five-seater with a truly gigantic boot. It is fitted with every conceivable luxury. And it costs £22,245. I cannot think of any car yet made that offers better value for money than that.
Frankly it wouldn't matter if it had the engine from a cement mixer and suspension made from scaffolding: £22,245 for a car this size and this well equipped is crazily low. It is the McMeal of motoring.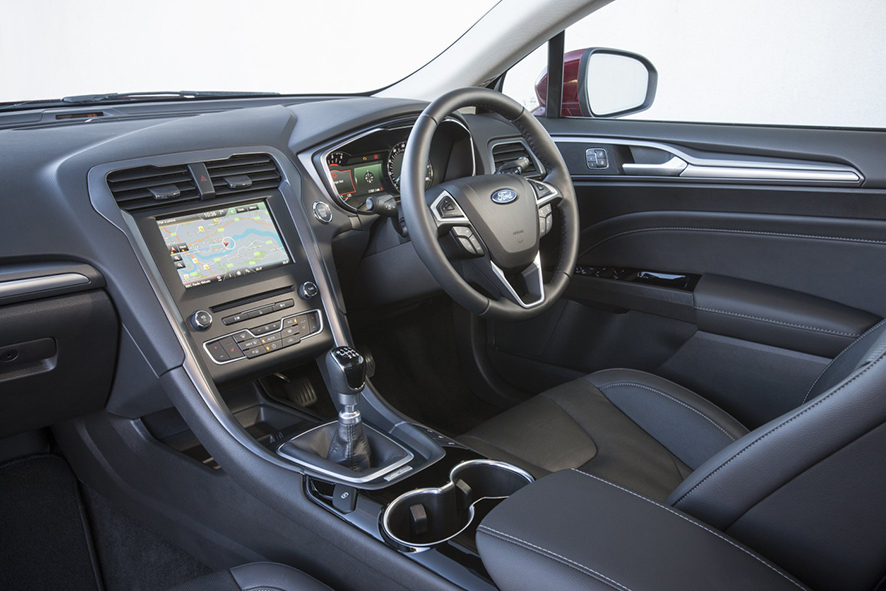 Let's look first of all at the drawbacks. Perhaps because it was developed mainly in America, it is wilfully unsporty. Ford of Europe is responsible for some of the sportiest cars built: the Escort Mexico, the Escort RS Cosworth, the Sierra RS Cosworth, the Fiesta XR2, the Lotus Cortina, the Escort RS 2000 . . . the list goes on and on.
Ford in America is different. It did the Mustang, which came with leaf-spring suspension and a live rear axle such as you would find on an ox cart, and that's it. It has the same sporting heritage as I do.
Ford of Europe spent three years trying to fix the American car. It had to make the suspension function and fit an interior trim that didn't look like it had been made from melted-down cassette boxes. But you can take the boy out of Texas, send him to Eton and dress him up in tweed and you'll still be able to tell that he's not from round here.
So it goes with the Mondeo. It's not slow, by any means. Its 1.5-litre engine will zoom you to 62mph in less than 10 seconds and propel you on a wave of pleasant noises to a top speed in the region of 140mph. It's got nicely weighted steering too, and my test car had a sweet, six-speed manual gearbox that felt very old-school. But the suspension is set up, to the exclusion of everything else, for comfort.
It's not what I was expecting but it could be quite a clever idea. There are many cars that offer a sporty, taut and connected-to-the-road feel, but very few that offer a comfy place to sit down after a long day at work. If that's what you want, then you'll be wanting the Mondeo.
Just don't drive it at night. Recent research suggests that the average driver uses full beam for only 2% of the time behind the wheel, but this is no excuse for fitting glow-worms instead of actual lightbulbs. Because when it's dark and you're on a country lane you really can't see where you're going. I bloody nearly piled into a car that was parked at the side of the road.
Also, don't bother trying to use some of the more exotic toys. Because they don't really work. You push the voice- activation button and say in your best RP, "Radio 4". And the one thing you can guarantee is that what happens next will not be the selection of Radio 4.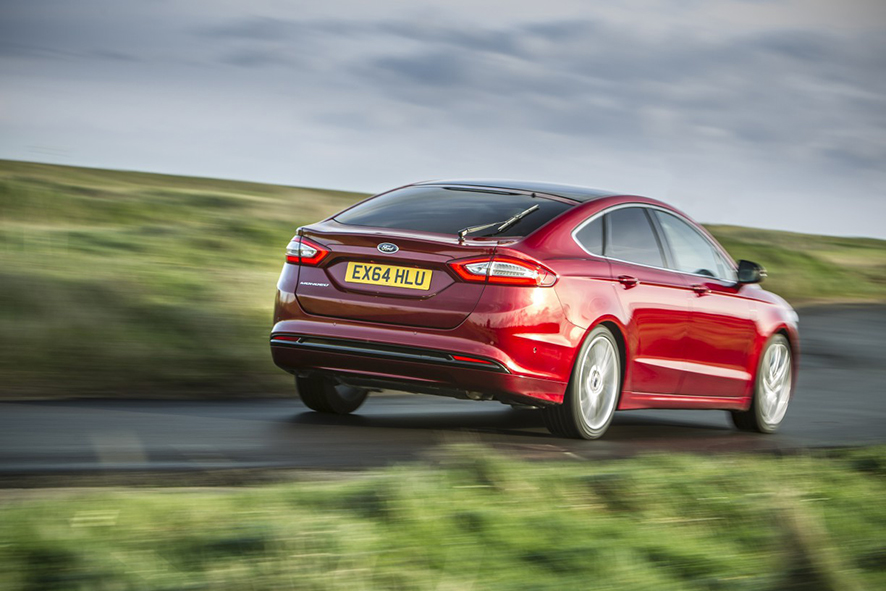 This makes me worry a little bit about the inflatable seatbelts that are fitted in the back. The idea is that if you crash, the belt turns into a bouncy castle and spreads the impact over a much wider area of your children's fragile bodies. In theory it sounds a very good idea. But will it work like the voice activation? Or the full-beam headlights? My children elected not to find out.
It sounds here as if I'm having a downer on this car and I'm really not. As the week crawled by in a tangle of dreary journeys from London to Guildford and a Saturday afternoon trudge up the M1, I really did start to appreciate the Mondeo's extraordinary comfort. And there's no getting away from the fact that it is extremely large and extremely good value for money.
So, really, who cares if the voice activation is a bit wonky? Jane Austen's sex scenes aren't much cop either, but everyone seems to like her books.
And I liked the Mondeo. Maybe the diesel version would be better — its economy would be — but the model that intrigues me most comes with a three-cylinder 1-litre petrol engine. I shall try it as soon as possible and report back.
In the meantime, you go and buy yourself a BMW. It'll hurt your back and won't come with inflatable rear seatbelts so it might end up hurting your children as well. But, hey, the most important thing is impressing the neighbours and on that score the Ford won't do at all.
Clarkson's verdict ★★★★☆
The best value you can possibly get
Ford Mondeo EcoBoost 1.5 Titanium specifications
Price: £22,245
Engine: 1498cc, 4 cylinders
Power: 158bhp @ 6000rpm
Torque: 177lb ft @ 1500rpm
Transmission: 6-speed manual
Performance: 0-62mph in 9.2sec
Top speed: 138mph
Fuel: 48.7mpg (combined)
CO2: 134g/km
Road tax band: E (£130)
Release date: On sale now
---
Browse the used Ford Mondeos for sale at driving.co.uk
---