The Clarkson review: BMW X1 (2010)
Half-car, half — and totally useless
---
Published 15 September 2012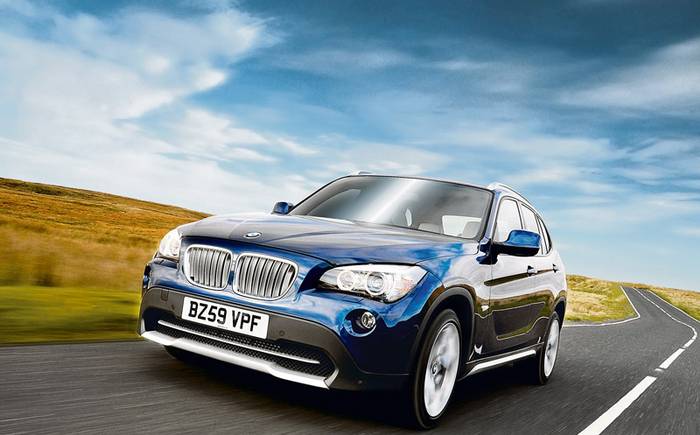 Buying a book to read on holiday is very much like buying a car. There's a huge and bewildering choice and you are torn about what it is, exactly, that you want. If you are a man, you will know to avoid books called Tractors in the Ukraine and Appleblossom because it'll be a plotless churn through the life of some dizzy bint who has lost her hat. You will not enjoy reading it and other people will laugh at you.
What you want, of course, is a book in which a chisel-jawed agent called Clint Thrust attempts to find a hoard of Nazi gold while under attack from a madman's fleet of nuclear-powered hunter-killer minisubs. But unfortunately, while this will be engrossing and wonderful, the cover will feature a girl in a bikini, a gold ingot with a swastika on it and a speedboat leaping through an explosion of some kind. This, too, will make you a laughing stock at the pool.
---
Search for and buy a BMW X1 on driving.co.uk 
---
An autobiography, then, seems to be the answer. You look wise. You look like you are interested in other people. And often the story of someone else's life is fascinating. But people who lead fascinating lives don't have time to write autobiographies because they are too busy up the Okavango, rescuing elephants with the sultan of Brunei. This means that if you choose to read an autobiography, it will be about someone who is stupid, orange and 12.
You see the problem. Much like when you buy a car, you want something that is interesting … but crucially, you want it to make you look interesting when people see you reading it. Achieving this is hard. But, boy oh boy, did I pull off a blinder for my bucket-and-spade holiday reading this Easter. It's by a chap called Cormac McCarthy, it's called The Road and it's just been made into a film. But news of this development hasn't yet reached the hill towns of the Cotswolds, so consequently, the cover on the version I bought did not feature a picture of Viggo Mortensen and a sticker saying: "Now a major motion picture." The cover was good. It looked intelligent. But the bit inside was even better. It begins with a man and a boy walking down a road in cold weather. And it ends with a man and a boy walking down a road in cold weather. In between, not much happens. But it was brilliant. Even though it is not much thicker than a pamphlet and no longer than a warning notice on a train's lavatory door, it took me nearly a week to read. I kept going back over some of the phrases thinking: "That didn't work." But they do work.
I'm not sure Cormac McCarthy would be much fun as a dinner guest and neither would I seek his company after the death of a loved one or a family pet, but, God Almighty, the man can write. I read the damn thing on a beach in Barbados and it made me feel so cold I had to go and get a jumper. My wife thought I'd gone mad. So she read it when I'd finished and when she got to the end she went and sat by herself for a while and sobbed.
Not everyone will have heard of The Road or its author. It's a hidden jewel. It sits in the bookshops like the BMW 135i sits in the dealership: a genuine pearl, lost in a sea of razzmatazz and Day-Glo promises. I like the BMW 135i very much. It has no styling and no big USP. It's just some car. But it's the most faithful BMW of them all. Simple. Six-cylinder engine up front. Rear drive. It's built for the road. It is The Road.
That's why I was quite looking forward to trying the new BMW X1. There are a lot of so-called crossover quasi-off-road, urban SUV cars around at the moment and none of them is really any good. They offer no more space than a normal hatchback and they are no more rugged, but they cost more to buy, they use more fuel and — with the exception of the Ford Kuga — they are all preposterously ugly.
I felt BMW might be able to pull off a bit of a winner, then. It had learnt some lessons with the woeful X3 and it really has got styling worked out these days. Plus, BMWs are almost always better to drive than any of the cars with which they compete.
Sadly, I was to be disappointed. First of all, the X1 looks like a Hyundai that's been subjected to a thousand years of wind erosion. It's dreary. And it's much the same story on the inside, where you are greeted with lots of extremely scratchy plastic and almost no equipment at all. You want a built-in sat nav system? Well, tough.
A friend of mine, who runs the car I drove, says that the wiring loom is cheap as well. Quite how he's determined this, I have no idea, but there you are. It's cheap to look at, cheap to sit in and cheap to touch. But it's not even slightly cheap to buy.
No matter, you might think. It'll be a stormer on the road. Well, yes, it might be if you could buy it with a creamy six-cylinder petrol engine. But you can't. Instead, sir can have it with any engine he likes, so long as it's a diesel. Normally, BMW diesels are rather good, but the 2-litre version fitted to the X1 is not. It sounds like a dump truck when you start it up, and any request from the helm for more speed is met with a recalcitrant, "You want to do what?" It's very uncomfortable as well. The ride is much too rigid and the seats are very nearly as firm as those fitted to a Ford Galaxy. Which means they are hard enough to shape diamonds.
That's nice if you actually want to shape diamonds, but if you just want a comfy place to sit while you go home, the X1 won't do. Off-road work? Well, yes, there is a four-wheel-drive version, which should be all right on farm tracks and the like, but the car I drove was fitted with something called sDrive. That sounds exciting. It sounds like the sort of system Captain Scarlet would have used to fight the Mysterons. But no. For some extraordinary reason, sDrive means rear-wheel drive.
Now I like rear-wheel drive. Rear-wheel drive makes a car feel better balanced than front-wheel drive, or even four-wheel drive. It's right that the front wheels do the steering and those at the rear the propulsion. It's why BMWs always feel so proper. But I can't see the point of suc
h a system in a tall car with the engine from a canal boat under the bonnet. It robs space, adds cost and means that if we get another snowy winter, you won't even get out of your drive.
I fear the marketing men have insisted this car has rear drive even though it makes no sense at all. The whole package doesn't, if I'm honest. If it were a book, it would have no plot and a stupid cover and it would fall to pieces in the sun. But it isn't a book. And neither is it a car. It's rubbish.
---
Search for and buy a BMW X1 on driving.co.uk 
---