The Clarkson Review: 2016 Zenos E10 S
It's a blast ... until you look for the brakes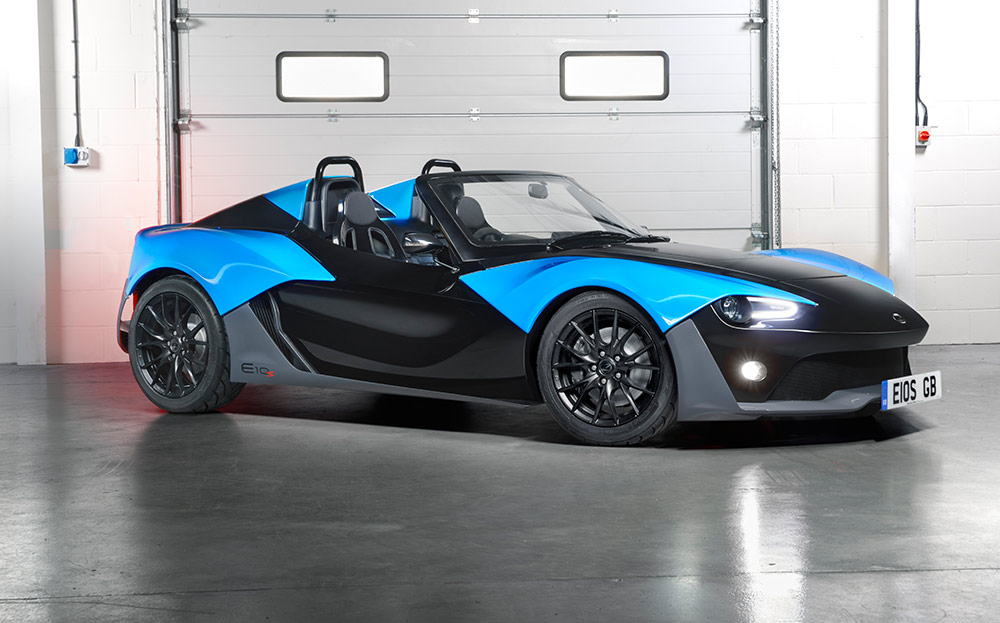 IN THE past two weeks I've been to Barbados, India, Turkey and Morocco. And having studied these places in some depth, I'm forced to ask an important question. Why doesn't anyone buy sports cars any more?
By and large, driving is extremely boring. You sit there listening to the engine moaning out its one long song, with your face in neutral and your mind turned off. Just look at the faces of people when they are at the wheel and tell me this: when do you ever see people look like that in normal life? Gormless. Like fish.
When you are mowing the lawn or buying washing-up powder or having breakfast with the children, you are animated. You are thinking about stuff. But when you are driving a car, the dopamine and the serotonin and all the fundrugs that normally course through your body just dry up. You become the undead. You become a zombie.
---
Browse NEW or USED cars for sale on driving.co.uk
---
Unless you are driving a sports car. A sports car is exciting when it's parked in a multistorey and you're in a meeting. A sports car is even exciting when it's November and it's raining and you're on your way to a funeral. Because in a sports car you are living the dream that gives "the car" all of its appeal.
Remember The Ballad of Lucy Jordan? She was sad because she'd realised at the age of 37 that she'd never drive through Paris in a sports car with the warm wind in her hair. To me that's what cars are all about. Nobody dreams of driving through Paris in a Hyundai with the warm wind in their hair.
Think of all the hundreds of thousands of people who design cars for a living. Not one of them joined up so they could design a saloon car or an SUV or a pick-up. They signed up so they could design sports cars. Because sports cars are fantastic. They fizz and they pop and they bang and they talk to you and they make you smile. Sports cars make you happy.
"It has no doors, no windows, no sun visors, no radio, no carpets and no roof of any kind. I have encountered better-equipped pencils."
But I've noticed on my recent travels that people are giving up. In Barbados everyone has a Suzuki Swift. In India they buy whatever has the most amount of legroom in the back. In Italy it's nothing but small grey hatchbacks. The car is being bought as a tool, not as a dream.
Remember the film Battle of Britain, when Christopher Plummer set off from his base to meet Susannah York for a bit of inter-sortie rumpy-pumpy? He had an MG. Of course he did. He was a Spitfire pilot. Whereas today I can pretty much guarantee he'd have a Nissan Juke.
I met an astronaut once. He'd been to Top Gun school. He could handle an F-14 on combat power. And he had been the first man to dock a space shuttle that was travelling at 17,500mph. And yet he drove a Toyota Camry. It was tragic.
And at this point I should explain what I mean by a sports car. It's not simply something with no roof. A Lamborghini Aventador convertible, for example, is not a sports car. It's a supercar. And neither is a Mercedes SL. Or a Bentley Continental GT.
A sports car must be little and light. It should have a small, revvy engine and no more than two seats. The Mazda MX-5 is a sports car — and a bloody good one. It's fast enough. It handles beautifully. The roof folds in a jiffy. It's also well made, reliable and prices start at just £18,495. It is the obvious choice and yet all over Britain there are people who wake up of a morning and think, "If I borrow some money from the bank and get a shed, I could make a sports car that is even better."
The latest offering comes from Norfolk. It's called the Zenos and it's a sports car unplugged. Its designers have looked at every detail of what isn't needed and simply thrown it away. Which means it has no doors, no windows, no sun visors, no radio, no carpets and no roof of any kind. I have encountered better-equipped pencils.
The result is a car that weighs just 725kg. That is ridiculously light. A Triumph Herald weighed about the same and that was made from tinfoil and hope. And a Triumph Herald was not fitted with the 2-litre turbocharged engine from a Ford Focus ST. The Zenos is. Which means it has a Looney Tunes power-to-weight ratio. And that means it's bloody fast.
To drive? Well, you climb over the side, hunker down into the unpadded seat, attach the steering wheel and then do up the optional four-point harness, by which time the chap in the Mazda MX-5 — which has a fixed steering wheel and inertia reel belts — is back from his lap of the track, talking about what fun he's had.
You're going to have more — eventually. Because when you are fastened in place and the wheel is on, the Zenos is a hoot. It's more than just a track car fitted with indicators and lights to make it road-legal. And yet you know the track is where it belongs really.
It's good when the going is smooth and there's nothing coming the other way. It feels balanced, as it should with the engine in the middle. And as you jink this way and that, you think that maybe your commands are being sent to the four corners of the car using telepathy.
"And then, I'm afraid, we come to what might fairly be described as the turd in the swimming pool. The brakes."
However, on the road, where I mostly drove it, the noise was fun for about a minute and then not fun at all thereafter. The exhaust bark is tremendous, but all you can hear really is the wastegate, which sounds like a fat man who's using Victorian plumbing to flush away the after-effects of a particularly enormous dinner.
The steering became wearing too because it's unassisted and very fidgety. It's not as bad as the setup in an Alfa Romeo 4C, but it's quite draining nevertheless.
And then, I'm afraid, we come to what might fairly be described as the turd in the swimming pool. The brakes. In a car with not much weight at the sharp end, the front wheels have a tendency to lock up. See the original Lancia Montecarlo for details.
To get round this, the Zenos boffins have backed off on the brake force to the point where the pedal feels like it's connected to not much at all. This causes you to push it more firmly, which causes the fronts to lock up anyway.
An antilock system would solve all that, but the whole point of the Zenos is that you get no driver aids of any kind. I like that philosophy, when I'm on a sofa and someone else is doing the driving in a race, on the television. But I'll be honest, I like it a bit less when I'm heading towards a tree in a cloud of my own tyre smoke.
At a time like that, you tend to think that maybe you would have been better off in one of the other low-volume British sports cars that have the same amount of go as a Zenos. But can stop as well.