The Clarkson review: 2015 Peugeot 308 GTi
Et voilà! School Run Mum slips into her thigh boots
---
Published 08 December 2015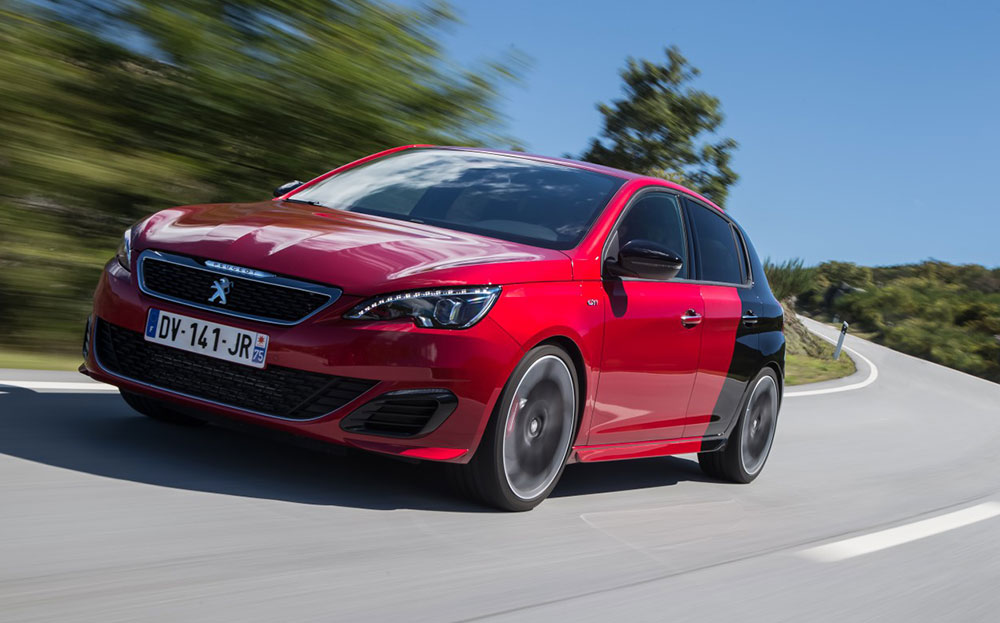 Peugeot 308 GTi, £28,115
YOU WERE supposed to be reading about some kind of new Mitsubishi pick-up. But at the last minute a chap from the company called to say he would not be lending it to me because a workaday car such as that with its good turning circle for builders' yards would not be of much interest to the readers of The Sunday Times.
---
View the used Peugeot 308s for sale on driving.co.uk
---
In his mind, then, builders and plumbers and gamekeepers read the Daily Mirror and are too busy lamenting the demise of Nuts magazine to be thinking about buying a new pick-up any time soon. Which will surprise the builders and chippies who are currently making noises in my sitting room because they all read The Sunday Times and they all drive vans and pick-ups.
To make matters worse, the chap from Mitsubishi also says that my booking to drive some kind of electric car in a few weeks has been cancelled as well. "Dom Joly has already written about it in The Sunday Times," he says by way of explanation.
I'm not sure that argument stacks up. Film companies do not ban Claudia Winkleman from reviewing a movie because Camilla Long has already written about it in The Sunday Times. Restaurants do not ban AA Gill because Giles Coren has already done a piece in The Times. Of course, he gets banned for lots of reasons, but not that one.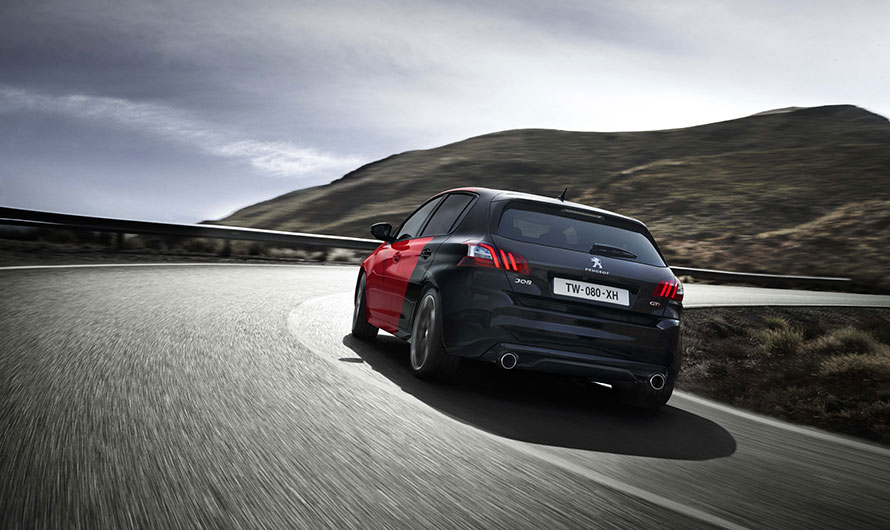 I think it's fairly obvious what's happened. The man from Mitsubishi is peeved about the firm-but-fair review I wrote about his Outlander PHEV plug-in electric vehicle last year and I've been cast into the wilderness as a result.
That's his right. And I don't mind. Secretly, I'm rather proud. It shows I'm doing my job properly. And certainly I'm not going to wake up every morning from now on thinking, "Oh no. I won't be driving a Mitsubishi today. I shall have to make do with a Mercedes-AMG GT instead."
It's not even much of a professional bother because if I really do need to test a Mitsubishi I shall simply rent it. Or if I need it for the new Amazon show, buy it.
I've not had a kind word to say about any of Peugeot's products for many years. I even devoted a large chunk of Top Gear last year to ridiculing its customers
Over the years, I've been banned at various times from driving Toyotas for saying the Corolla was about as interesting as a fridge freezer, Vauxhalls for refusing to say anything at all about the Vectra, and BMW for saying its cars were driven by cocks. Weirdly, however, I have never been banned by Peugeot.
I've not had a kind word to say about any of its products for many years. I even devoted a large chunk of Top Gear last year to ridiculing its customers. And yet still the PR department keeps on coming back from more. Secretly, I think its press fleet manager is Anastasia Steele.
Perhaps in an attempt to suffer more pain and humiliation the company last week sent round its new 308 GTi, which was red at the front and black at the back. Instantly, this aroused the eye-rolling cynic that lives in my head. "The only reason it would do that," it said, "is to take your mind off all its shortcomings."
Inside, there was more. The steering wheel is about the size of a shirt button and sits below all the dials in the instrument binnacle. Until you raise it so that it's no longer between your knees, at which point it sits right in front of all the dials in the instrument binnacle. Revs? Speed? Fuel level? No idea.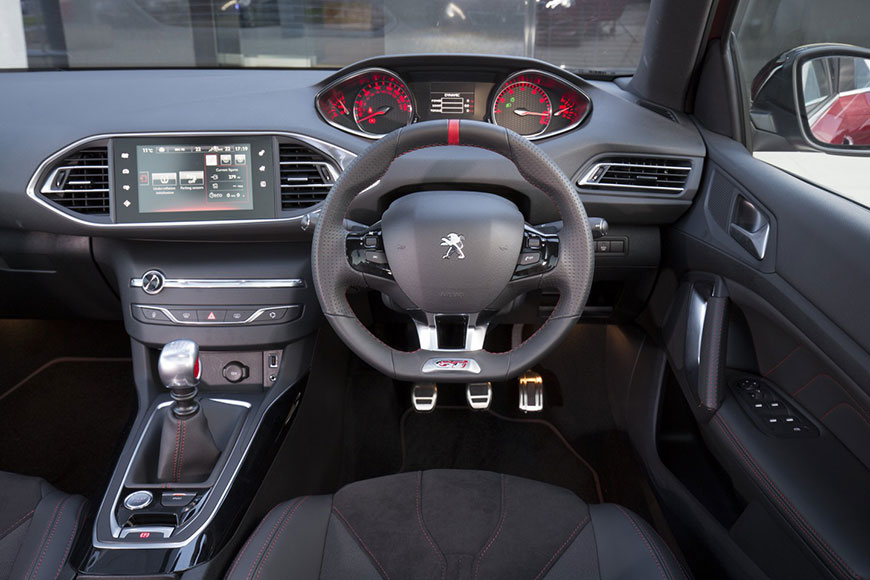 "It's done this on purpose," said the eye-rolling cynic. "Because if you're focused on the invisibility of the dials and the two-tone paint, you won't notice that the door mirror has fallen off and that the radio's broken."
The thing is, though, nothing did break. In fact everything felt a lot more solid and well made than is normal in a modern-day Peugeot. By which I mean any car the company has made since 1971.
There's more. Most of the functions are now controlled by the centrally mounted screen, which is a triumph of common sense. Except for the Sport button that makes the car more zingy. That sits in the centre console and when you press it, all of the dials in the instrument binnacle turn red. Apparently. All I could see was the steering wheel.
And it was annoying me because the actual system it controls isn't that brilliant. There's no real feel. It gives no sense that it's concentrating on the job in hand. It's fine around town but when you're zooming along, it delivers no real joy, which is a shame because the rest of the package delivers it in spades.
It may have only a 1.6-litre engine — most of its rivals come with two litres — but there's no shortage of oomph. And it may come with an old-fashioned manual rather than a flappy-paddle system, which can be a chore sometimes, but ooh, it's fun.
This is a car you want to drive. It's a car you will find an excuse to drive.
Finally, it seems, Peugeot has managed to recapture some of the magic that made the 205 GTI such a monster hit back in The Official Sloane Ranger Handbook days of Mrs Thatcher.
This is a car you want to drive. It's a car you will find an excuse to drive. Yes, it's practical and sensible on the school run, but on the way home, after you've dropped off the kids, it pulls off the traditional hot-hatch trick of slipping out of its slippers and into a pair of PVC thigh-high boots. It becomes a raunchy, up-for-it playmate.
Weirdly, you can buy the new car with less power and a less sophisticated limited-slip differential but I really can't see why you would want to do that. Because it's not like the full-fat version is expensive. Compared with its rivals from Volkswagen and Ford, it's very good value indeed. But all things considered, is it as good?
Ah, that's the big one, isn't it? I have a Golf GTI for several reasons. My mum always had Beetles. I want to support Volkswagen in the emissions saga. And it reminds me of the good old days in the White Horse in Fulham when everyone had one, with Val d'Isère mud up the side and an army cap in the boot.
It's possible — probable even — that none of these things matters to you. Maybe you're a working-class boy done good, in which case you'll want the Ford Focus ST. You see it as a metal embodiment of yourself. A blue-collar car with humble origins that can mix it with the blue bloods. Bruce Springsteen with windscreen wipers.
We all have our reasons for wanting to buy one brand more than another. My son has a Fiat because he likes Italian football. I used to have a Mercedes because it annoyed Richard Hammond. My grandfather had a Bentley to irritate those with Rolls-Royces. Some people choose Mitsubishis because, er, I can't help you with that one at the moment. Sorry.
And then we have those people who want to buy a French car because in these troubled times they want to be supportive. They fancy a Peugeot because back in the day they had a 205 1.9 GTI and they reckon its modern-day equivalent would help rekindle some of their lost youthfulness.
Well, the good news is that today, for the first time in ages, you can. You can follow your heart, buy a 308 GTi and not spend the next couple of years regretting it.
2015 Peugeot 308 GTi specifications
PRICE: £28,155
ENGINE: 1598cc, 4 cylinders
POWER: 268bhp @ 6000rpm
TORQUE: 243 lb ft @ 1900rpm
TRANSMISSION: 6-speed manual
ACCELERATION: 0-62mph: 6.0sec
TOP SPEED: 155mph
FUEL: 47.1mpg (combined)
CO2: 139g/km
ROAD TAX BAND: E (£130 a year)
RELEASE DATE: On sale now
---
View the used Peugeot 308s for sale on driving.co.uk
---