Suzuki Kizashi review (2012-2014)
There are much better cars for the price of the Kizashi
What is the Suzuki Kizashi?
The Suzuki Kizashi is an oddball. That shouldn't come as much of a surprise, as quirky cars are familiar territory for Suzuki — Jimny and X90, anyone? — but, even so, the Kizashi ("a sign of great things to come" in Japanese) falls outside the norms for family cars. It is a large, £21,995 saloon with a budget brand badge on the bonnet that limits its appeal.
It's handsome enough, but doesn't conform to the usual sizes of family car; nor does it reflect the technical specifications that are most popular with British drivers. The Kizashi ploughs its own furrow, packing a high-powered but thirsty petrol engine beneath its saloon body, four-wheel drive and annoying continuously variable transmission (CVT).
---
Search for and buy a used Suzuki Kizashi on driving.co.uk
---
Car buyers who want a fast family car should consider the Skoda Octavia vRS or a nearly-new Audi A4. Kizashi owners are likely to be blighted by fast depreciation, and the three-year warranty is not impressive next to the seven years for the Kia Optima or the five years for the Hyundai i40.
The drive
Oops! Somebody didn't brush up on British consumer trends when they designed the Kizashi. In an age when most of the main manufacturers have developed highly efficient, small-capacity turbocharged petrol engines for their latest models, Suzuki has thrown caution to the wind and offers the Kizashi with a 2.4-litre petrol unit. It produces 176bhp, which sounds a formula for fun, but your face will quickly fall when you clock its thirst for fuel (34mpg) and exhaust emissions.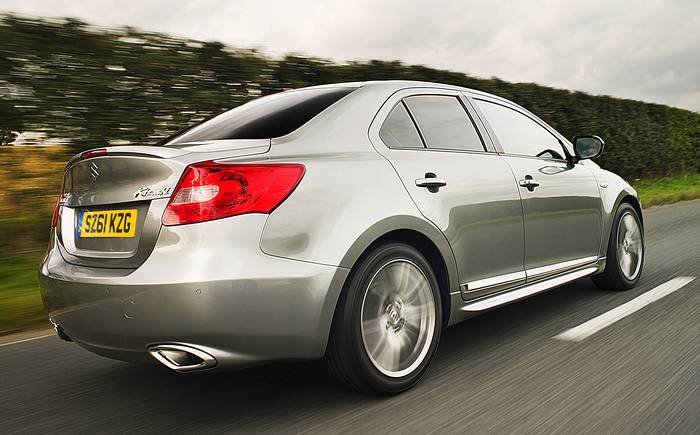 Because it's naturally aspirated, the driver has to wake up the sleepy engine using the traditional method of a heavy right foot. The torque doesn't peak until 4000rpm, which, in conjunction with the CVT transmission, makes the engine too vocal for most tastes most of the time.
Still, the four-wheel drive gives the car a sure footing on British roads, right? Well, up to a point. And that point comes when the tyres are faced with poorly surfaced roads, as the ride is a little too unyielding for our patchwork asphalt. A quick spin in a Ford Mondeo is all it would have taken for Suzuki's engineers to see how it should be done.
The interior
Here's the good news: the Kizashi comes with a list of standard equipment as long as your arm. Wisely, Suzuki UK has ordered the factory to fit everything but the kitchen sink, so it has leather upholstery, electrically adjustable front seats, cruise control, Bluetooth, keyless entry, automatic lights and parking sensors fitted as standard. Sat nav is the only main option.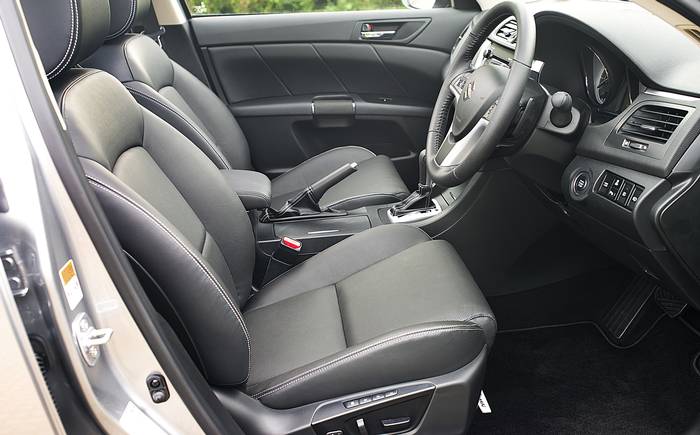 The driver's environment is clear and uncluttered, and the fit and finish feel impressive. The back seats are best suited to just two adults, as the transmission tunnel takes up a bit of legroom for any middle-seat passenger. You'd find a little more cabin space in a Ford Mondeo, but it's by no means cosy in the Kizashi, and the boot is a good size, with 461 litres of luggage capacity. The rear seats split and fold, too, which is always a plus point in a saloon.
Buying a used Suzuki Kizashi
Suzuki is synonymous with well-made, reliable cars, and the Kizashi is no exception. As of now, there are no fault patterns to worry about, and the car has not been recalled. A 2012 Suzuki Kizashi 2.4 Sport 4×4 can be yours for £14,000 from a franchised dealer and £12,500 in a private sale.
The one to buy
Suzuki Kizashi 2.4 Sport
Factfile
Price:

£21,995

Engine:

2393cc, 4 cylinders

Power:

176bhp @ 6000rpm

Torque:

170 lb ft @ 4000rpm

Transmission:

CVT

Acceleration:

0-62mph in 8.8sec

Top speed:

127mph

Fuel

34mpg (combined)

CO2:

191g/km

Road tax band:

J (£460 for the first year, £250 thereafter)

Dimensions:

L 4650mm, W 1820mm, H 1470mm
Suzuki Kizashi used rivals
See prices of Audi A4 quattro
See prices of BMW 3-Series
See prices of Skoda Octavia