Small and sporty soft-tops: Abarth 595C Turismo vs Mini John Cooper Works convertible
Family cars don't have to be sensible
---
Published 04 September 2017
CAN PARENTS add colour to their lives with a convertible? Dropping off the children in a drophead is surely more fun. And a soft-top must add spice to the weekly shop. But is an open-top car practical enough for family life? There was only one way to find the answer to this pressing question: Driving took two volunteers and confiscated the keys to their sensible cars for a week.
Lizzie Catt, a journalist and mother of two, was challenged to exchange her Citroën C4 Picasso — a car with oodles of space but not much oomph — for an Abarth 595C Turismo, a stylish Italian rag-top that packs as much punch as a double espresso and is not much bigger.
Meanwhile, Molly Mills swapped a Honda Accord Tourer, which is as sensible and exciting as a fridge freezer, for a rather more chilled Mini John Cooper Works convertible. Could the teacher and mum of three put up with the limited size and space in return for feeling the sun on her face?
---
Browse NEW or USED cars for sale
---
Abarth 595C Turismo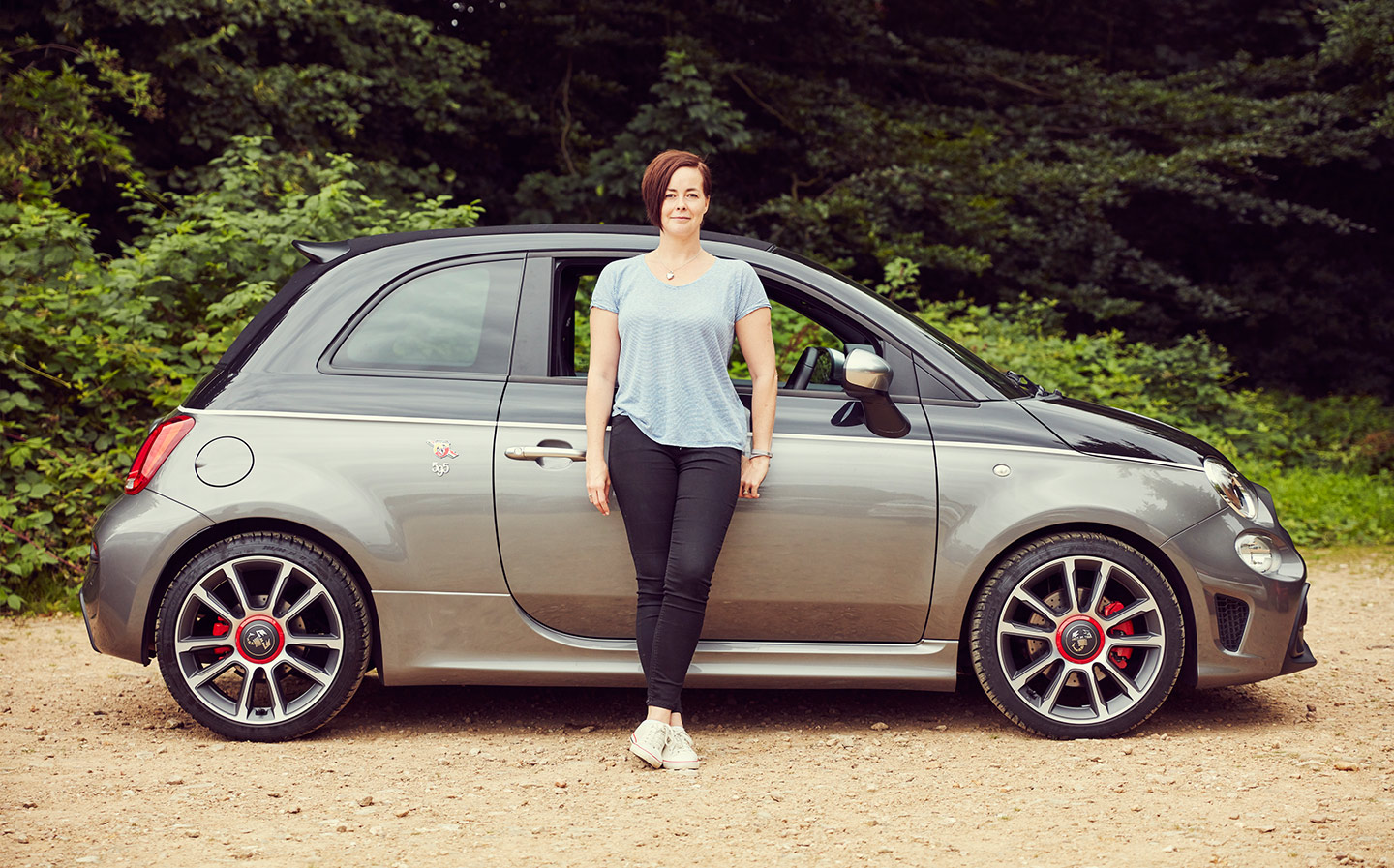 Words: Lizzie Catt (@Lizzie_Catt)
IN A world of sleeping policemen, 20mph limits, average-speedcameras and, worst of all, other people, it can be hard to get excited about driving. The sad truth is that even a Porsche can't make three-way temporary lights a great deal more exciting.
In recent years, ferrying kids about in a staid Citroën C4 Picasso, I've started to daydream of autonomous electric pods — one shuttling the children off to school and another whizzing me to work while I flick through a novel. The recent decree that sales of new petrol and diesel cars will stop in 2040 didn't fill me with sadness for the end of an era — more enthusiasm for a new one.
Then I met the Abarth 595C Turismo. Oh, eco-cars, forgive me, but I haven't had so much fun behind the wheel since I passed my test way back in the 20th century.
Just looking at it is enough to make you smile. While I'm a big fan of the playful aesthetic that Fiat 500s have brought to the drab cast of cars on British roads, the 595C is a different beast. It's a little monster with a turbocharged 1.4-litre engine shoehorned in, crouching impatiently on the driveway.
The excitement is slightly marred when you plonk your bottom on the sporty seat and spend the next five minutes trying to get comfortable, before giving up and settling for the least awkward position. But then you fire it up and — wahey! — who cares about seat position? The throaty roar and pop from the exhaust turns heads, and anyone who says they don't get a kick out of making people gawp when they drive past is fibbing.
The 595C doesn't make a song and dance about getting the top down, probably because the canvas surface area is about half what you'd find in a normal convertible, and you need the windows down too to feel like you're really flying.
Is it practical? To be honest, I didn't really care, but actually it is. The boot can handle a modest weekly family shop, and I was surprised to discover that I could sit comfortably in the back. There are even Isofix points for two forward-facing child seats.
However, my abiding memory of the 595C isn't of how many loo rolls and sprogs I could fit in it, but of galloping along the M25, bouncing out of my seat over tiny bumps. Truth be told, stamping on the gas when tantalised with a 50mph limit on an empty road provided only a few seconds of unbridled joy, as the 595C hits the mark so quickly. But that's almost the appeal. The bods at Abarth have turned out a powerful little mutant guaranteed to make you grin — and I loved it.
Click to view Driving.co.uk's review of the Abarth 595 Turismo
Browse NEW or USED cars for sale
Mini John Cooper Works Convertible
Words: Molly Mills
TO REALLY get the measure of this car it was important that I resisted dropping the roof and flooring the throttle. That would have been the full convertible experience — but too predictable. With not much summer left, it needed to prove it was an all-rounder. So I took the Mini to the supermarket.
In my usual Honda Accord Tourer, with its ageing diesel engine, the weekly shop is a dreary but necessary affair. Its interior is constructed from the sort of cheap plastic that's used to make toys that come free with kids' magazines. And because it looks like a hearse and is nearly as long — yet has no parking sensors — my efforts to get into parking spaces have bequeathed my children a full vocabulary of expletives.
In the Mini, the look and feel of the interior lift your spirits before you've even set off. The effect is probably like walking out of Asda's shoe aisle and crossing the road to a Jimmy Choo store.
It's nearly enough to distract me from remembering that I need to fit a child seat for our youngest. This should be easy: each of the two back seats has an Isofix attachment point. But getting the seat through the gap left by the folded front seat is almost impossible, until I remember the roof can go down.
Moments later, the seats are installed, the roof's back up and the kids are demanding I lower it again. But that can wait — ideally for when Mum's on her own …
You can select Sport, Mid or Green mode (my Honda has just the one: Miserly). Regardless of which you choose, the Mini feels as energetic as the cockapoo puppy that recently joined our family. The suspension isn't exactly forgiving, but there's a feeling of being connected to the road that you just don't get in sensible family cars.
By the time we arrive at the supermarket, I'm sold. Who needs a practical car when you can have a fun one? So imagine the look of delight that spreads across my face when a week's groceries for a family of five fit in the boot. Then I drop the top, the children select their favourite radio station and all the way home we're singing in the sun.
As the week goes by, I discover several things about "my" new car. If you put it into Sport mode, the exhaust pops delightfully like the children's Nerf guns. You can open the top just a little, like a sunroof, or completely. The heated front seats do a good job of warming parents, though the kids in the back need a blanket to keep the chill out.
Fun though it was, the John Cooper Works version is more than I'd need from a Mini. I think the plain Cooper convertible looks better, without all the boy — or girl — racer stuff, and the difference in price is enough to pay for a luxury holiday.
However, the car had a curious effect on us as a family. When I went anywhere in the Mini with the children, there were no arguments. But as soon as it went back and we returned to our humdrum Honda, the niggles returned. If that doesn't make the Mini convertible the perfect family car, nothing does.
Browse NEW or USED cars for sale
Jeremy Clarkson is away
Write to us at driving@sunday-times.co.uk, or Driving, The Sunday Times, 1 London Bridge Street, London SE1 9GF