Nissan Pathfinder review (2008-2014)
It might not be sexy but it always pulls

What is the Nissan Pathfinder?
The Pathfinder is a "proper" off-roader, as opposed to a sport utility vehicle (SUV), and is one of the few 4x4s still to be built in the old-school way – on a ladder-frame chassis.
Designed to be as tough as nails and rugged as the hills, the Pathfinder is designed to work hard for its living, and the fact that it shares its underpinnings with the venerable Navara pick-up truck makes it clear that it is more utility than sport. It has selectable low-ratio gears, a locking differential and (from late 2006) hill descent control and shift-on-the-fly four-wheel drive. It's tough enough to tow a 3,000kg braked trailer when powered by the latest 2.5 dCi diesel engine.
---
Search for and buy a used Nissan Pathfinder
---
Launched in the UK in 2005, the Pathfinder was initially offered with the option of a 4-litre V6 petrol engine, which, unsurprisingly, found few takers. Best, then, to stick with the diesel, which in the spring of 2010 was given a power boost to 190bhp, as well as improved cabin quality, mildly enhanced styling, improved fuel economy and emissions, and a wider range of optional niceties that included a 40GB navigation/entertainment system and Bose audio. In 2012, the fourth generation (codenamed R52) Pathfinder was launched but Nissan withdrew the car from Europe in 2014; it is currently only available to buy new in North America, Africa, Australia, South Korea and the Middle East.
Earlier entry-level versions were five-seat only, but most Pathfinders since then have a third foldaway row of seats to accommodate up to seven people. The rearmost seats have little room for your legs, and the 190-litre boot doesn't amount to much, but all the seats fold flat and the high roof affords plentiful headroom.
This is no luxury cruiser, however. More of a truck than a lifestyle vehicle, the Pathfinder is most appreciated by farmers, trailer-towers and builders, and with good reason. The diesel engine is noisy and the on-road ride crude and bouncy. There is plenty of grip but it's accompanied by a pronounced wallowing of the bulky body through corners, and overall there's a bit too much shake, rattle and roll by modern standards. That's not unexpected with this type of vehicle, but if you want a really comfortable crossover, you might want to check out the Nissan Murano instead. Ultimately, the Pathfinder is not good enough on the road to make the grade as a family all-rounder.
The Pathfinder is none too quick and its diesel engine must be worked hard, with plentiful use of the gearlever, to achieve lively acceleration. Unfortunately it has a heavy clutch action and, while the optional five-speed automatic transmission is an effective antidote, it saps power noticeably. Overall, the impression is that of an agricultural machine.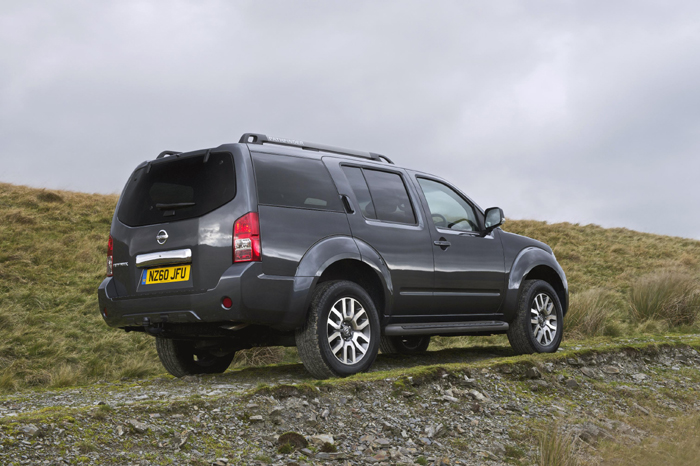 Since the advent of SUVs, or "soft-roaders", in the 1990s, proper 4x4s such as this have retained a certain charm in addition to fulfilling their workhorse duties peerlessly. The Pathfinder also scores on value for money: although the £37,000-plus list price of the new, top-specification Tekna automatic is somewhat ambitious, high depreciation makes it a second-hand bargain.
With the lifestyle set opting for something with more dynamism and on-road refinement, those looking for a go-anywhere towing machine can do a lot worse than pick up a Pathfinder for peanuts (relative to the price of a Land Rover Discovery).
What to look out for when buying a used Nissan Pathfinder
Disappointingly, the Pathfinder seems not to be as tough and rugged as its looks suggest and there seem to be a few rogue examples around on the used car market. Owners have reported electrical issues (the electric-fold exterior mirrors are a particular bugbear), as well as coolant leaks, rusting tailgates and easily chipped paintwork. Perhaps more seriously, premature clutch and flywheel wear are occasionally a problem, as is, less frequently, a cracked cylinder head. Nissan dealers don't appear to have made a good job of appeasing unhappy customers, although plenty of owners claim to be contented with their Pathfinders. Overall, its reliability record has been better than that of the Discovery of a similar age, too.
Nissan has recalled the Pathfinder in Britain for loose propshaft bolts, a potential loss of steering control, brakes missing a securing pin, engine stalling, failure of the electrically adjustable driver's seat, problems with ball joints and seatbelt faults, so make sure all necessary rectifications have been made.
The one to buy
Nissan Pathfinder 2.5 dCi 171 Aventura
Specifications
Engine: 2488cc, four cylinders
Power: 168bhp @ 4000rpm
Torque: 297 lb ft @ 2000rpm
Transmission: 6-speed manual
Acceleration: 0-62mph in 11.5sec
Top speed: 112mph
Fuel: 28.8mpg combined
CO2: 264g/km
Road tax band: M
Dimensions: L 4813mm, W 1848mm, H 1858mm
Nissan Pathfinder rivals