Lotus Evora review (2010-on)
If you love driving and the sensory thrills of sports cars, the Evora must be on your shortlist, whether fantasy or real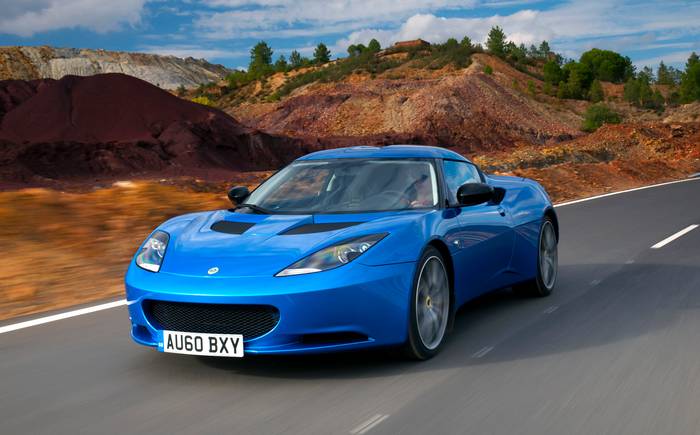 What is the Lotus Evora?
The most expensive model in the three-strong Lotus range, the V6 Evora is a British alternative to the Porsche Cayman, with the difference that it can — just — seat four. More conventional alternatives would be the BMW M3 and the more expensive Porsche 911.
---
Search for and buy a used Lotus Evora on driving.co.uk
---
Though it excels in handling, steering and ride quality — Lotus specialities — the Evora led a slightly troubled early life, the first examples having been criticised for a lack of attention to detail and a less than co-operative gearchange. Which is why Lotus has recently introduced a revised Evora featuring no fewer than 143 small but important improvements that have buffed away many of the rough edges. But the troubled start, ambitious prices and question marks over the future of its maker — not to mention slow sales — have coloured the Evora's reputation somewhat, despite its arresting style, which is a shame because it's now a mighty impressive car.
The drive
If you love driving and the sensory thrills of sports cars, the Evora must be on your shortlist, whether fantasy or real. It's the physical feedback it gives that makes it so special, together with direction-changing qualities worthy of a prima ballerina. On the right road — that is, a twisting, empty one — very few cars of any price bracket are as much fun.
The Evora's low weight allows the Toyota V6 to deliver performance somewhere between rapid and scintillating, depending on whether you choose the standard 276bhp version or the supercharged 345bhp S. You can also select your Evora with four seats or two, but the extra pair are as confining as rush hour on the Underground. So we'd go for the lower-powered two-seater, which goes almost as hard as the S but is not so close in price to the highly accomplished Porsche 911.
That also makes it a little easier to accept a remaining flaw, which is a gearchange that does not quite keep up with the alacrity of the car itself, despite Lotus's recent efforts to improve it.
The interior

The Evora's agility does not come at the expense of a jolting ride, and the suppleness of its progress is both a surprise and a comfort. Even more surprising, given the Lotus history of building cars for a full-on experience, is that the Evora makes a good long-distance machine. The V6 is a refined cruiser and road noise — the bane of both its Porsche competitors — has been successfully quelled. Those small but important improvements have produced a cabin that is now better finished and more inviting, although this remains a slightly challenging car to get into, and its instruments are still a little difficult to read.
A long, hard and fast drive is more than enough to have these small irritations melting away, for the Evora is one of the most entertaining driver's cars out there. And if it's not the most practical beast you buy for north of £50,000, it's certainly the most usable car Lotus has produced yet, and entirely usable as daily transport, whether long-haul or short.
What to look out for
Evora owners are, on the face of it, a pretty enthusiastic bunch, and even those who have suffered problems with their cars still seem in love. Early examples had some flaws, from wind noise to dashboard rattles, but build quality has improved. Look out for clutch problems, which will be fixed under warranty, and engine hesitancy at low revs. Both are recognised as occasional issues and should be cured easily by a Lotus dealer.
The One to Buy
Lotus Evora 3.5-litre V6
Factfile
Price:

£52,500 (correct at time of first publication)

Engine:

3456cc, V6

Power:

276bhp @ 6400rpm

Torque:

258 lb ft @ 4700rpm

Transmission:

6-speed manual

Acceleration:

0-62mph in 5.1sec

Top Speed:

162mph

Fuel:

31.4mpg (combined)

CO2:

210g/km

Road Tax Band:

K 

Dimensions:

L 4342mm, W 1848 mm, H 1223mm
Lotus Evora used car rivals for similar money