Jaguar XK review (2006-on)
While many Jaguar-watchers' eyes are on the new F-type, it's the XK that has been Jaguar's staple GT and sports convertible for the past half-decade.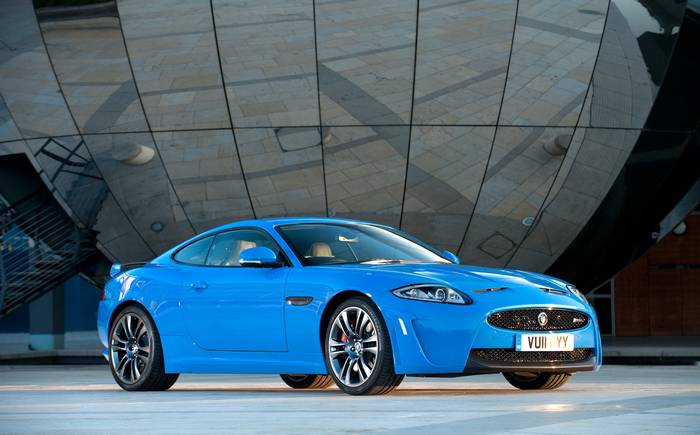 What is the Jaguar XK?
While many Jaguar-watchers' eyes will shortly be on the new F-type, it's the XK that has been Jaguar's staple GT and sports convertible for the past half-decade. It's also the first of the "modern" Jaguars, designed under the direction of Ian Callum who finally managed to haul Jaguar away from a retro fixation that had gone on too long.
---
Search for and buy a used Jaguar XK on driving.co.uk
---
Perhaps the XK has distant hints of an E-type around its nose, but otherwise it's a thoroughly modern, crisp-edged interpretation of a long-bonnet, fastback-tail GT (with hatchback) or its convertible sibling. It offers much of the appeal of an Aston Martin at a much lower price: XKs start at £54,975 for the coupé, or £75,975 for the convertible. The entire structure is made of aluminium, so it's light and won't rust, and power comes from a V8 engine — an all-new 5-litre unit since 2009. It gives 380bhp, or a dramatic 503bhp in the supercharged XKR. An XKR-S recently joined the range with harder-edged dynamics and even more power: 542bhp. Apart from the Astons, rivals include Porsche's latest 911, BMW's 6-series and the latest Mercedes-Benz SL.
The drive

It's an automatic, but that's to be expected in a car like this and it's a particularly responsive, quick-shifting one with the sort of manual paddle-shift intervention that's good enough not to make you bored with it after five minutes. All XKs have strong performance; the XKR with its crisply blattering exhaust note and huge torque is the star here, of course, but the regular XK with its variable valve-timing system is still properly quick.
Jaguars have always been good at "flowing" along the road, and the XK is true to type yet steers with a crispness and intimacy that make it a rewarding drive. The active dampers make the ride very firm in their sportiest setting, though, which suits the XKR but seems wrong for the gentler XK. One neat feature is the way the rotary gear selector rises out of the centre tunnel when you start the engine, like a submarine surfacing.
Best version? It has to be the XKR from £78,965. For such pace and presence, it's almost good value.
The interior

These XKs are effectively two-seaters, although the tiny pair of seats in the back could accommodate small children if necessary. The cabin has a welcome absence of wood, instead using textured aluminium for its dashboard finish much as the very first E-type did. The fit and finish are impeccable, as Jaguar's regular good showing in customer-satisfaction surveys bears out, and the sat nav/information screen works slickly. It's an intimate and cosseting cabin, in which you sit low and snug, but there's plenty of room for tall occupants in the leather front seats. Even the convertible is free of rattles and squeaks, because the XK's structure was designed from the start to work properly without a roof.


What to look out for when buying a used Jaguar XK
XK owners are, on the whole, very pleased with their cars, and report few problems with them. There have been two recall campaigns since 2009, one for engine remapping to resolve poor starting, the other relating to potential corrosion of a power-steering pipe. If you're not sure if a car you're considering buying is affected, call a franchised dealer, who can check this for you and if necessary carry out the necessary repair.
Also check for corrosion of the alloy wheels, and inspect the car's nose sections, which are made from composite materials rather than aluminium and can be prone to colour mismatch.
The one to buy
Jaguar XKR
Specifications
Price:

£78,965

Engine:

5000cc, supercharged V8

Power:

503bhp @ 6000rpm

Torque:

461 lb ft @ 2500rpm

Transmission:

6-speed automatic

Acceleration:

00-62mph in 4.8sec

Top speed:

155mph

Fuel:

23mpg (combined)

CO2:

292g/km

Road tax band:

M 

Dimensions:

L 4794mm, W 1892mm, H 1322mm
Jaguar XK rivals