Honda Civic Mk 9 review (2012-2017)
The Civic is a distinctive car, although there are penalties to be paid for its individuality
The Civic is a distinctive car, the latest, ninth-generation version a comprehensive update of the fastback-style previous model. The striking double-deck dashboard architecture and unusual rear-seat folding arrangements survive from the previous car, although there are penalties to be paid for the Civic's individuality. One of them is in the styling — unusual it may be, but it divides opinion. Much improved since the previous model, Honda reckons, are the Civic's ride comfort and refinement.
Engines include 1.4 and 1.8-litre petrols, along with a 2.2-litre diesel that's big and powerful (and noisy) for the class. The headline powerplant is a more recently introduced 1.6-litre diesel, which brings the car up to par with more frugal rivals. This Honda is pitched in a particularly fiercely fought chunk of the car market, facing big sellers such as the Ford Focus, VW Golf and Vauxhall Astra. Civic prices start at £16,955, for the 1.4-litre SE.
---
Search for and buy a used Honda Civic on driving.co.uk
---
The drive
If you're familiar with the old Civic it doesn't take long to realise that this is a more civilised, grown-up edition of this British-built car. It makes less noise, feels better finished and rides bumps with far more suppleness than the old model.
The new Civic doesn't respond quite as sharply to steering inputs as the old; some will find it over-light and a little vague. Even so, the Honda corners pretty well, if without the panache of a Golf.
The 1.6-litre diesel engine is the opening salvo of Honda's Earth Dreams Technology programme, offering 118bhp and 221lb ft of torque ‒ only a whisker less than the 2.2. Though it takes 10.5 seconds to propel the Civic to 62mph, it feels lively enough and manages a claimed 78.5mpg. It also produces just 94g/km of CO2, which means zero road tax and an exemption from the London congestion charge under current rules.
The 1.8 is a typical Honda engine, needing revs to give its best and producing a slightly hard-edged, hammering sound that some will enjoy and others may find wearing. The 1.4 petrol is adequate if your Civic is destined for an urban life, and is significantly cheaper than the alternatives. However, it lacks the muscle for effortless inter-city cruising. The 2.2-litre diesel is unnecessarily large and a bit vocal with it, making the 1.6 diesel the best all-rounder.
The interior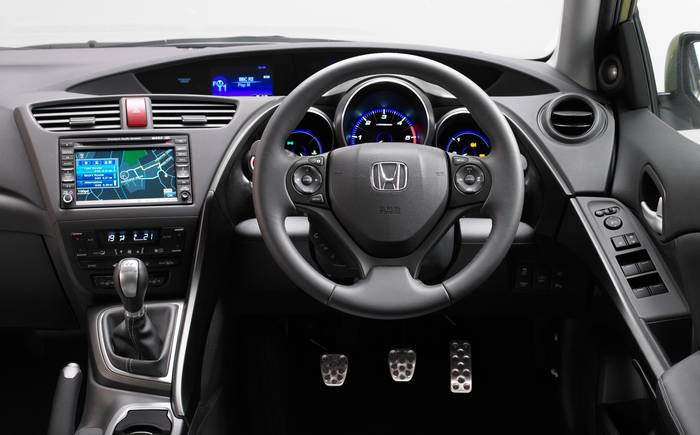 The Civic's cabin is unusual with its busy looking, double-deck dash. A digital display occupies the upper, more distant deck, while a set of circular dials lies just behind the wheel, which quite often obscures them.
The main controls turn out to be easy enough to use but the pebbledash of buttons surrounding the infotainment screen are small, fiddly and driven by an electronic logic that is at best perverse and at times downright annoying. Further irritations include poor visibility to the rear and, if you're much over 6ft tall, limited headroom both front and back.
Positives include a big boot and rear sea whose cushions can be folded upright to allow the carriage of awkward objects such as bicycles; a much improved standard of interior finish, though some may find its blackness a bit oppressive; and Honda's excellent and recently reaffirmed reliability.
Buying a used Honda Civic
Honda has a long-standing reputation for reliability, and the Civic has scored well in customer satisfaction and reliability surveys. The eighth-generation model was recalled several times, however, for problems including brake pedal travel and self-releasing parking brakes, as well as for short-circuiting electrics, and there have been problems with the diesel engine including excessive oil consumption, faulty oil level sensors and burnt-out glowplugs. Quality defects noted by customers have included poorly sealed tailgate windows, moisture build-up in headlights and tail-lights, and loose trim. Owners have also complained of premature tyre and brake wear.
The one to buy
Honda Civic 1.6 i-DTEC SE
Factfile
Price:

£19,400 (price correct at time of first publication)

Engine:

1597cc, 4 cylinders

Power:

118bhp @ 4000rpm

Torque:

221lb ft @ 2000rpm

Transmission:

6-speed manual

Acceleration:

0-62mph in 10.5sec

Top speed:

129mph

Fuel:

78.5mpg (combined)

CO2:

94g/km

Road tax band:

A

Dimensions:

L 4300mm, W 1770mm, H 1470mm
Honda Civic Mk 9 used car rivals for similar money