Ferrari 458 Italia review (2010-on)
If you think it looks good, it's even better to drive
What is the Ferrari 458?
This is the most driver-focused mainstream Ferrari yet, a howling, screaming, two-fingered salute to everyone in general and Lamborghini and McLaren in particular. It's also Ferrari's prettiest car in years — fascinating from every angle and oozing menace from every swoop and curve.
---
Search for and buy a used Ferrari 458 on driving.co.uk
---
But like all the best Ferraris, its looks are just a taster, a little amuse-bouche to whet your appetite for what lies beneath. If you think it looks good, it's even better to drive. The 458 is available as either a coupé or a spider with a simple and clever folding hard top.
The drive
You can't always read much into statistics, but you'll find out much about the 458's character when you learn its 4.5-litre engine develops 570bhp at 9000rpm without the aid of a turbocharger. Those are numbers you'd more commonly associate with purpose-built racing cars. Sadly you can't buy a manual 458 but, with a double-clutch transmission changing gear in no detectable time frame, the 458 will cannon to 62mph in 3.4sec and straight past 200mph not long afterwards.
But it is the quality of that performance that is more remarkable still. Once heard, the soundtrack will never leave your mind: flexible even at low revs, the way the engine note changes from a low-down growl to a synapse-shredding shriek at 9000rpm proves that, when it comes to the business of building world-class supercar engines, Ferrari still leads the field.
In normal use, the 458's chassis matches the standards of its engine. Grip levels are such that only a maniac would unstick it in the dry, while ride quality is unexpectedly excellent. If you can live with the ever-present noise of the engine, the 458 is a terrific long-distance car. However, should you venture near a track and turn off all the electronic safety nets, you need to know the car is tricky to drive on the limit: it is inclined to understeer and will then oversteer should you be inelegant in your attempts to correct it.
The cabin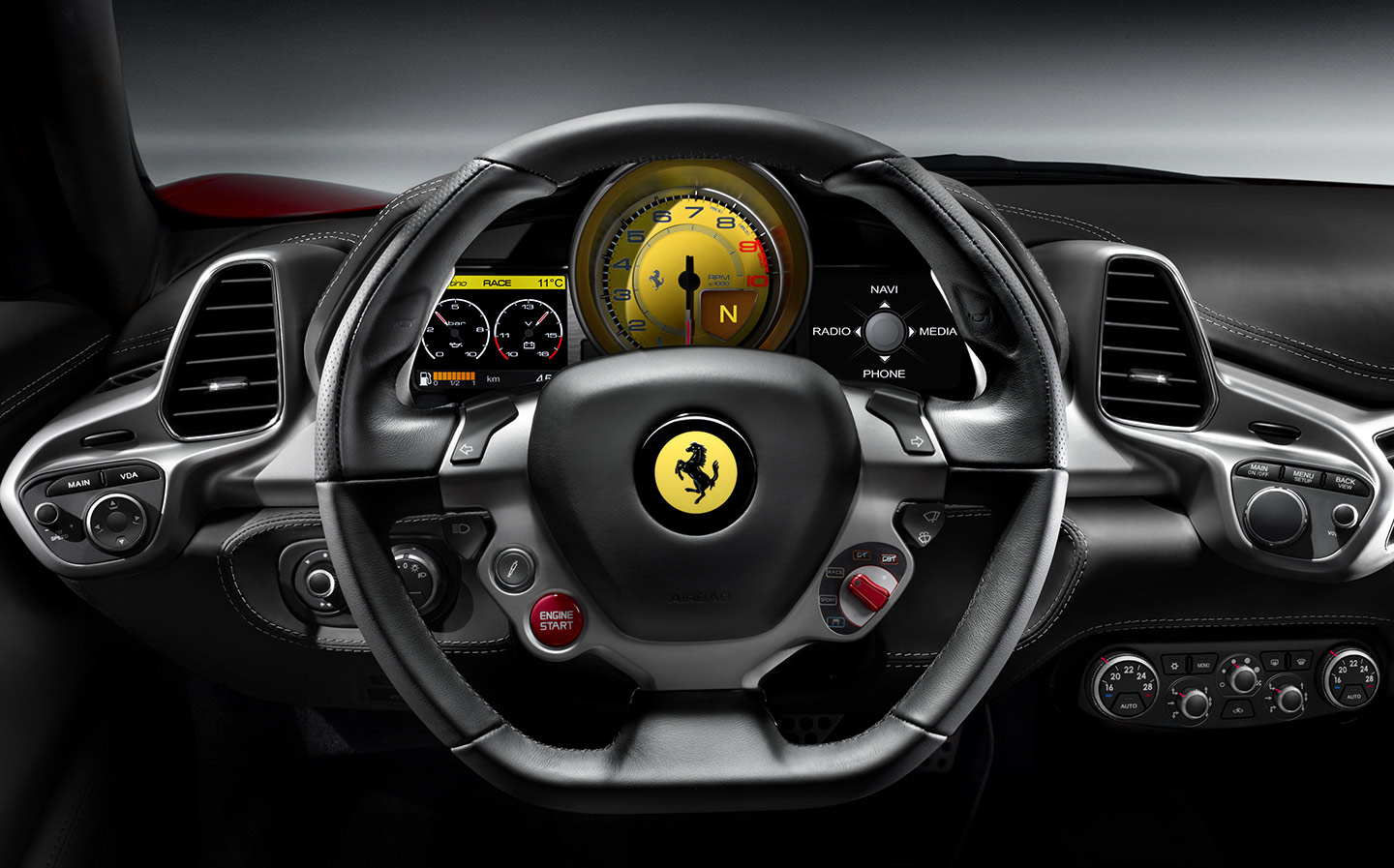 The 458's cabin is spacious for two and well dressed in the finest leathers, but we take issue with a steering wheel crammed with switches and buttons. We know the idea is to reinforce the links to Ferrari's Formula One operations, but F1 cars have switches on their wheels because they don't have dashboards: to overload the steering wheel in a road car this much is a bit of a gimmick. However, luggage space, restricted to what you can fit under the bonnet, is actually quite good for such a manically focused car.

The one to buy
Ferrari 458 coupé
Factfile
Price:

£178,491 (correct at time of first publication)

Engine:

4499cc, V8

Power:

570bhp @ 9000rpm

Torque:

398 lb ft @ 6000rpm

Transmission:

7-speed paddle-shift

Acceleration:

0-62mph in 3.4sec

Top speed:

202mph

Fuel:

20.6mpg (combined)

CO2:

275g/km

Road tax band:

M

Dimensions:

L 4527mm, W 1937mm, H 1211mm
Ferrari 458 used car rivals for similar money