Citroën C3 Picasso review (2013-on)
The C3 Picasso is for drivers who need a car that can accommodate three passengers (four at a pinch) and some of their luggage, at an affordable price.
What is the Citroen C3 Picasso?
The sister model to the C4 Picasso, the C3 Picasso is the smallest people carrier in the Citroën range. It competes with the Fiat 500L, Ford B-Max and Vauxhall Meriva, and is aimed at drivers who need a car that can accommodate three passengers (four at a pinch) and some of their luggage (more on that later), for an affordable price. It costs from £12,995.
Much like its namesake (Citroën bought the rights to the Picasso name from the family estate in 1999) the C3 Picasso's styling won't be to all tastes. But there is no question over what its boxy shape achieves; it has an impressively airy-feeling cabin, thanks to the upright proportions, high roofline and low window line. Throw in a panoramic glass roof and it feels more like driving in a greenhouse than a car.
---
Search for and buy a used Citroen C3 Picasso on driving.co.uk
---
The range comes with a choice of two petrol engines – a 1.4-litre, 95bhp and 1.6-litre, 120bhp unit – and two diesels – both 1.6-litre, with either 90bhp or 115bhp. If you aren't sure whether to choose diesel or petrol, consider this: the entry-level VT 1.4 starts at £12,995 and returns 44.8mpg, whereas its HDi (90) diesel VT equivalent costs £14,090 and is claimed to travel 68.9mpg. With a price difference of £1095, drivers covering 10,000 miles a year would recoup the difference in price and cost of fuel through diesel's superior economy in less than three years.
The drive
Not many small people carrier cars are enjoyable to drive. These are devices for ferrying as many people in as much comfort, for as little money as possible. But even if owners aren't expecting an invigorating driving experience, they will be expecting comfort. And here, the C3 Picasso falls short.
In the past, the suspension of Citroën cars was renowned for offering a ride so smooth it could make Aladdin's magic carpet feel as uncomfortable as riding a camel. But the C3 Picasso fails to disguise the bad state of British roads, its suspension feeling restless over anything other than brand-new asphalt.
The responses from the steering, throttle and brakes feel dulled, and the manual six-speed gearchange, mounted high and within comfortable reach, has a long and notchy shift action. The saving grace is that the 1.6-litre, 115bhp HDi diesel engine is an eager performer, pulling enthusiastically from a low as 1,500rpm and keeping up with faster traffic, even when the car is loaded with people and clobber.
The fuel economy of the 1.6 HDi 115bhp version is claimed to be 58.8mpg, and we recorded just over 50mpg during the car's time on test. This is partly achieved by the six-speed transmission's sensible gearing. At 70mph, the engine turns over at just under 2,000rpm. CO2 emissions of 125g/km place this version of the C3 Picasso in road tax band D, meaning it is exempt in the first year of registration, and attracts a £100 a year charge thereafter.
The interior
Let's start at the back of the C3 Picasso. If you're buying this type of car as a family vehicle, and expect to be carrying a small mountain of clobber wherever you go, then be warned: with an infant's pushchair in place, most of the 365-litre boot space is swallowed up. However, the rear seats (which split and fold 60/40) can slide forward independently of one another, which is handy when travelling without passengers, but not so convenient when passengers are present and have their knees crushed into the backs of the front seats. The boot has a false floor which can be raised, making space for the likes of map books, coats or muddy boots. Beneath it is a space-saver spare wheel.
Up in the front seats, the C3 Picasso feels as spacious and light as the Kew Gardens Palm House, helped by the inclusion of a panoramic glass roof. It's a stylishly designed environment, affords a great view of the road ahead and feels sturdy enough, but for one reservation: the manually operated sunshade for the glass roof came out of its runner and jammed fast.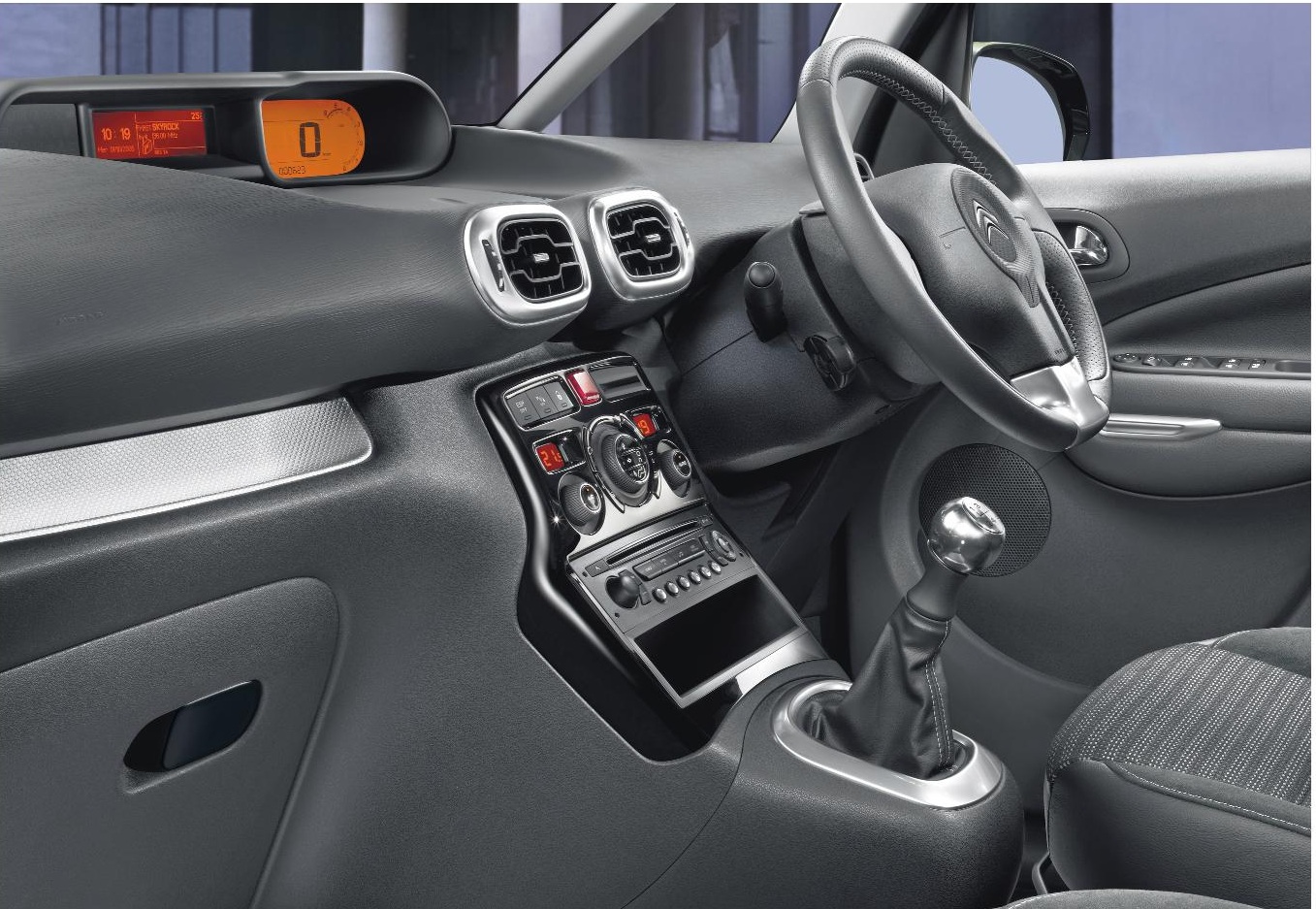 The instrumentation is situated in the centre of the dash, but the digital display is small, making some elements difficult to read. It also uses outdated technology, with old-fashioned interfaces for systems such as the sat nav. And quite why the designers chose against placing the remote control switchgear for the audio and cruise control on the steering wheel, where it would be visible and easily reached (instead it's on stalks placed out of view behind the wheel) is beyond us.
Significantly for the customer buying this type of car, practical touches abound throughout the cabin. For example, there's a second rear-view mirror, which flips down from the roof when needed and provides a wide-angle view of back seat passengers; there are enough stowage compartments to make a sweet shop owner feel at home; and the back seats have aircraft-style tables that flip up and feature integrated reading lights that can be switched on or off by the kids.
At a pinch, the rear seat will accommodate three adults, but even those of average height sat on the outer sides will find their knees foul the lowered tables. And because the rear seats are perfectly flat, child seats that don't rely on either of the two ISOFIX mounting points can tip as the C3 Picasso tackles a roundabout or tight bend.
The one to buy
Citroën C3 Picasso HDi 90 VTR+
Factfile
Price:

£15,965 (correct at time of first publication)

Engine:

1560cc, 4-cylinder diesel

Power:

91bhp @ 4000rpm

Torque:

170lb ft @ 1750rpm

Transmission:

6-speed manual

Acceleration:

0-62mph in 13.5sec

Top speed:

108mph

Fuel:

68.9mpg (combined)

CO2:

107g/km

Road tax band:

B 

Dimensions:

L 4078mm, W 1766mm, H 1631mm
 
Citroen C3 Picasso used car rivals for similar money