BMW 1-series Mk 2 review (2011-on)
The gateway to the BMW range and unless you go used, it's the only way in for less than £20,000
What is the BMW 1-series Mk 2?
The 1-series is the gateway to the BMW range and unless you go used, it's the only way in for less than £20,000. Neither the best nor the bestselling BMW, its role is to lure you into the BMW fold in the hope that you never leave. Over the course of a working life, the sale of a single 1-series could easily lead to the sale of another dozen BMWs. And that's good business, however you look at it. The range, though, is somewhat confused, with the coupé and convertible 1-series models now on sale based on the previous generation 1-series. While they make do with last-season fixings, the bread-and-butter hatchback is an all-new design. There is also a delightfully quick and thoroughly entertaining 340bhp high-performance M version of the coupé. This peach of a car is the least powerful M-car in the range, but it's closer in character to the original and legendary 1980s M3 than any other M now on sale. But our focus falls on the new hatchback. Compared with newer rivals like the Volvo V40, Audi A3 and Mercedes A-class, the 1-series looks rather plain on the outside and unimaginative within.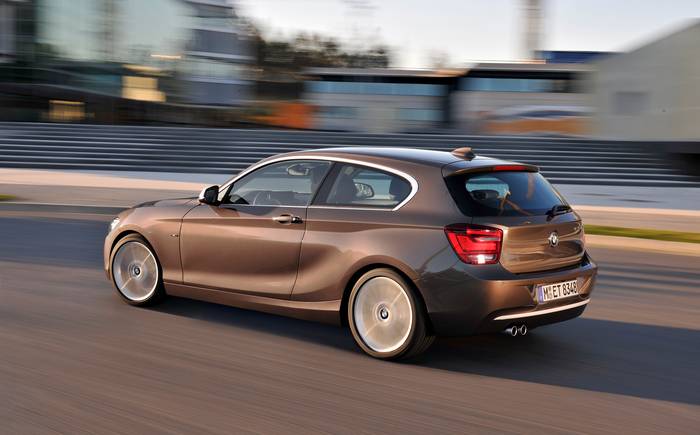 The drive
This is more comfortable territory for BMW and for those who like the simple business of driving, the new 1-Series, now the only rear-wheel drive car in its class, has a lot to commend it. All versions steer and stop well and are involving on the right road, promoting you from a role of mere operator to that of proper driver. There's a wide range of petrol and diesel engines available and while we're tempted to recommend the 215bhp 125d for its amazing blend of performance and economy, the 1-series buyer is the most cost-conscious of all BMW customers and with that in mind the 116d Efficient Dynamics model with its sub 100g/km emissions, 74.3mpg and sub £21k price tag is clearly the pick of the range.
The interior
While others successfully combine form with function, BMW has made an interior that is objectively close to flawless in its basic layout, but lacking the charm and perceived quality of its smarter opposition. Like most BMWs it offers a sound working environment, but not a home from home. The good news is that this generation of 1-series is more generously proportioned than its miserably cramped predecessor, especially in the back. You still won't want to travel far with four adults on board, but for most couples with two young children it should suffice, at least until they hit their teens. Then it'll be time for a 3-Series Touring, a progression that BMW hopes will end decades later with a 7-Series.
What to look out for when buying a used BMW 1-series
Owners appear to be happy overall with their cars' reliability, and the 1-series has scored well in satisfaction surveys, although the first-generation car was recalled three times for problems with the braking, airbags and seatbelt pretensioners, as well as a fire risk with diesel models.  Additional reporting by Farah Alkhalisi
The one to buy
BMW 116d Efficient Dynamics
Specifications
Price:

£20,830

Engine:

1598cc straight four

Power:

114bhp@4000rpm

Torque:

192 lb ft@1750rpm

Transmission:

6-speed manual

Acceleration:

0-62mph in 10.5sec

Top Speed:

121mph

Fuel

74.3mpg

CO2:

99g/km

Road Tax Band:

A

Dimensions:

L 4324mm, W 1984mm, H 1421mm
BMW 1-series rivals