Mitsubishi Lancer Evolution X (2008-2013) review
It's lairy and it's hairy, it's altogether scary...
What is the Mitsubishi Lancer Evolution X?
The hairy-chested, lairy lunatic that needs little introduction, the Lancer Evolution is the car that put Mitsubishi on the map with petrol heads the world over. It has inspired generations of World Rally fans, players of Gran Turismo (and countless other videogame racing titles) and is far more likely than a Ferrari or Lamborghini to be the car of choice for daydreaming boy racers. This is the 10th generation Evo. Its popularity has waned with each iteration, most likely because many drivers have matured and grown tired of a car which is only ever a pleasure to drive when it is taken by the scruff of the neck and hurled down the road at speeds that send Gatsos into flashing meltdowns.
It's also practical. Four doors, a good-sized boot and a ride height that won't require a front-end rebuild at the slightest sight of a sleeping policeman are all a bonus in day-to-day driving.
A large part of the Evo's appeal was always that in terms of bang for your buck, it was unbelievably good value. Few cars could match the Evo X's ground-covering ability, let alone those costing a little over £31,000, its last price before sales were discontinued in the UK in 2013. Since ending sales, though, Mitsubishi has decided to introduce a limited-run model, the Special Anniversary Evolution X FQ-440 MR, as a celebration of the marque's 40th year in the UK. It will only be available in white, and at about £50,000 it won't be cheap by any stretch of the imagination.
The drive
Little compares to the Evo X. Its only direct rival is the Subaru Impreza WRX STi — a Nissan GT-R is twice the price. But even compared with these greats, the Mitsubishi has a character all of its own.
Let's start with the performance. The slowest version, the FQ-300, will accelerate from 0-62mph in 4.7 seconds. And the manner its turbocharged engine comes on boost never fails to shock, pinning driver and passengers into their seats and making all very glad that the high-performance Brembo brakes are more than up to the job of slowing everything down again. Something that needs to be done often, given how quickly this car gathers speed, how fast the sequential transmission shifts up and down and how unfazed the suspension is by broken British road surfaces.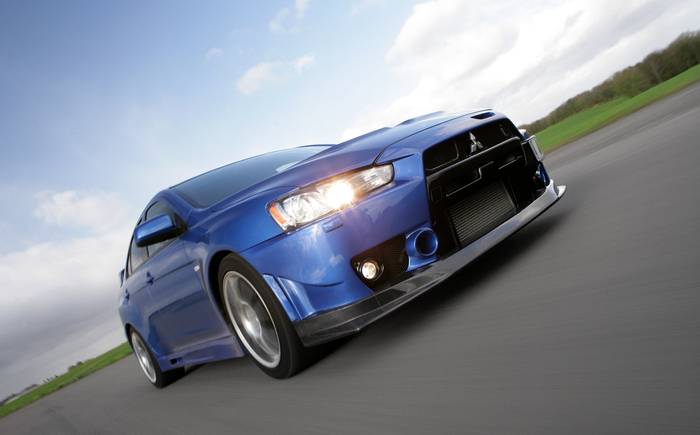 And then there's the handling. This is where the Evo X excels. Every corner becomes the driver's playground, raising a grin from ear to ear as the tyres hang on tenaciously and the four-wheel-drive system slingshots the car away from every apex. If you do demand to be a part of the gear-changing process and settle for a manual gearshift, you must buy the Evo X FQ-360, which comes with a specially strengthened five-speed manual transmission.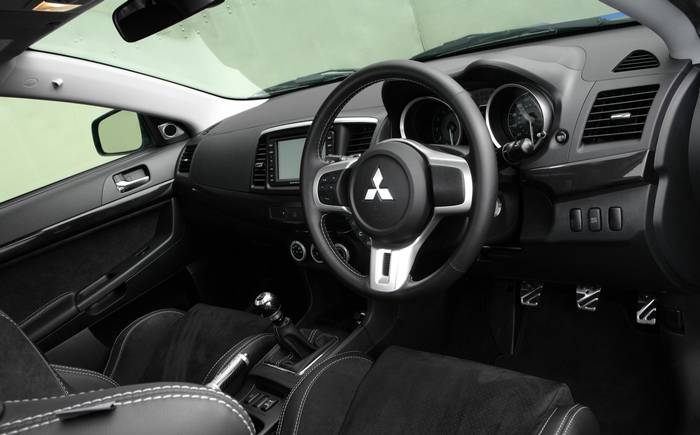 The interior
It's functional, practical and accommodating for four adults and their luggage. The driving position is excellent, with supportive sports seats and well-spaced pedals, there's good all-round visibility — essential in a car this quick — and it's well screwed together. But it's about as inspiring as an empty box of Alpen. Still, you get what you pay for, and with the Evo X, your money goes on a driving experience that will leave you gasping for air.
What to look out for when buying the Mitsubishi Lancer Evolution X
Mitsubishis are renowned for excellent reliability and the Evo X is no exception. Mitsubishi has issued only two recalls for the Evo X which can be easily remedied by a franchised dealer, one relating to modified pipes, the other to the possibility of clutch failure. Owner feedback remains very positive, with many praising their dealers. A few have reported issues with fuel pumps or engine management systems but all seem to have been sorted out by the dealers under warranty. An active (and expert) owners' club online is a great source of help and advice for the Evo virgin. Check out Lancer Register.
In truth, your biggest ownership challenge is likely to be the cost of self-imposed maintenance costs such as replacing damaged alloys, worn brakes and clutches. At about £800 for a set of front discs and pads and about £250 a corner for decent tyres, you can easily run up some large bills if you have a heavy right foot.
The one to buy
Mitsubishi Lancer Evolution X FQ-300 GSR SST.
Factfile
Engine:

1998cc, 4-cylinder, turbo petrol

Power:

295bhp @ 6500rpm

Torque:

300 lb ft @ 3500rpm

Transmission:

6-speed automatic

Acceleration:

0-62mph in 4.7sec

Top Speed:

155mph

Fuel

26.2mpg

CO2:

256g/km

Road Tax Band:

M 

Dimensions:

L 4495mm, W 1810mm, H 1480mm
Mitsubishi Lancer Evolution X rivals