Mercedes-Benz GL-class review (2013-on)
At home on the range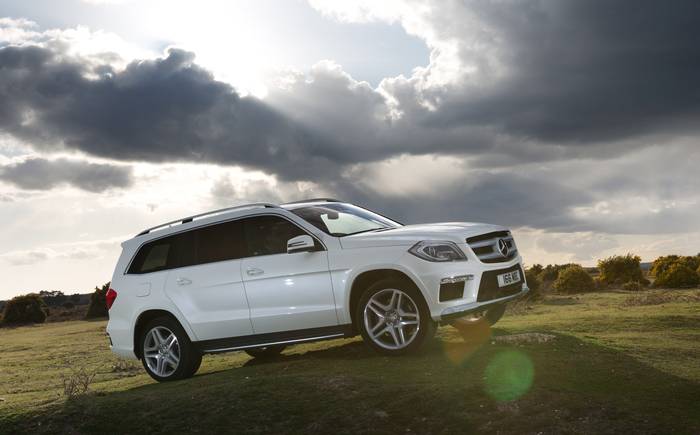 What is the Mercedes-Benz GL-class?
When the going gets tough, the tough get something tougher: a super-size off-roader such as a Range Rover or this, the revised Mercedes GL launched in April 2013. No, not the car you're thinking of; that's the smaller M-class. Not the G-class, either, the ancient off-roader that looks like a military vehicle.
The GL sits between these two: larger, grander and more expensive than the M-class; more car-like than the G-class. There are just two GLs to choose from: the diesel-powered GL 350 BlueTEC AMG Sport costing £60,100 and the petrol-powered GL 63 AMG costing £92,330. Both have four-wheel drive, 7-speed automatic gearboxes, air suspension for variable ride-height control and seven seats. And both are available with a range of options that, especially in the case of the GL 350, can raise the price comfortably beyond list. How about £18,075 beyond list, to £77,560? That was the all-in price of our test GL 350. In standard trim, the GL looks more than competitive against its fiercest rival the latest Range Rover, whose prices start at £71,310.
Power for power, there's little to choose between the Range Rover and the GL but the former is 295kg lighter and a tad more economical, and has an eight-speed automatic gearbox and real leather, rather than fake hide, on its seats. And to this tester's eyes at least, the Range Rover is better looking: handsome but restrained compared with the GL's extravagant  styling which features a huge Mercedes star, illuminated and embossed door sills, sporty running boards and ritzy LED lights.
The drive
Once you're behind the wheel, of course, concerns about a car's looks evaporate. How it goes is more important now. The GL doesn't disappoint but it's best to point out what options our test car had and what they might have contributed to the driving experience. Chief among them was the Active Curve System with active suspension stabilisers. This reduces roll angles in corners, making for a more agreeable ride and encouraging livelier steering. It works, no question, but it costs £3,240. Fortunately, it's still possible to discern the standard car through this option with the GL's most memorable qualities being its magic-carpet ride and eerily quiet engine and cabin.
The GL's air suspension smothers surface imperfections, sails serenely over dips and crests, and even rides quietly over noisy concrete roads with their annoying expansion joints. If only the steering were as good. It's direct around the straight ahead and on busy urban roads it's easy to point the car safely and precisely, thanks in no small part to the GL's superior height.  But the electronic system weights up artificially in fast corners, giving the impression of loading but no sense of precisely where the 21in alloy wheels are pointing. The 19in ventilated brake discs rein in the heavy GL easily and securely.
Its 3-litre V6 diesel engine (don't be fooled by that "350" badge on the back) copes with all reasonable demands but ask for more and it struggles. The vehicle's weight and that, admittedly very smooth, automatic gearbox are no doubt to blame. At a steady cruise the GL will return around 35mpg but a mix of A-road and urban will drive that down to 30mpg. Stay in town and you'll struggle to beat 15mpg.
The interior 
What to look out for
Watch out for damage caused by heavy-duty towing — many GLs are put to work pulling horse trailers, yachts and large luxury caravans. Though some of the earlier Alabama-made Mercs weren't the best-built cars the company has offered, quality from the US factory has improved, and the GL now has a generally good reliability record.
Problems reported on the generation prior to the 2013 model we're discussing here include water leaks around the panoramic glass roof, electrical glitches and some minor construction flaws (in earlier examples), and owners complaining that it's hard to match the official fuel economy figures.  While the pre-2013 GL was recalled in Britain for a fuel leak (in diesel models), the 2013-on GL has so far had no recall. And Mercedes-Benz did well in this year's customer satisfaction surveys; its service is improving again after some years of disappointing feedback from its customers.
No doubt about it, the GL is roomy and luxurious. The driver wants for little and will feel as though they've simply slipped into it from an S-class. Waiting dutifully in the wings is the whole panoply of Mercedes driver assistance services including park, attention, lane, speed and adaptive high beam. There are lashings of fake leather, albeit good fake leather, and brushed aluminium. In standard trim the car's Comand centre offers sat nav and DAB radio. It's a well-ordered fascia but add the optional £1,985 On & Off-road package and the console between the front seats becomes a riot of buttons and graphics requiring a patient salesman to explain.
There are three rows of seats in a 2/3/2 formation. The front row is definitely first-class – especially after you've raided the options list. For example, our test car had heated massage seats offering a comically wide selection of settings including "Slow and vigorous". The lumbar region feels the benefit the most; the shoulders the least. With its lower, shallower and less sculpted seats (so perfect for stowing and folding) the middle row is definitely economy class and not especially comfortable. Legroom in the third row is adequate but no more.
Our test car's third row seats tumbled and stowed electrically (a £410 option but worth it for the entertainment and convenience). With both rows stowed, the GL's load space is a positively cathedral-like 2,300 litres, easily accessed via the car's standard-fit, electrically powered tailgate.  
The one to buy
Mercedes GL 350 BlueTEC AMG Sport
Specifications
Engine:

2987cc, V6

Power:

258bhp @ 3600rpm

Torque:

457lb ft @ 1600rpm

Transmission:

7-speed auto

Acceleration:

0-62mph in 7.9sec

Top speed:

137mph

Fuel:

35.3mpg (combined)

CO2:

209g/km

Road tax band:

K

Dimensions:

L 5141mm, W 1982mm, H 1850mm
 Mercedes GL-class rivals