2016 Mercedes-Benz E-class estate review
Smarter but smaller
---
Published 19 October 2016
THE ESTATE car would seem to have been on the vehicular red list of endangered species for many years now. First, it was rudely barged out of its habitat by the ingenious seating arrangement on wheels that was the MPV; then it was outcompeted by the SUV, which seemed to satisfy a yearning in drivers to lord it over their fellow motorist.
However, some drivers still crave an estate's mix of carrying capacity and car-like driving experience- and the biggest estate car of all has historically been the Mercedes-Benz E-class. A new version is in British showrooms, lifting its electrically powered tailgate and flaunting its big booty for all to see.
There's just one problem. Antiques dealers, Labrador owners and parents weighed down by all-terrain pushchairs have pointed out that beneath the sleek new bodywork, the E-class estate's unique selling point — its gargantuan boot — has, for the first time, got smaller.
---
View the used Mercedes E-class estates for sale on driving.co.uk
---
Mercedes would argue you get more for your money: more power and performance with lower levels of CO2 emissions, a nine-speed gearbox in place of a seven-speed and a smarter cabin with more advanced features.
And it would have a point. Settle into the driver's seat and you'll feel you've taken a big step up from the last E-class. It's seriously classy — too good, some would say, for muddy children and their sticky sweets and runaway raisins.
The dashboard is curvier than an hourglass. Press the ignition button and you enter a digital world — there's not an analogue dial in sight. You can choose from three displays for the main dials — Sport, Classic and Progressive.
The optional Comand Online system (£1,495) brings a 12.3in display with sat nav so detailed you could probably see your neighbours sunbathing in their garden.
The front seats are decidedly snug, hinting, perhaps, that Mercedes wants this car to seem a little more sporty than the previous model. But they're comfortable during a long run, as is the driving position.
It's a joy to find that the E-class no longer squeaks. The outgoing one is famous among owners for a noise behind the dashboard that sounded like a bed upstairs being put through its paces. In this version the only rattles you'll hear will be from toddlers in their child seats. When it's new, at least.
There's a good amount of rear legroom but the two outer seats are more sculpted than before, so anyone sitting in the middle will feel unwanted. The optional panoramic double sunroof (part of a £3,895 Premium Plus package) and dual-level rear ventilation ducts with temperature controls are nice to have, but the absence of USB charging ports won't impress your teenagers.
"The previous E-class is famous for a noise emanating from behind the dashboard that sounded like a bed being put through its paces"
The reduced boot space could disappoint anyone who bought the last version because it trumped all rivals in this department. The car's sleeker lines and sloping tailgate have made the boot shrink from 695 litres to 640 litres.
Yet this remains one of the most practical estates money can buy — a suitcase or two bigger than an Audi A6 Avant, BMW 5-series Touring or Volvo V90 — and it comes as standard with an electrically powered tailgate. It has substantial storage space under the boot floor, as well as the excellent automatically retracting luggage cover with dividing net to keep the weekly shop or pets out of the cabin.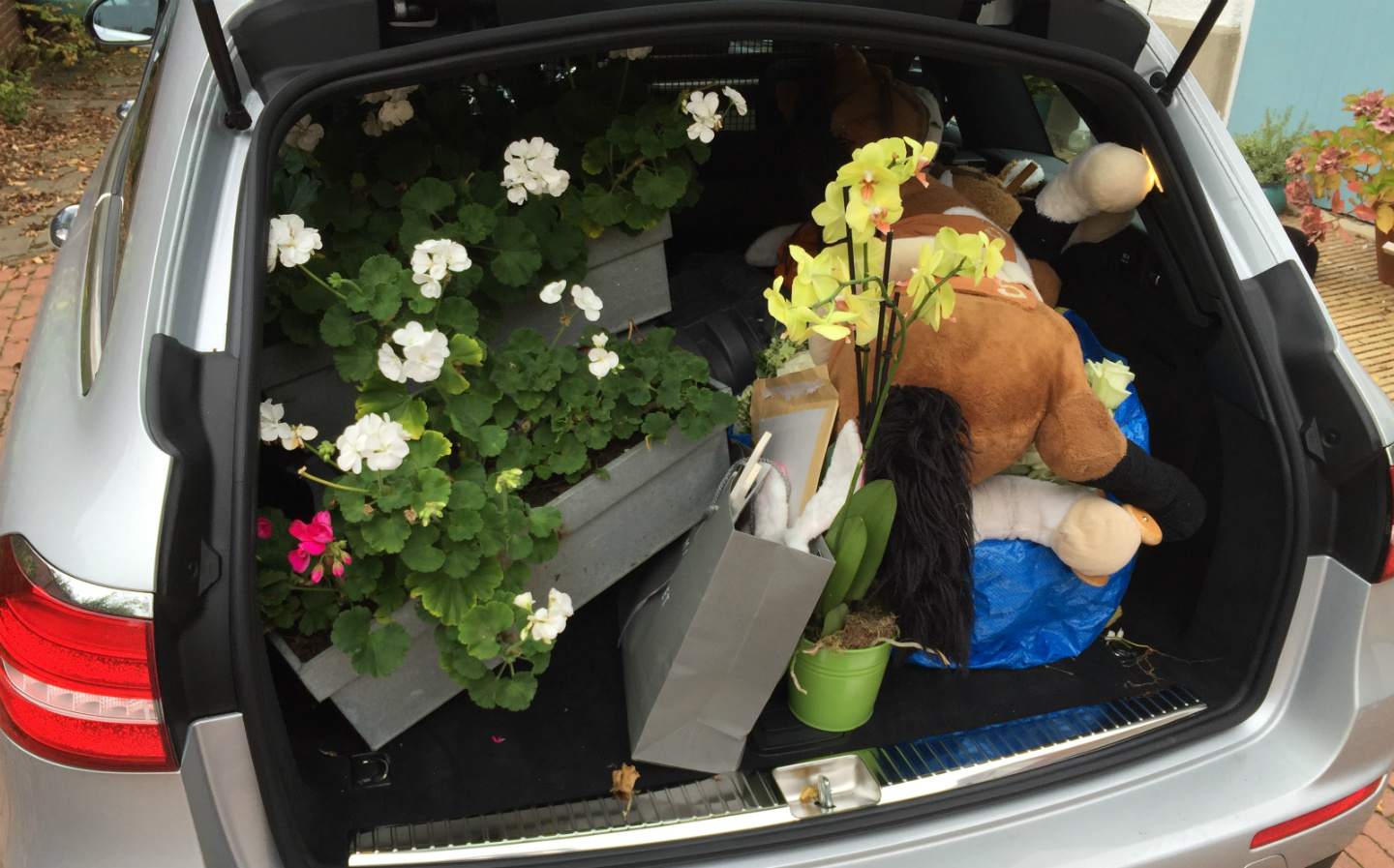 Another minor gripe is that the roof rails on this generation of car are flush with the bodywork, whereas the last version's stood proud. What's the big deal? Anyone changing from one to the other will have to buy a new roof rack.
There's been a marked step forward in the refinement of the ride. The 2-litre four-cylinder diesel engine only ever raises its voice under full throttle. The rest of the time it's largely silent — ideal for long runs.
Performance is brisk for such a bulky car (1,760kg): it takes 7.7 seconds to get from standstill to 62mph, and there's effortless acceleration from just 1600rpm. If you're lucky, you might just get more than 60mpg too.
Nine speeds probably sounds several gears too many, but the automatic gearbox never falters or has to pause for thought. The gearshifts are smooth and fast, and the driving modes — Eco, Comfort, Sport, Sport+ and Individual — cover every sort of driving you might want to do.
Most drivers most of the time will find Comfort best, as it makes the Mercedes feel how you want it to: as calm and composed as the steady hand of a barber performing a cut-throat shave.
In Eco mode the car drives like a saint running low on fuel; in Sport the suspension is too firm; and in Sport+ the engine and gearbox become hyperactive.
---
Browse NEW or USED cars for sale on driving.co.uk
---
If comfort is your priority, give the optional 20in alloy wheels a miss. They thump over drains and potholes and feel skittish over manholes.
There's another element to the latest E-class that will appeal to the sort of people who could happily spend all day wandering around a Maplin shop. Of any model you can go out and buy today, it is as close to a self-driving car as it gets — with the exception of Teslas. Fitted with the optional Driving Assistance Package (£1,695), it will steer, accelerate, slow and even change lanes for the driver. During our time with the car, the most impressive thing was that it all worked faultlessly: no panicked intervention on the driver's part.
The new Mercedes E-class estate is an impressive package. The only downside to buying one is that you won't be alone: there is no exclusivity in having a Mercedes-Benz parked outside your house. This September more than 31,800 Mercedes were sold to British drivers, taking the year's total to nearly 136,000.
But when a car's as good as this one, that's hardly a surprise. The real surprise is finding the estate car remains a thriving species.