Mercedes-Benz SLS review (2010-2014)
You'll forgive interior flaws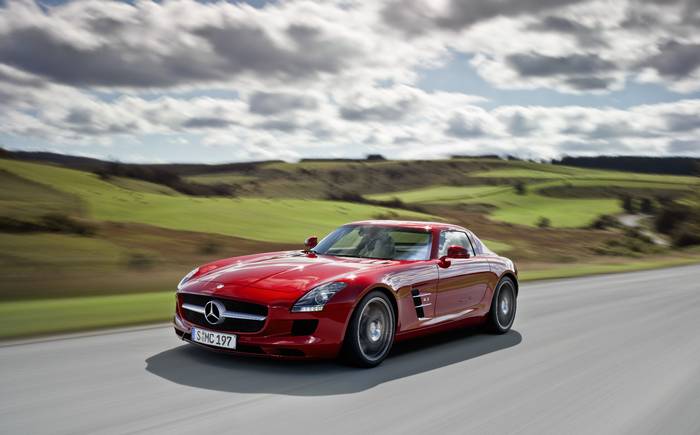 What is it?
On one level, a homage to that most famous Mercedes of all, the 1954 300SL which first provided the gullwing door concept seen on coupé versions of the SLS. On another, it's a tool Mercedes designed to reach down, grab its brand and try to haul it even further upmarket. Either way, it's the first car designed and engineered in total by the high-performance AMG division and is Mercedes's way of saying it can do more than take on BMW and Audi and that no brand, not even Ferrari, is safe from it. Currently available in coupé and convertible versions, more variants are planned including an even quicker Black Series edition and even an all-electric model.
The drive
For all its apparent sophistication, at its heart the SLS is an old-school bruiser. It has a spaceframe chassis with aluminium bodywork, a large normally aspirated V8 up front and a transaxle gearbox behind — classic stuff. That engine is the same 6.2-litre motor used in many more prosaic AMG models but dry sumped and turned all the way up to 11 or, in power-speak, 563bhp, driving through a seven-speed paddle-shift transmission.
The result is fabulously fast, but it is the way that performance is delivered that's worthy of special mention. This is not a car like a Ferrari 458 or Lambo Gallardo that needs revs, and lots of them, to work properly; like some old American muscle car, the SLS needs no more hint than a twitch of a toe to explode up the road, its growling V8 soundtrack tearing chunks out of your eardrums.
It's a shame, then, that the SLS's chassis fails to set similarly high standards. Its ride is firm enough to suggest the car's not sure whether it's a GT or a sports car and while grip levels are amazing for a front-engined machine, only skilled hands should start playing about with it right on the limit. A pussycat it ain't.
The interior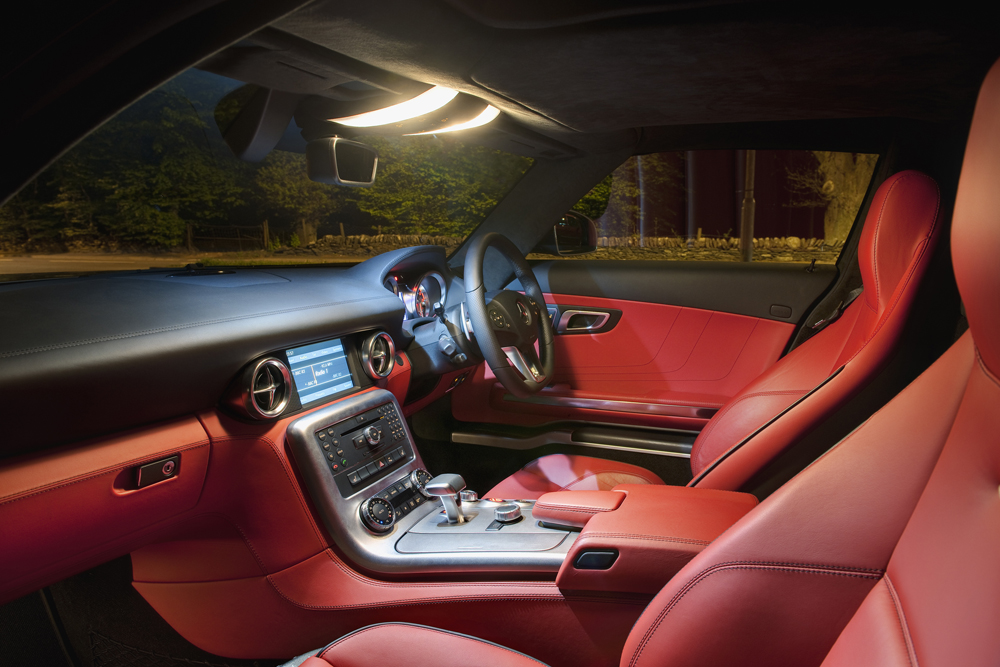 The doors are amazing and reason enough not to spend the extra on the well-engineered but less visually arresting convertible; the cabin, however, is merely adequate given the money involved. It all works as well as you'd expect from Mercedes, but it's visually too little different from lesser models in the range. Yes, there are swathes of stitched leather and AMG badges adorning most surfaces, but the instrument binnacles, gear lever and centre console are lifted directly from other AMG models in the range. If this is a halo model for Mercedes, it doesn't really show it inside. Leg room for tall drivers is also limited.
What to look out for
The SLS has sold in small numbers and hasn't shown up in the main British reliability surveys, but so far feedback suggests that it's solid. The transmission is the same basic Getrag gearbox as in the Ferrari 458 and California, which have had problems, but it is differently set up and there are no reports of concerns as yet.
Mercedes' general record for reliability and customer service has not been great in recent years, though it appears to be doing better again and its ratings in customer satisfaction surveys have begun to improve once more. Check that all the complex software and electronic control systems appear to be working well, look out for damage or premature wear that may have been caused by overenthusiastic track-day use, budget for specialist or main dealer maintenance and buy only with a complete service history.
The One to Buy
Mercedes-Benz SLS Coupé AMG
Factfile
Engine:

6208cc, V8

Power:

563bhp @ 6800rpm

Torque:

479 lb ft @ 4750rpm

Transmission:

7-speed double clutch

Acceleration:

0-62mph in 3.8sec

Top Speed:

197mph

Fuel

21.4mpg

CO2:

308g/km

Road Tax Band:

M

Dimensions:

L 4638mm, W 1939mm, H 1252mm
Mercedes-Benz SLS rivals