Mercedes-Benz SLK-class review (2011-2016)
Arguably the best generation of SLK to date, it is a real joy to drive
What is the Mercedes-Benz SLK-class?
First launched in Europe in 1996, the front engined, rear-wheel-drive convertible SLK has since proved seriously popular. In the UK alone, 65,000 have been sold. More impressive still, last year (2012) 6,668 SLKs found homes, nearly five times as many as the model's nearest rival, the Porsche Boxster.
The latest, third-generation SLK was introduced in 2011 and features a more upright grille and sharper, more muscular lines, an attempt by Mercedes to rid the model of its old, slightly "hairdressery" image.  It has worked and the car now has more universal appeal.
Models include the SLK 200 and SLK 250, with 1.8-litre petrol engines tuned to 184bhp and 204bhp respectively. There's also an SLK 350 with a 3.5-litre V6 petrol engine producing 306bhp. The most potent petrol engine comes, of course, from Mercedes' performance division AMG. The SLK 55 AMG has a 5.5-litre V8 packing 421bhp.
In early 2012 Mercedes added a four-cylinder diesel engine to the mix. The SLK 250 CDI has the same 204bhp as the top 1.8 petrol engine but has a significant advantage in the torque department with a punchy 368 lb ft at 1600rpm (versus the petrol's 228 lb ft). It also returns a claimed 56.5mpg on the combined cycle.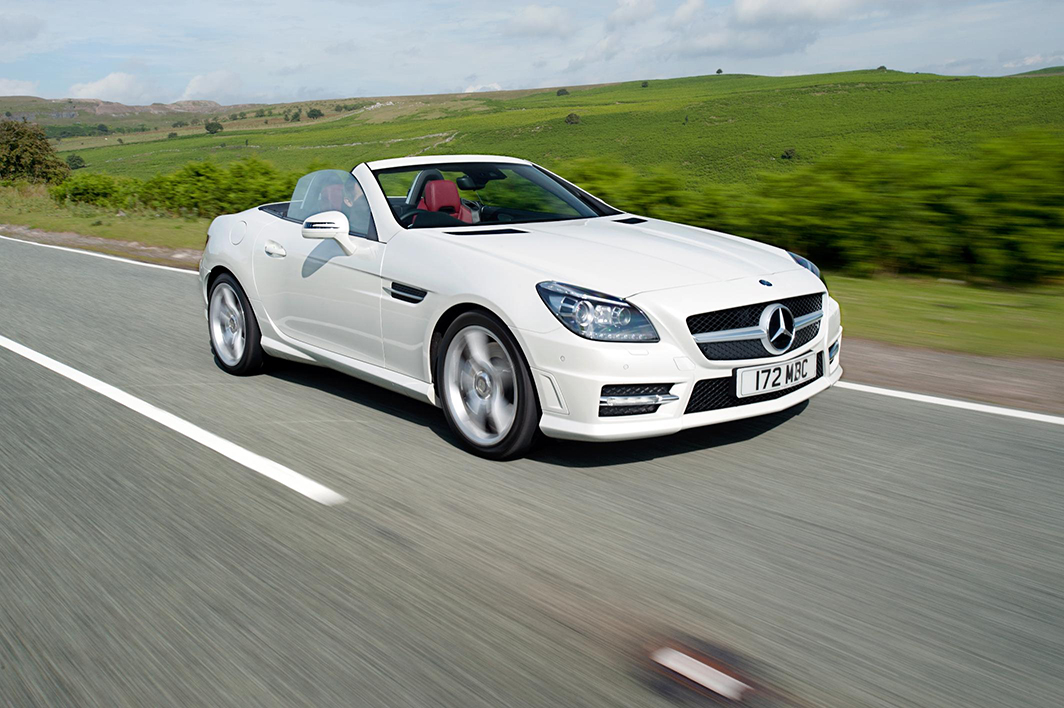 The drive
With only two seats and a short rear end, the Mercedes SLK isn't a large car, but with a kerbweight upwards of 1.5 tonnes it is not exactly trim, either. That bulk can cause the car to crash over potholes and imperfections. Mercedes offers three types of suspension ‒ a conventional steel set-up, stiffer AMG sports suspension that lowers the car by 10mm and an electronically controlled system with automatic damping ‒ but no matter which you choose, none can counter this problem.
The steering is well weighted, with turn-in being sharp and precise, particularly if you choose the optional dynamic package with torque vectoring (which brakes the car's inside wheel while cornering). There is very little body roll and on smoother surfaces the SLK is a satisfying and, dare we say it, fun drive, especially when the sun is out and the roof folded.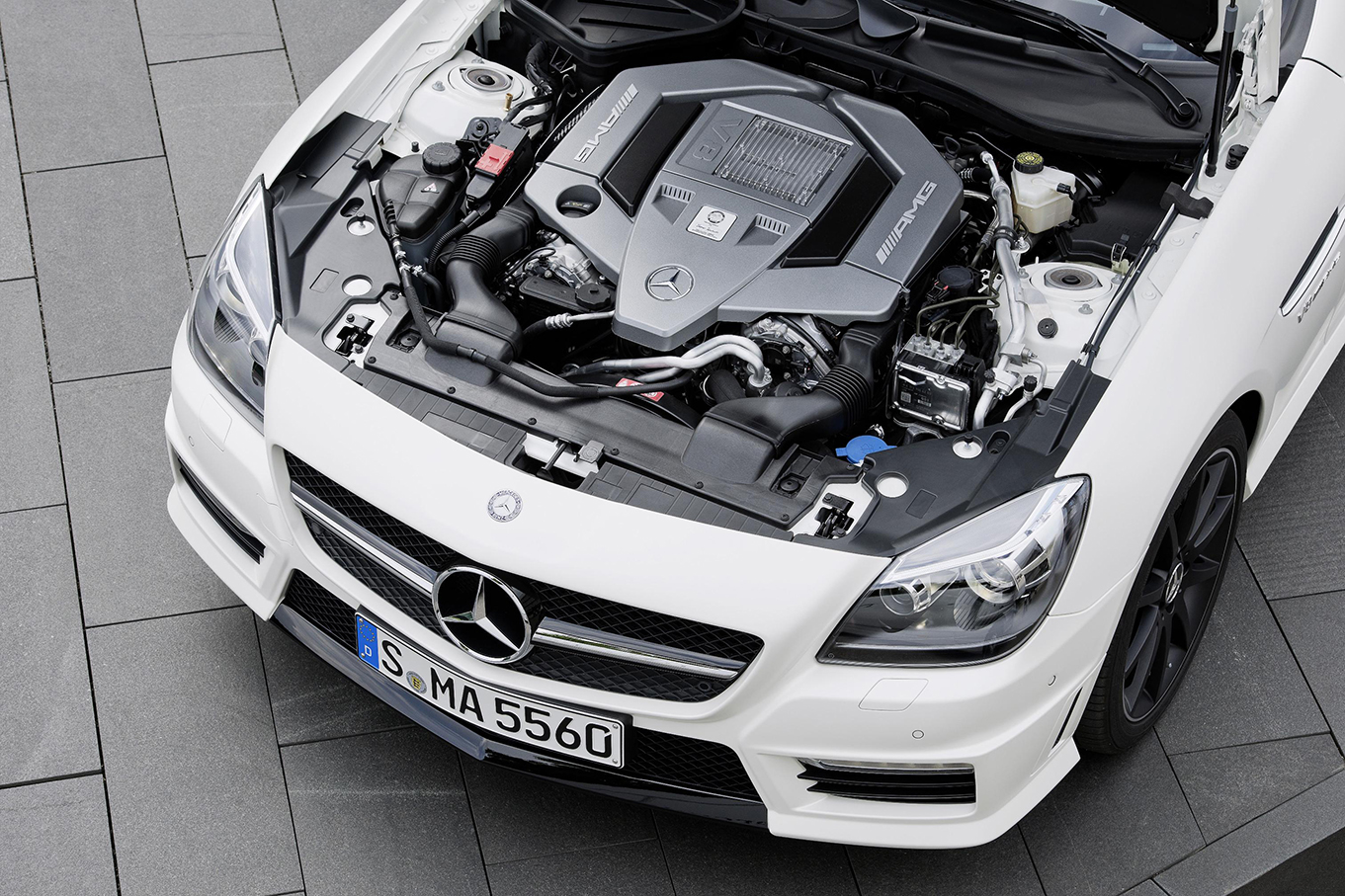 The base SLK 200 petrol is the most popular model but performance is adequate, rather than exhilarating. Go for one of the more powerful petrol engines and you'll have more fun but will need to stop more often for fuel. The 250 CDI diesel, which only comes with the fabulous 7G-Tronic Plus-speed semi-automatic transmission, is our recommended model for all-round ability.
If you can get over its out of place "chug-chug" sound at low speeds, the engine is frugal but potent. It manages to push the car from 0-62 mph in 6.7 seconds, and on to a top speed of 150 mph. If you happen to be cruising on an autobahn at 110mph and put your foot down, you'll be surprised by the car's continued willingness to scamper ahead.
The interior
The interior is pure Mercedes-Benz, with fine leather lining the doors, the fascia, the seats and the steering wheel. The infotainment system is top notch and easy to navigate. The switchgear is generally impressive, although where silver-coloured plastic has been used around the air vents, instrument binnacle and temperature controls we'd have liked to see brushed aluminium instead. It also took us a while to differentiate between the cruise control stalk and the indicators, which are slightly oddly positioned.
Driver and passengers will be able to get suitably comfortable with a little time and effort spent adjusting seats and steering wheel. It's not quite GT comfort but the sports seats offer good lateral support. Taller drivers will find that the seat cannot be moved to its position furthest away from the wheel without a leather-on-leather squeaking that will soon drive you mad. We found sacrificing a little legroom was preferable.
The roof mechanism is sturdy and satisfyingly tricksy to raise and lower but it seems to take an age and the car has to be travelling at less than a crawl for it to operate. This is not uncommon but in premium cars such as this you might expect to be able to raise the roof at slightly higher speeds.  On the plus side, the roof control switch is hidden beneath a flip-up panel in the centre armrest, so operating it makes you feel a bit like James Bond arming nose-mounted machine guns.
When you eventually get the roof up there's surprisingly little wind noise – tyre noise is more of a problem – but the proper SLK experience is about motoring with the roof down. In cold but dry weather the heated seats, powerful heater and "airscarf", which blows warm air onto the back of your neck, keep both driver and passenger toasty – even baking hot if desired.
What to look out for
The first thing to check on a used SLK is that complex folding roof, although in practice it tends to remain problem-free if properly maintained. There have been some reports of water leaks, and the SLK has been recalled for a glitch with its battery control software and alternator, as well as there being known issues with brake pedal resistance, and with the timing chain and balancer shaft of the V6 engine.
It has performed disappointingly in the past in some customer satisfaction surveys, including the American Consumer Reports study, but seems to have improved considerably over recent years – the SLK was the highest-scoring sports car in the 2011 Which? Car Survey. Service and back-up from Mercedes dealerships has been patchy in the past, but the company has taken obvious steps to rectify these shortcomings, and now seems to be back on track.
The one to buy
Mercedes-Benz SLK 250 CDI BlueEFFICIENCY
Specifications
Engine:

2143cc, 4-cylinder

Power:

204bhp @ 4200rpm

Torque:

368 lb ft @ 1600-1800

Transmission:

7-speed semi-automatic

Acceleration:

0-62mph in 6.7sec

Top speed:

151mph

Fuel:

56.5mpg combined

CO2:

132g/km

Road tax band:

E

Dimensions:

L 4132mm, W 1810mm, H 1301mm
Mercedes-Benz SLK-class rivals