Mercedes-Benz E-class review (W213 series, 2016 on)
It's what's inside that counts
A VISIT to the Bentley factory in Crewe is illuminating. A workforce of around 4,000 includes roughly 500 skilled craftsmen and women — experts in working with wood and leather — all busily creating the finest handmade components for the interiors of Bentaygas, Mulsannes, Flying Spurs and Continentals. The results are exquisite: Bentley owners are well aware that virtually everything they can see and touch in their car has been carefully put together by masters in their field, using only the finest materials.
But even Bentley's master craftsmen might look inside the new Mercedes E-class and nod in approval at the blend of technology and craft. The AMG Line version we tested recently was finished with a leather upper dash, containing two large rectangular screens for infotainment and instruments, and below that a contrasting trim: "design piano lacquer" black glossy plastic in the test car with pinstripes like a map's contour lines. This trim carries on into the doors and around the Burmester stereo speakers.
Under that is a soft glow from an inconspicuous LED strip. If the Tesla Model S moved the game on in terms of clean, minimalist yet functional car interiors, Mercedes has pulled off an impressive act of catch-up, leaving the Audi A6, the Jaguar XF and even the new BMW 5-series with work to do.
So the interior looks good, but does it work well? In a word, yes. The Comand infotainment system is clear and intuitive, with DAB radio, Bluetooth, Apple CarPlay, Android Auto, sat nav and temperature controls all easy to find and use. With touch-sensitive steering wheel controls, a dial behind the cupholders and a touchpad above that, drivers have three ways (excluding voice commands) to control the car's functions.
Our AMG Line E 220 d had optional 360-degree cameras (a reversing camera is standard), a split panoramic glass sunroof, keyless entry and start and the Burmester stereo system.
It's not all impressive stuff: a button labelled "Menu" among the climate control knobs seems to just bring up a picture of the cockpit, captioned "Climate control overview": we never found a use for that.
And the AMG Line seats can be adjusted in a million different ways, but finding one that was comfortable for long stints at the wheel proved impossible. This isn't a problem limited to Mercedes, particularly for the taller motorist, but it is a source of puzzlement that a fixed racing seat made of a sliver of carpet glued to a bit of carbon fibre can be supremely comfortable, yet a hand-stitched leather chair with padding, heating, cooling, massage and lumbar, shoulder and squab adjustments can make your right leg go to sleep and your lower back ache.
Having the passenger seat heating button on the driver's side suggests customers told Mercedes, "My partner's bottom must never touch a surface with a temperature below 20C"
One feature we haven't seen on any other car is the buttons on the driver's door for heating both front seats. Normally you'd find them in the centre console, or on the side of the seats themselves; having the passenger seat heating button on the driver's side suggests customers told Mercedes, "My partner's bottom must never touch a surface with a temperature below 20C." Problem solved.
Out on the road, our E-class proved velvety. The AMG Line trim doesn't mean it has suspension honed by Mercedes' in-house sports tuning company AMG, and the steel springs are designed more for comfort than performance. As standard, the E 220 d has Agility Control suspension with selective damping, a halfway house between passive suspension and Mercedes' Air Body Control adaptive setup. We'd recommend doing without it, as it makes the ride soft whatever driving mode you select (out of Eco, Comfort, Sport, Sport+ and Individual).
It's engineered that way for good reason: the E-class is designed to waft executives from airport to meeting in comfort. But it causes a problem in Sport+ mode: while the engine goes into psychopath mode — uncomfortably on edge, with minuscule adjustments in pressure on the pedal resulting in neck-snapping leaps forward — the car wallows over speed bumps and wants to scrape its nose on the ground on the far side.
The E 220 d has impressive safety features as standard: an active bonnet, to protect pedestrians in the event of a collision; active brake assist, knee airbags for the driver (as well as the usual all-round airbags); attention assist, which monitors tiredness; adaptive cruise control; and tyre pressure monitoring. There's also parking pilot, to automatically park for you in bay or parallel spaces.
Our test car came with steering-wheel-mounted paddles for the gears, but, as with Sport+ mode, they seemed like overkill on top of the excellent nine-speed automatic transmission.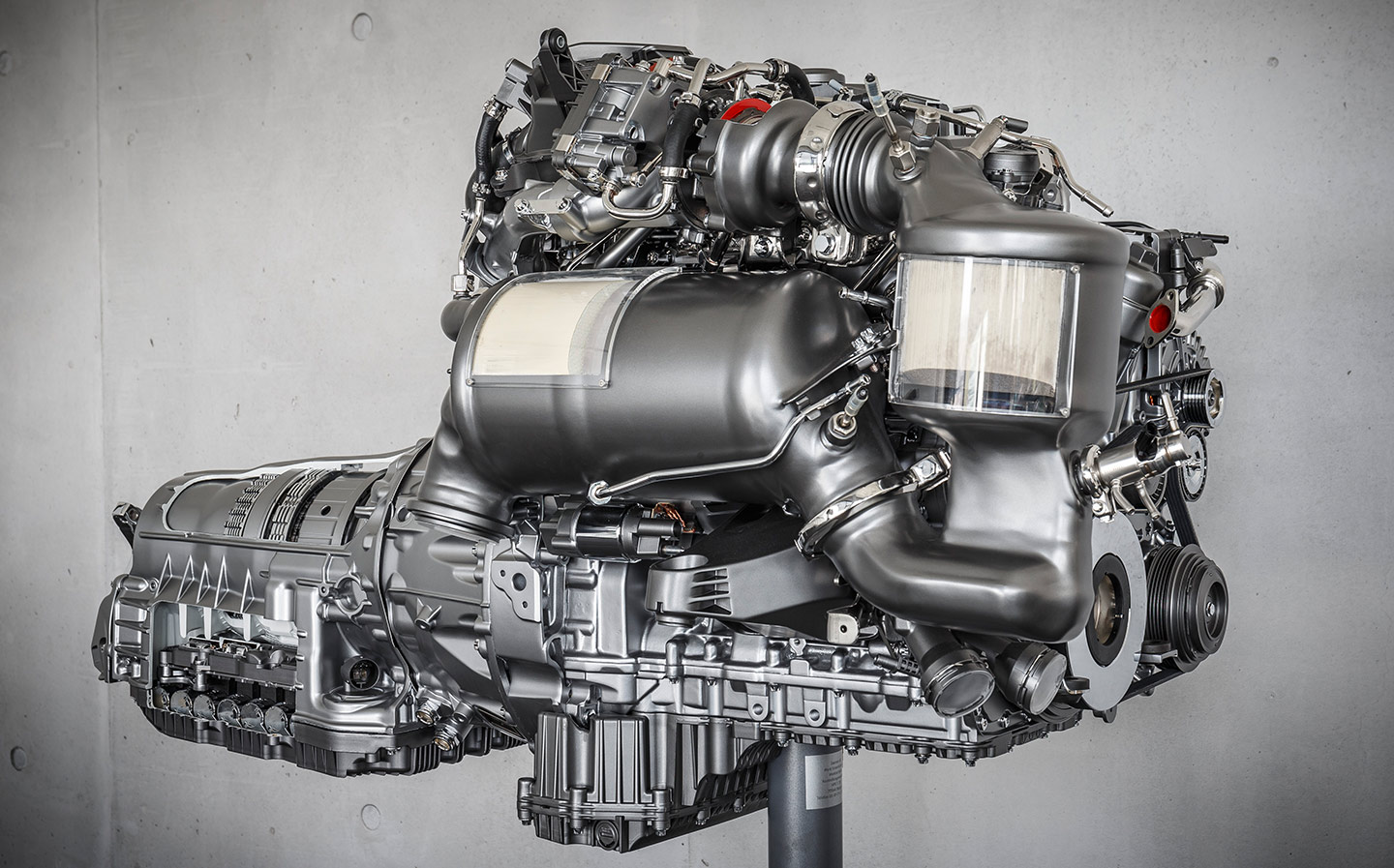 The E 220 d is powered by a new 192bhp 2-litre turbodiesel (also fitted to the E 200 d), a powerful unit with smooth power delivery throughout the rev range. The red line is at around 5250rpm, but peak torque is between 1600rpm and 2800rpm, so there's plenty of tug low down.
Flooring the throttle pedal yields sharp performance with impressive economy: the E 220 d can do 0-62mph in 7.3 seconds and hit 149mph, yet the official combined economy figure is 72.9mpg. We averaged slightly over 41mpg in the real world, which is not bad at all. CO2 emissions are a low and tax-friendly 112g/km.
The E-class also measures how economically you drive, assigning scores for accelerator use, speed and balance; we were told we had achieved a 3.1-mile bonus over nine hours of driving. In the words of Alan Partridge: cashback.
The top diesel E-class is a 3-litre V6; on the petrol side are the AMG-derived E 43, fitted with a 395bhp 3-litre V6, and the E 63, with a 4-litre V8, as found in the AMG GT, tuned to 563bhp or a whopping 603bhp. There's also a 2-litre petrol hybrid.
Sadly, the 2-litre diesel sounds a bit — how shall we say — industrial from inside the cabin, at low speeds and especially during acceleration. It's odd, as the noise from the tyres and wind is well suppressed, suggesting that the sound insulation is more effective in the doors and floor than in the engine firewall.
That's a comfort for Bentley, then. But some may see the E-class's new elegant exterior, technical sophistication and top-class interior, all priced from a shade over £35,000, as the bargain of the century. Even if you can get the BMW 5-series for £3,000 less.