Mazda 3 Mk 3 review (2013-on)
Stylish, fun-to-drive hatch stands out from the crowd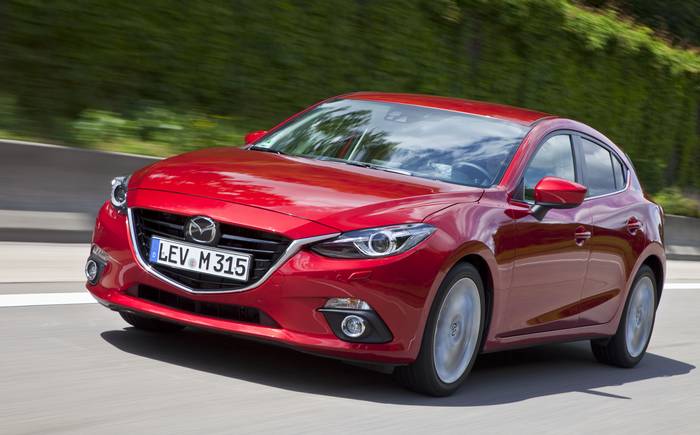 What is the Mazda 3?
Available as a five-door hatch or four-door Fastback saloon, and aimed squarely at family cars such as the VW Golf, the 3 is the latest model to benefit from Mazda's two-pronged design and technology strategy aimed at producing better looking and more efficient cars. It's an aspiration shared with all car makers, obviously, except that the good looking and impressive new Mazda 6 and CX-5 models prove that the strategy is on track.
As for the Mazda 3, first impressions are promising. For a start, it shares the Mazda 6 and CX-5's sporty lines and attractive detailing. Meanwhile, it's longer, both nose to tail and in the wheelbase, than, for example, benchmark rival the VW Golf, which bodes well for cabin space and useability.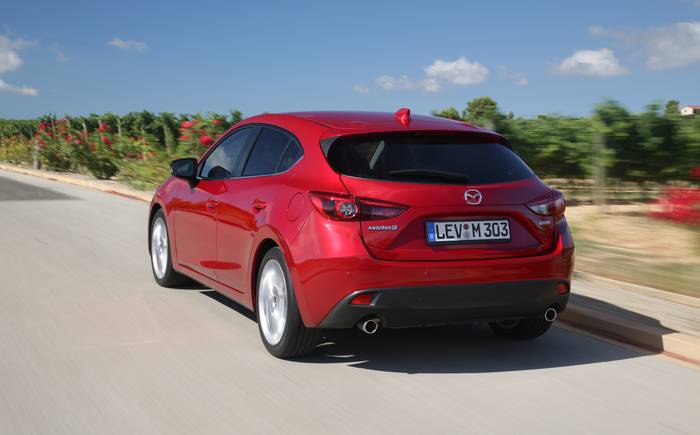 With five trim levels ranging from SE to Sport Nav, three petrol engines (99bhp 1.5-litre, 120bhp 2-litre and 163bhp 2-litre) and a 148bhp 2.2-litre diesel, there are a mind-boggling 36 variants across the 3's two body formats. Alloy wheels, air conditioning, a 7in colour touch screen and Bluetooth hands-free are standard.  SE-L trim adds items such as privacy glass, dual-zone air conditioning and rear parking sensors, and Sport Nav level ushers in treats such as 18in alloys, adaptive headlights and a head-up display. For its blend of price, performance and economy (a claimed 55mpg), however, the 120bhp 2-litre petrol five-door hatch gets our vote.
The drive
A week at the wheel of the 163bhp 2-litre manual five-door Mazda 3 is bound to colour your impression of the new model. This top-of-the-range version is satisfyingly quick, with a surprising amount of mid-range torque for an engine that is not turbocharged (unlike key rivals such as the Audi A3 and VW Golf). The 2.2-litre diesel, with its impressive 280 lb ft of torque, promises to be an equally spirited performer, but more economical with it (68.9mpg compared with 48.7mpg). The entry-level, and under-powered, 1.5-litre 99bhp petrol model is most likely aimed at business users who have little say (why else would it be offered in SE trim only?) and is best avoided. Which leaves the well-balanced 120bhp 2-litre, ideally in manual form. The automatic version is both a good deal slower and thirstier.
---
Search for and buy a used Mazda 3
---
The Mazda 3's six-speed manual gearbox is direct and sweetly mechanical. There's a handy digital gear ratio display in the instrument binnacle for when you can't remember whether you're in fourth or sixth (forgivable given how low the ratios are; it could use a taller sixth). The steering gives good feedback and the handling is sure-footed, even entertaining when you press on hard.  The ride is remarkable; supple and composed, and capable of dealing with the worst, potholed roads without complaint. Wind noise is well suppressed which is perhaps why, at a fast cruise, we were aware, in our 163bhp 2-litre test car, of a pulsing, low-frequency resonance. It seemed to emanate from the rear of the car; the exhaust, perhaps?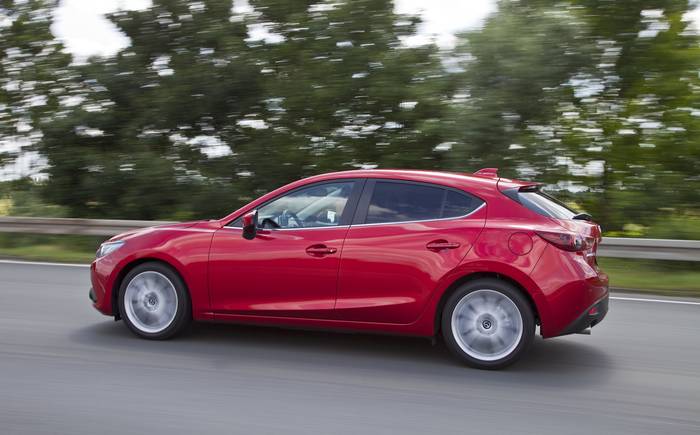 Vision is good, save for one thing: the position of the wing mirrors. They're set back too far, meaning you have to turn your head, rather than just your eyes, to use them. Drivers who must, or who like to, sit close to the wheel, will be especially inconvenienced.
The Mazda 3 scored five stars in its Euro NCAP tests and bristles with active driver aids including active city brake, hill-hold assist and traction control.
The cabin
In form and function, the Mazda 3's interior is pleasantly upmarket, and driver-focused. Fit, finish and materials are top notch. The infotainment system is controlled via a central command wheel located behind the stubby gearlever. Alongside is (oh, happy days) a conventional handbrake. Ahead, on the centre fascia tunnel, are the ventilation controls, all  neatly arranged. The two rotary temperature dials turn beautifully: they're weighty and precise. On the top of the fascia sits the 7in colour touchscreen infotainment screen featuring internet radio (though, bizarrely, not DAB radio) and, on Nav-trim models, satellite navigation.
Our test car had the much-trumpeted head-up display, available only on Sport Nav cars. It's quite crude being a piece of clear plastic that sits on the fascia ahead of the instrument binnacle, reflecting speed and navigation information onto the windscreen. It can be angled remotely via an electronic control but is easily obscured by bright sunlight and is not as slick as BMW's, admittedly very expensive, version. Still, when it works, it's very helpful.
The front cabin feels spacious and upmarket, but is light on storage. For example, the door pockets are simply deep, bottle shaped containers. They're perfect for wine bottles but little else. Behind, the cabin is roomy with good levels of head and legroom. The hatchback boot is long but on the shallow side, which at least makes loading easy. The four-door's boot has a capacity of  419 litres and the five-door's, 364 litres. With the rear seats down, they each measure 1,263 litres, on par with a Golf.
The one to buy
Mazda 3 Skyactiv-G  2.0 Sport Nav 120 5dr
Specifications
Price:

£21,095

Engine:

1998cc, 4 cylinders

Power:

120bhp @ 6,000rpm

Torque:

155 lb ft @ 4,000rpm

Transmission:

6-speed manual

Acceleration:

0-62mph in 8.9sec

Top speed:

121mph

Fuel:

54.4mpg (combined)

CO2:

119g/km

Road tax band:

C

Dimensions:

L 4465mm, W 1795mm, H 1465mm
Mazda 3 rivals