Land Rover Freelander Mk1 review (1997 - 2006)
Loves hills; loves garages even more
What is it?
By the time the original Land Rover Freelander had gone out of production in 2006, it had become the Solihull marque's all-time best seller, with more than 200,000 examples sold. But while the Freelander was hugely successful for Land Rover, it wasn't such a great experience for those who bought it. The car was depressingly unreliable with a whole catalogue of potential faults just waiting to strike.
It's easy to see why the Freelander was so popular. It was as brilliantly capable on the road as off it, while the spacious cabin swallowed a family of five with all their luggage – as long as you opted for a five-door edition. The short-wheelbase, three-door model looked neater, but didn't offer the practicality of its long-wheelbase sibling. However, it still looked good enough to impress all those other yummy mummies at the school gates.
---
Search for and buy used Land Rover Freelander on driving.co.uk
---
At launch in 1997 there were three and five-door Freelanders and a choice of 1.8 petrol or 2-litre diesel engines. Frankly, you're better off avoiding any of these earliest cars as the only Freelander worth considering is one powered by the BMW-supplied TD4 engine, offered from August 2000. Soon after this arrived, a 2.5 V6 petrol engine was introduced. If you have money problems – as in too much of it – running one of these will provide a swift solution.
If you're still determined to buy a Freelander Mk1, we'd steer you towards one of the facelifted cars from September 2003. Heavily revised with an updated exterior, refreshed interior and extra kit levels, build quality also dramatically improved, significantly reducing the pain of ownership – but not eliminating it altogether. We'd also advise you to avoid entry-level models as they're poorly equipped. Go instead for a car at least to XE, GS or ES trim, or the range-topping HSE.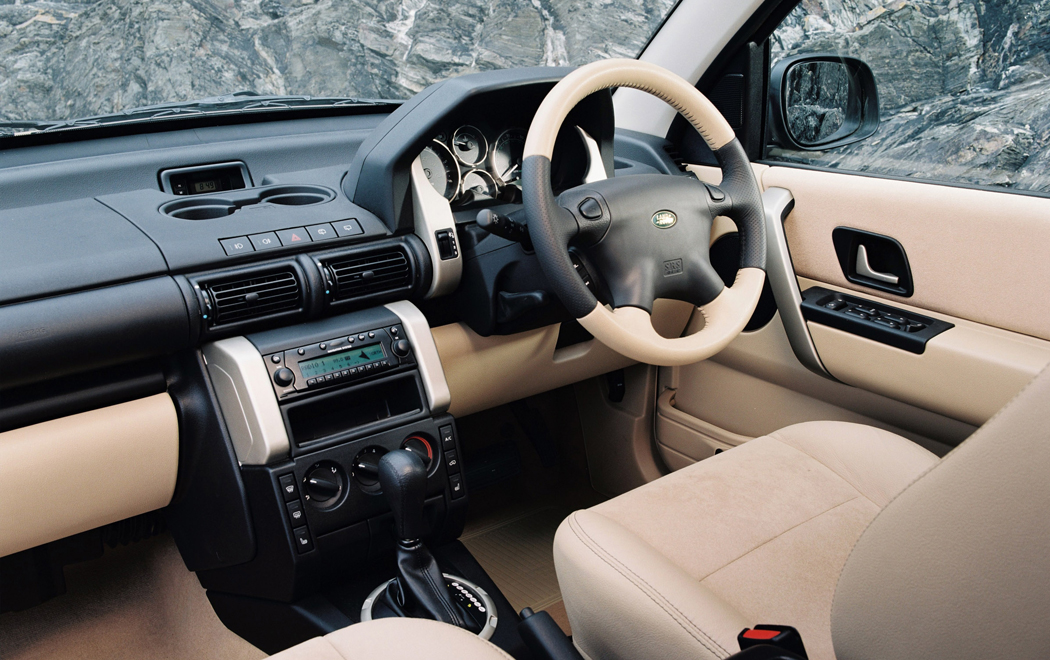 Even better, though, would be to look more closely at one of the Freelander's many rivals, such as the Nissan X-Trail, Honda CR-V or Toyota RAV4. All of these are likely to be more dependable, and while they're not as good off-road as the Land Rover – although the Nissan is surprisingly talented – they're pretty good on the Tarmac.
The thing is, few of the Freelander's contemporary rivals have the same cachet, or its all-round abilities. The Freelander is one of those cars that can give nothing but trouble, yet owners love them and will happily come back for more. That's how great the Freelander is to use, if not necessarily to own.
What to look out for
The 1.8-litre petrol engine eats head gaskets like a kid consumes crisps. Meanwhile, the V6 petrol unit drinks fuel. Differentials and gearboxes wear for fun, as do the various suspension bushes and driveline joints. The diffs and gearboxes also leak oil, while the electrics and electronics work only when they want to. Air conditioning and climate control systems are especially temperamental, along with the Hill Descent Control. Look for waterlogged footwells; water can leak in from an array of places, rotting the carpets and floorpans.
A tally of nine recalls isn't great, but it could be worse. Most were for the pre-facelift model, because of potential issues with the wiring, handbrake, rear suspension and passenger airbag. Other glitches that could arise include door locks and seat backs failing.
The one to buy
Only late TD4s are worth considering. A 2006 56-plate Freelander 2.0 TD4 HSE 5-door can be found for £7,000 on the forecourt or £6,000 in a private sale. If you prefer an auto, add around £400 to these figures.
Factfile
Engine:

1951cc, 4 cylinders

Power:

110bhp @ 4000rpm

Torque:

192 lb ft @ 1750rpm

Transmission:

5-speed manual/auto

Acceleration:

0-62mph in 13.2sec

Top speed:

102mph

Fuel:

37.2mpg combined

CO2:

205g/km

Road tax band:

K

Dimensions:

L 4425mm, W 1810mm, H 1710mm
Land Rover Freelander Mk1 rivals