Kia Carens Mk3 review (2013-on)
Oui, c'est belle... let's see how it handles the Autoroute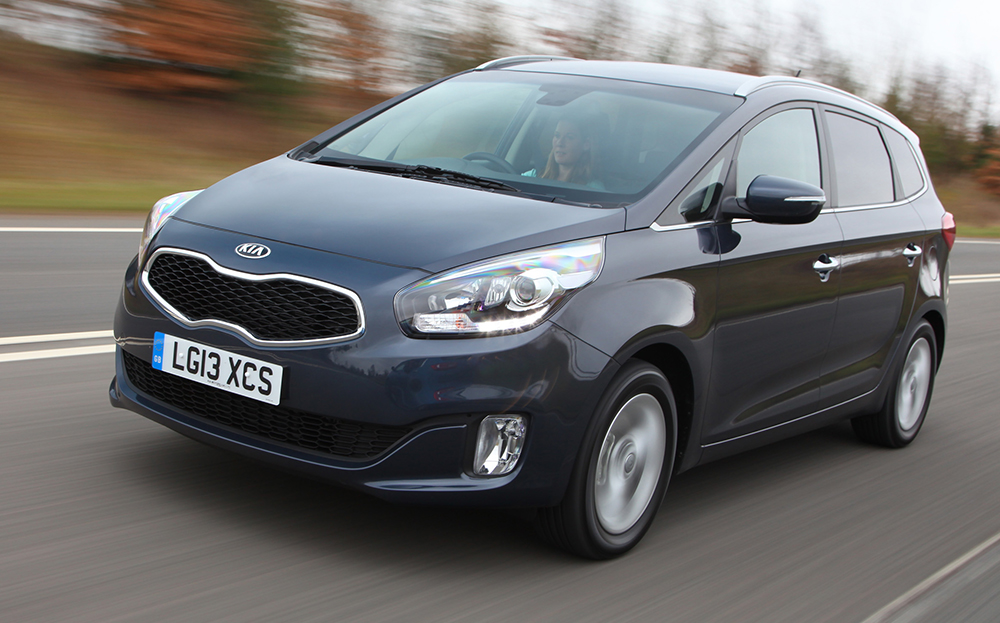 BUYING a people carrier (MPV) might indicate that you're at a very specific stage in your life – congratulations on your second child, by the way – but it isn't necessarily a sign that you've given up all hope of ever again looking stylish on the roads.
---
Browse the used Kia Carens for sale on driving.co.uk
---
Car makers have roundly failed to appreciate this in the past, not least Kia, which launched the practical but oh-so-dull Carens in 1999. The second generation, which arrived in 2006, was also forgettable. But it's third time lucky as the Carens launched in 2013 finally looks like something you wouldn't mind parking on your driveway.
The Carens is the final model to undergo the design revolution begun five years ago by Kia President Peter Schreyer, seeing the entire catalogue redesigned to add appeal on style and quality fronts, not just value and practicality.
At first glance it certainly looks easier on the eye than its forebears with a sportier and more aerodynamic design aided by the signature 'tiger-nose' grille and new-style alloy wheels. While it still won't turn heads, the design does elevate the Carens above a purely practical runaround; and if the opinion of one seven-year-old boy (my son) counts for anything, it can even be described as "cool".
While the aesthetics of the seven-seat MPV have been much improved, the engineering, design and performance of this functional ferryman also tick quite a lot of boxes.
Kia makes much of providing significant standard features on all models so as to prevent customers having to buy expensive options or packages. Saying that, three trim and equipment packages, badged '1', '2' and '3', offer a variety of additional extras and upgrades.
The Carens is available with a choice of three engines: a 133bhp 1.6-litre GDi, which despite the "D" in the name is actually petrol-powered, and two 1.7 CRDi turbodiesels offering 114bhp or 134bhp, with the option of an automatic transmission on the more powerful diesel engine.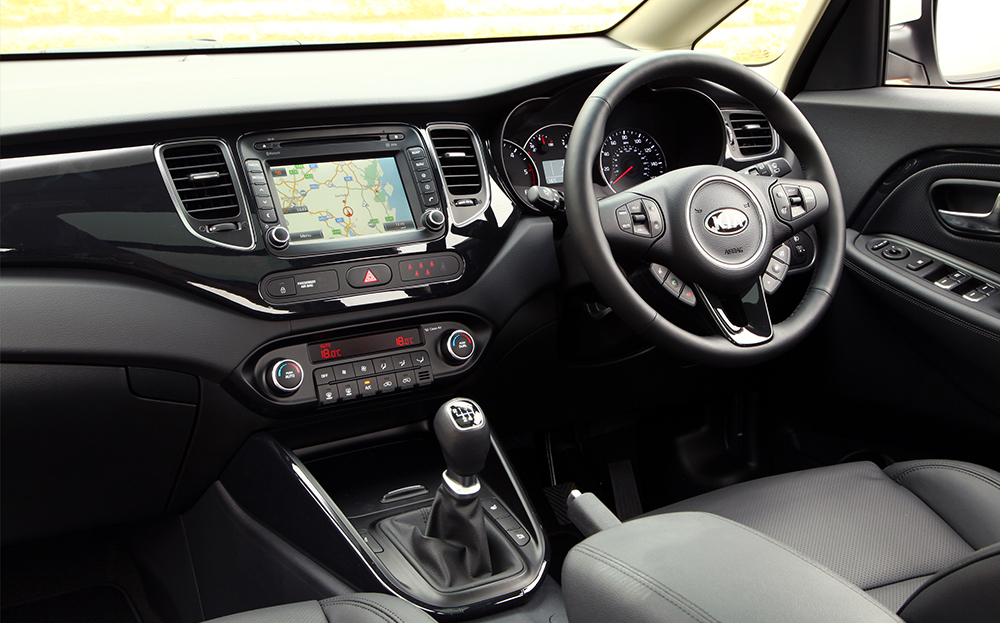 I went with my husband and two children on a week-long family trip from North London to Paris and back. Our car was the more powerful diesel in '3 Sat Nav' guise and can report that we are all still talking to each other, so that counts for something – despite the fact that our youngest began regularly asking if we were nearly there yet before we'd even hit the North Circular.
Across the range you get luxuries such as air-con, remote central locking and a leather-trimmed steering wheel and gearshift but top-grade versions come much more heavily loaded, of course. On our long trip we particularly appreciated the leather upholstery, bright cabin afforded by the panoramic sunroof and the respectable sound system.
We are all still talking to each other, despite the fact that our youngest began asking if we were nearly there yet before we'd even hit the North Circular
All new UK versions have a seven-seat interior with lower seat positions, which has improved head, leg and shoulder room with comfortable space for the driver and front passenger. The middle row of seats also benefits from the increased space, although shoulder and headspace for larger passengers could be an issue.
In the rear, the additional two seats are easily erected using individual pull-cords, but only smaller members of the family could sit comfortably in the resulting space. Our two junior travelers enjoyed testing them out, but be warned; it is much harder to referee any arguments over the greater distance from the front.
All seats have three-point belts and are lighter than before to enable easier folding and lifting, although the levers were a touch stiff when used to return the centre-row seats to their upright positions. This row also has individual sliding and reclining mechanisms with tilting and sliding mechanisms on the outer two making accessing the rear seats easier. The fold-up trays on the rear of the front seats found in most versions were very popular with the kids.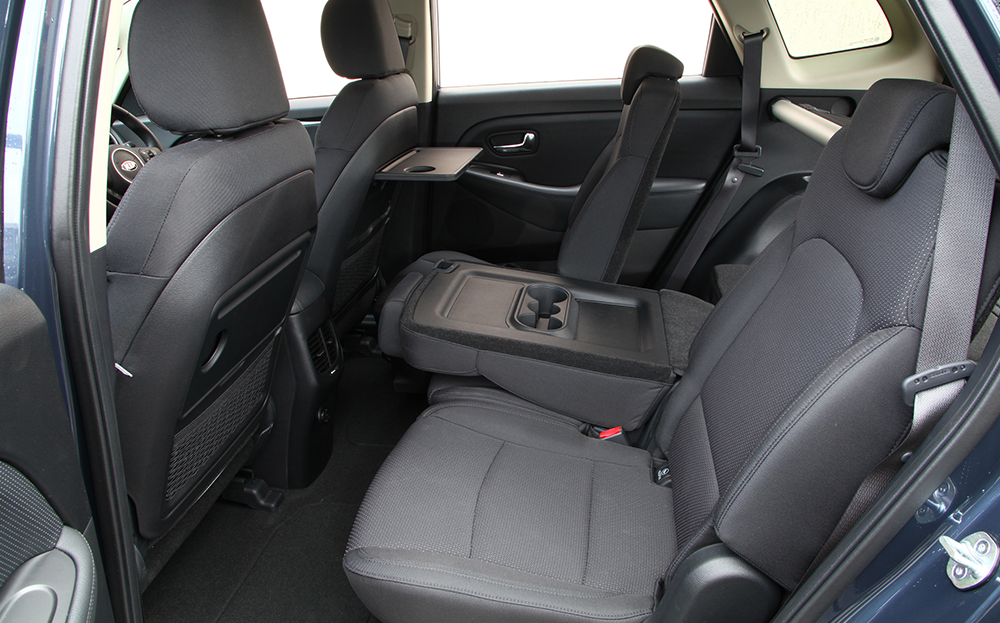 The redesign has added more luggage space (492 litres) so our ludicrously excessive baggage fitted comfortably. The luggage area is longer and wider and all passenger seats fold flat, including in the front, allowing extra-long loads to be carried. Storage is more than covered and well-placed with an enlarged centre console box and handy standard cooled glovebox; additional middle-row under-floor storage, abundant cup-holders and large front and rear door pockets for stowing books and cuddly family friends.
The middle-row centre seat also folds down to create a table but we recommend taking some chalk with you in order to mark a line down the centre of it. This will help settle recurring allegations of encroachment onto another sibling's side.
---
Click to read car REVIEWS or search NEW or USED cars for sale on driving.co.uk
---
While the interior is unlikely to win any design awards, it's logical and simple to find your way around with well-positioned buttons on the steering wheel and a two-zone dashboard that splits information for the driver. Chrome accents on the steering wheel, window switches and air-vent bezels in our car did manage to perk up the interior.
The standard leather-trimmed steering wheel and gearshifter and the ten-way power adjustment for the driver's seat (on grade '3' versions) were small touches that made a big difference to the comfort and pleasure of the long drive.
With family-use in mind, Kia is keen to emphasise new safety features that are now standard across the Carens range including Hill-start Assist, Brake Assist and Vehicle Stability Management.
Kia also makes a big deal of the new sound-insulating pads to help reduce noise levels in the cabin. However, while refinement is good at relatively low speed, we noticed a marked increase once off the French toll roads and back on UK motorways – although this may be more of a reflection of the state of France's highways than the Carens.
The husband was slightly disturbed at my level of enthusiasm for the vast area of vision provided by the over-sized side mirrors
As for the driving experience, the Carens starts quietly and easily, and although gearshifts are a little notchy at times this is not a deal breaker. Three different steering modes offer varied levels of power assistance to aid cruising in Sport mode and parking in Comfort mode, which did make parking notably smoother.
We largely stuck to the toll roads, for speed and our sanity, and the Carens was pleasant to cruise in when using both Normal and Sport modes. The husband was slightly disturbed at my level of enthusiasm for the vast area of vision provided by the over-sized side mirrors but such considerations are important in a family car… as was repeatedly retorted.
Driving through Paris traffic to cram in a swift picnic beneath the Eiffel tower on the way back provided an ideal test of patience, and the Caren's urban performance. The Kia's engine stop-start system operated blissfully inconspicuously and the car's turning circle was good enough to enable easy U-turns, when required.
Even with a mix of urban and motorway driving, the Caren's fuel-efficiency was impressive, with the entire return trip requiring less than two tanks of diesel.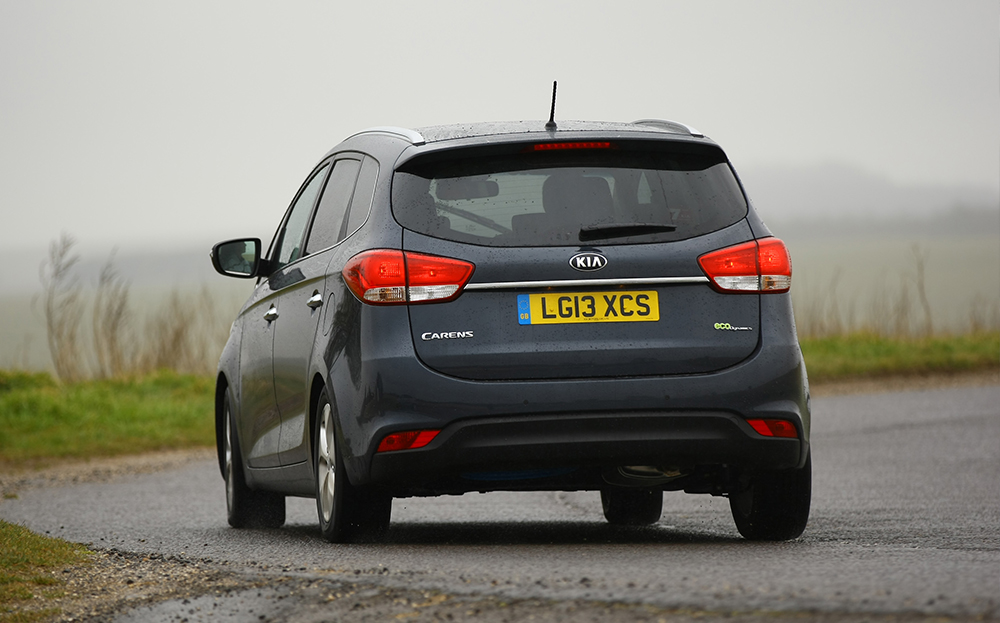 Kia claims considerable effort has gone into improving rigidity, to provide more precise handling and minimise undesirable lateral movement, which can make passengers travelling in the passenger rows queasy – never a good look. The Carens certainly feels firmer than the average MPV and handles responsively.
As the old saying goes, though, don't judge a book by its cover. The sportier redesign of the new Carens is not reflected in its performance. It feels rather underpowered, although there is more of a kick to it once the revs are up in second gear. The automatic transmission version is likely to suffer even more in this respect so if you're looking for a bit more bite under the bonnet, the Ford Grand C-Max might appeal.
To be fair, though, the Carens is not targeted at those looking for a high-performance machine. It's a much-improved MPV, targeted at the school-run market, which comfortably satisfies the requirements of a family that needs to get about in decent comfort and style, accommodate fluctuating passenger numbers and call upon decent load-carrying capabilities. With its considerable fuel-efficiency, cabin comforts, versatility, user-friendly nature and competitive price tag, the new Kia Carens is definitely a contender in its class.
2014 Kia Carens '3 Sat Nav' 1.7 CRDi 134bhp 6-speed manual ISG specifications
Price: £25,250
Engine: 1685cc, 4 cylinders, turbodiesel
Power: 134bhp @ 4000rpm
Torque: 243lb ft @ 2000rpm
Transmission: 6-speed manual
Performance: 0-62mph in 10.4sec
Top speed: 119mph
Fuel: 56.5mpg (combined)
CO2: 132g/km
Road tax band: E (£130 at time of publishing)
Release date: On sale now
---
Browse the used Kia Carens for sale on driving.co.uk
---
Kia Carens rivals
Ford Grand C-Max (view cars for sale)
For Very smooth and quiet, and a pleasure to drive
Against Fussy dashboard
Citroën C4 Grand Picasso (view cars for sale)
For Stylish and different, as well as spacious and practical
Against Infotainment system is frustrating