Jeep Wrangler review (2007-)
Exceptional off road, but ...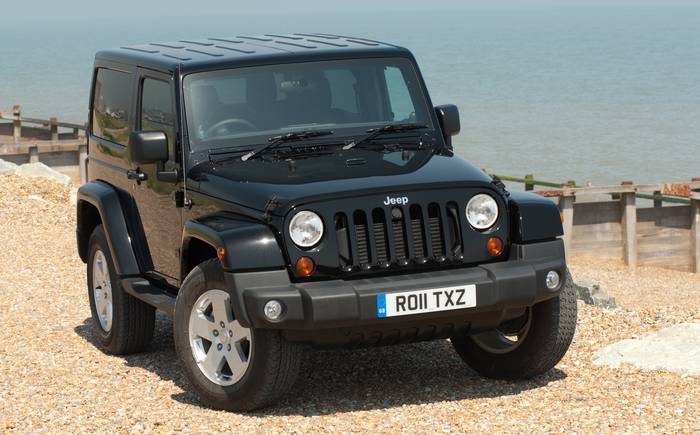 What is it?
The Wrangler is the most old-school, unreconstructed, honest-to-goodness off-roader this side of a Land Rover Defender. Indeed, it was this car's ancestor, the Willys Jeep, that was the first proper off-roader, and depending on how you view such things, you'll be either delighted or appalled by how little it's come on in the intervening years. The current car dates from 2007 and is available in two trim levels called Sahara and Overland, though a specialist off-road version called Rubicon is also available. You can also choose between a two-door model and a long-wheelbase four-door for those happy to trade looks for space. All versions come with low-ratio transfer boxes but no choice over engine or transmission. All are fitted with a 197bhp 2.8-litre four-cylinder engine allied to a five-speed automatic gearbox.
The drive
You find yourself rushing to forgive faults you'd deem unacceptable in almost any other car. The engine is noisy, the gearbox not particularly smooth, but they seem somehow to suit the rugged nature of the car. Besides, you'd have to push a Defender off a cliff before it would accelerate as fast as a Wrangler, so in the right context the modest on-paper performance can actually be described as quite good. Which is just about the last thing you'd say about the way the Wrangler rides and handles. Unless the road is completely smooth, you can count on the Jeep to transmit most of its imperfections in undiluted form straight to your backside. Moreover, the steering is woolly and grip levels unremarkable. Yet still it all seems in keeping with the character of the car. Besides, if off-roading is either desired or unavoidable, you'll forgive all its on-road foibles. It's pretty good in the mud, even without the electronically locking differentials of the Rubicon version, but its forte is rock-hopping: the ridiculous axle articulation and its approach and departure angles make it unstoppable in all normal and most abnormal situations. A Defender is probably a little better still, but is even more compromised on the road.
The interior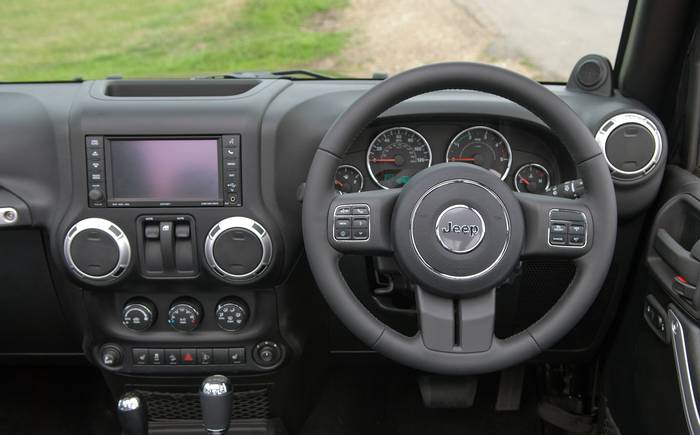 If we tell you that the kind of standard equipment Jeep likes to talk about on this car are its removable doors and drain plugs in the floor so you can take a hose to the interior after a muddy day in the backwoods, you'll get a flavour of the kind of cabin we're talking about here. Even so, the interior is not just tough; it's thoughtfully arranged, spacious if you choose the long wheelbase and capable of being optioned up to include leather upholstery and, yes, even sat nav.
What to look out for
Those who buy a Wrangler are few and far between. Those who buy one exclusively for on-road use are pretty much unheard of, so expect plenty of evidence of grounding and perhaps some scraped bodywork here and there. The Wrangler's mechanicals tend to be tough, although transmission oil leaks aren't unknown. What's more likely is interior trim falling apart, sunroof leaks and part-time electrics.
With five recalls issued so far for the Wrangler, there's been plenty to keep dealers busy. Those recalls have been for a variety of potential issues, such as brake glitches (including the potential for complete failure), the possibility of fire breaking out under the bonnet and the tow bar (if fitted) falling off.
The one to buy
The Jeep Wrangler 2.8 CRD Sahara 4dr.
Factfile
Engine:

2777cc, 4 cylinders

Power:

197bhp @ 3600rpm

Torque:

339 lb ft @ 1600rpm

Transmission:

5-speed automatic

Acceleration:

0-62mph in 10.6sec

Top speed:

107mph

Fuel:

34.9mpg (combined)

CO2:

213g/km

Road tax band:

K

Dimensions:

L 4223mm, W 1873mm, H 1840mm
Jeep Wrangler rivals