Infiniti Q50 review (2013-on)
To Infiniti, but not beyond
---
Published 30 September 2014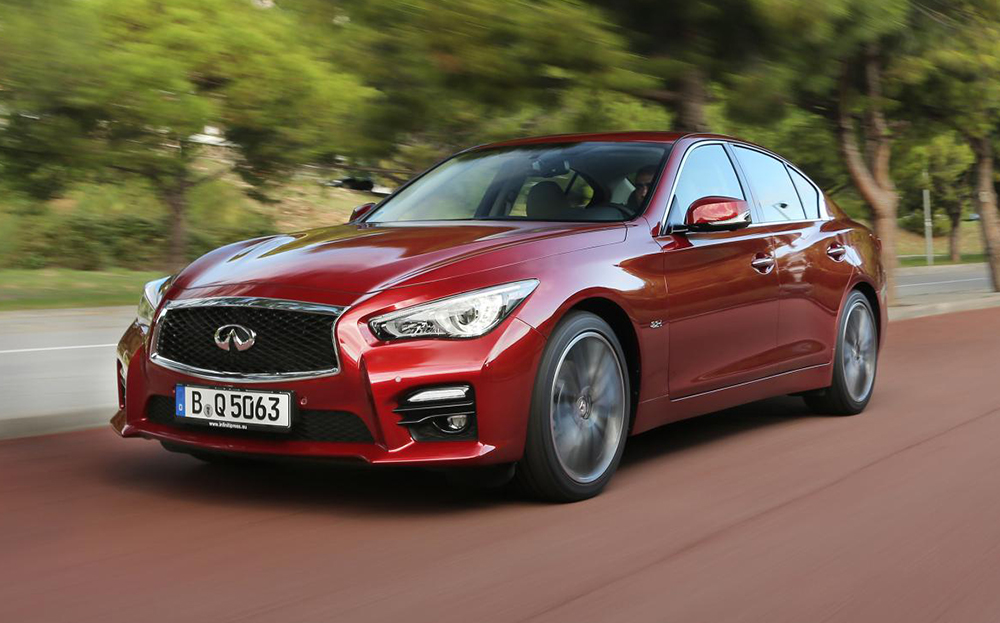 What is the Infiniti Q50?
You may well ask. Lots of people do and when told it's a sort of "upmarket Nissan" they speculate that, at least, it should be reliable. Infiniti is, indeed, owned by Nissan (in fact, the VIN plate, down by the driver's door, has "Nissan" proudly stamped on it) but portrays itself as a premium, standalone brand. In this, it is similar to Lexus, another apparently standalone, premium Japanese brand owned by a volume manufacturer; in its case, Toyota.
The Q50 comes in one body style – four-door saloon – and with a choice of three engines:  a 2-litre turbocharged petrol (badged Q50 2.0T), a 2.1-litre diesel (Q50 2.2d), and a 3.5-litre petrol hybrid with a 50kW electric motor (Q50S Hybrid). Those first two engines are previous-generation Mercedes units, updated and tweaked by Infiniti.  All versions are rear-wheel drive, although the Hybrid is also available with all-wheel drive.
---
Don't know your BHPs from your MPVs? Click to take a look at our car jargon buster
---
The diesel offers a choice of six-speed manual or seven-speed automatic transmissions (with flappy paddles), while the petrol and hybrid versions are available only with automatic 'boxes and the aforementioned paddles. There are four trim levels: SE, Premium, Sport and Hybrid. The 2.0T is available only in Sport trim.
Size-wise, the Q50 slips between the BMW 3-series and larger 5-series. It's longer, nose to tail, than natural rivals the 3-series, Audi A4, Lexus IS and Mercedes C-class, and also between the wheels, so it should be roomier.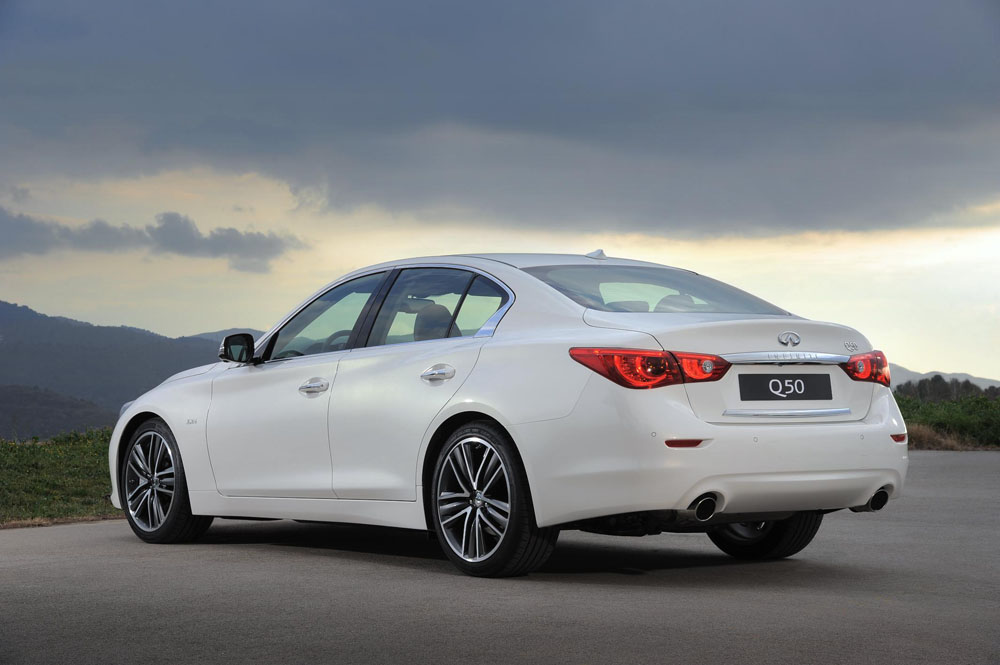 It looks different from rivals but at the same time, familiar. Viewed side on from an angle, there's more than a touch of BMW 5-series to the front wings and bonnet line, while the rear and scalloped sides are reminiscent of the new Mazda 6. That said, the rear wheelarches are pleasantly flared, emphasising the car's sporty, rear-wheel drive layout where rival rear-drivers, the 3-series and C-class, are more restrained.
Between January and August this year, Infiniti sold just 280 cars in the UK (a mix of Q50 and other models in its line-up).  This makes a Q50 a rare sight, a quality that is bound to attract some drivers bored of the endless procession of German hardware on the roads. Even Lexus sold 6,498 cars. According to CAP, the used car valuation experts, this very scarcity could help protect a used Q50 from the worst effects of depreciation. Indeed, over three years and 60,000 miles, it calculates that a Q50 will lose no more than a comparable BMW or Mercedes model. Time will tell.
There are just nine Infiniti dealers in the UK. Scheduled servicing (every 15,500 miles or once a year) looks likely to be a day trip at the very least.
The drive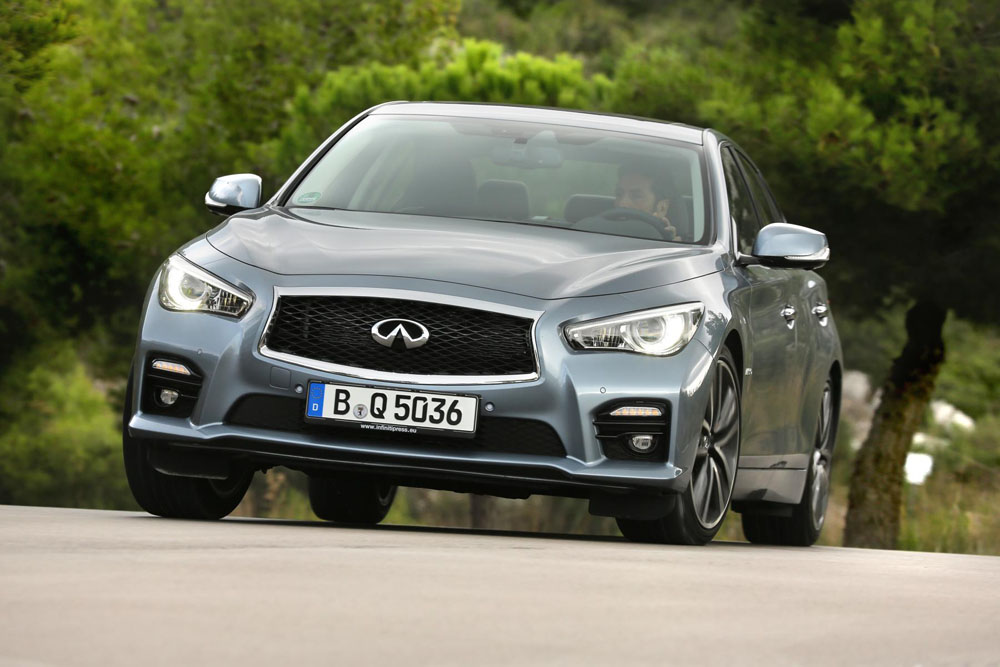 The rear-wheel-drive Q50 digs into corners enthusiastically; it really can be hustled along.  If things get out of shape, the brakes are strong with plenty of feel. All Q50s offer three driving modes – Standard, Sport and Personal – affecting the transmission and engine mapping. Surprisingly, there's no suspension mode. That's probably a blessing because without it, the engineers appear to have achieved a good balance between a ride that is supple and absorbent; resisting wallowing on the one hand, and over-firmness on the other. That said, at press-on speeds across challenging A and B-roads, the ride and body control deteriorate badly, betraying the Q50's less-than-premium origins.
In Sport trim, the Q50 has "drive-by-wire" steering ‒ what Infiniti calls Direct Adaptive Steering ‒ as standard (on the diesel it's an £800 option from Premium trim upwards). It effectively removes the mechanical connection between the steering wheel and the front wheels, instead using electronics, although a conventional steering system is ready to take over should the circuitry fail.
The system offers three levels of steering effort and response. "Standard effort" combined with "Quick response" appears to strike a good balance. The car certainly turned in aggressively but the system could be caught out; at one point, in a fast corner, it didn't respond as quickly and fluently as we'd have liked. It can also weight up alarmingly in tight turns.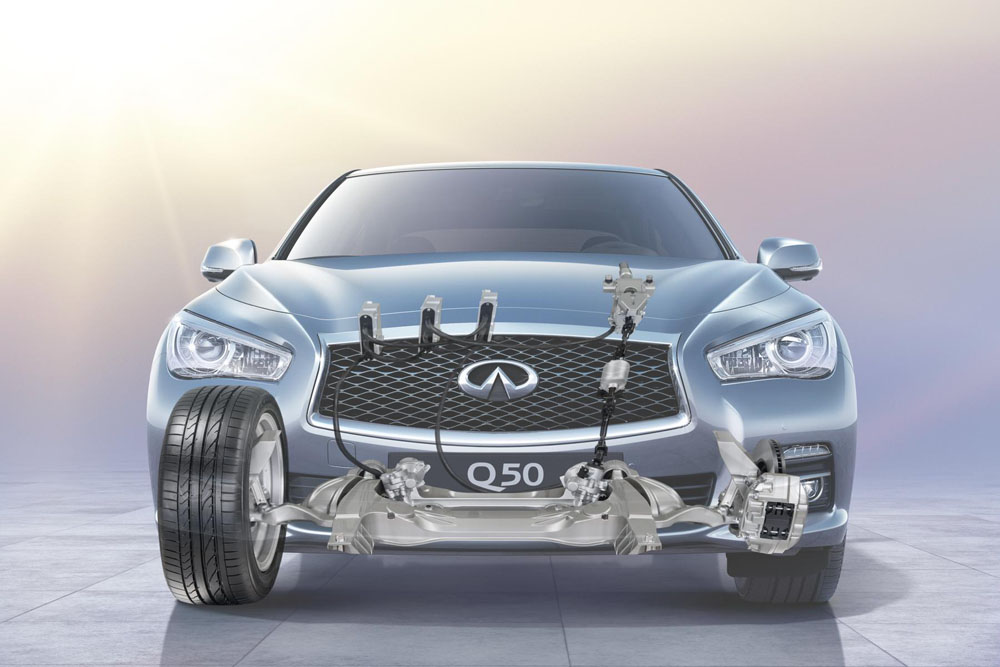 Also, the absence of a mechanical connection means road feedback is almost non-existent. You have only the torque effect as the wheels turn and the load on the steering wheel increases, to go by. Undemanding drivers will enjoy playing with its various features but enthusiasts may crave the greater degree of feel and control a properly developed, conventional system provides. One tester commented that it felt like the steering system from a computer game.
In terms of the engines (see full range above), our test car was fitted with the 2.0T Sport automatic petrol unit, which is the pick of the range for its sporty power delivery and superior refinement. The four-cylinder turbo produces an impressive 208bhp and 236lb ft torque from as little as 1,250rpm, and propels the car from 0-62mph in 7.2 seconds. It's a strong, linear power delivery that is accompanied by a satisfyingly sporty exhaust note, but you need to be in Sport mode, with its more aggressive gear changes, to get the best from it.
---
Search for and buy an Infiniti on driving.co.uk
---
All that said, BMW's comparable 320i auto produces less power (184bhp and 199lb ft) but is only a tenth of a second slower to 60mph, probably because it weighs a lot less ‒ 1,495kg vs the Q50's 1,703kg. It's also important to note that the Infiniti Q50 Sport 2.0t emits 151g/km of CO2, which puts it in tax band G and equates to £180 per year at current rates. Also, in our hands it returned just 27mpg, well below the official 43.5mpg.
The Infiniti 2.2d four-cylinder diesel unit is also behind the curve on efficiency. It produces 166bhp and a useful 295lb ft torque from 1,600rpm, enough, in automatic form, for 0-62mph in 8.5 seconds. It posts an official fuel efficiency of 58.9mpg, with CO2 emissions of 124g/km; tax band D. Mercedes' up-to-date take on the same engine in the C220 BlueTEC boasts the same power and torque, but 0-62mph takes 7.7 seconds and the CO2 rating puts the car into tax band B.
The interior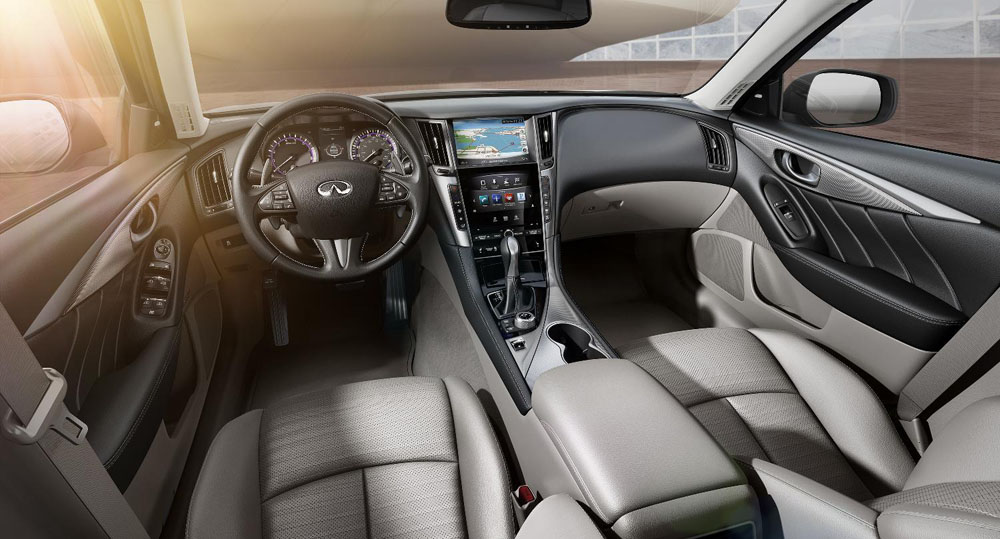 For all its premium pretensions, the Q50 doesn't quite shake-off its Nissan roots. Yes, in Sport trim, the rich smell of leather is almost over-powering, the seats are amply bolstered while, in all grades, the aluminium door handles and inserts are satisfyingly cool to the touch and the twin touchscreens look high-end. It's all very clean and well-ordered but looks a little too plasticky for the premium sector the Q50 competes in. Meanwhile, controls such as the command wheel for the sat nav, and the drive-mode switch, lack that well-machined solidity and integrated look the Germans do so well.
Standard equipment levels are competitive. Features include Bluetooth, a rear view camera and a multi-function steering wheel. There are two dual touchscreens (the lower one for accessing apps, email, streaming music and more; the upper one for the sat nav). It all looks high-tech but feels needlessly complicated at a time when other car makers are simplifying and streamlining their infotainment systems. Occasionally you find yourself searching the wrong screen for information and services.
Options are bundled in the form of packs. For example, the Welcome pack (it costs £1,200) brings, among other things, electric seats, and power reach and rake to the steering column, while the Steering pack (£800) adds Direct Adaptive Steering.
The uprated multimedia pack with a Bose sound system costs a stiff £2,760, the visibility pack featuring adaptive headlights (£1,040) and the safety shield pack including blind spot warning and intelligent cruise control, £2,080.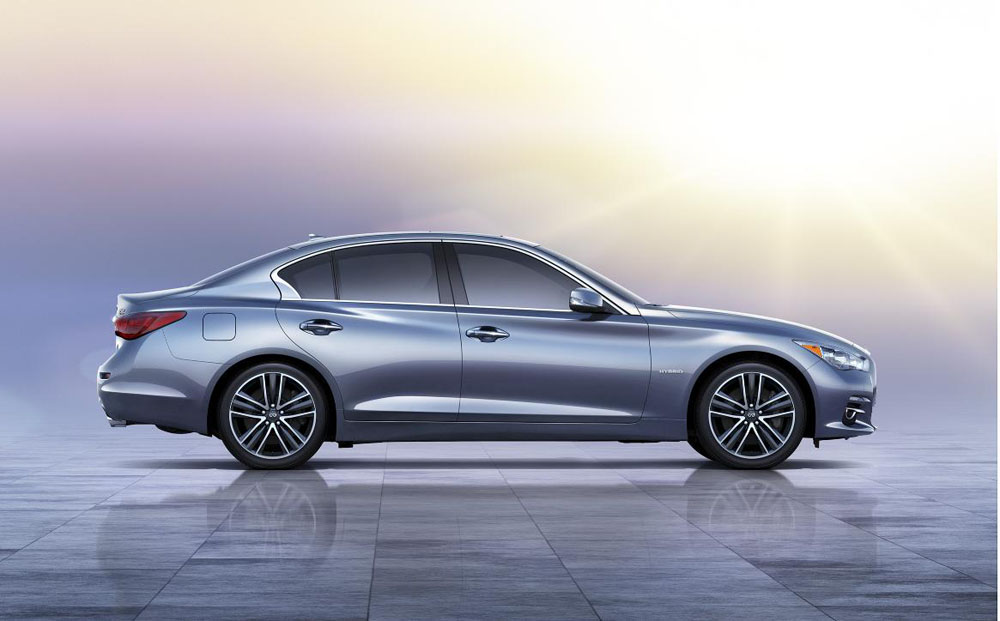 Some of these features are standard on competitor models, so time with the options lists would be well spent. Not only that, their inclusion can take the price of a humble Q50 into the stratosphere, as they did with our 2.0T Sport test car: from £34,125 to £41,545.
The Q50's cabin is roomy and visibility good. There's ample legroom in the back, at least behind an average-size driver, although annoyingly, the driver's powered seat slides back automatically when the engine is switched off, trapping the unfortunate person behind. If they were small enough, they could avail themselves of the ski-flap in the centre-armrest that provides access to the boot.
On that subject, the luggage compartment measures 500 litres; 20 litres more than competitors.
What to look out for when buying a used Infiniti Q50
There is very little data to go on here but a few points can still be made. Given the model's Mercedes-sourced engines and transmissions, it's probably safe to say reliability will be good, assuming services have been performed on time. The Q50's advanced technology would worry us were the car made by anyone other than Infiniti (read Nissan) or similar, but again, it can probably be trusted. Saying that, check it all works and be sure you know to the last button what features, many of them options, the car has. Most used models will be with official dealers, so quality should be assured. Given the model's premium ambitions, an automatic gearbox, a classy colour and a good, option-heavy specification should be top of your must-have list.
The one to buy
Infiniti Q50 Sport 2.0t 7AT
Specifications
Price: From £34,125 (correct at first publication)
Engine: 1,991cc, four-cylinder turbo
Power: 208bhp @ 5,500rpm
Torque: 236lb ft @ 1,250-3,500rpm
Transmission: 7-speed automatic, RWD
Acceleration: 0-62mph in 7.2sec
Top speed: 152mph
Fuel: 43.5mpg (combined)
CO2: 151g/km
Road tax band: G (£180)
Dimensions: L 4790mm, W 1820mm, H 1445mm
Infiniti Q50 rivals
---
Search for and buy an Infiniti on driving.co.uk
---