Infiniti M Hybrid review (2012-on)
Less ordinary than it looks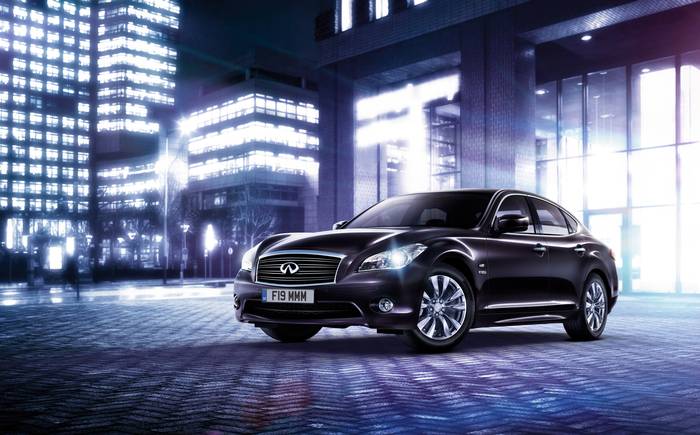 What is the Infiniti M Hybrid?
It may not look it, but this executive saloon is the world's fastest hybrid car, sprinting to 62mph in a startling 5.5 seconds. That's almost as fast as a Lotus Evora. Yet the M35h will return well over 30mpg, which, given its size, luxurious fittings and lightning performance, is not bad at all. Neither are CO2 emissions of 159g/km. The M is available as an M30d diesel and an M37 conventional petrol too, but the hybrid is best.
Mainstream alternatives to the M include the BMW 5-series, Mercedes E-class and Lexus GS, all available with hybrid, petrol and diesel engines. Infiniti has a long way to go before it's as well known as those marques, and the nondescript looks of this big saloon don't help its case. The M35h is a lot more interesting for its mechanicals and luxurious interior, which do more to justify its £42,020 price.
The drive
The M35h combines a 302bhp 3.5-litre V6 with a 68bhp electric motor, but what really counts is the combined output of 364bhp, a figure that makes it easy to see why this car is so fast. Part of the Infiniti's path to better economy is a V6 engine that can be completely decoupled from the driveline, enabling the electric motor to propel it at quite high speeds in certain conditions, saving fuel and improving refinement. Power goes to the rear wheels via a seven-speed automatic transmission with paddle shifts and Normal, Eco, Sport and Snow modes, and, as with other hybrids, regenerative braking and coasting recharge the lithium-ion battery on the move. The engine turns off when you're stationary too.
The result is a civilised car, uncannily so when the V6 is dormant, and one that handles its power well — keen drivers will enjoy its rear-wheel-drive handling. The less interesting diesel version is a little noisy by contrast, and has high emissions for its type; the conventional 3.7 petrol rules itself out for the same reasons.
The interior
The M is a luxury saloon and comes well equipped; among its more unusual features are air-conditioning that can create the soothing smell of a pine forest, speakers in the headrests and a heated steering wheel. It also has blind-spot, forward-collision and lane-departure warning systems, although they cry "wolf" a bit too often on narrow roads. These and a sometimes knobbly ride are all that spoil the serene progress of the M35h, although the slow-witted auto is a shame given its sporting character.
Space and comfort are plentiful within the cabin, but the boot is smaller than it might be because it's partly occupied by the hybrid battery pack.
It's an intriguing car, the M35h, not only for its go but for the pleasure of getting the best from its hybrid driveline. But its anonymous looks, small boot and little-known name make it a quirky choice, and European diesel rivals do the job better.
What to look out for when buying a used Infiniti M
There are just six Infiniti service centres in the UK, they promise to offer personal customer support, including vehicle collection and delivery to your door, if you live near one. There's little feedback on the M so far, but it should be as reliable as the more mainstream Nissan models and seems to be very well-built; the petrol engine is also well-proven in the Nissan range. Even the hybrid should be dependable: "I'm left feeling it's bulletproof", wrote a reporter from Car magazine, which worked an M35h hard for nine months and 14,500 miles. Watch out for the short 9,000-mile service intervals, however, and make sure that this complex vehicle has been maintained to schedule.
Owners in the US — where the petrol M37 has been on sale for longer than in Europe — appear to mostly be very happy with their purchases with only minor complaints about rattling trim and other small quality concerns reported as yet. The M37 scored five out of five in the US JD Power Initial Quality survey, however. It has been recalled in the US nonetheless — for an oil leak, and for a potential fuel leak in the diesel — but not in the UK.
The one to buy
Infiniti M35h GT
Factfile
Engine:

3498cc, V6, plus electric motor

Power:

364bhp @ 6800rpm

Torque:

369 lb ft @ 5000rpm

Transmission:

7-speed automatic

Acceleration:

0-62mph in 5.5sec

Top speed:

155mph

Fuel:

40.9mpg

CO2:

159g/km

Road tax band:

G

Dimensions:

L 4945mm, W 1845mm, H 1500mm
Infiniti M Hybrid rivals