Infiniti FX / QX70 review (2008-on)
Looks good but fails to deliver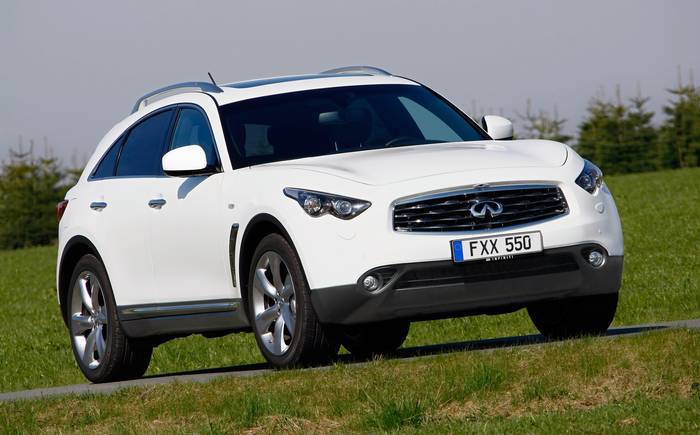 What is it?
A big and — some would say — brash kingsize SUV that is trying to help Infiniti muscle in on territory that is dominated by the likes of the BMW X5 and Range Rover Sport. This is not a car for shrinking violets. It has real road presence, partly because of its physical size (you'll feel its width on country lanes) and partly because Infiniti's designers have tried to concoct a cross between an SUV and a coupé. Viewed in profile, the top of the window line arcs dramatically, but this does mean that the back of the cabin feels cramped. To tempt buyers, almost every possible gadget comes as standard with the FX, but the wisest buy is actually the cheapest spec, the FX 30d GT. It has plenty of goodies but will lose its owner less money over time; weak residual values are something prospective buyers of the FX should consider with care.
The drive
Our pick of the engine range would be the 3.0-litre turbo diesel. Those who are still a boy racer at heart might consider either of the two petrol engines. The 3.7-litre V6 is quick (0-62mph in 6.8 seconds) and the 5.0-litre V8 from the flagship provides positively indecent performance for such a large car (0-62mph in 5.8 seconds) but both guzzle fuel like it's going out of fashion, so cost a small fortune to run. By comparison, the turbo diesel always feels sprightly — it's capable of powering the FX from standstill to 62mph in 8.3 seconds — yet will return 31mpg. That's far from class-leading, but it's a much more acceptable alternative to potentially filling the fuel tank twice as frequently. It is paired with a seven-speed automatic transmission with paddle shifts behind the steering wheel. On a smooth road, the handling is impressive considering the car's bulk. It changes direction with enthusiasm, resists body roll and grips the road surface determinedly. However, on typically broken road surfaces, the ride comfort is far too unyielding, so if nothing else, this is a car that will have its driver and passengers grumbling about the state of our nation's roads. Its large tyres, 20in as standard on the diesel, also generate a noticeable amount of road noise.
The interior
For such a big car, Infiniti's FX does a remarkable job of squandering cabin space. The low roof line means headroom for front and back seat passengers isn't generous, and those sat in the back feel a little hemmed in by the steeply sloping window line, which robs them of daylight and a clear view out. Then there's the boot. Surely this is where Infiniti has been hiding all the space? Er, afraid not. With only 410 litres of luggage space, it's half the size of a Range Rover Sport's boot when the rear seats are in place. That can be increased to 1305 litres if you fold them down, but that's hardly convenient for any owners with a family. As for the dashboard, it's a bit of a mixed bag. Some of the switchgear is sourced from cheap Nissans, yet other bits feel appropriately bespoke considering this is a £40,000-plus car. There is no shortage of standard equipment, but the infotainment interface is awkwardly placed high on the centre console and isn't as intuitive as those in an Audi or BMW.
What to look out for when buying a used Infinity FX / QX70
The 2011-12 FX was recalled in the US because of a breaking engine bolt and oil leak, and earlier incarnations were recalled a number of times, but the car should be debugged by now; European owners appear to be very happy with the quality and reliability, as you'd expect from Nissan, though too few have been sold over here to have any impact in the big consumer surveys. There are just six Infiniti service centres in the UK (with five more planned), but their door-to-door vehicle collection and delivery within a 150-mile radius covers most of the country.