Honda CR-V Mk 3 review (2006-2012)
Reliable and versatile; just don't expect to go off-roading

What is the Honda CR-V?
The CR-V is Honda's Compact Recreational Vehicle, which might sound like marketing puff (because it is) but it sums up what this compact SUV is all about. It's meant to be just the job for taking you and your family into the wilderness to enjoy some extreme pursuits – although it's more commonly found in retail parks, of course.
As with most crossovers, the promise and the reality aren't quite the same, as the CR-V isn't really suited to anything too arduous in the off-roading stakes. All versions have part-time four-wheel drive, with power going to the front only in normal driving, but if any loss of grip is detected, the rear wheels get their share, too. This gives the best of both worlds; the economy of a regular front-wheel-drive car, but with the security of four-wheel drive when you need it. As a result, the CR-V makes a great tow car, while it can cope with wintry conditions without breaking into a sweat.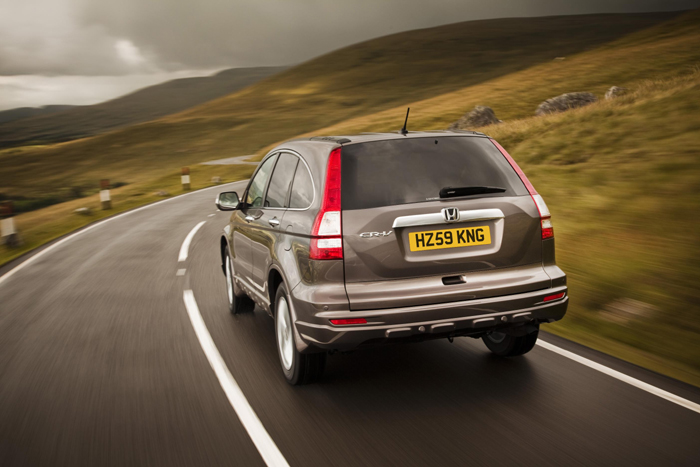 In terms of specification, there are few choices to make when buying a used Honda CR-V, as there's just one petrol engine available and a single diesel. The petrol can feel underpowered, but it also dispenses with particulate filters, a turbocharger and dual-mass flywheel, so long-term reliability is likely to be better. Unusually for an SUV, petrol-engined CR-Vs aren't rare, despite the diesel's excellence – but it's definitely the latter which provides the superior driving experience, thanks to its low-down torque.
---
Search for and buy a used Honda CR-V
---
Even the entry-level SE comes with powered windows all round and air-conditioning, with ES adding alloy wheels, parking sensors front and rear, plus dual-zone climate control. The range-topping EX also features electric driver's seat adjustment, leather trim, a panoramic glass roof and sat nav. All cars also come with a sliding rear seat, so you can find the best balance of rear seat leg room and boot space. Few rivals offer this versatility and once you've enjoyed it, you'll wonder why all cars aren't designed this way.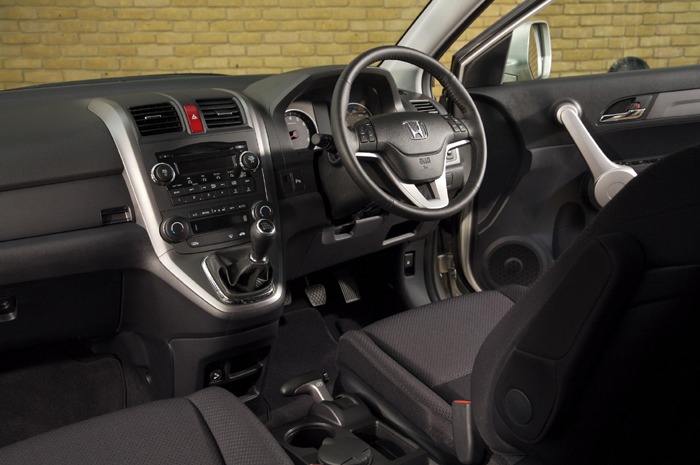 For the money, you won't find a better all-round compact off-roader than the Honda CR-V. A great tow car, the CR-V also offers plenty of space for the family but unfortunately there's no seven-seat option – there's seating strictly for five only. While the CR-V is no driver's car, it offers comfort, performance and dependability, along with a spacious cabin. Just don't expect to go off-roading in one.
What to look out for when buying a used Honda CR-V

According to Warranty Direct, Honda makes the most reliable cars on sale in the UK. However, glitches can crop up. Steering-related issues can lead to pulling to the left, premature tyre wear and steering wheel shudder on lock.
Also, the rear light clusters can leak and once water has got in, condensation is guaranteed; replacement is the only solution. While the electrics are reliable, the ignition switch can leak current flattening the battery. Also check the state of the door handles; they're painted silver rather than chrome-plated. The paint peels off so things look unsightly – new handles are the only proper fix.
A couple of recalls so far isn't bad going for a car that made its debut in 2006. Both actions were because of potential fuel leaks, but in both cases only short production runs were affected.
The one to buy
Honda CR-V 2.2 i-CTDi EX
Specifications
Engine:

2204cc, 4 cylinders

Power:

148bhp @ 4000rpm

Torque:

258lb ft @ 2000rpm

Transmission:

6-speed manual

Acceleration:

0-60mph in 9.6sec

Top speed:

118mph

Fuel:

43mpg combined

CO2:

171g/km

Road tax band:

H

Dimensions:

L 4525mm, W 1820mm, H 1675mm
 Honda CR-V rivals

Ford Kuga (click here for used car prices on driving.co.uk)
Nissan X-Trail (click here for used car prices on driving.co.uk)
Toyota RAV4 (click here for used car prices on driving.co.uk)