Guy Martin reviews the 2016 Ford Mustang GT
A creamy canter but the gallop is a turbulent ride
---
Published 01 February 2016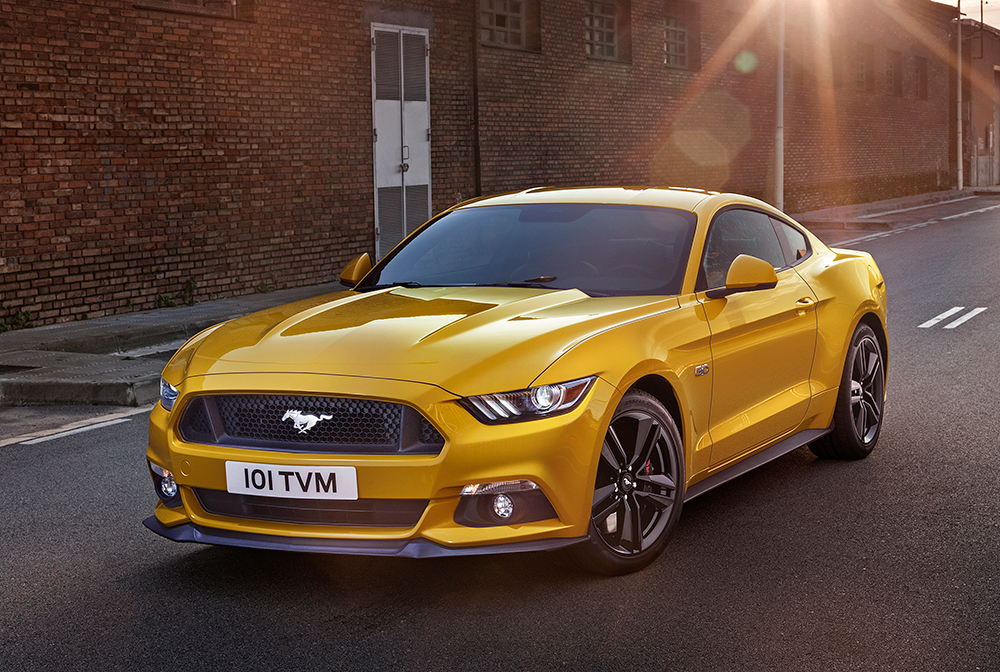 2016 Ford Mustang GT at a glance
Handling: ★★☆☆☆
Comfort: ★★★★☆
Performance: ★★★★☆
Design: ★★★★☆
Interior: ★★★☆☆
Practicality: ★★★☆☆
Costs: ★★★☆☆
---
Ford Mustang GT, from £34,495
I THOUGHT it was going to be bigger. The latest Ford Mustang V8 GT — one of the company's first muscle cars to make it to these shores in right-hand drive — was dropped off at my work in Grimsby. Straight away I liked the more angular shape. All the lines are more defined than in the previous model. The rear wings are sharper and so are the corners of the front grille.
---
View the used Ford Mustangs for sale on driving.co.uk
---
My friend has the previous model and it's massive, taking up all his garage. This Mustang fastback GT didn't look so big, but then it was parked in a yard full of lorries. On the road, surrounded by hatchbacks and the like, it's still a big car, with a massive bonnet. I struggled to see the end of it, it's that long. The whole car is about 15½ft from nose to tail and more than 6½ft wide including mirrors.
That's a lot of car, and it comes with a lot of power: 415bhp. The first thing you think is what good value it is. A Jaguar F-type R with a V8 engine costs more than £86,000. This car is less than £36,000. When you add in the fact that the Mustang is built in America, adapted for our roads and shipped across the Atlantic, that's astonishing. I can't think of a more powerful car for the money.
There are two main powertrain configurations available in Britain, both petrol (this is a Mustang, so there's no diesel option, obviously). One is a 2.3-litre four-cylinder turbocharged EcoBoost unit with direct injection that produces a claimed 312 brake horsepower and 318 lb ft of torque. The other, which I drove, is a 5-litre V8 that generates a massive 391 lb ft of torque. Both are available with manual or automatic gearbox.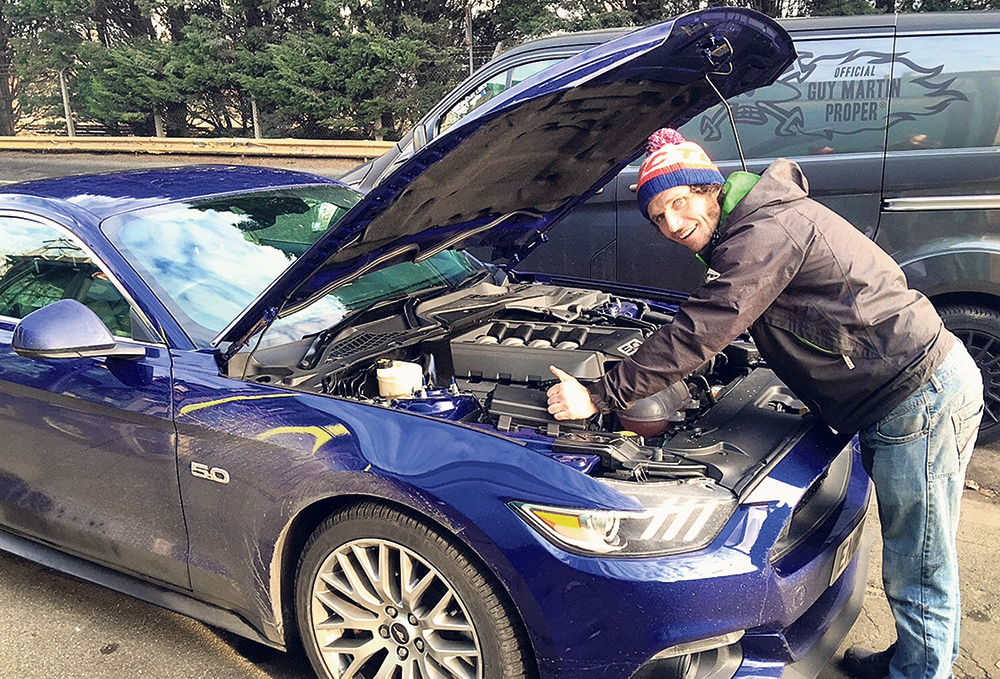 I lifted the bonnet to check if it was still a pushrod engine, but this GT has chain-driven overhead cams. Ford claims 0-62mph in 4.8 seconds for the V8 GT manual — a second quicker than the EcoBoost manages.
The V8 won't do much more than 150mph, even on a racetrack, and at those speeds it's hard work, but it sounds great. The spec sheet that was on the passenger seat didn't give the weight, but I guessed it was 2½ tons. I found out later the official Ford brochure says the kerb weight of the manual 5-litre V8 is 1,720kg, so I was out by getting on for a ton. The manual 2.3-litre fastback is lighter still, at 1,655kg.
The V8 won't do much more than 150mph, even on a racetrack, and at those speeds it's hard work, but it sounds great
Drive quickly and the car fights the road and feels wallowy, which is why I thought it weighed more than it does. You have to put in a lot of steering to keep control of it. You can change a setting to make the steering sharper, but it doesn't turn it into an Aston Martin. Still, how often is anyone going to drive their Mustang at 150mph?
There aren't many opportunities to do it legally, but the car has the potential if you really have a mind to make it go that quick. Without trying too hard, you will find the scenery coming towards you fairly quickly, faster than in the brand-new V8 BMW M3 I owned eight or nine years ago. Though the Mustang doesn't handle as well as the M3.
I drove from Lincolnshire to Ford's Dagenham plant in east London, where I had the honour of driving the earliest known surviving Transit, a 1965 Mk 1 V4 (though no one at Ford calls them Mk 1 or Mk 5 — they just refer to them by their year). They weren't precious about it, even though it's a museum piece; they let people drive it.
I also met 15 TrustFord apprentices, and we had a bit of banter. TrustFord is the company's UK dealership network, and I was interviewed by its apprentice of the year, Ben Dodds. It sounds as though the company has a good setup for its apprentices. The courses Ford runs teach them the ins and outs of the trade.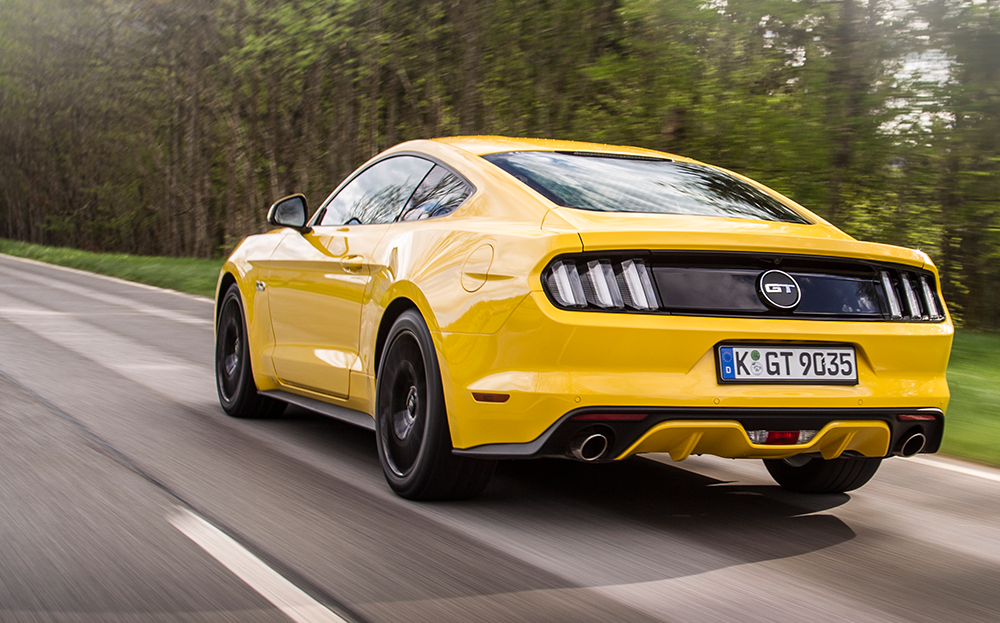 I went to a good college with good teachers when I did day release from my apprenticeship working on Volvo lorries, but at college we'd work on old knackers that didn't have much relevance to what we were actually dealing with at work. The TrustFord lads are learning about modern technology on the latest vans and cars.
Dagenham is massive, with hundreds of new Transits parked on site. I knew they were made in Turkey, but I didn't know the engines were all built in Dagenham, shipped out to Turkey, fitted into Transits assembled there and then shipped back to the UK. It doesn't sound very efficient, but that's what happens.
On the way down the M11 to the Ford plant, I had my feet up and cruise control on. I haven't driven a Rolls-Royce, but I imagine this is what it's like. I was keeping up with the quickest of motorway traffic and the car felt as if it was ticking over. I couldn't get a sense of the speed because it was so quiet and comfortable.
So while the Mustang is a bit wallowy when you're pressing on, the other side of the coin is what it feels like on a motorway. It's a big, plush thing, with no rattles or wind noise. The engine was barely revving and I couldn't hear any wind. I was impressed by how easy and enjoyable it is to drive. It would be a handful on a track day, but the electronics would get you out of trouble.
While the Mustang is wallowy when you're pressing on, the other side is what it feels like on motorway
It has four driving modes: Snow/Wet, Track, Sport Plus and Normal. Both the 2.3-litre EcoBoost and the V8 are fitted with Ford's AdvanceTrac electronic stability control. The switchable system is designed to keep the car from oversteering or understeering and automatically corrects itself. The V8 has bigger brakes: 15in discs with Brembo six-piston callipers, compared with the EcoBoost's near-14in discs and four-piston callipers.
I thought it was going to drink fuel, but it was doing 28 miles to the gallon on a run down the motorway. That is bloody impressive for a 5-litre V8 petrol engine.
That surprising economy will be down, in some part at least, to the engine running very lean. When a unit runs lean, meaning it's using the minimum amount of fuel for a given power output, it also runs hot. Run any internal combustion engine too lean and things overheat — and then, if you keep pushing it, melt.
But materials and manufacturing processes are improving all the time, so the best modern engines can run much hotter than the old ones, which had to have loads of fuel sluiced through them to produce the same power without burning the valves and pistons out. Modern engine management systems and knock sensors can detect when the unit is getting too hot and adjust the amount of fuel delivered to the combustion chamber before any damage is done.
The car has a full leather interior, Bluetooth, xenon headlights and all that, but the one I tested didn't have auto-dipping headlights, which even the Transit Sport has, so that's a bit strange.
The cabin is still configured for left-hand drive, so the handbrake is on the left-hand side of the centre console. It seemed a bit of an afterthought. I noticed the indicator and light stalks are from the Transit van and the light switch is as well. You can see where the bits are nicked out of other vehicles. But it's a nice car, no denying it.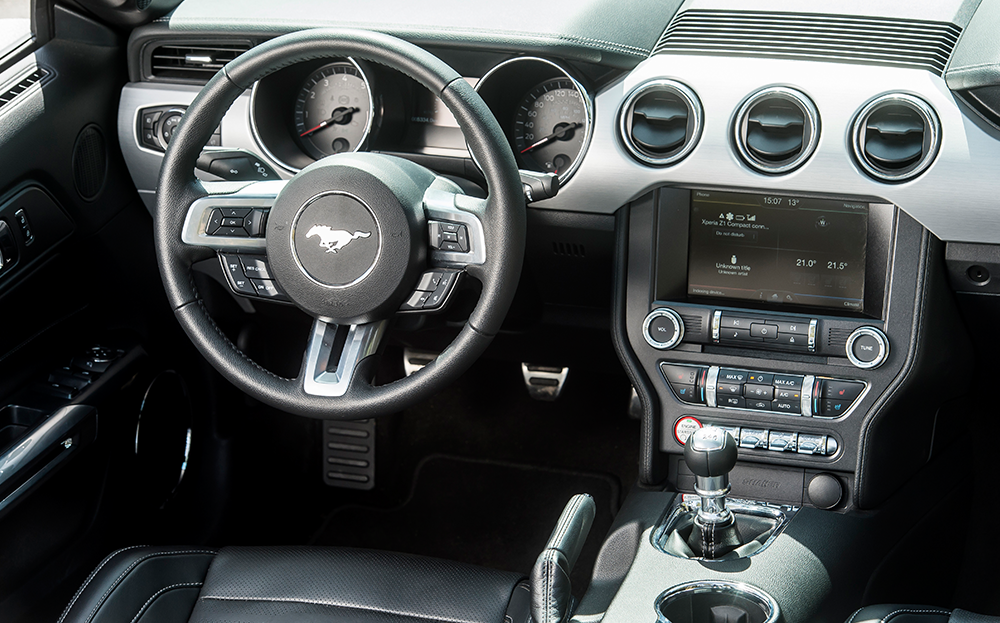 When I came to open it on the first dark morning, a little beam from the wing mirror shone a picture of the Mustang symbol on the floor. It's a nice touch, if a bit cheesy, but people who appreciate this kind of car will like that.
I wonder what kind of car new Mustang owners were driving before. I don't think they are Porsche, Audi or BMW people. The style of the car is a bit in-your-face; it's not offensive, but it's not me. It has a big "GT" badge on the back and "5.0" badges on the front wings, between the wheelarches and the door, and they were trying a bit too hard.
It's a different sort of bloke who'd buy this. My dad always wanted an American muscle car, or he liked the idea of them, but he knew enough to realise that the reality wouldn't be anything to write home about. Maybe this is the Mustang that people like him have been waiting for. It's got the history, the name and the engine, but it also does half-reasonable miles to the gallon. Ford has sold about 2,000 of the right-hand-drive model in the UK already.
It does everything I'd want it to. It looks the part, sounds good and goes like hell. All right, it doesn't handle at high speed, but if you put it on a diet and stiffened it up it would be a completely different car. It's comfortable, you can still have a mad half-hour in it and it'll impress the boys down the pub. Did I mention it sounds the business?
2016 Ford Mustang 5.0 V8 GT automatic
VERDICT: ★★★☆☆
PRICE: £35,995
ENGINE: 4951cc, Coyote V8, petrol
POWER: 415bhp @ 6500rpm
TORQUE: 391 lb ft @ 4250 rpm
TRANSMISSION: 6-speed automatic
PERFORMANCE: 0-62mph: 4.8sec (estimated)
TOP SPEED: 155mph
FUEL: 23.5mpg (combined)
CO2: 281g/km
ROAD TAX BAND: M (£1,100 for the first year, £505 thereafter)
RELEASE DATE: On sale now
Guy Martin's website is at guymartinproper.com.
---
Browse NEW or USED cars for sale on driving.co.uk
---