First drive review: Jeep Grand Cherokee V6 Summit (2014)
This is the full, old-school, all-American deal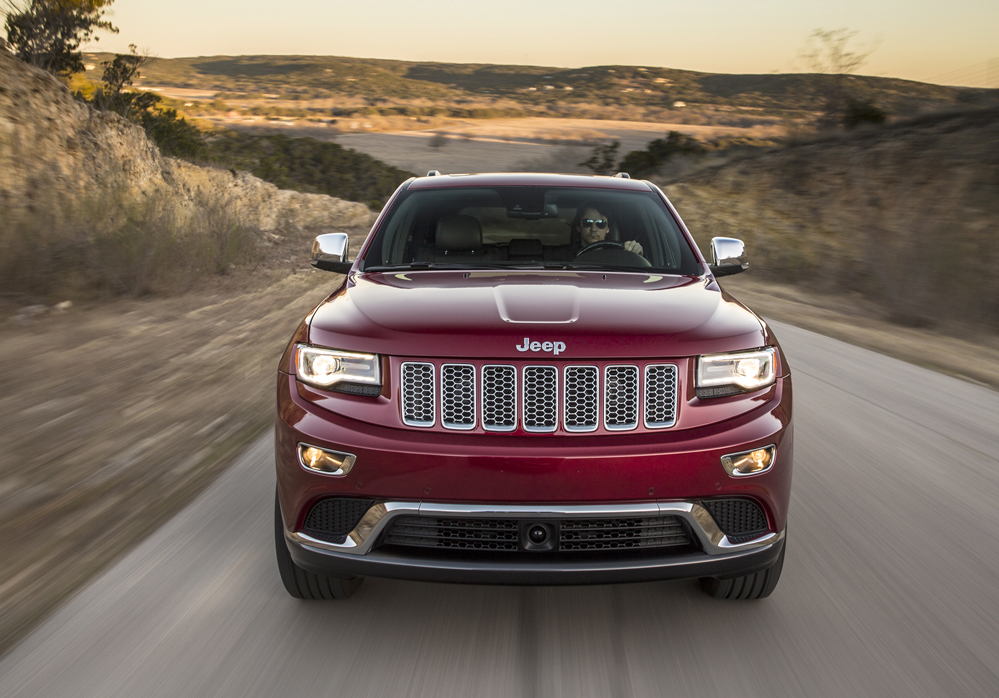 Jeep Grand Cherokee V6 Summit, £50,195
YOU WILL be familiar with the new, burgeoning vogue for compact or crossover SUVs offering many of the privileges of 4×4 driving but in a smaller, politically less offensive package. Well, the new Jeep Grand Cherokee has nothing whatsoever to do with it.
Its wheels are as high as an elephant's eye, its muscular flanks unashamedly stretch from kerb to shining kerb. This is the full, old-school, all-American, road-monstering, liberal-baiting SUV deal, like it never went out of fashion, which maybe it didn't.
Let's not forget that when Jeep revealed the original Grand Cherokee at the Detroit motor show in 1992 it did so not by peeling a silk bedsheet off it in the usual style but by crashing it through the window of the convention centre hosting the event. It's that kind of car.
Now, 22 years later, the Grand Cherokee is still high and mighty. You don't get out of it so much as slide down from it, as you might from a steam engine — and with a similar sense these days of participating in a heritage experience. Were cars really once this big? Are cars this size still allowed?
During a week of brazenly armoured travels in the Grand Cherokee I parked behind a Range Rover Evoque and found that it only came up to the Chrokee's windscreen wipers.
At one point during a week of brazenly armoured travels in the Grand Cherokee I parked behind a Range Rover Evoque and found that it only came up to the Cherokee's windscreen wipers. That's what the Cherokee thinks of the new trend for compact SUVs.
Of course, even when appreciating 4x4s was less complicated, the Grand Cherokee wasn't especially appreciated. The bracing tang of Second World War heroism that used to trail behind the Jeep brand name was hard to catch around a piece of product that was mostly famous for a baggy ride, a makeshift and plasticky cabin and its unreliability.
---
Search for and buy a used Jeep grand Cherokee on driving.co.uk
---
The broadly derided outgoing model (widely decreed an all-time low) used a Mercedes engine and a Jeep platform. This one uses the 2012 Mercedes M-class platform and (in the case of my test model) a 3-litre turbodiesel engine built by Fiat, the owner of Jeep's latest parent company, Chrysler. Even though the vehicle continues to be constructed in Detroit — among other places — there's a decent argument that the Cherokee is now about as quintessentially American as Boris Johnson. Which would have to be a good thing, on European roads.
There are still distant echoes of American thunder in the car's look, though — in its chunky, seven-slot grille and booming fog lights. My Summit trim version also had a nice dual-panel sunroof, and if I had troubled to push my head out of it and taken in the view, no doubt I would have been able to see all the way to the county line at any given time.
Instead I used the Cherokee to take, in considerable comfort, five people, a week's luggage and a fairly large dog to the Isle of Wight — via the car ferry, I should add, the car's Land Rover-style Selec-Terrain dial offering Sand/Mud, Rock and Snow settings but no mode I could find for Shipping Lane.
We were met by surprisingly little wind rush, given that this is essentially an enormous motorised house brick. And all of us on board appreciated the fact that the new model is more structurally rigid than the last one, but especially the dog, which didn't throw up once.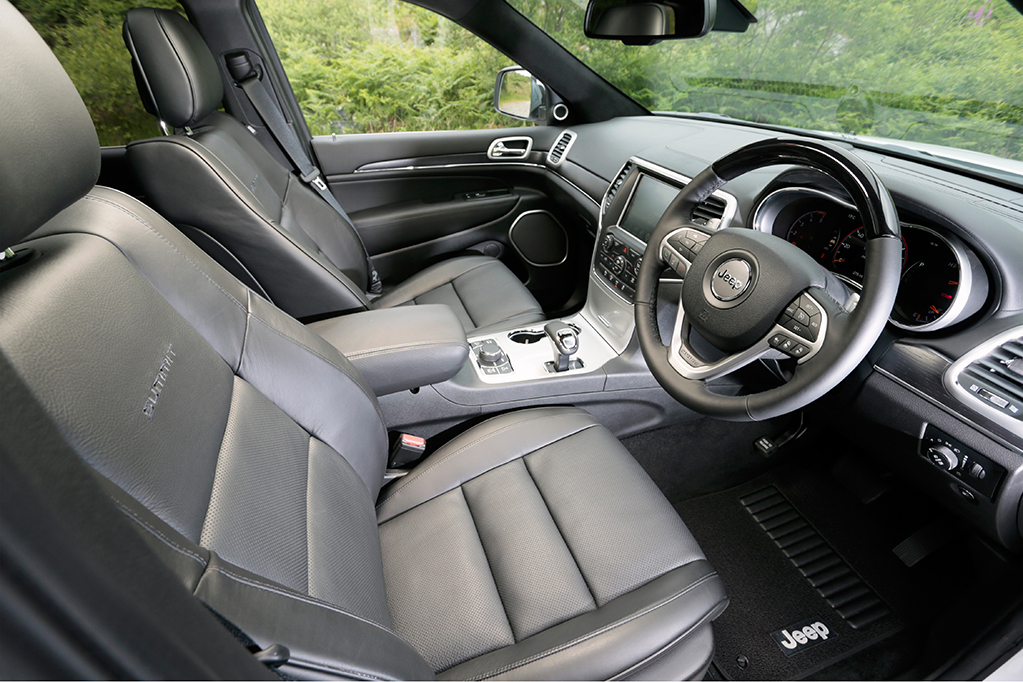 Perhaps the most striking advances have been made in the cabin, with its new 8.4in touchscreen, its slick leather seats and various burnishings in what Jeep refers to as "open-pore wood", although I think you can get a cream for that. Either way, the screaming faux-military cheapness of old has been entirely banished, replaced by a flatteringly elite ambience that promotes the car (as it should do at these prices) into a plausibly deluxe rival for an Audi or a Mercedes.
And this is 2014, after all, so the Quadra-Lift air suspension system finds the optimum ride height for performance. You can alter the settings with buttons on the centre console, dropping the car by 4cm in Park mode, to make its conveniently cuboid boot area easier to load, or cranking it up to a maximum of 28cm in Off Road 2 mode, for those moments when you find yourself attempting a handbrake turn amid sleeping cattle.
The instrument cluster ripples with eco-inflected digital graphics, including a real-time fuel economy monitor, designed to reconcile your conscience with the fact that you are in a vehicle that looks like it's consuming petrol even when it's parked on the car deck of the Isle of Wight ferry.
On the road I watched agog as the readout zipped up to 99mpg while I coasted and then plummeted into single figures when I plunged my foot back down on the accelerator. Is this information practical in any important way? I'm not sure, but it's certainly addictive. As Woody Allen almost said to Diane Keaton in the back of that taxi in the film Manhattan: "You look so beautiful I can hardly keep my eyes on the real-time fuel economy monitor." Still, in a variety of trips I seemed only to manage a best average overall score of 29mpg. The official figure of 37.7mpg is impressively higher.
What did I care, though? I was closing in on the town of Ventnor, and high and mighty. The partly wooded steering wheel was pleasantly cool, the rest of the world was going about its business at a thickly laminated and partly tinted remove and I was beginning to feel all over again the ancient, insidious allure of the 4×4-buying mindset: "The world is hostile so get a tank."
But haven't we moved on from all that? Not in the Jeep Grand Cherokee we haven't.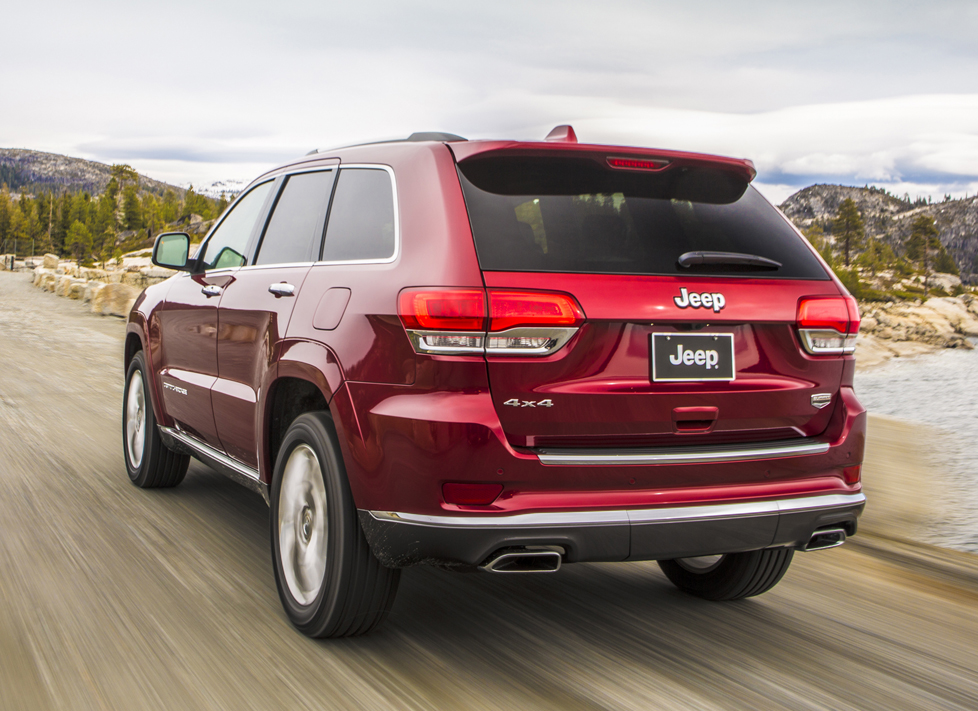 ---
Search for used Jeep Grand Cherokee V6 Summit on driving.co.uk
---
Verdict ★★★☆☆
This means war
2014 Jeep Grand Cherokee V6 Summit specifications
Engine: 2987cc, V6 turbodiesel
Power: 247bhp @ 4000rpm
Torque: 420 lb ft @ 2000rpm
Transmission: 8-speed automatic
Acceleration: 0-62mph in 8.2sec
Top speed: 126mph
Fuel: 39.7mpg (combined)
CO2: 198g/km
Vehicle tax band: J (£485 for first year; £265 thereafter)
Price: £50,195
Release date: On sale now
The Rivals
BMW X5 sDRIVE 25d SE, £42,590
For Luxurious interior; excellent roadholding, option of seven seats
Against Limited off-road ability
Check for used BMW X5 on driving.co.uk
---
Land Rover Discovery 4 3.0 SDV6 GS
For Spacious and versatile cabin; can cope with all terrains
Against Fuel economy brings tears to eyes
Check for used Land Rover Discovery on driving.co.uk