Ford Focus Mk 2 review (2004-2011)
Behind the everyday badge lurks a very special car
The Ford Focus is one of the UK's most desirable cars. There are masses to choose from, used prices are very tempting and all generations of the car are superior to any of its rivals when it comes to the driving experience.
Throw in a massive array of engines and trim levels for this second generation model, launched in 2004, plus a choice of three or five-door hatchback body styles, an estate, saloon and convertible, and there really is a Focus for every occasion. The saloon is ungainly and unloved but the estate is an underrated load lugger that's terrific value. The hatch still looks sharp and provides family transport for buttons. What's not to like?
If your answer is that blue oval on the nose, the Volkswagen Golf may be more your bag with its posher image. It's plentiful, dynamically accomplished and very well screwed together, while there are some superb engines and transmissions on offer. However, Focus-style value isn't on the menu. Another great alternative is the Mazda 3. Related to the Focus, this is a looker that also drives brilliantly and is well equipped, and prices are tempting, too. For value, the Vauxhall Astra, Renault Megane and Peugeot 308 are all worth a look, while the Toyota Auris and Honda Civic major on reliability. What none of these alternatives offer is the all-round brilliance of the Focus.
---
Search for and buy a quality used Ford Focus on driving.co.uk
---
If you cover few miles each year go for a petrol; you'll get more for your money and reliability is better. However, if you're a high-mileage driver a Focus TDCi is just the job, but opt for a high-spec edition (at least Zetec, preferably Titanium) since you won't pay a huge amount extra while comfort and usability levels will be much greater.
When the original Focus appeared in 1998 its design was daring and it was a massive leap forward over its Escort predecessor. So when the second take on the formula made its debut in 2004, looking like a melted version of the first, there was some dismay. But that follow up model proved a worthy successor, with the heavily revised car (launched in 2008) even better. Go for one of these and we can guarantee that you won't get a better all-rounder for the money.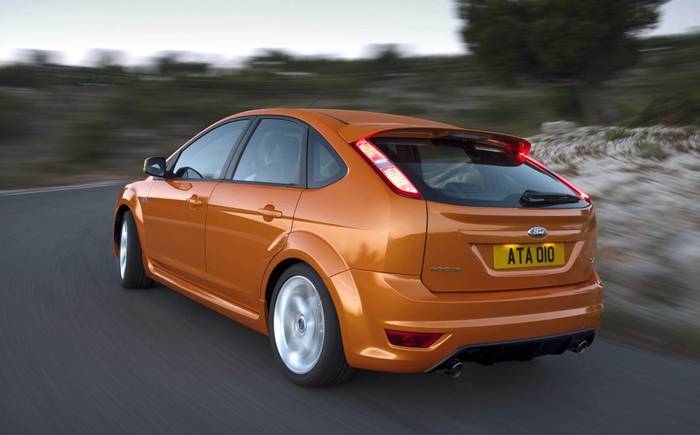 What to look out for when buying a used Ford Focus Mk 2
Petrol-engined Focuses are more reliable than their diesel equivalents. The former can suffer from failed dual-mass flywheels, cracked intercooler pipes and troublesome particulate filters. Estate cars can also suffer from load bay leaks because of duff tailgate hinge seals – all versions can also be afflicted by leaky windscreen seals, so check for water in the footwells.
A tally of 16 recalls won't inspire confidence, especially as none of them is for minor issues – although three relate to the coupé-cabrio only. Also, some recalls centre on specific variations on the Focus theme. Potential glitches include leaking fuel pipes, overheating wiper motors and rear hub bolts working their way loose, while other problems centre on the cooling system, power steering leaks and failure of the brake servo. The last four recalls, issued between August 2010 and November 2012, were because of the engine cooling fan potentially overheating and catching fire.
The one to buy
Ford Focus 2.0 TDCi 136 Titanium Mk 2
Factfile
Engine:

1997cc, 4 cylinders

Power:

134bhp @ 4000rpm

Torque:

236lb ft @ 2000rpm

Transmission:

6-speed manual/dual-clutch

Acceleration:

0-62mph in 9.3sec

Top speed:

126mph

Fuel:

51.3mpg combined

CO2:

144g/km

Road tax band:

F

Dimensions:

L 4335mm, W 1840mm, H 1500mm
Ford Focus rivals