First Drive review: 2017 Maserati Levante Diesel
Better than a Porsche Cayenne or Range Rover Sport?
---
Published 29 November 2016
THOSE WHO wear their motoring anorak with pride and rub their hands with glee when the pub quiz throws up a car-related question are likely to scratch their heads in confusion at the sight of the Maserati Levante.
Perhaps, they'll reason, somebody took a Maserati badge and applied it to one of those Nissan Kumquat things. But no. On closer inspection, it is indeed a real Maserati.
The confusion is understandable. Maserati is best known as a manufacturer of feisty sports cars that put hairs on the chest of anybody brave enough to drive one. And the Italian car maker has a pedigree in motor sport that stretches back to the 1920s — further even than Ferrari's.
---
View the used Maseratis for sale on driving.co.uk
---
For Maserati to make a sport utility vehicle (SUV), then, is rather like Stradivarius deciding to branch off into ukuleles. But the Levante is a reflection of the changing times. Porsche sells more SUVs than sports cars. Presumably, if Maserati wants to stay in business, it needs a Chelsea tractor in its showrooms.
So here comes a Maserati with a towbar, a diesel engine and gadgets for the kids in the back seats.
Yes, you heard right: a diesel engine is currently the only choice British drivers have in this Maserati. The twin-turbo V6 petrol version won't go on sale until 2018, because, says the company, only a handful of people will buy it.
This does at least make things simple for prospective buyers. The standard Levante costs £54,335 (a Porsche Cayenne diesel is £52,689), to which you can add from a lengthy list of options. Alternatively, to keep things straightforward, a Luxury Pack or a Sport Pack lifts the price to £60,285.
There's also a Luxury Pack Zegna Edition (£61,185), which comes with fancy touches such as silk inserts for the seats — perfect for debonair gentlemen and elegant ladies about town, but perhaps not quite so appropriate for trips to the country with the kids and Fido on board.
The atmosphere in the spacious cabin is mixed. On the one hand, the soft leather and warm-to-the-touch wood trim feel luxurious. The driving position is comfortable, there's space for adults in the back seats and the boot holds 580 litres of Jimmy Choos and golf clubs.
On the other hand, the buttons and graphics used for the touchscreen are put to shame by a humble Mercedes C-class or Audi A4. And the lids on the cupholders and ashtray open with a "that'll do" attitude, rather than gliding open with finesse. Not one of the German car makers would lose sleep over what the Levante has inside.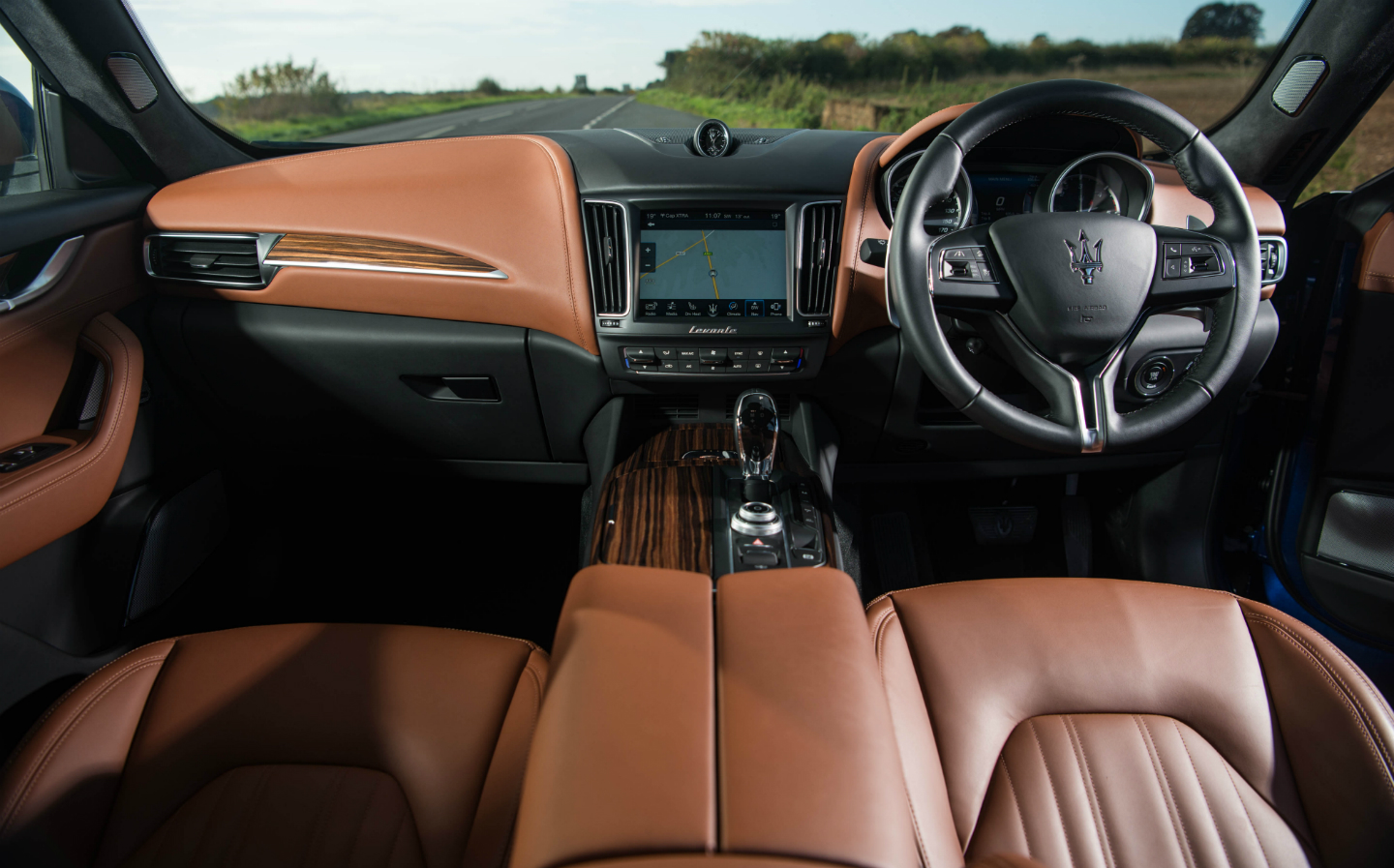 Perhaps they'll be more concerned by the way this SUV lives up to the sport part of its name. The diesel engine is a 3-litre V6, which, naturally, features a turbocharger to liven up proceedings. It has 267bhp and 443 lb ft of torque — the latter gives the Levante impressive mid-range pull — and can return up to 39mpg.
It's generally a refined and extremely eager performer, with a nice V6 growl which turns a touch grumbly above 3000rpm. And it works in sweet harmony with the eight-speed automatic gearbox — most of the time.
Occasionally, however, the lines of communication between the engine and gearbox suffer a breakdown. During acceleration from low speeds, such as on the approach to a roundabout, or when we had given way in a narrow street and needed to pull away round a parked car, the engine felt as though it had entered a sleep mode, refusing to wake up and propel the Levante along the road.
It didn't do this just once. We had four awkward moments when the car seemed to shrug its shoulders and give up. Maserati put it down to a brake sensor switch that needed an adjustment.
The rest of the driving experience is, happily, first rate. Some SUVs feel like a barge to pilot, but this is a car that feels as though it's shrinking round the driver. It's responsive, the ride is comfortable (even on the largest, 21in alloy wheels) and the body remains tied down at speed. The rear differential with torque vectoring makes the big Levante remarkably agile.
On the road the Levante can hold its own against a Porsche Cayenne and Range Rover Sport
It's possible to fine-tune the engine, gearbox and air suspension to your tastes. For example, on a bumpy, winding road, the engine and gearbox can be set to Sport while the suspension is left on its most forgiving setting.
We had the chance to drive the Levante on an off-road route. Across ground that had been churned up by the heaviest rainfall of the year, the car didn't put a foot wrong and proved it would be more than capable of meeting most drivers' demands. There's an off-road mode as well as hill descent control, and both proved their worth.
All the usual passive and active safety aids are present and correct, but the Levante hasn't yet been put through Euro NCAP's crash tests. It's also worth noting that there are currently just 19 Maserati dealers in Britain, so don't expect one to be on your doorstep.
Still, this is an SUV that's worth travelling for. It looks good and can easily hold its own against a Porsche Cayenne or Land Rover Range Rover Sport. You can name-drop that you drive a Maserati. And, bar the hiccup with the hesitant engine, the driving experience is polished.
The Levante can hold its head high in Maserati's showrooms.