2019 McLaren GT review
Middle England goes continental
---
Published 17 September 2019
ON A recent Sunday Times Driving video shoot involving nearly 20 vehicles, from city cars to supercars, the director wanted a car to perform a few doughnuts in front of the cameras. The decision on which to pick wasn't hard as we had on hand probably the best new car in the world for the job: the Aston Martin DBS Superleggera.
With the DBS having a massive V12 powerplant sitting directly between the front wheels and all of its 715bhp (and planetary 663 lb ft of torque) being sent to the rear wheels, it's ideally suited for creating black circles on asphalt. Turn off traction control and it will pivot around that front end, turning on the spot as effortlessly as an Olympic ice skater performing a camel spin.
That front-engined, rear-wheel drive layout is the traditional set-up for a grand tourer. It lends the car a unique feel that some argue is perfectly attuned to crossing continents; like being pulled across country in a luxury chariot by a dozen thoroughbred horses. Classics exemplifying the GT car include the Jaguar E-Type, Ferrari 250 GTO and the Mercedes 300SL Coupé.
But GTs aren't required to have the engine at the front. The true requirements relate to the engine's nature rather than its position: essentially, it must be powerful and suited to high-speed cruising. A GT must also have space for at least two occupants to travel with luggage in comfort, an amount of luxury and the ability to provide driving thrills on demand.
Which is why McLaren has ignored tradition and injected its own brand of car design into the luxury GT market, putting the engine directly behind the driver, in the middle of the chassis.
It's not the first grand tourer to do this — there was the Porsche 914 to name one example. It's not even the first mid-engined McLaren to claim GT status — the 570GT is the new McLaren GT's spiritual predecessor (though officially the new McLaren carves out a new niche for the brand).
But one can't deny that the new GT is most noteworthy for adding itself to a rather small pool of grand tourers to have featured a mid-engined layout.
Over dinner at the car's launch in southern France, McLaren's engine chief told us the company had never considered putting the engine at the front — that's simply not the McLaren way. By putting it in the middle you shift the centre of gravity rearwards (it's at the driver's hip level in the GT, with 42.5:57.5 front-to-rear weight distribution), which makes the car more engaging to drive, we were told.
It does present a problem in terms of packaging, though. GTs must have enough space for a decent amount of luggage and by putting the engine behind the driver you sacrifice boot space. The McLaren engineers' solution involved mounting the V8 lower down in the car, freeing up space between it and the liftback boot lid.
Officially, the boot has a 420-litre capacity, but it's a slightly awkward shape with two decent-sized compartments at each end — one behind the driver and passenger's head and one at very rear of the car, connected by a curving tunnel below the glass hatch. You can fit a couple of soft bags at either end and maybe a couple of suit bags between the two, or a couple of pairs of 185cm skis and boots. You should even be able to cram a golf bag or two back there, although you may have to remove one or two clubs to make it fit.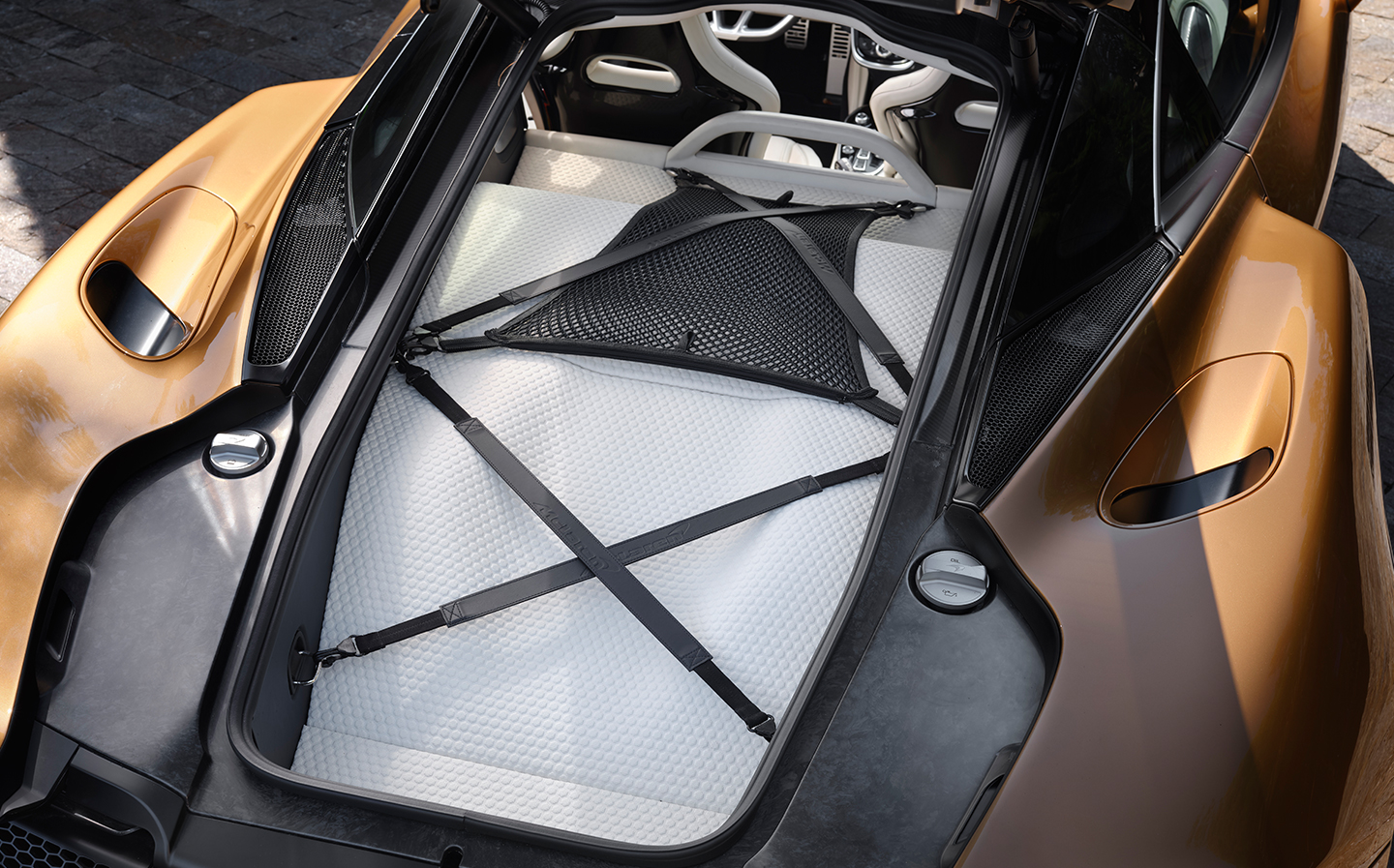 It's an awkward space but don't forget that there's an additional cargo area between the front wheels, which offers a further 150 litres, in fact, meaning an impressive 570 litres in total. As there's a 12v socket in there it could be a great spot into which you could drop a refrigerated cool box (full of vintage Dom Perignon, perhaps).
There is one additional problem with positioning the engine underneath the rear load space, though, beyond awkward packaging at the rear. The engine bay can reach 500 degrees Celcius, apparently, meaning customers' Valrhona chocolate gift boxes would become a molten mess en route to their boutique hotels.
This was solved by covering the V8 with a Nasa-developed heat shield and channeling air between it and a further barrier, and out of the rear of the car. The air pocket is said to reach 200C, but the additional heat shielding means the rear luggage area only ever reaches 40C, it was claimed. And as there's no divide between it and the cabin, a healthy dose of A/C should keep it cooler than that on most days.
This is all very clever but it does smack a little of solving problems that didn't really need to be solved. One can only imagine there's an engineer in Woking with a newly-white head of hair, having been asked to come up with an answer to the engine heat issue. Ask them to create a convertible version and they may end up in a padded cell.
The engine itself? It's essentially the same 4-litre twin-turbocharged V8 as found in the McLaren 720S supercar, though with tweaks to give it different characteristics, more suited to grand tourers. The compression ratios have been altered, it has smaller turbos with lower inertia, and the exhaust and intake manifolds have been reworked, the engineers told us.
Total power output is 612bhp, 98bhp less than the 720S. Perhaps more significantly, it's 70bhp up on the new V8-powered Bentley Continental GT but a full 103bhp down on the DBS Superleggera, two major rivals. McLaren says its philosophy is more about reduced weight and class-leading handling than outright power, and in these areas it arguably has the edge over both cars: the GT has a kerb weight of 1,535kg (resulting in 399bhp per tonne), thanks to a carbon-fibre tub and aluminium body panels, versus 1,693kg for the DBS and a whopping 2,164kg for the Continental GT V8.
It also has the edge in acceleration: 0-62mph takes 3.2 seconds versus around 3.4 seconds for the Aston and 4.0 seconds for the Bentley. Top speed is only really relevant if you're playing Top Trumps, though they're all near the 200mph mark (see the table below for details).
The torque curve of the McLaren's V8 is what determines its character to a great extent; it was designed to be as flat as possible, with 95% of its 465 lb ft available between 3,000rpm and 7,250rpm. The goal was to create a more usable powerplant over a greater range of scenarios than the 720S, allowing for a more relaxing drive.
However, maximum boost comes from 5,500rpm to 6,500rpm and out on the road this was quite noticeable. It's easy to pass pretty much any other road user at any speed and in most of the seven speeds, even on twisty roads, though to really get the most out of the engine you have to keep the engine singing within that narrow 1,000rpm band, particularly as power increases in a pretty straight line from zero to maximum revs.
The McLaren sings a fairly tuneful song, though nothing like the throaty roar of V8s found in some other GTs — more of a deep purr. A new exhaust with a valve system that opens or closes for more noise or more refinement, depending on driving mode and style, helps add to the sense of occasion, though for this (perhaps rather jaded) motoring hack, the McLaren's powerplant left a rather lukewarm impression. It's definitely quick enough, but it isn't as characterful as some rivals' efforts.
The seven-speed automatic gearbox is not the most agreeable we've encountered, either, with it wanting to change gears at cruising speed at undesirable moments, meaning we spent most of the time in manual mode. The GT does shift cogs at lightning-quick speed, though.
On the plus side, the GT's ride and handling proved impressive, that featherweight construction shining through and sharp steering allowing the nose to be pointed into a corner at speed with accuracy, the front wheels providing astounding levels of grip. Through hairpins the front end appeared to find extra bite mid-corner, allowing the throttle to be applied early and with confidence. This is all the more impressive given that there's no torque vectoring system on the GT.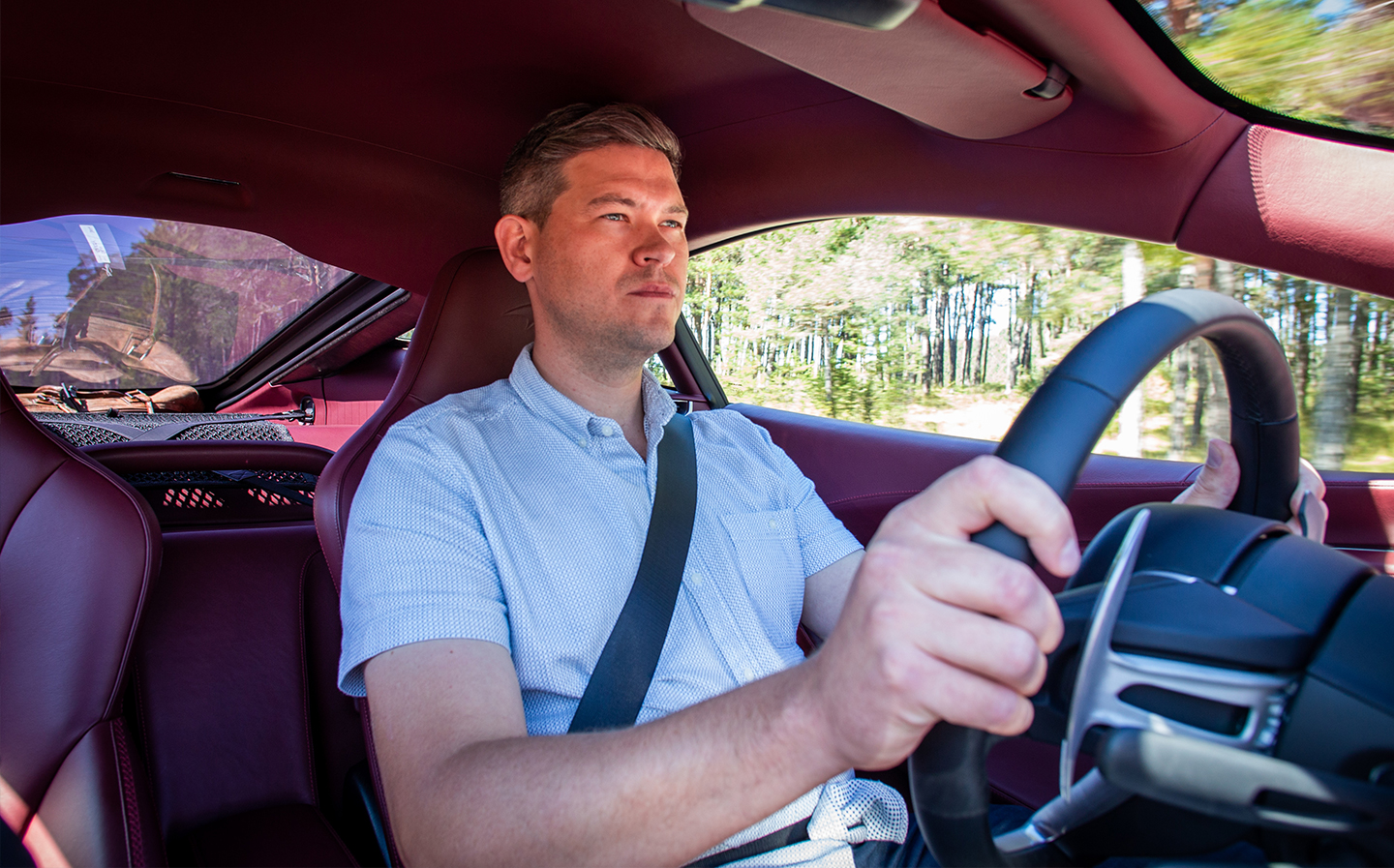 As a result, it's highly likely that the McLaren GT could be driven point-to-point quicker than most of its rivals.
This doesn't mean the suspension is rock hard; imperfections in the road are ironed out well, helped no end by a clever "Proactive Damping Control" system that measures the speed, length and force of suspension movement on all four wheels, and adjusts each damper based not only on what just happened but also, using predictive computer models, what might be about to happen.
Essentially, the computer can recognise particular patterns of suspension movement and works out, based on what happened the last time it saw that pattern, what it thinks might happen next and how best to deal with it.
It also means that if the front left wheel hits a pothole, it can set up the rear left suspension a few milliseconds later in anticipation that it will also hit the pothole. Clever stuff, though if you asked us whether it made the ride in the McLaren noticeably better than the ride in other grand tourers, we'd have to say, "Er, not really, no."
The cabin is good, though, and that's another key to a good grand tourer. Quality materials are used throughout with a focus on modernity and weight-saving over thick-pile shag and soft, sumptuous leathers. The seats are supportive and comfortable over long distances, even for tall drivers, though the seat controls are on the inside of the seats, making them hard to find, access and use.
You'll not find the imposing number of switches and buttons that are present in the cabin of the Bentley, nor the focus on wood and traditional materials, though the clean, minimalist style of the McLaren is attractive and driver-focused, in keeping with McLaren's brand identity. And its dashboard is a cut above that found in the DBS, which features Mercedes hand-me-downs.
The McLaren's central touchscreen, in portrait orientation, is smartphone-like and responds quickly — five times faster than previously, according to the car maker — though its screen reflects light (a strong suit of the GT is that the glazing provides good all-round visibility and lets in plenty of light) and darkens significantly when sunglasses are worn, making it difficult to read in bright conditions. Compare that to even the convertible version of the DBS, which has a screen that is free of glare even with the roof down in bright sunlight, and it makes you wonder why McLaren can't seem to do the same job in it hardtop GT. This stuff matters particularly in a car aimed at long-distance travel.
It's in no way as high tech as the touchscreen infotainment system found in the new Porsche 911, either, which is half the price of the McLaren and arguably just as good at GT duties. They're similar machines in nature, actually: part sports car, part grand tourer, though to get near the McLaren's pace you'll need to spend more like £100,000 on the Carrera 4S.
What you make of all this is up to you. The McLaren GT is undeniably quick, unquestionably nimble, and most definitely comfortable and high tech. Can we recommend it? Absolutely. But will it stir the soul in the same way as an Aston or Bentley? Perhaps not.
It does offer something a bit different, though, and looks sensational. We suspect that's what may sway wealthy customers more than anything else.
McLaren GT vs rivals
| | | | |
| --- | --- | --- | --- |
| | McLaren GT | Bentley Continental GT V8 | Aston Martin DBS Superleggera |
| Engine | 4-litre twin-turbo V8 | 4-litre twin-turbo V8 | 5.2-litre bi-turbo V12 |
| Power | 612bhp | 542 bhp | 715bhp |
| Torque | 456 lb ft | 568 lb ft | 663 lb ft |
| Transmission | 7-speed auto, rear-wheel drive | 8-speed auto, all-wheel drive | 8-speed auto, rear-wheel drive |
| 0-62mph | 3.2sec | 4.0sec | 3.4sec |
| Top speed | 203mph | 198mph | 211mph |
| Weight | 1,535kg | 2,164kg | 1,863kg |
| Price | From £163,000 | From £148,000 | From £225,000 |