First drive review: Volvo XC60 D4 FWD (2014)
Twilight of the guzzlers
THE big news from Volvo is that the five-cylinder engine is over. So over. You might as well be morris dancing or forming corn into stooks. The future? Four cylinders. Four cylinders are funky and edgy and now. Also responsible and adaptable. Four cylinders, two litres and two turbochargers: now we're talking 21st-century motoring, says Sweden.
Indeed, Volvo's chief executive has made the arresting claim that the company's new D4 unit, and its attendant implications, will "turn V8 engines into dinosaurs". To drive the point home, he was shown walking down an avenue of V8 units, which duly turned to dust before our eyes — just as Michael Jackson did, one recalls, in the video for Remember the Time, albeit that there was more dancing in that one.
Volvo could certainly do with being at the forefront of something again. The company found a new design groove in the 1990s, promising an era of freshly sculpted products that were less likely to end up on joky lists of "cars your dad would have wanted". It even enjoyed some tangibly successful product placement in the Twilight film series, allowing the brand to partake vicariously of the aching hipness that accrued briefly around the alliance of Robert Pattinson and Kristen Stewart. Aching hipness was not something with which Volvo had been associated in quite some time. Aching hips, maybe.
---
Search for and buy used Volvo XC60 on driving.co.uk
---
Since then, switches of ownership — including nine stressful years with Ford, during which Volvo itself seemed destined to find out first hand what the dinosaurs went through — stalled the revamp a bit. Now, more steadily looked after by Geely of China (but still engineering and building in Sweden), the company seems ready to engage our imaginations by constructing a mission again, starting with a bit of overdue housekeeping.
Volvo used to use eight engine architectures, sharing more or less no components, and wedded to eight types of gearbox. Now it will be working with just two of each — matching-sized diesel and petrol units, linked to either an eight-speed automatic box or a six-speed manual. The diesels will offer between 120 and 230bhp, the petrols between 140 and 300bhp.
Accordingly, in the S60 saloon, emissions can be made to drop below the 100g/km mark, which is where the taxman starts to smile and beckon. Volvo has always had a reputation for safety — illogically or otherwise, it's the first thing people mention. The thinking seems to be that, if the company gets the CO2 ticket sorted out as well, there will be no stopping it as a mass grower of middle-class catnip, and its years of sitting on the sidelines, blinking in concealed bewilderment — the Sven-Goran Eriksson of car manufacturers — could be well and truly over.
We'll see. In the meantime, I sampled the D4 diesel engine in an XC60, a smart, practical and even quite pretty member of the Volvo range that slots promisingly into one of our time's boom car categories — the scaled-down or subterfuge SUV.
As I drove my test model around the Peak District, the D4 came across as punchy yet quiet as a church after evensong and altogether distinct from the faintly but persistently grumbling D5. Indeed, it seemed to function as smoothly as a petrol unit. Furthermore, passing Chatsworth House, I slowed for sheep that had spilt nonchalantly into the road, and it was nice to think that I wasn't gassing them as much I would have been with the old D5.
Incidentally, I was slightly concerned to make it through farm animals without at any point activating any of Volvo's reliably twitchy safety mechanisms. But, reassuringly, at an entirely random moment in a nearby town, the front-mounted radar detected an entirely non-existent obstacle, a buzzer sounded and the dash lit up like a tilted pinball machine. One could resent being nannied on this scale, but it's good to know you're in a car that cares.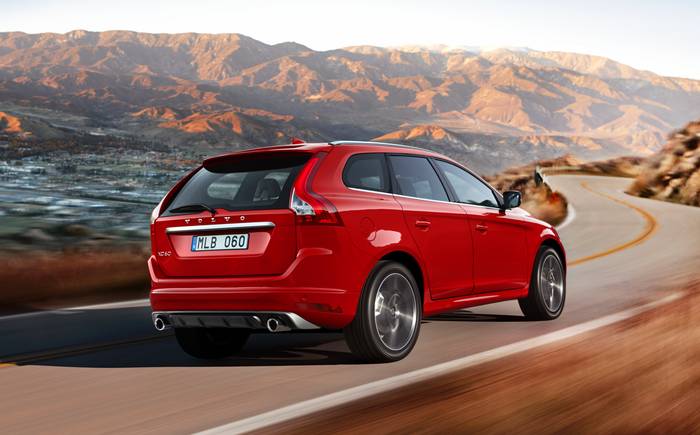 It's only natural, though, to wonder about the performance of this new, small, hard-worked, super-compressed machinery in the long term. All that heat and pressure, all that whipped-in air, all those furiously fast injection rates — is it possible that one day, when you are least expecting it, the unit will burst through the radiator grille in a shower of molten aluminium? Or maybe, after an implosion, that you will discover the engine has shrivelled to the size of a conker?
Volvos were always said to last for ever. Why else would Stephenie Meyer have dwelt on the fondness of vampires for the brand in the Twilight books? You could put 180,000 miles on the clock of an old V70 estate and it would still give no indication of cracking up before you did. It was the ultimate undead car.
One wonders if people will be saying the same things in a decade or two about the durability of these D4-fitted cars — or if anyone is even meant to be thinking that way about cars any more. Longevity feels a marginal concern these days in an industry concentrating furiously on chipping away at emission levels but less keen to address bigger issues such as obsolescence.
Ah, well. Handy CO2 figures, anyway. And the V8 engine had better have something up its sleeve, or it's extinction time. Sweden says so.
Volvo XC60 D4 FWD verdict
★★★☆☆
Sweden says four is more
Factfile
Engine:

1968cc, 4 cylinders, turbodiesel

Power:

178bhp @ 4250rpm

Torque:

295 lb ft @ 1750rpm

Transmission:

6-speed manual

Acceleration:

0-62mph in 8.0sec

Top speed:

130mph

Fuel:

62.8mpg (combined)

CO2:

117g/km

Road tax band:

C

Dimensions:

L4644mm, W 1891mm, H 1713mm
Volvo XC60 D4 FWD rivals
Audi Q5 2.0 TDI quattro, £32,605
For: Comes with quattro four-wheel drive as standard; impressively crafted cabin Against: Slower, thirstier and dirtier than the Volvo

for used Audi Q5 on driving.co.uk
---
BMW X3 xDrive20d SE, £31,875
For: The best SUV to drive Against: Again, thirstier and more polluting
for used BMW X3 on driving.co.uk
---