First Drive review: Vauxhall Corsa VXR (2015)
It's so hot-headed it should come with an Asbo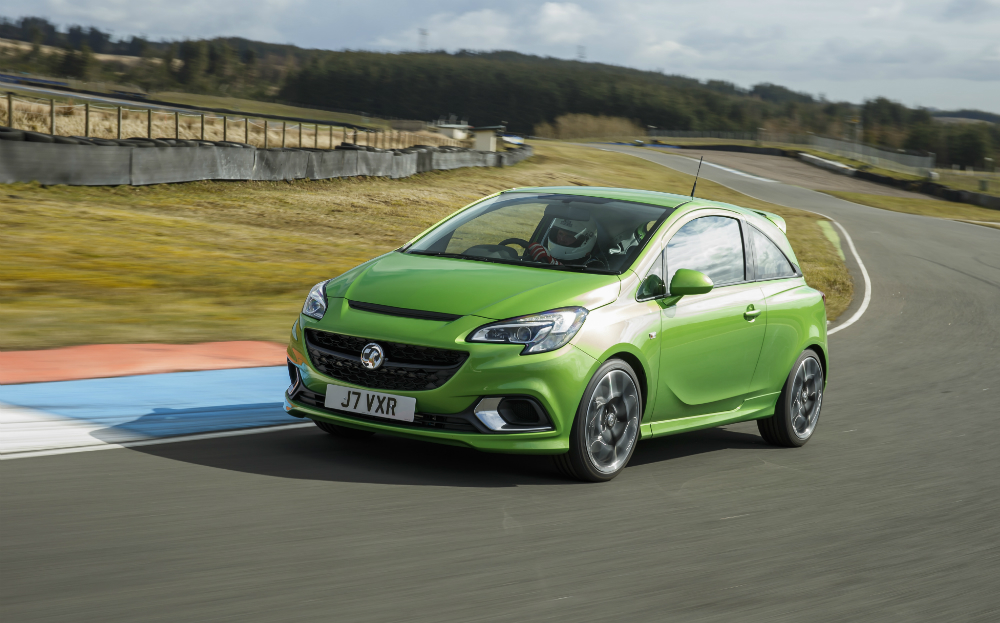 Vauxhall Corsa VXR £17,995
Like high-top trainers, fluorescent T-shirts and questionable facial hair, the small but potent hot hatch seems firmly back in fashion. This is good news for anyone who likes to get their kicks on Route 66, or indeed the B660, but doesn't want to spend a small fortune on a sports car.
---
Browse the used Vauxhall Corsa VXR cars for sale on driving.co.uk
---
Drivers who visit any local car dealership in search of a feisty little hatchback will be spoilt for choice: Ford has the much-lauded Fiesta ST, Mini will put a smile on your face with the Cooper S, Volkswagen will sell you a GTI version of its plucky Polo and Renault has put the Renaultsport va-va-voom into its Clio.
Now it's Vauxhall's turn to turn up the heat on its latest Corsa. The Corsa VXR (Vauxhall Racing, the sportiest models in the car maker's range) has more than the competition to live up to: the previous hot Corsa attracted 9,000 customers following its launch in 2007.
The 2015 third-generation model has undergone a number of changes, including a new chassis with race-inspired Frequency Selective Damping technology, a tweaked 1.6-litre turbocharged engine that is said to bring improved performance and enhanced levels of interior equipment.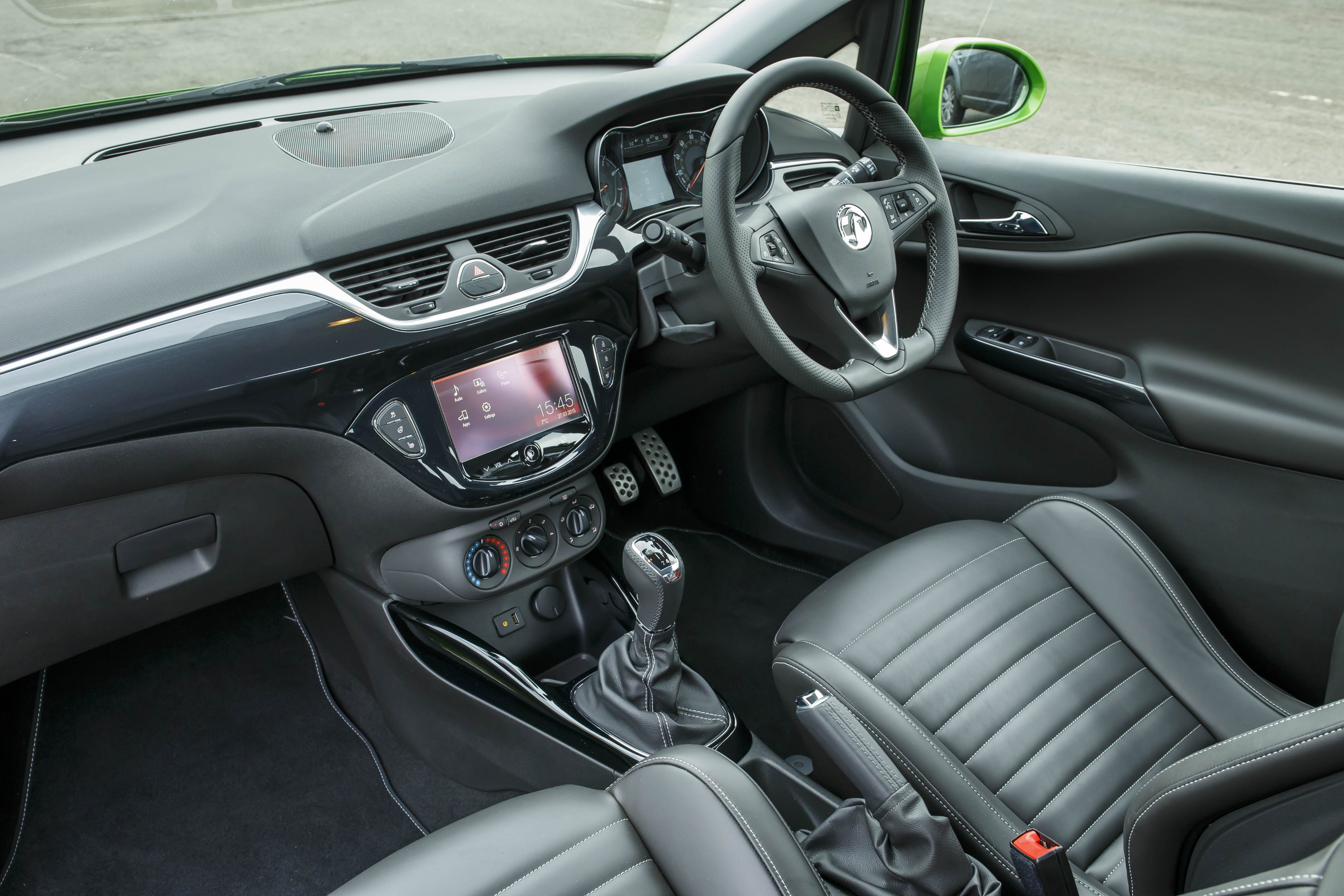 As ever, the exterior styling has all the subtlety of a McDonald's Happy Meal box. It is designed to capture the minds and imagination of young (or young at heart) drivers, so an aggressive air intake in the bonnet, a boot-lip spoiler at the rear, extended side sills and bienon headlamps come as standard.
Bigger changes have happened beneath the surface. The 1.6-litre turbocharged petrol engine has a new air intake system to pump more oxygen to the turbocharger, a revised intercooler and new injectors that deliver fuel more precisely.
The result is a much flatter torque curve, with the full 206 lb ft of torque now delivered from between 1900rpm and 5800rpm, compared with 2250rpm-5500rpm for the most powerful outgoing Nürburgring and ClubSport special-edition VXR models.
An overboost function even provides an additional 26 lb ft of torque near the top of the rev range to aid "swift and safe" overtaking manoeuvres. Boy racers will be familiar with the first part of that claim anyway.
The changes are noticeable. The quicker torque delivery coupled with an improved short-throw gearshift makes the racy hatch feel fast in a straight line. However, things are let down slightly by the steering, which wriggles and wrestles in the palms, especially when the road surface becomes rough. The speed-variable power-assisted steering seems a little too sensitive.
Let's be honest: if you suffer from a bad back and an aversion to spoilers, this Vauxhall probably isn't for you
Customers can part with an extra £2,400 and Vauxhall will bolt on a Performance Pack, which adds a Drexler limited-slip differential, Brembo four-piston brakes and a retuned Koni mechanically adaptive suspension system that is said to offer a 15% firmer ride for improved stability through corners.
The limited-slip differential noticeably improves the traction of the front tyres through tight turns and allows budding Lewis Hamiltons to exploit the Corsa VXR's full performance on a racing circuit. It will sense when a tyre is losing grip and apply more power to the wheel with grip to propel the car through tight corners.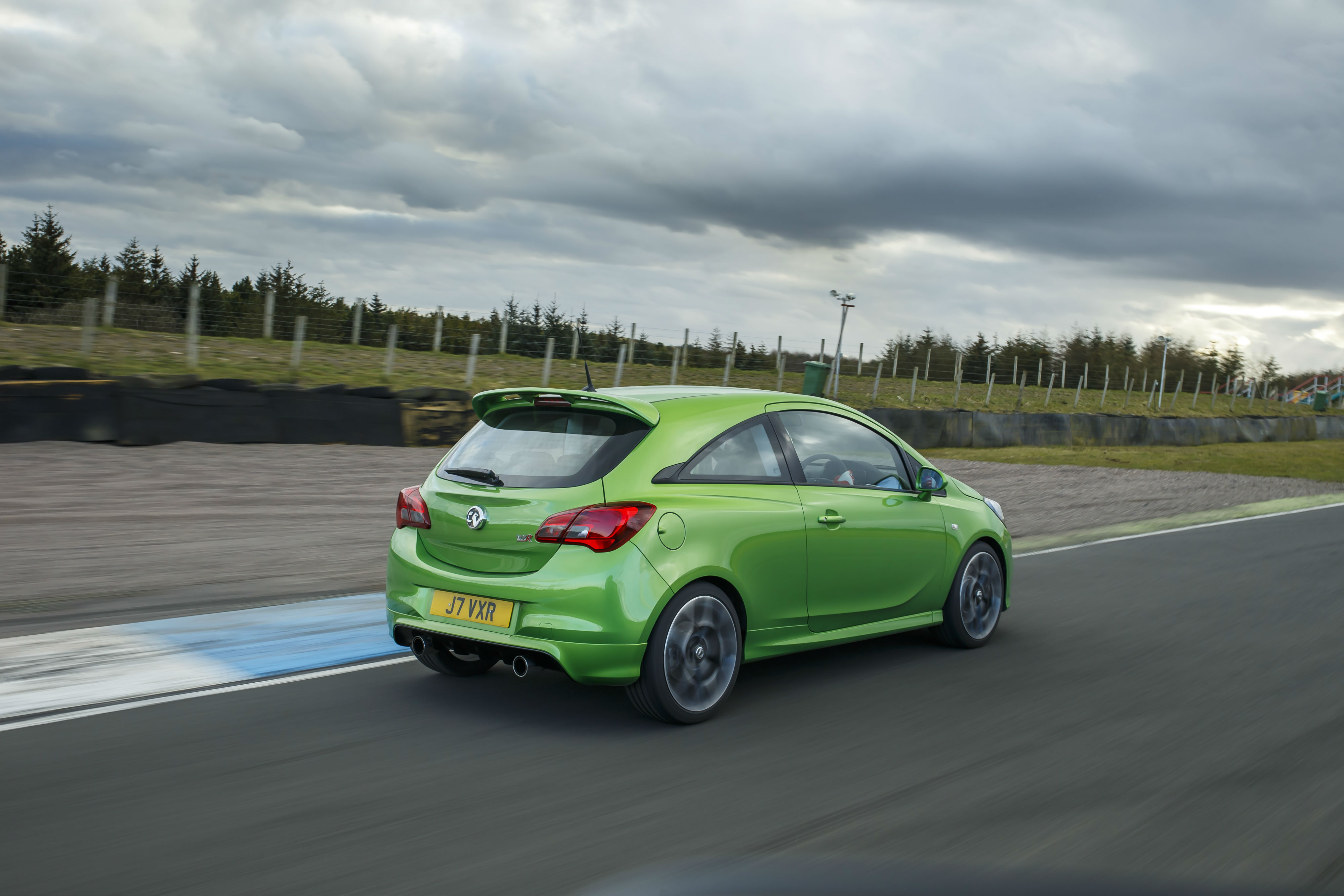 On a greasy and bumpy public road, the mechanism can prove a little unsettling,  though, sometimes applying power to a wheel when it isn't needed and jerking the steering wheel to the left or right.
It all gives a sense that the VXR is better suited to glass-smooth racing circuits than crumbling A and B-roads. (The optional 18in alloy wheels that were fitted to the fleet of test cars probably didn't help matters, either.)
Still, let's be honest, if you suffer from a bad back and an aversion to spoilers, then this Vauxhall probably isn't for you. It is so hot-headed it should probably come with an Asbo.
One thing the youthful target audience will have an eye on is cost: although the Corsa VXR is slightly cheaper to buy than its closest rival – the Fiesta ST in ST-2 trim – it will be more expensive to live with. The Fiesta ST kicks out 138g/km of CO2, placing it in tax band E (£130 a year), whereas the Corsa emits 174g/km, which means it falls into band H (£295 for the first year; £205 thereafter).
Worse still, although all official fuel consumption claims can be taken with a pinch of salt, in the unlikely event owners should drive these cars sensibly, the Fiesta will return 47.9mpg, against the Vauxhall's claimed figure of 37.7mpg.
And despite its impressively low running costs, the Fiesta ST remains a blistering drive, able to dispatch the 0-62mph sprint in 6.9 seconds (compared with 6.5 seconds for its rival) and go on to a top speed of 139mph, just 4mph slower than the Corsa.
The truth is, the fast Ford's chassis and steering is so well judged, it feels safer and therefore more exploitable when driven with the enthusiasm such cars encourage. What's more, the Ford is quieter and more comfortable.
Vauxhall's Corsa VXR does offer excitement and affordability in a convenient four-seat package. But it comes at a price. And in a market where drivers like to keep a close eye on costs, that could prove a stumbling block in the next chapter of the feisty car's success story.
2015 Vauxhall Corsa VXR specifications
Price:  £17,995
Engine: 1598cc, 4 cylinders, turbocharged, petrol
Power: 202bhp @ 5800rpm
Torque: 206 lb ft @ 1900rpm
Transmission: 6-speed manual
Performance: 0-62mph in 6.5sec
Top speed: 143mph
Fuel: 37.7mpg (combined)
CO2: 174g/km
Road tax band: H (£295 for first year; £205 thereafter)
Release date: May
---
Browse the used Vauxhall Corsa VXR cars for sale at driving.co.uk
---
Vauxhall Corsa VXR rivals
Ford Fiesta ST-2, £18,395
For Futuristic looks; welcoming cabin; comfortable ride
Against Some may think it feels a bit safe to drive
Mini Cooper S, £18,840
For Stylish, smart interior; fast and fun; holds its value well
Against Slightly more expensive than the Corsa