First Drive review: Tesla Model S P85D (2015)
Forget it, C-3PO . . . when a car is this electrifying, you can take a back seat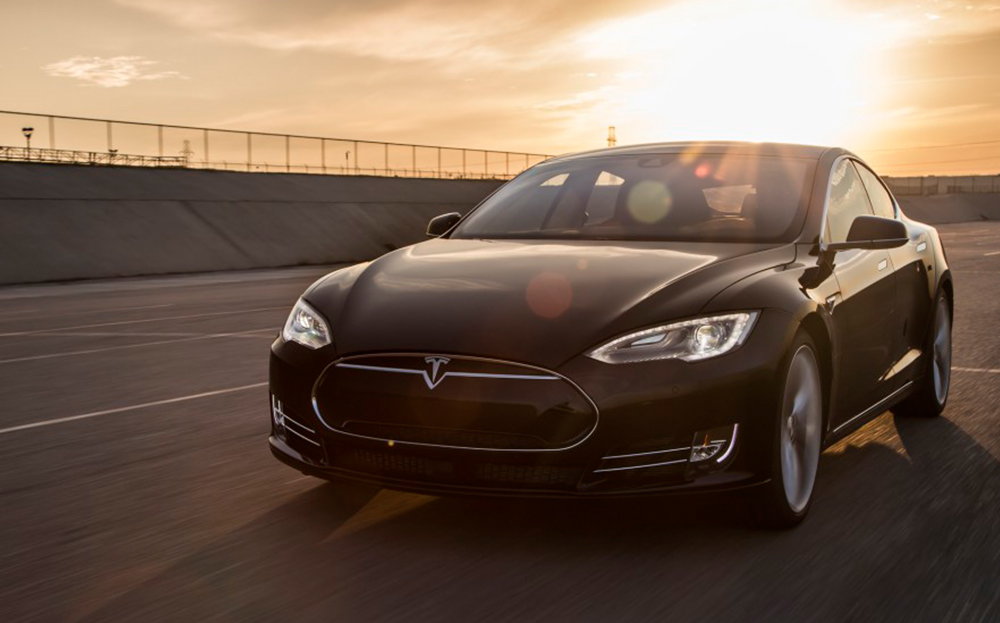 THE LATEST Tesla Model S is not so much a car as a message from Elon Musk's future Mars colony that your current vehicle is rubbish. It's greener than a Prius, faster than a Lotus Exige S roadster, carries more than a Range Rover, and has better acceleration than most suborbital spacecraft.
As if this weren't enough, the P85D will soon be able to drive itself on motorways — as in completely drive itself, with no need for you to touch the pedals or steering wheel. But that might well be the most disappointing thing about it.
---
Search for and buy your next car on driving.co.uk
---
Swerving through towering redwoods in the hills above California's Silicon Valley, the P85D is utterly in its element. Its two electric motors (one more than the already beefy P85) wind up instantly with the lightest touch of the accelerator.
The only sounds are a thrilling sci-fi whine, a grumble from the lane-keeping system as I clip the tightest corners, and my own squeals of delight.
A mind-boggling 691 horses are there for the asking — no stick-skills or clutch mastery required. A rare stretch of straight road alongside a field of alpacas tempts me to pull up and test the car's touted 3.2-second 0-60mph sprint. I floor it and the alpacas just vanish . . . although to be fair, that's probably as much to do with the P85D's terrible rear visibility as its face-melting acceleration.
The car demands changes in your driving style beyond checking the distant horizon for obstacles. Musk's enthusiasm for one-pedal "bumper car" driving means regenerative braking kicks in hard and fast. In most situations, easing up on the accelerator will slow you down plenty quick, although the smooth, precise brakes do come in handy for hairpins.
The dual motors — 470bhp at the back and 221bhp at the front — work together seamlessly to deliver rock-solid all-wheel drive, albeit without the wheel-by-wheel torque vectoring of some of the car's existing rivals.
For all the perkiness of the P85D's power plant, there's no getting around the fact that this is a big vehicle with a significant road presence, and it needs room to breathe. When confined to the streets of Silicon Valley it bristles like a caged tiger, entirely fills its lane, and commands respect from every other car.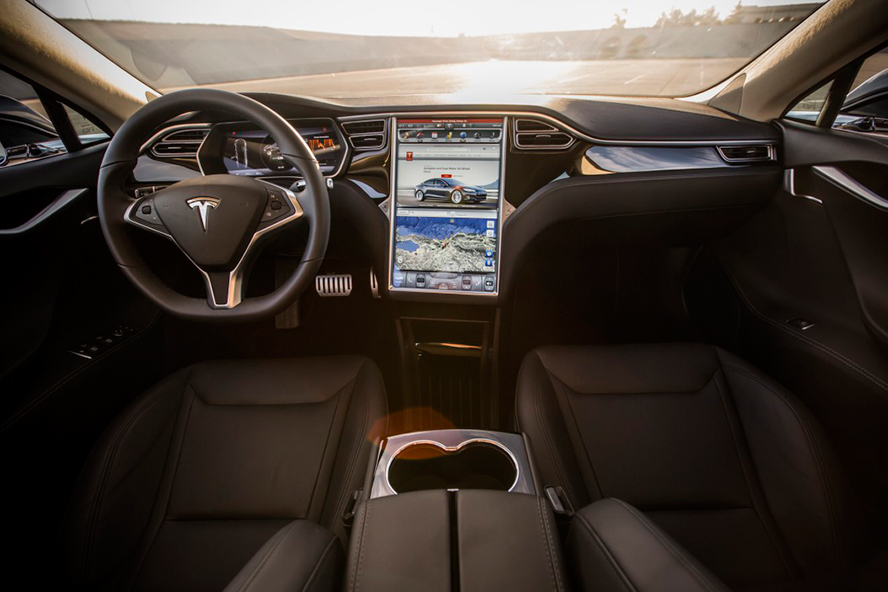 Parallel parking, even with a high-res back-up camera, is an exercise in Braille. Of course, the kind of people stumping up well over $100,000 for a fully specced P85D might not be parking it on the street too often anyway, because the car comes with a new Autopilot package aimed at the jet set.
It is being rolled out piecemeal via over-the-air software updates, but at the moment it's a glorified adaptive cruise control that can read speed signs to help keep you legal (good luck with that).
In the months to come, Autopilot will offer fully robotic parking. Once trained to park in your garage, it will be able to extricate itself automatically and pull up to your front door when summoned — as long as there's no public road between the two, of course.
More useful still will be the semi-autonomous highway driving. For this it uses all-round radar, video cameras and ultrasonic sensors to stay in its motorway lane, avoid other vehicles and change lanes with just a flick of the indicator.
Everything is controlled from a massive 17in expanse of touch-sensitive glass at the dashboard, home to the energy usage display, voice-activated navigation and media system, handsfree phone system, and other controls. It's here that you switch modes from Sport to Insane for G-force demonstrations.
It's also where you raise the ride height for (modest) off-roading and configure the Autopilot options. My only criticism is that the big screen is a bit too intrusive in the dark, even when set to its night-time colours.
The main instrument cluster is well designed, with an integrated navigation display that pairs nicely with the top-down map view on the main screen. Front and centre is the all-important range icon, which after a full charge starts off at a reassuring 254 miles.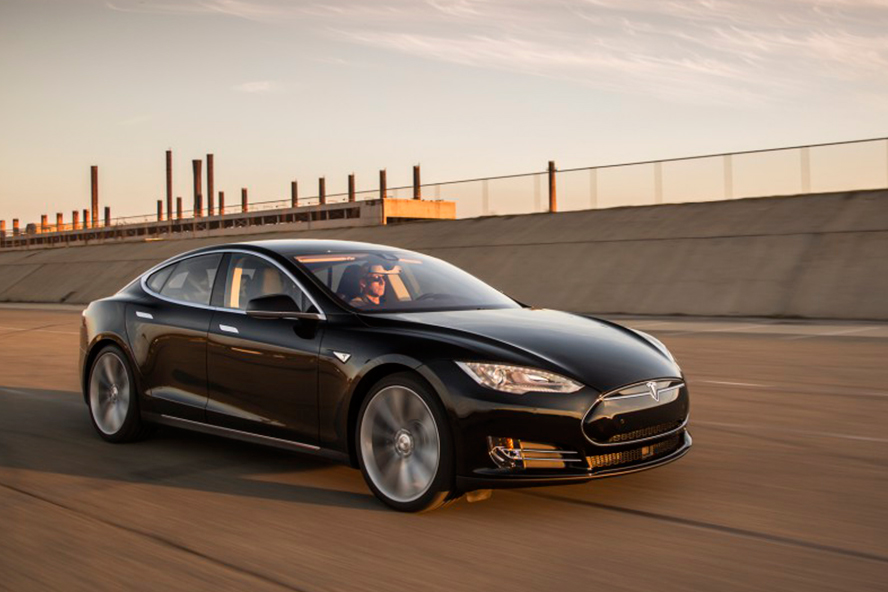 Chucking the P85D up and down hills had it ticking down faster than expected, yet, realistically it doesn't generate range anxiety. The ever-expanding network of high-speed rapid-charge points in this part of the world can add 150 miles to the range in just 20 minutes.
I reach the wild, windswept sands of San Gregorio State Beach at 8.30am on a chilly winter's morning, expecting to be the only person there. But I'm not, as I find a jet-black P85 and its craggy fiftysomething owner Craig staring gloomily at the crashing Pacific waves. It's too "fat" to surf, he tells me, gesturing to the surfboards tucked inconspicuously inside his Tesla. With its optional child seats and Beetle-style front boot (Americans call it a "frunk"), the Model S can sit seven (if two are tots) and have room for a picnic.
I offer Craig a spin in the P85D and watch him blast around the empty car park for a couple of minutes. He gets out with a big smile on his face, shaking his head. "No one needs that much torque," he says, and he's right. But once you've piloted a rocket, anything slower will bring you down to Earth with a bump.
Price: £86,435
Power: Two electric motors, 221bhp front, 470bhp rear
Battery: 85kWh, infinite-mile/8-year warranty; 254-miles range
Performance: 0-60mph: 3.2sec
Top speed: 155mph
Release date: On sale now
Bright sparks on a budget
BMW i3
From £25,980
Looks as if it's from the future and drives like it too. With a carbon-fibre body, the i3 has "suicide" rear doors but four-seat practicality, and it's fun to drive, if not as fun as regular BMWs.
Renault Zoe
From £13,443
A natural city car with chic looks and zippy acceleration, it is almost silent, which helps you keep your cool in urban congestion. Although it's quite cheap, you have to budget for £25 monthly battery hire.
Nissan Leaf
From £16,490
The first mass-market electric car is now more affordable than ever, has enough space for the small family and can travel up to 124 miles on a charge. The cheapest deals involve battery hire from £70 a month.
All prices include government car grant
---
Search for and buy your next car on driving.co.uk
---