First Drive review: SsangYong Tivoli (2015)
My last hope for dross, dashed
2016 SsangYong Tivoli at a glance
Handling: ★★★☆☆
Performance: ★★★★☆
Design: ★★★★★
Interior: ★★★★☆
Practicality: ★★★★☆
Costs: ★★★☆☆
---
ARE THERE no rubbish cars any more? New ones, I mean. Rubbish cars are still freely available to the used-car buyer. But a rubbish car that's fresh off the factory line — where do you go for one of those these days? They are in vanishingly short supply, possibly even extinct.
---
Search the used Ssangyong Tivolis for sale on driving.co.uk
---
Take the new SsangYong Tivoli. In a former time — maybe as recently as a decade ago — this was a rubbish car waiting to happen. Here's a budget South Korean manufacturer making a tentative first foray into a newly popular market segment — in this case the crossover category — and doing so late and from a position of almost no authority. The fan of rubbish cars is practically salivating at the prospect.
A budget South Korean manufacturer, moreover, that's mostly famous for unleashing on Europe a creaking family bus called the Rodius that used to romp home in all ugliest vehicle competitions, back when rubbish cars still existed, largely by virtue of the fact that it looked uncannily like one rubbish car mounting another rubbish car from the rear.
But look at this latest thing. It's a Range Rover Evoque. At a third of the price.
But look at this latest thing. It's a Range Rover Evoque. At a third of the price
Squeezed-down roof, boldly exaggerated rear haunches, trendily rhomboid side windows . . . those Evoque style touches are emphatically present.
Not to worry, of course, because no doubt the Tivoli would reveal its inner rubbishness as soon as you opened the door and climbed in. As soon as you opened the door, in fact, and found that it came away in your hands.
Wrong once more. The solid doors close with a clunk and leave you inside a quietly stylish cabin, sitting on gently supportive, all-leather seating (in the ELX version I had). There's a really good-to-use, planed-off steering wheel, clean, crisp graphics on the dashboard and decently cushioned switches for the windows.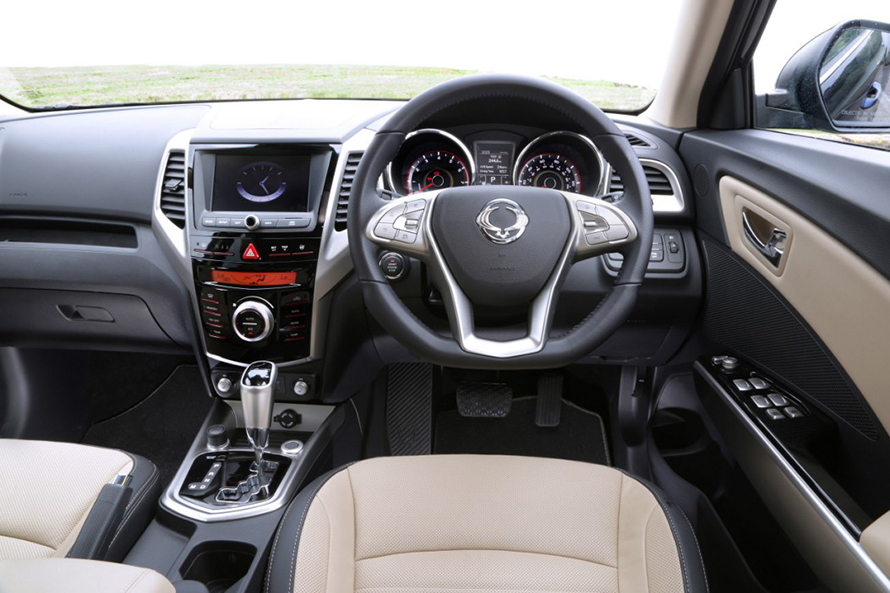 The 1.6-litre petrol engine kept its voice down; the steering, though fashionably light, had enough weight in it to remind you that you were driving a car rather than waving a handkerchief; and the suspension was robust enough to handle a long succession of south London's most brutal speed bumps without causing anything to drop off.
All this, and yet the range starts at £12,950, a price so low for this kind of car that it's almost at Dacia levels, although nobody seems to be suggesting you should go without a radio.
I kept walking around it, trying to spot the catch. Maybe the underside was entirely made of cake. Seems not. Disguised use of cardboard and sticky tape in the formation of the body panels? Nope. Was the price exclusive of the wheels, which could be obtained only through a devious in-house leasing system at the price of £940 a month? Not a bit of it. Were you contractually obliged to share the car with four other families, none of them particularly nice? No again.
Maybe the underside was entirely made of cake. Seems not
OK, the reversing camera seemed to be showing some Pathé footage from the 1940s of a football match taking place in fog. And the boot hatch parted from its opening with a mildly reluctant pop, like a sticky dustbin lid. That wouldn't happen on anything made by Jaguar Land Rover. But these budgetary giveaways were rare.
This is not the first time in recent years that SsangYong has disappointed us, rubbish car-wise. The Italian-designed Korando SUV, although nowhere near as interesting as this Tivoli, isn't even close to being an awful pile of junk. And the Turismo people carrier, which replaced the Rodius, may be an ungainly lump with a caravan's windows, but you wouldn't be shamed on the school run. And it doesn't look like two cars mating.
As well as being an ancient town in Italy, Tivoli is, as the SsangYong brochure points out, "I lov it" written backwards. Let's hope that's a cheery coincidence noted retrospectively, rather than the prime motivating factor behind the name. Because that would be rubbish.
2015 Ssangyong Tivoli ELX 2WD specifications
Price: £17,000
Engine: 1597cc, 4 cylinders, petrol
Power: 126bhp @ 6000rpm
Torque: 118lb ft @ 4600rpm
Transmission: 6-speed automatic
Performance: 0-62mph: 11sec
Top speed: 99mph
Fuel: 39.2mpg (combined)
CO2: 167g/km
Road tax band: H (£295 for the first year; £250 thereafter)
Release date: On sale now
---
Search the used Ssangyong Tivolis for sale on driving.co.uk
2016 SsangYong Tivoli rivals
Nissan Juke Tekna 1.6 Xtronic, from £19,265 (view cars for sale)
For Youthful image, funky interior, raised seating position
Against More expensive than the Tivoli, doesn't have a five-year warranty
Renault Captur Dynamique S MediaNav TCe 120 auto (view cars for sale)
For Relatively spacious cabin, wide range of personalisation
Against Noisy at speed, fairly firm ride comfort, no five year warranty